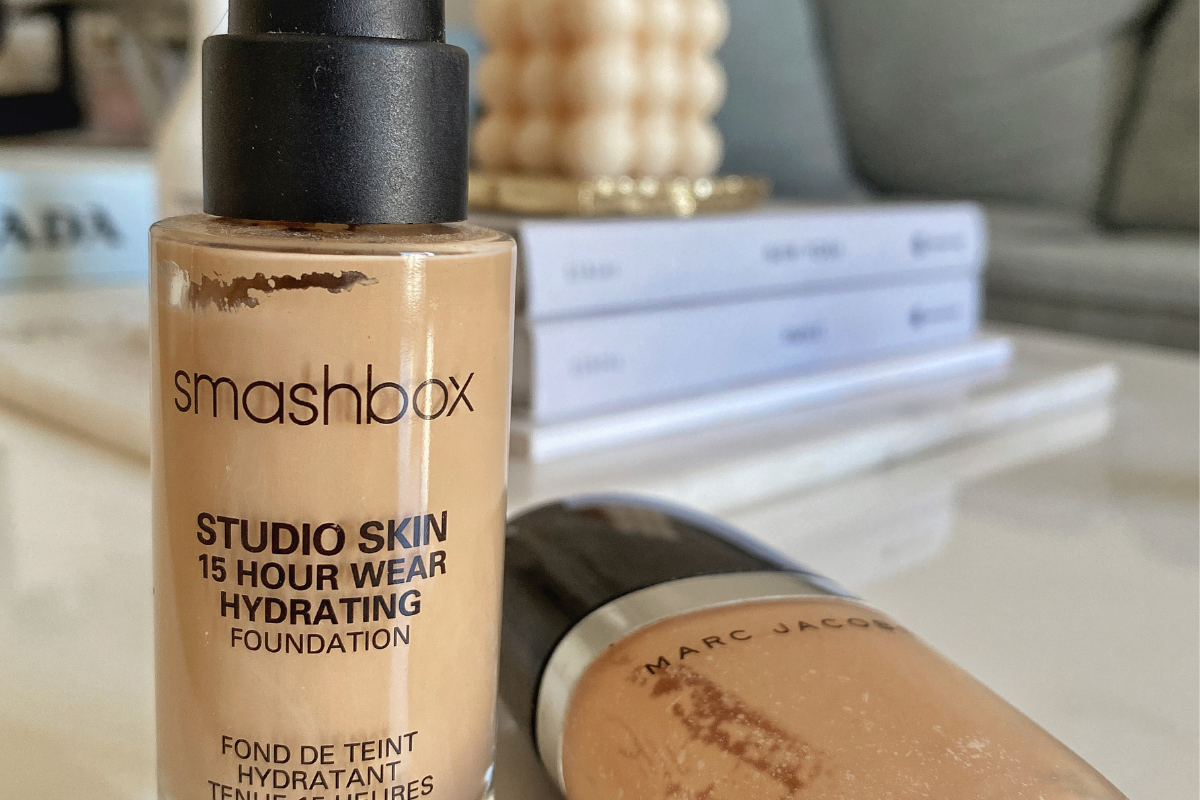 Foundation is a pretty standard part of most people's makeup routines, and there are so many different good ones to choose from these days that it can be a little overwhelming. On top of that, finding one that is going to work well for you and that is also cruelty free can be a pretty big task, so today I have a full guide to the best cruelty free and vegan foundations on the market right now!
I categorized each product by the amount of coverage it has (light, medium, or full) so that you can go and skip ahead to the correct section for the amount of coverage that you're looking for. I'm including the best products from tried and tested brands that are well known and loved, and I have personally tried a LOT of the products on this list myself, so these are the best of the best and are all definitely worth trying out and seeing how they work for you!

I could on and on about all of the reasons why, but the main reason is that animals are kept in cages for their entire lives and typically never see sunshine or the outside of a testing lab. It's an extremely harsh and cruel environment (not to mention the fact that they have to endure chemical burns on a regular basis) and it's not "only" rodents that companies test on, it's cats, dogs, and rabbits too.
Because you're here reading this, you are most likely already aware of all of that, so thank you for looking into cruelty free and vegan foundations today! If you have a family member or friend who isn't aware of the realities of animal testing, you could share this post with them to help inform them of why it's so important to avoid buying products that are tested on animals.
How Is The Term Cruelty Free Defined?
In this post, the term cruelty free is defined as a brand or company that does not themselves conduct animal testing of any kind, does not commission other companies or third parties to test any individual ingredients or finished products on animals on their behalf, and does not sell their products in any countries or markets where animal testing of cosmetics is required by law.
The vast majority of the brands included in this post have also received the cruelty free certification from an organization such as Leaping Bunny or PETA.
Keep scrolling to check out the best vegan, cruelty free foundation products:
DISCLOSURE: THIS POST CONTAINS AFFILIATE LINKS, WHICH MEANS THAT I GET A COMMISSION IF YOU DECIDE TO MAKE A PURCHASE THROUGH THESE LINKS, AT NO ADDITIONAL COST TO YOU.
Light Coverage Cruelty Free Foundations
These foundations are perfect for you if you're looking for something that will just touch up a couple of small blemishes but you typically have pretty clear skin overall. They offer really nice, natural looking finishes and are great for those days when you don't really want to put on a full face of makeup but you're still looking for some minimal coverage.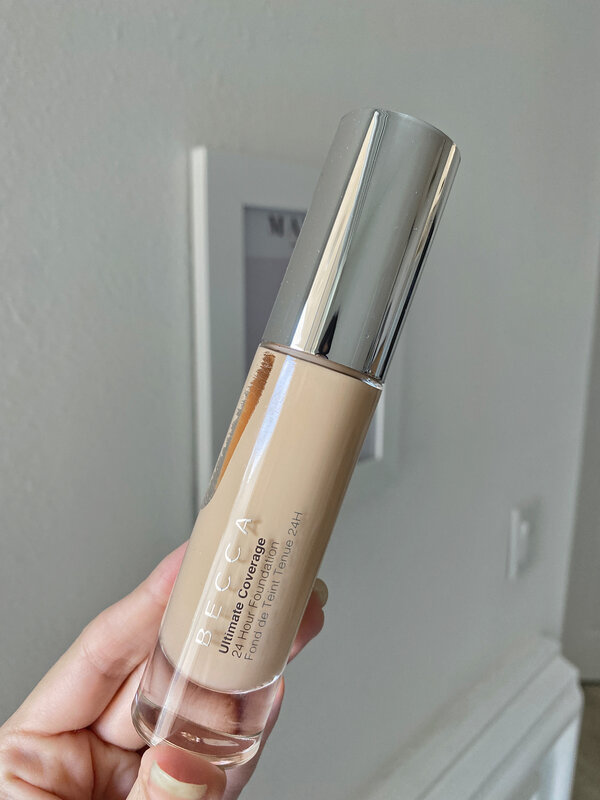 The first product up is from everyone's favorite brand, Glossier. This has a thin and light formula that evens out your skin tone really well and has a natural finish that doesn't look heavy or cakey. Glossier has a focus on skin first, and makeup second, meaning their products aim to let your natural beauty shine through while enhancing your natural features at the same time. It comes in twelve different shades!
This is such a great product because it's basically like makeup and skincare combined into one! It contains six botanical oils that help to moisturize your face and gradually even out your skin tone. If you're looking for a product that doesn't have a heavy feeling to it but still gives you a small amount of coverage, you'll love this!
It doesn't leave your skin oily at all despite the fact that it is a face oil – it also absorbs quickly and you can build up the amount of coverage a little bit but it's definitely lightweight and pretty sheer on the skin.
I actually wrote a pretty in depth Kosas Tinted Face Oil review so if you want to know whether it's for you or not definitely check that post out 🙂
This product gives you a really glowy and natural looking finish, and it contains SPF 40 for a good amount of protection from the sun. I love that because it saves you time when you're getting ready in the morning by taking the step of applying SPF separately out of your skincare routine.
This is really nice for softening the look of any fine lines and/or blemishes, and it works well on all skin types!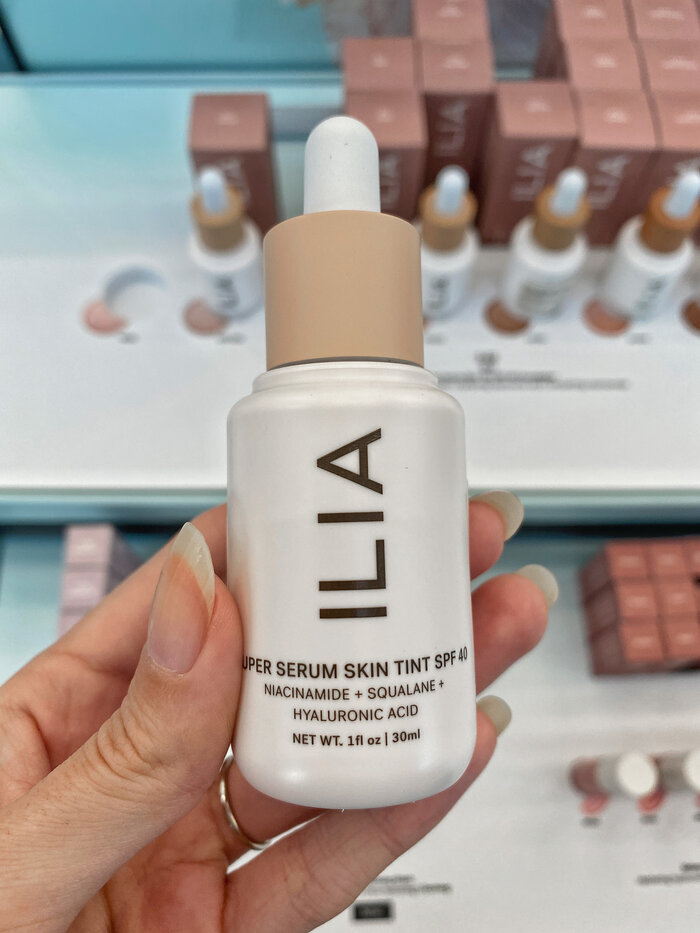 This powder from Kosas can be worn on its own as a very light powder foundation, or it can also be used as a setting powder over a liquid foundation. It's classified as "clean at Sephora", so it is free from a long list of harsh chemicals and common irritants that can typically be found in a lot of makeup products!
What I love about this is that it's amazing at getting rid of shine and minimizing the appearance of pores!
This product from Coola contains SPF 30, so it has great sun protection and at the same time gives you a nice light coverage for those times when you feel like having a light makeup day! It comes in three different shades, is certified non-comedogenic so it won't clog your pores, and it's also reef friendly which is so cool.
Pro tip: this applies really well if you use your fingers to warm up the product a little bit and then melt it into your skin!
This is a sheer, light coverage product that can be layered and built up to a medium coverage, depending on your preference. It has a really nice, blendable formula with a really good variety of shades to choose from!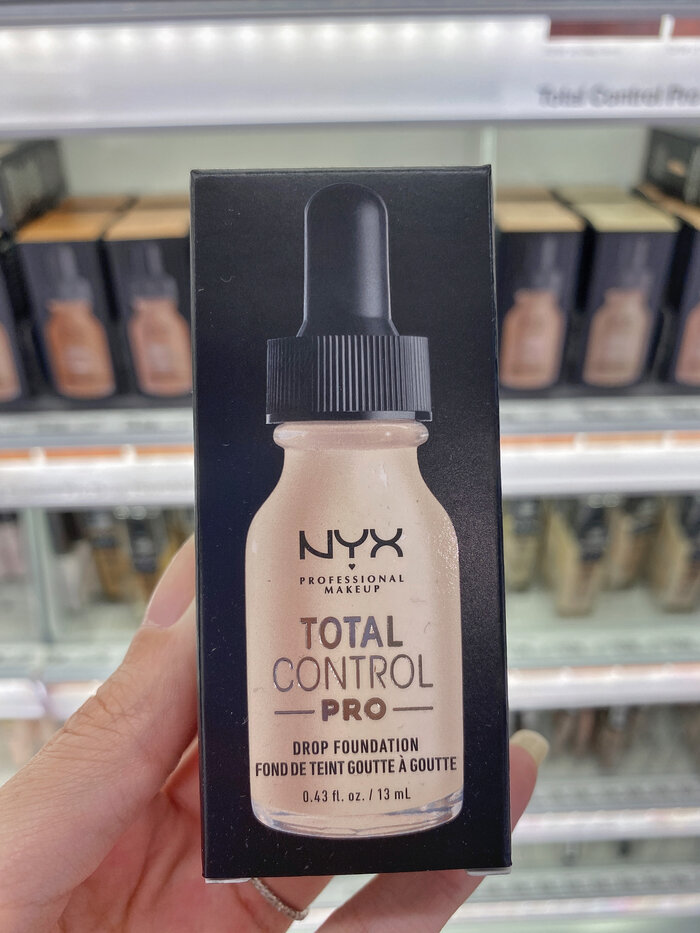 Cover FX is an amazing 100% vegan and cruelty free beauty brand that I love, and they're pretty well known for their face products. This product from them is perfect for smoothing and brightening your complexion, and it also contains soothing botanical ingredients like water lily and lotus flower to nourish your skin.
This is another product that contains SPF so that you can be protected from the sun whenever you wear it, and it works great on all skin types but is especially good for sensitive skin.
It has a really pretty, natural finish and it plumps and hydrates your skin really nicely as well, thanks to ingredients like goji berries, hyaluronic acid, rose extract, and peptides!
Browse Light Coverage Cruelty Free Foundations:
Medium Coverage Cruelty Free Foundations
These products are best if you're still going for the "no makeup" makeup look, but you're looking for a little more coverage than the sheer options above. These are probably for you if you have pretty good skin overall but sometimes struggle with the occasional breakout!
This product from Tarte is a cross between foundation and skincare, and it contains soothing ingredients like sunflower seed and antioxidants to hydrate and nourish your skin. It comes in a really good variety of shades and it has SPF 20 for some light sun protection!
If you're a Selena Gomez fan and you haven't checked out her new makeup collection yet, you definitely should! The products have such pretty packaging and they're on the more affordable side for high end makeup. I personally own and love both this foundation and the Rare Beauty concealer.
Her collection is completely vegan and cruelty free, so if you want to support that amazing initiative then try this foundation out!
This cruelty free foundation from Anastasia comes in a really big variety of shades, it has a natural looking finish, and it's water resistant and long wearing. Since this does give you a little bit of a shimmer, I would recommend it specifically for people with dry or normal skin.
This is one of my personal favorites on this whole list because I find that it's the best if you have textured skin or issues with light scarring!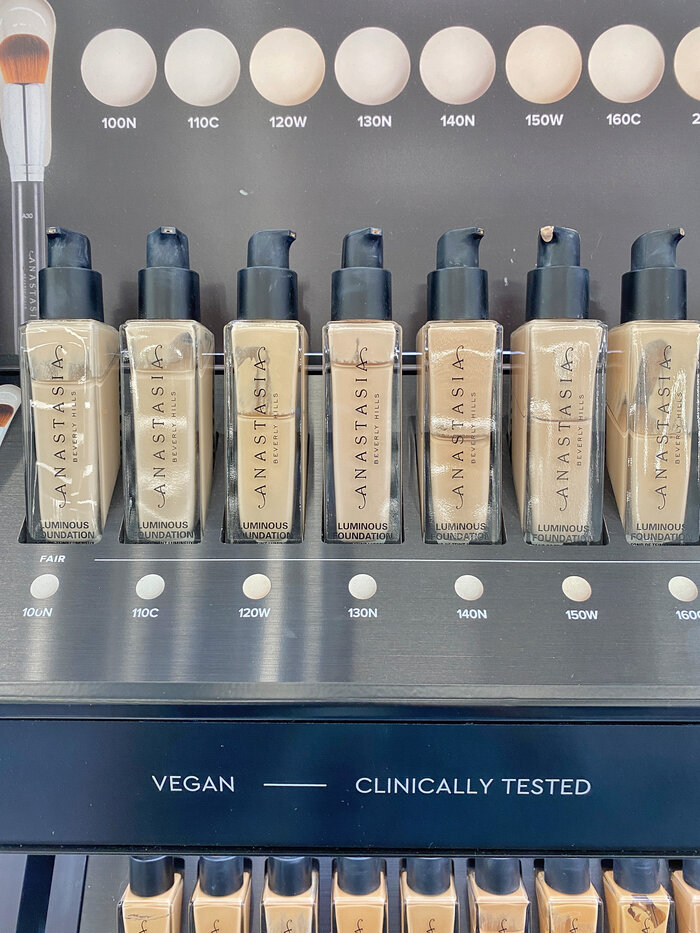 Urban Decay has an amazing collection of face products, and this product comes in 50 different shades so it's almost guaranteed there's a pretty good match for your skin tone available!
This product has really nice buildable coverage, and it looks really pretty and natural on the skin.
Bare Minerals is one of my all time favorite brand for face products, and this foundation definitely doesn't disappoint. It contains SPF 20 for sun protection and gives you a luminous but natural looking finish. It's also supposed to help reduce the look of your pores and smooth the texture of your skin with consistent use over time! It's super creamy and easy to blend as well.
This vegan and cruelty free foundation from Too Faced is definitely a classic. It's been on the market for a while and I feel like a lot of people love it! It has an oil free formula if that's something you're looking for, and it contains coconut water for hydration and hyaluronic acid to give you smoother and radiant looking skin. It also has a satin finish so it's going to give you a little bit more shimmer than a typical matte product would.
This is a really nice and super affordable option from ELF! It comes in 25+ shades and you can find it at Ulta. I've always thought e.l.f. products are great quality considering their low price point, so try this one out!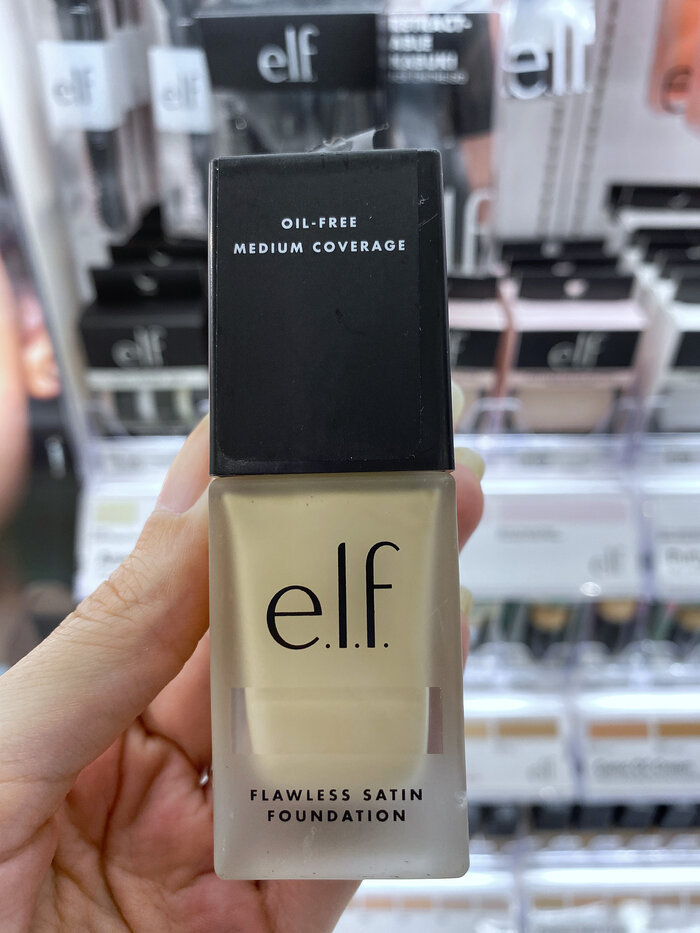 This is a relatively new medium coverage product from Urban Decay that contains nourishing ingredients like marula oil for amazing hydration while you wear it. It helps to smooth out any imperfections and has a wear time of up to 24 hours! The finish is more on the luminous side rather than matte, so it will give you a little bit of a dewy highlight. This is a phthalate free, and of course cruelty free and vegan foundation!
This product is a little bit different because it's a cream formula, and it's nice because it goes on really smoothly and it has easily buildable coverage. It has a matte finish and is great for covering up pores, redness, acne scars, and hyperpigmentation!
I would get this if you're already used to and love using a stick foundation product. But if you want to try it and you haven't used anything like this before it's really easy to use, just takes some getting used to having to blend a little bit differently!
This is seriously one of the best cruelty free and vegan foundations! It has a luminous finish and, in case you were wondering about how it got its name, it actually helps to protect your skin from blue light damage related to working on your computer or looking at your phone! It helps make your skin look more bright and awake, and it comes in a huge selection of color options. Its coverage is light to medium, but it is super buildable so I've categorized it as medium!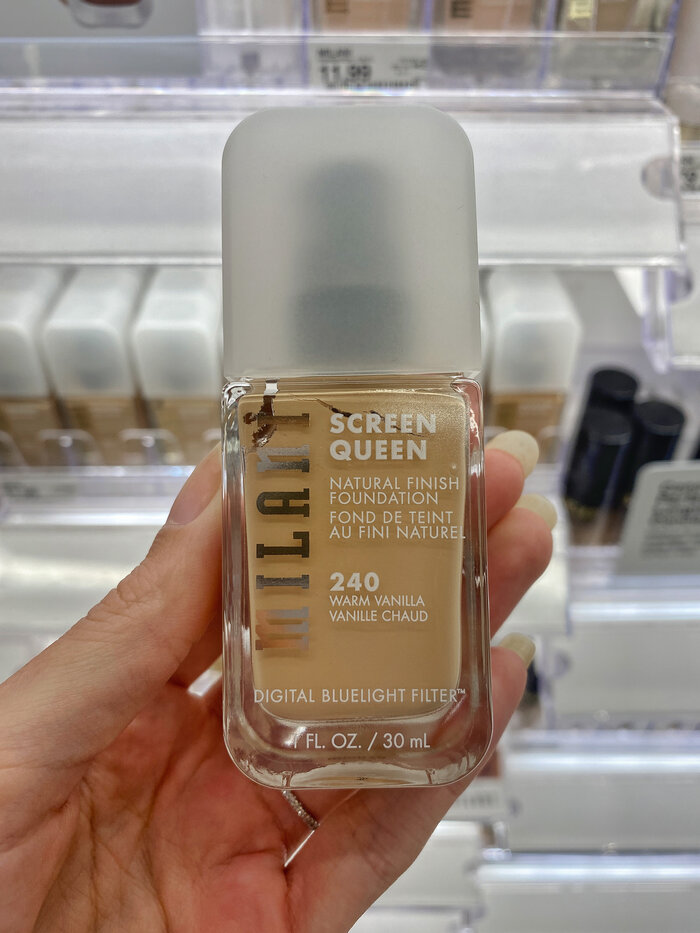 This is a medium coverage product with a pretty, natural finish that works well on all skin types. It comes in a variety of more than 30 different shades, and it has a super creamy and blendable formula that is so easy to work with!
This is a high end vegan and cruelty free foundation that smoothes irritation, fine lines, and unevenness, and it makes your skin look really glowy and pretty. It's full of soothing ingredients like aloe leaf and jojoba oil for decreased redness and skin irritation!
Browse Medium Coverage Cruelty Free Foundations:
Best Cruelty Free Foundations: Full Coverage
These are the products that will give you maximum coverage and are best for you if you're looking to go all out in full glam. If you regularly struggle with acne, these products are the best on this list for covering blemishes.
This is a two in one full coverage foundation and concealer product, so it cuts out a step in your everyday makeup routine. It actually does contain caffeine for rejuvenated and brighter looking skin, as well as oat extract and coconut to soothe and nourish your face. It also has a crease resistant formula so your makeup will stay smooth and beautiful all day long.
It comes in a pretty good variety of shades, and I love the Marc Jacobs beauty collection because they're one of the few major fashion houses that makes vegan and cruelty free cosmetics!
This full coverage option from Fenty comes in an amazingly diverse range of shades (as Fenty is well known for) and has a beautiful matte finish. It smoothes your pores without clogging them, and it feels super lightweight on the skin despite the fact that it is pretty full coverage. It is sweat and humidity resistant, so you're not going to find it melting off of your face in the summertime!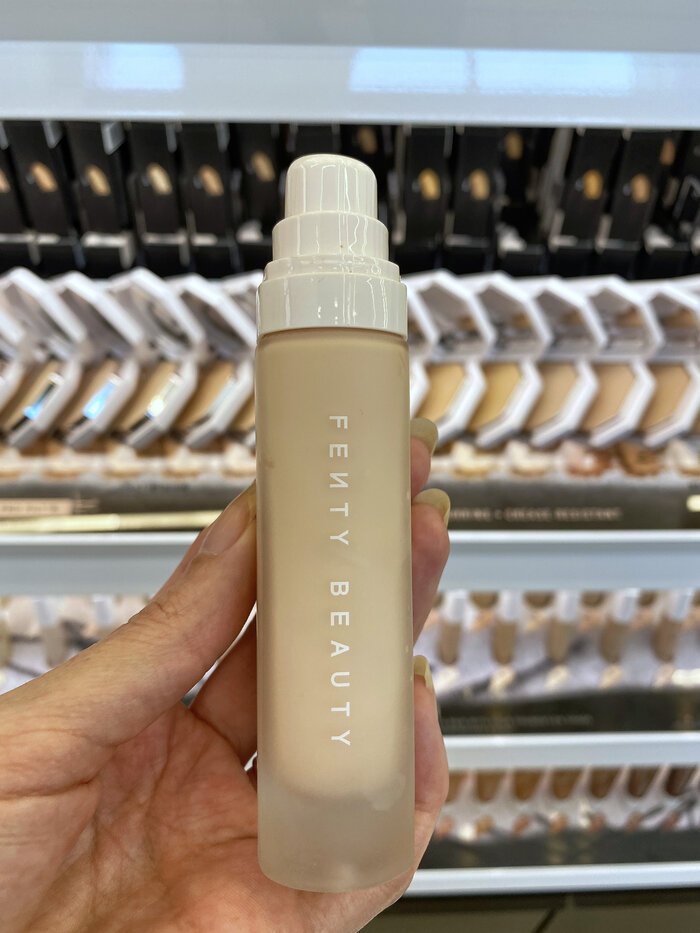 This is a really great affordable option that evens out your skin tone without settling into fine lines or wrinkles! The Ordinary is pretty well known for having really good, fair prices and amazing quality, so I feel like if you're on the fence about this one just try it out because the price is so good.
This is a full coverage product with a matte finish that helps cover active acne and acne scarring, and it really makes your face look smoother and less textured as a result. The formula is fragrance free and it's also waterproof and sweat proof!
I find that this applies best with a damp beauty sponge, but you can also apply it with a brush or your fingers.
Becca has such amazing products that so may people love, and a lot of people talk about this product on YouTube. This is one of the best cruelty free and vegan foundations with a transfer resistant formula that stays put all day (it's also humidity, sweat, and waterproof!) It also just feels really light on the skin even though it is a full coverage product. It works great for reducing the appearance of discoloration, acne scarring, and hyperpigmentation! Highly recommend this one.
This product has a matte finish and a formula that is oil free and very breathable (but still full coverage). It comes in a pretty diverse range of shades, and it seems like a ton of people love it because it has amazing reviews!
I think this applies best with a brush, but you can definitely use anything you typically use to apply your foundation.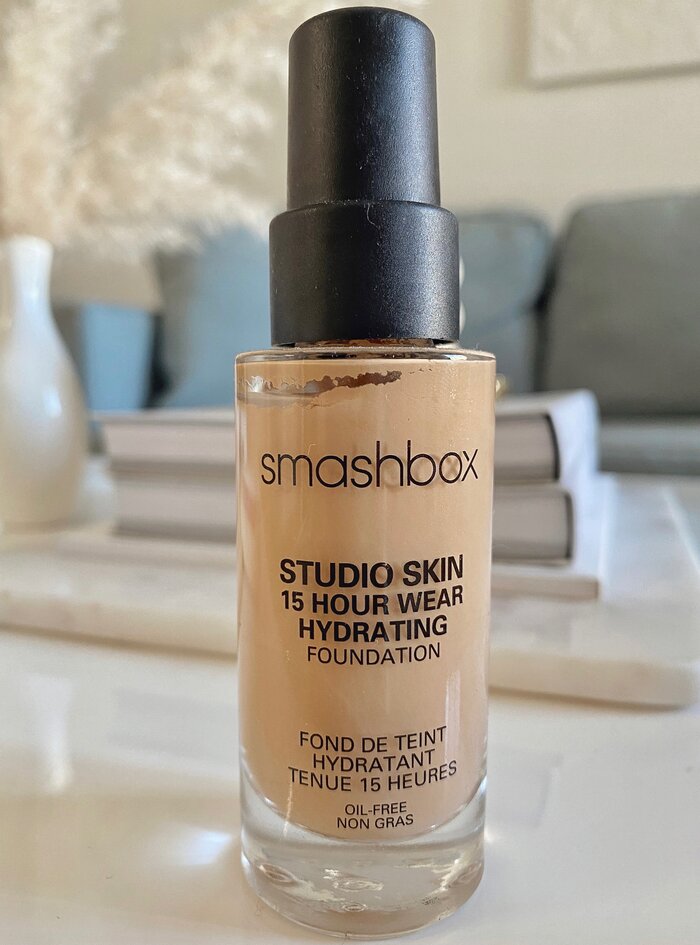 This cruelty free and vegan foundation by Tarte contains SPF 15 if you're looking for some light sun protection, mineral pigments to soften your skin, as well as vitamin E for a soothing effect on the skin. It's long wearing, and it has a matte finish. Tarte has amazing face products and I've used this and loved it!
The packaging of this product is so beautiful it's honestly enough to buy this alone haha, but really, Charlotte Tilbury is a celebrity makeup artist who developed her own collection and she really knows what works and what doesn't. This product can actually help to reduce the appearance of any wrinkles you might have, and the formula is waterproof, sweat proof, and very lightweight. It has a matte finish and comes in a good variety of shades!
This product has a super smooth and creamy formula, and it contains white birch extract which can make your skin look brighter and younger. There's a pretty good range of shades on this, and something that I think is so cool about it is the way they designed the bottle. It has an indentation on it so that you can actually pump the product into the indented area and then use that to mix in some liquid highlighter or moisturizer before applying it!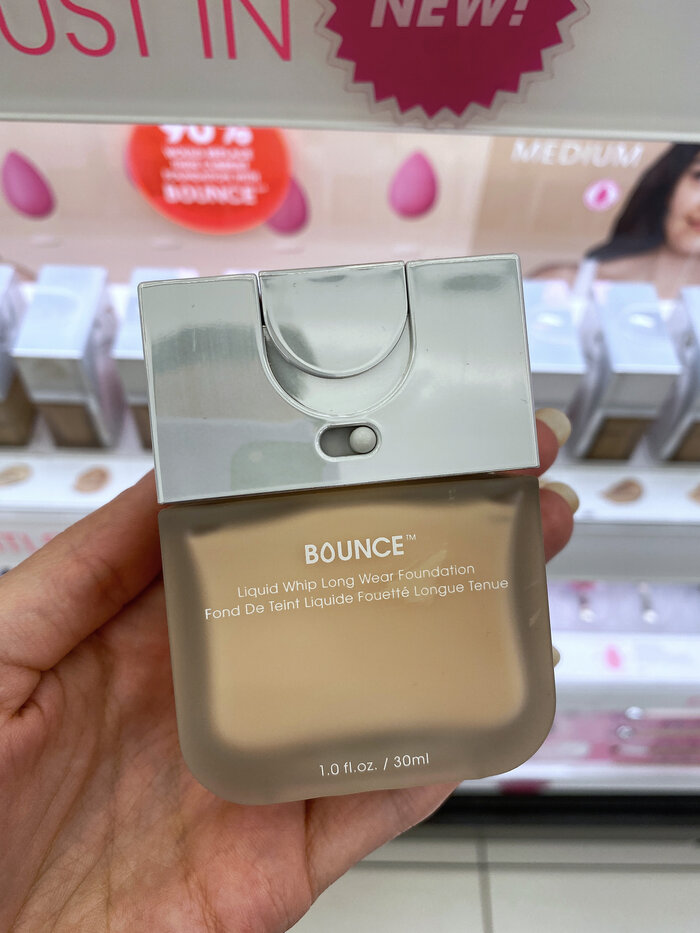 This product applies as cream but dries to a matte finish. It comes in really pretty packaging and it contains aloe vera extract and avocado oil for smoothing, hydrating and nourishing the skin! It's best applied with a sponge or brush.
Hourglass is an amazing luxury beauty brand that is proudly cruelty free and has tons of vegan products, including Seamless Finish! This is a full coverage product with a really pretty but natural looking finish. Its formula is waterproof and sweat proof, and a little bit goes a long way with this stuff. It has a pretty diverse range of shades as well!
This product from Milk Makeup has an oil free and silicone free formula, and it offers a matte finish. It has the "clean at Sephora" stamp of approval, meaning it's free from a long list of other potentially irritating ingredients as well! It's super breathable and it looks really natural on the skin.
This waterproof and transfer resistant formula from Urban Decay is oil free and has a matte finish. It's long wearing and I notice that with this one it really does look so natural and just like your own skin, but with imperfections gone!
Browse Full Coverage Cruelty Free Foundations:
Related Posts:
How To Apply Foundation: Tips + Tricks
Start by pumping a small amount of product onto the back of your hand

If using a brush, dab some product onto your brush (using vegan or "synthetic" brushes is definitely best, as they don't absorb any of the product like a natural bristle brush does, and synthetic brushes also give you a way more airbrushed style of finish)

If using a sponge, slightly dampen it by running it under water and then drying it off on a towel before taking a bit of product onto the sponge

If using your fingers, make sure your hands are super clean and sanitized before taking some product onto your index or middle finger

Start in the middle of your face – i.e. the T-zone area – and then blend outward for the most natural looking finish

Only apply product where you actually need extra coverage and not all over your entire face (again, in order to produce the most natural look possible)

Set it with your favorite powder or with a setting spray to make sure that it stays in place all day long
Thank you so much for checking out this list of the best cruelty free and vegan foundations of 2021! Have you tried any of these products out yet, or is there something you want to try after reading this? Is there anything I didn't include in this list that you think should be on it? Let me know in the comment section down below! I'm always on the lookout for new cruelty free products that I haven't heard of or tried out yet 🙂
Remember, if you liked this post, definitely feel free to share it on Pinterest, or check out my Instagram feed for tons of similar content if you're interested 🙂 Stay healthy and safe, and talk soon xx

Reader Interactions