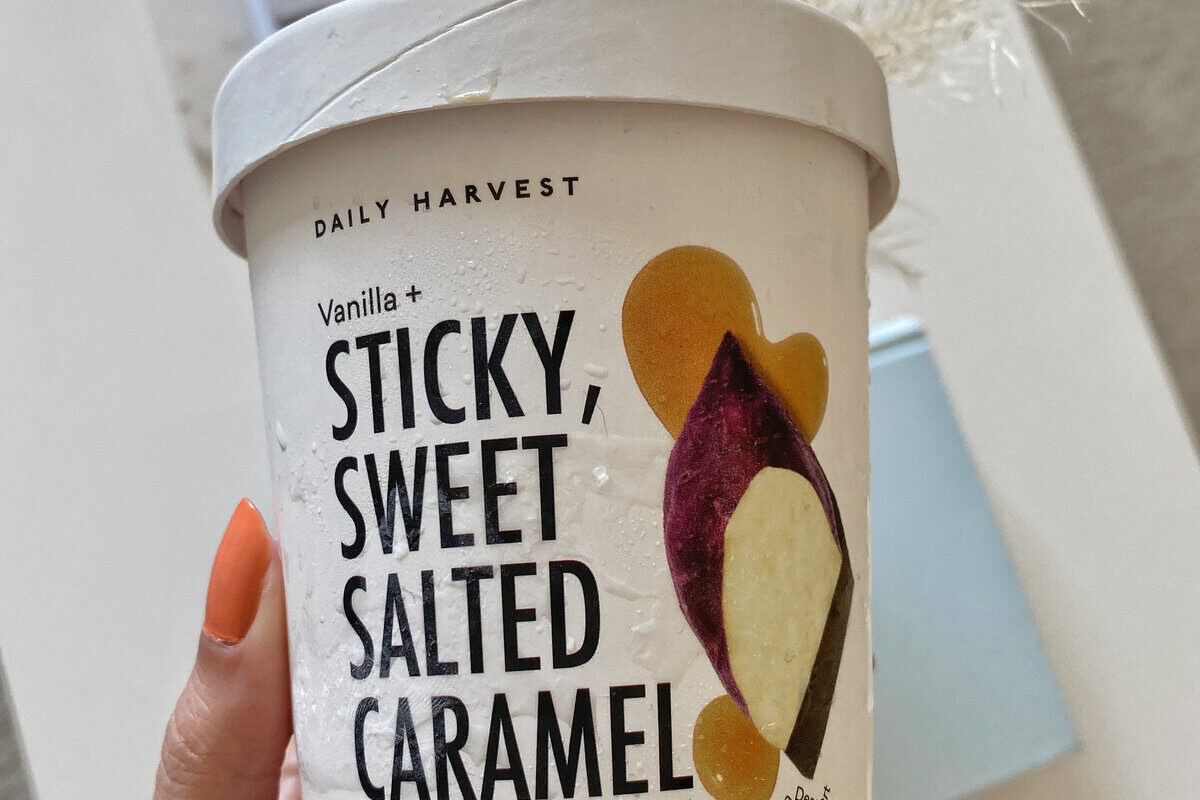 If you've been reading my site for a while now, you probably know that I'm a huge fan of Daily Harvest! Their food is all plant-based, so they are completely vegan friendly, which is one of the things that drew me to them in the first place. I'm also really strict about the types of foods and ingredients that I put into my body, and the fact that 95% of their ingredients are organic is just one of the many reasons why I personally think that Daily Harvest is the best vegan food delivery option out there.
Disclaimer: This post is in partnership with Daily Harvest. All opinions are my own.
DISCLOSURE: THIS POST CONTAINS AFFILIATE LINKS, WHICH MEANS THAT I GET A COMMISSION IF YOU DECIDE TO MAKE A PURCHASE THROUGH THESE LINKS, AT NO ADDITIONAL COST TO YOU.
There are a ton of other reasons why I love them, which I'll get into in today's post! In my last review post, I explained the basics of how Daily Harvest works, so today I'll dive a little deeper into exactly how I use it in my everyday life and how I think it will benefit you too.
If you want to, you can go ahead and check out my last Daily Harvest post for a full comprehensive review explaining exactly how to use it and why I personally think that it is the best vegan food delivery company out there, or keep reading to find out even more information on how to easily incorporate it into your life to save you time and make eating healthy way more convenient!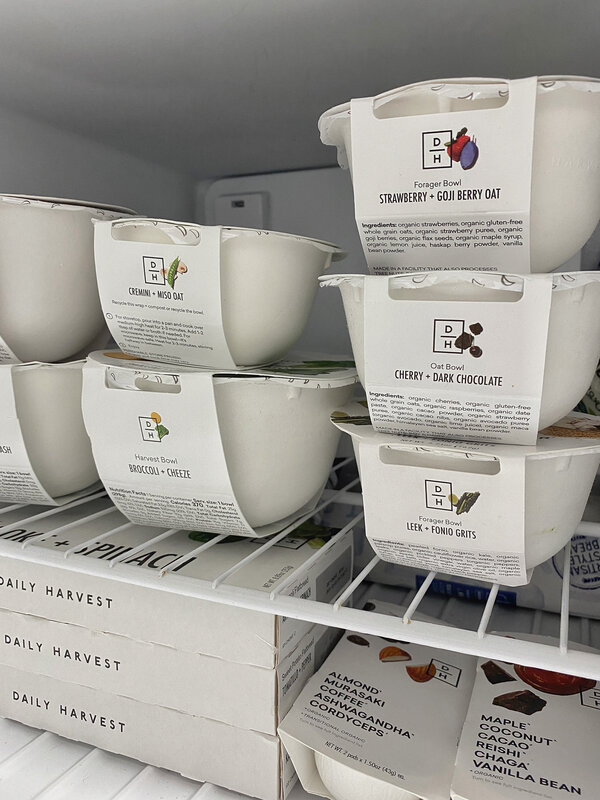 Best Vegan Food Delivery Company: About Daily Harvest
So if you're not familiar with Daily Harvest yet, they deliver plant-based food directly to you and have around 90 different items across 11 different collections that range from smoothies, to soups, to lattes, to "scoops" (delicious plant-based and dairy-free ice cream) and more! They make it so easy to get more fruits and veggies into your diet, since all of their food can be prepared within just a few minutes. Everything is frozen and then shipped right to your front door, so all you have to do is unpack your box, load up your freezer and start enjoying the food.
One of the great things about them is that they work directly with organic farmers to ensure the best crops are harvested at their peak before freezing, and their ingredients are 95% organic. Their ingredients are frozen at peak ripeness to lock in their ultra fresh taste and nutritional value. Also, Daily Harvest food is always gluten free, dairy free, plant based, and free from preservatives, fillers, gums, refined sugars and anything artificial, which is pretty amazing!
They're an awesome, environmentally conscious company that is always innovating and finding new ways to reduce food waste, as well as make their packaging more sustainable. There are legitimately so many reasons why I think that Daily Harvest is the best vegan food delivery option you can find.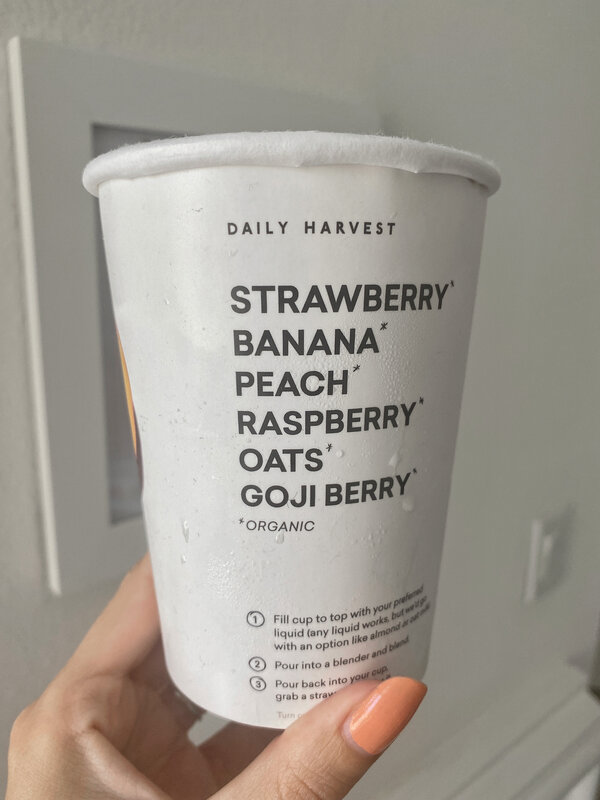 Best Vegan Food Delivery Company: How Daily Harvest Works
So how it works is you pick your delivery schedule – they deliver once per week but you can decide to get a box every week, every two weeks, or three weeks out of the month, however you want to do it, and then you decide on the quantity in each delivery. As a new customer, you'll choose a plan of how many items you want (9, 14, or 24) and how often you want them delivered. After that, you can choose a box size of 6-8 items per delivery, 9-11 items, 12-23 items, or 24-26 items, and you earn price savings on your box the more you increase the size of the order. And, you can receive an additional discount by using my promo code "CAITLIN 40" to get up to $40 off your first Daily Harvest box!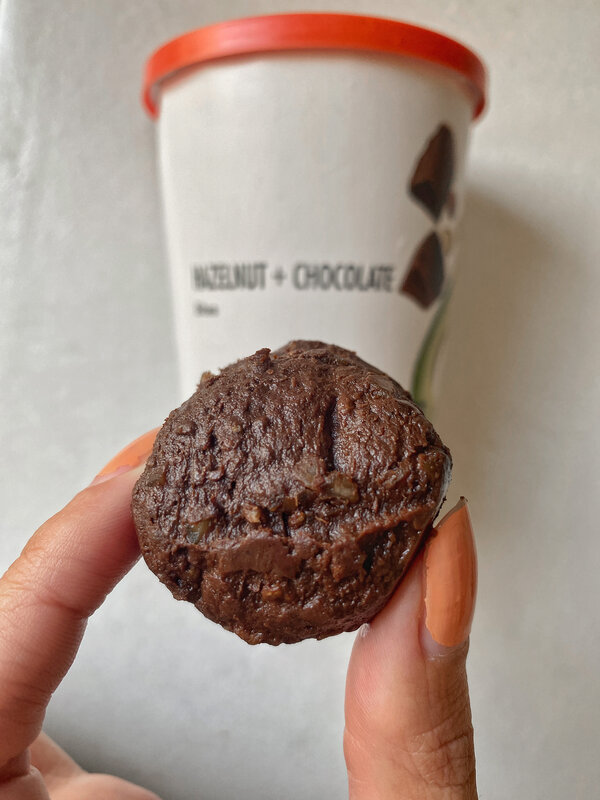 You're completely free to change the size AND the contents of your order at any time, and you can skip deliveries with the click of a button or change up your selections as often as you like. So, your delivery schedule is completely up to you, and you can have deliveries come every single week or just once a month if you prefer! The convenience is really unmatched, which is yet another thing that I love about Daily Harvest and why I believe it is the best vegan food delivery company.
If you want to try it out for yourself, you can click here and use my promo code "CAITLIN 40" to get up to a $40 discount on your first Daily Harvest box!

Best Vegan Food Delivery Company: How To Use Daily Harvest In Your Everyday Life
I personally get weekly deliveries because my freezer is super small (I would totally get one big monthly shipment if I could!), and I usually get a box of 6-8 items every week. If I'm ever out of town or otherwise unable to collect my delivery, I skip it, and I love that they make that so easy to do.
So in my box, I typically order around 5 smoothies, 2 harvest bowls (or soups or oat bowls), and 1 item that I haven't had before just to switch things up and try some new things from them. This allows me to make a smoothie every weekday, and since I'm usually lazy on weekends 5 smoothies per box is the perfect number for me. Then I still have the other two bowls left over that I usually will eat for lunch a couple days out of the week, and the one other treat that I ordered is left for me to try as well!
If I'm coming up on a week where I'm feeling like it'll be especially busy and I might not have time to make anything in the morning, then I'll order more of the oat bowls and chia bowls, since these can be prepared the night before (if you want them cold) by just pouring some milk in and soaking them in the fridge overnight. Then in the morning I'm able to just grab the bowl and go!
I have always been extremely picky about the quality of the food that I eat, and Daily Harvest meets my strict standards. So if you're the same way, you definitely need to incorporate them into your life! They're the best vegan food delivery company out there and they have saved me so much time while still allowing me to eat the delicious healthy food that I crave every single day.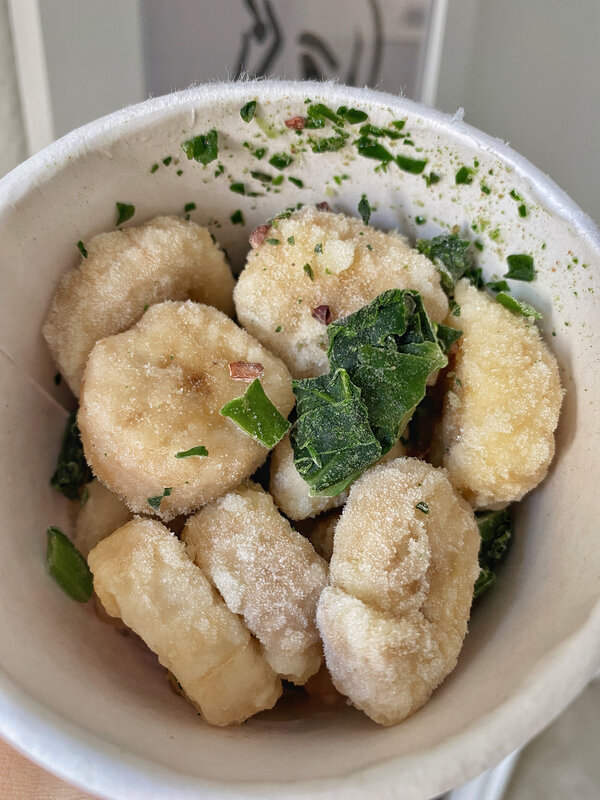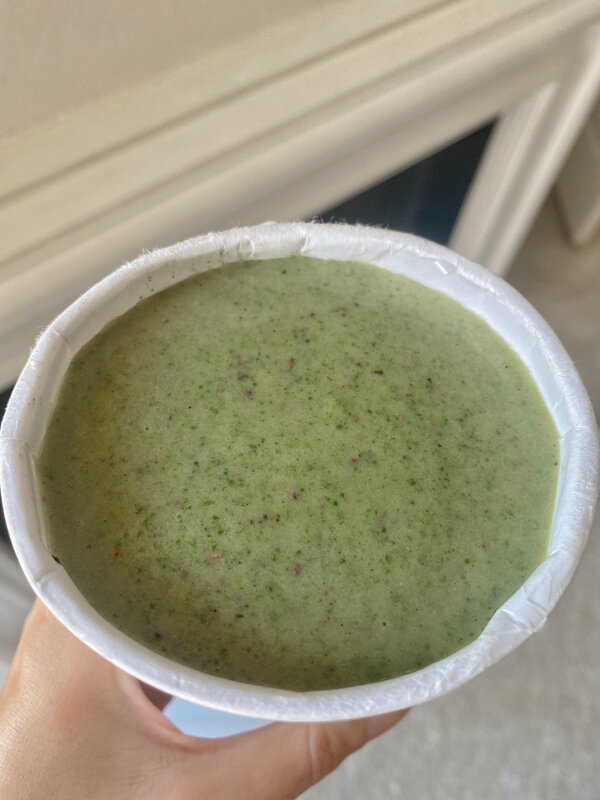 You're now halfway through reading this post on the best vegan food delivery company!
Remember you can receive an additional discount by using my Daily Harvest promo code "CAITLIN 40" to get up to $40 off of your first box!
Best Vegan Food Delivery Company: Daily Harvest Favorites
As far as my favorites from Daily Harvest go, the thing that I love to order the most of is definitely the Mint + Cacao smoothie. It is so cool and refreshing, and one of my favorite ways to start off my day! I always make mine with almond or oat milk and it comes out super creamy and delicious. If you like mint flavored things, you have to try it. They're so easy to make, just add liquid and blend!
Their flatbreads are one of my favorite items because of how hearty and filling they are. I personally love the Artichoke + Spinach one, as I think the flavors of the vegetables along with the creamy tahini white sauce go so well together! The flatbreads are so delicious in general, which is just one of many reasons why I believe that Daily Harvest is the best vegan food delivery company.
The Kabocha + Sage flatbread another classic – the nutritional yeast adds an almost cheesy flavor to it that is so yummy. The process to make them is really easy: you just bake them in the oven at 450 degrees until they are cooked through and then enjoy!
I have a couple of favorite harvest bowls, and the first one has to be the Brussels Sprouts + Tahini one. Fun fact, I was never a fan of brussels sprouts until I tried this bowl, and now I'm addicted! The sauce in this bowl is also just amazing – the turmeric makes it very warm and rich! All you have to do with these is add in some vegetable stock if you want, and then put it in the microwave, give it a good stir and dig in.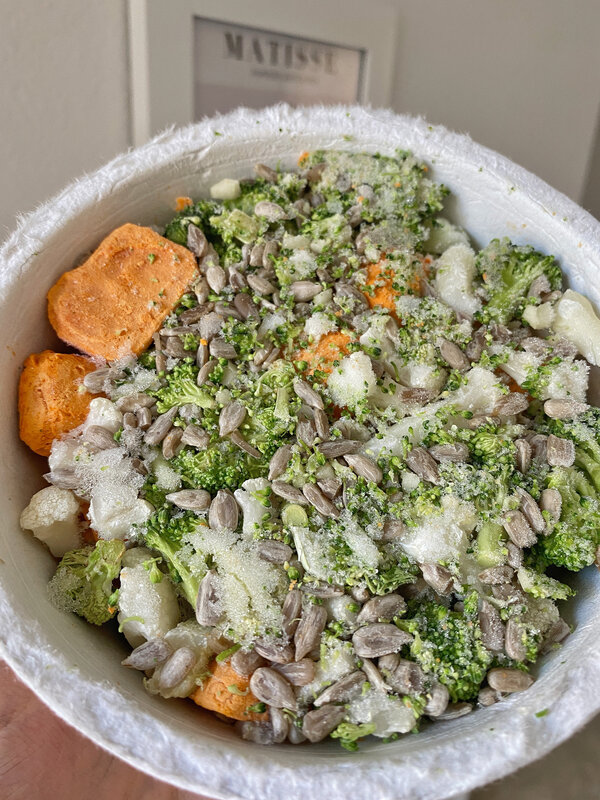 My second favorite harvest bowl is the Broccoli + Cheeze. The bowl is super cheesy (again, due to the nutritional yeast and it is completely dairy-free) and because of that I could eat one of these every day of my life and not get tired of it. It would be such a great way to get your kids to eat broccoli too, since it's all covered in such a delicious sauce!
I have a really big sweet tooth, so I'm a huge fan of their scoops. These are elevated dairy-free ice creams with super nutritious ingredients, and I can never stop eating the Chocolate + Ooey Gooey Midnight Fudge flavor! Their scoops always use whole ingredients and never contain any added sugar.
For something savory, I really love the Tomato + Zucchini Minestrone. The vegetables in this soup are so fresh, and all you have to do to get it ready is add in some vegetable stock and microwave it for a few minutes! I really like pairing it with the Artichoke + Spinach flatbread, and for me that is a super filling and satisfactory meal.
They even make little snacks called "bites", which are almost like pieces of fudge but made of superfoods! I love to grab a Hazelnut + Chocolate bite or two for dessert whenever I have them in my freezer.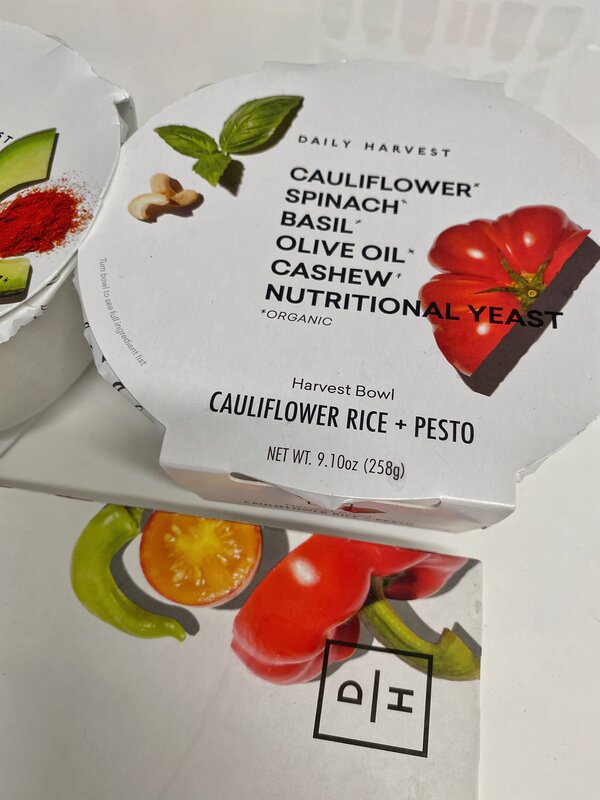 Daily Harvest FAQ
Is it easy to prepare the food? Yes! All of their food is designed to be prepared in minutes and in only one step, whether that is blending, heating, soaking, or taking your spoon and digging right in.
Do you need to use additional ingredients? At most you need one additional ingredient to prepare the food, and it's typically either milk (or a liquid of your choice) or water (I like to add vegetable stock too). The milk would be used to add to your smoothies (I always use my favorite plant milk to make mine, but you can totally just use water in yours and it still tastes delicious and so refreshing) and the vegetable stock could be for things like your soups and harvest bowls.
Is Daily Harvest vegan? All of the ingredients used in the food are dairy free and completely plant based, so it's perfect for vegans! You can eat the food as is on its own, or you can add your own toppings and customize it to fit your own dietary needs.
Is Daily Harvest organic? 95% of their ingredients are organic and they never include fillers, gums, refined sugars, harmful oils, stabilizers or artificial anything. P.S. They always use organic for all of the ingredients that appear on the Environmental Working Group's "dirty dozen" list (the most pesticide-intensive fruits and vegetables).
Is Daily Harvest worth it? For those with a busy lifestyle who want to eat healthy, high quality foods that are easy to take with you anywhere on the go, then yes it absolutely is worth it! For me, it's been such a timesaver to have all these premade, nutritious frozen foods waiting for me in my kitchen. I believe it saves me money as well, because if I were having to buy all of these separate ingredients to make my own smoothies at home, like fresh berries, spinach, chia seeds, bananas, etc, the cost would add up pretty quickly.
So if you're someone who is active and loves to eat healthy, then I highly recommend trying it out. Daily Harvest seriously is the best vegan food delivery company available! Use code CAITLIN40 to get up to $40 off your first box!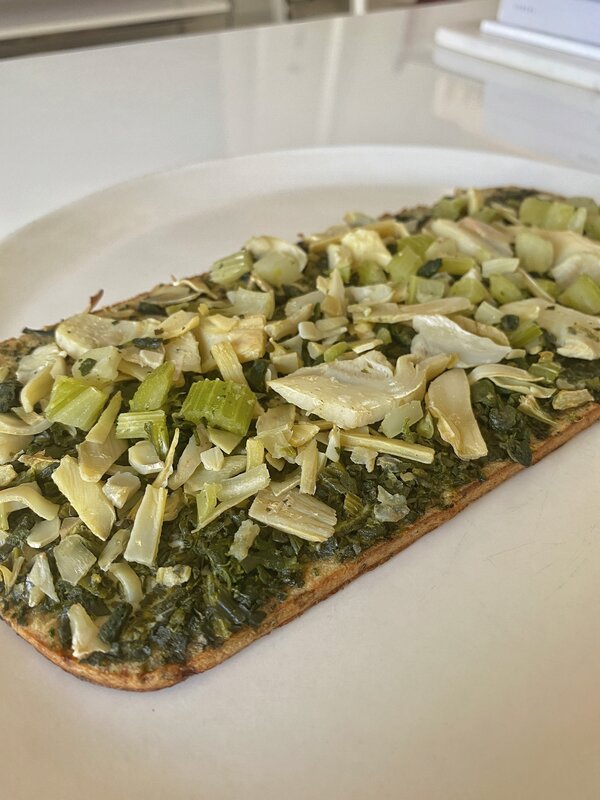 Related Posts:
Thank you so much for checking out this post on what I think is the best vegan food delivery company, Daily Harvest! I hope that this was helpful for you guys and that it answered any questions you might have had about placing your first order with them. Let me know in the comment section below if you've tried anything from them yet, or if you're planning to now that you've read this post!
As always, if you liked this post then definitely feel free to share it on Pinterest, and be sure to check out my Instagram feed for tons of similar content if you're interested 🙂
Stay healthy, safe, and talk soon xx

Reader Interactions