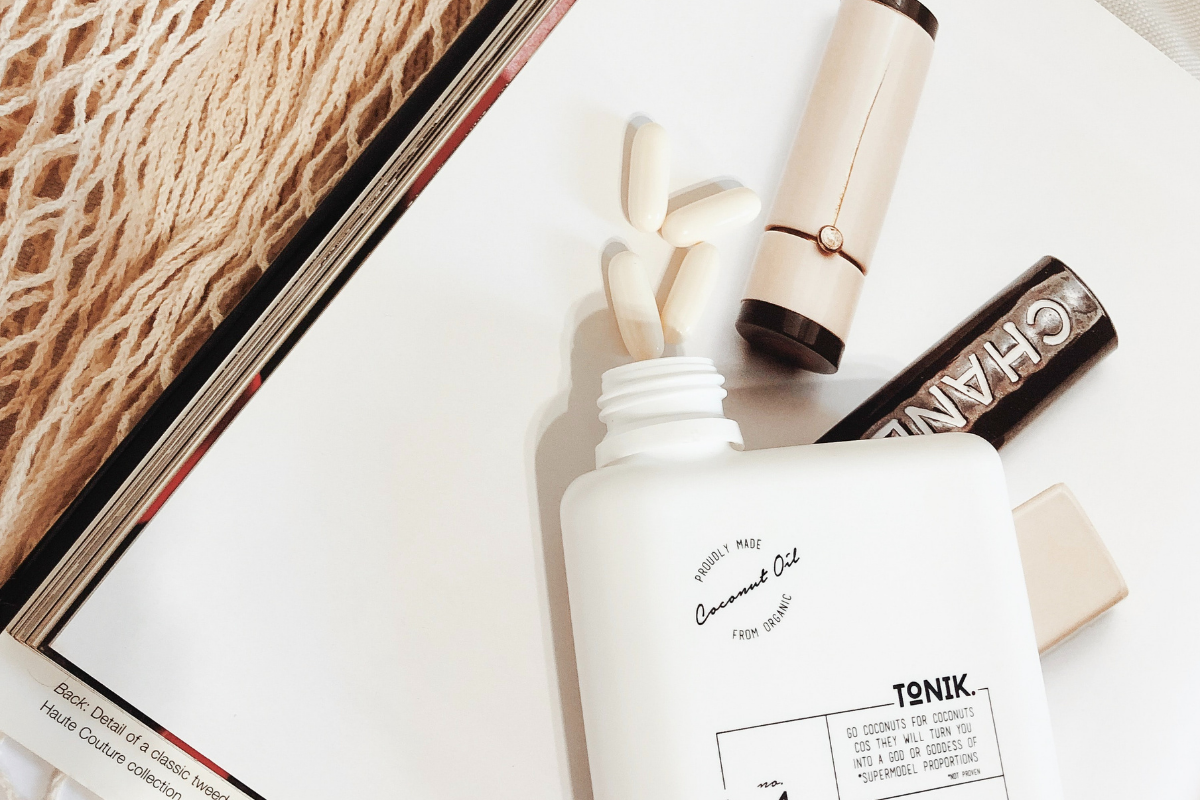 I'm a big believer in the beauty from within approach, and there are so many vitamins and nutrients that our nails, skin and hair need to look their best that it can be challenging to get everything just from your diet alone. Luckily, there are also a bunch of amazing supplements out there, and I've tried a TON of them, so today I have a list of the best vegan supplements for skin and hair that are on the market right now.
I'm a big proponent of taking care of yourself and your physical and mental health so that you can look your best, and more importantly feel your best as well. These plant based supplements are the best quality and the most effective ones that I've tried, so if you're interested in trying out some new beauty vitamins just keep scrolling!
DISCLOSURE: THIS POST CONTAINS AFFILIATE LINKS, WHICH MEANS THAT I GET A COMMISSION IF YOU DECIDE TO MAKE A PURCHASE THROUGH THESE LINKS, AT NO ADDITIONAL COST TO YOU.
Best Vegan Supplements For Skin and Hair:
Hum Nutrition is one of my all time favorite vitamin brands because they have such a big range of products and there is something for everyone and for so many different types of health concerns out there! The amount of vegan supplements for skin and hair that they have is amazing. Here are my favorite plant based vitamins and supplements from Hum:
This is a combined pre and probiotic supplement to help rid your system of toxins and essentially get your skin looking amazing by improving your gut health. It's specifically formulated for acne prone skin, and it works to balance your gut microbiome and decrease breakouts!
This is a delicious little gummy that stimulates the body's natural collagen production to help keep your hair and skin looking beautiful. It is completely vegan so it doesn't contain any animal based collagen ingredients. It does contain hyaluronic acid as well as vitamin C, so it's full of nutrients that are good for you and it tastes like candy!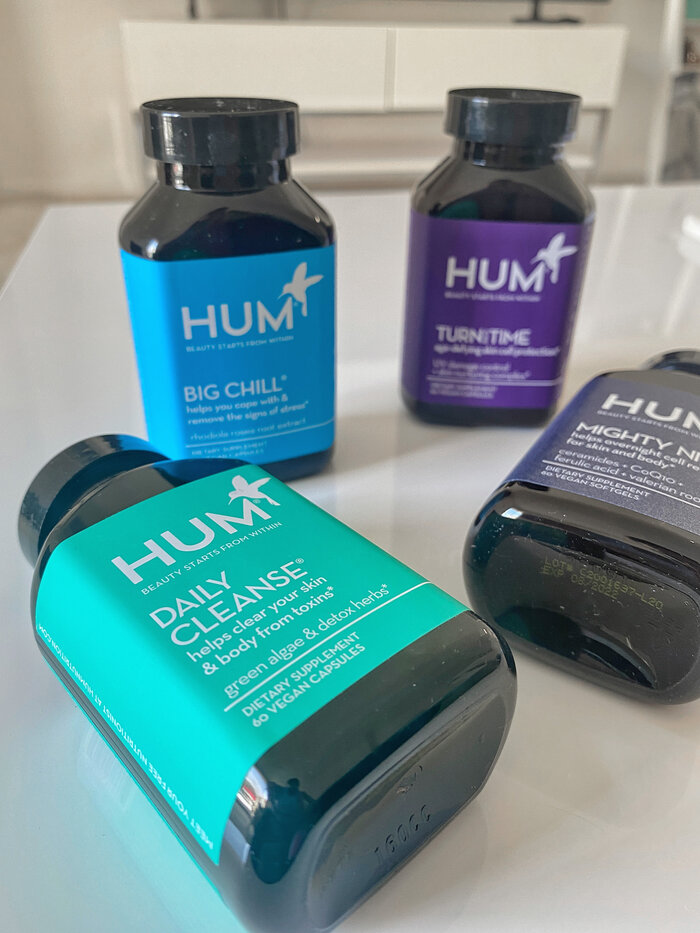 This one helps to detox your system and improves your digestion, so it's really great for skin clarity (clearing up pimples and healing scarring). It gets rid of the toxins that cause breakouts in the first place, so you might notice fewer breakouts than normal after a few weeks of taking this!
This contains plant based fatty acids which your body needs for shiny hair and healthy skin! It's also full of antioxidants, and I found that my nails were stronger after I finished my one month supply of this.
This is a really great anti aging supplement that fights against free radicals and can actually potentially reduce sun damage as well as the appearance of age spots!
I don't personally have much sun damage BUT it's also great if you're young because I've noticed it helps your skin recover from blemishes faster AND it even smoothes out old acne scars.
This is definitely one of my all time favorite supplements that I can't live without!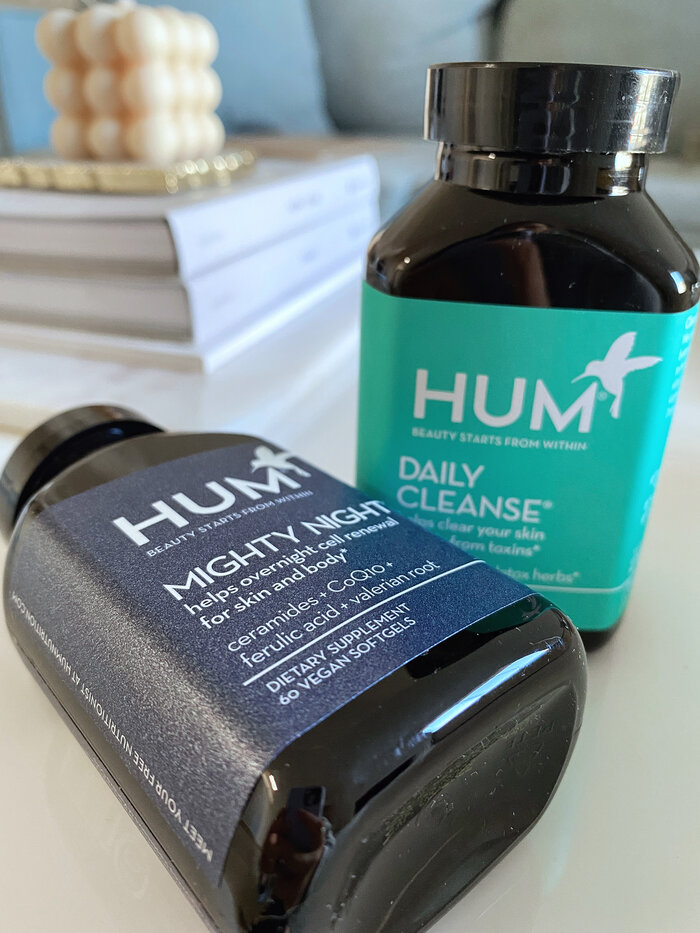 This one technically isn't for your hair or skin, but it does contain ashwaghanda to relax and calm you, and the reduced stress should hopefully translate to healthier skin and hair. I find that taking in an hour or two before bed helps me sleep really well, and of course getting enough restful sleep is super important for your hair, skin and nails!
This one is really similar to Turn Back Time, but with the added benefit that it helps you sleep better too.
I noticed a difference in the clarity of my skin after taking this consistently for only about two weeks!
Sakara is an ultra premium brand that has glowing reviews from a couple Victoria's Secret angels (including Lily Aldridge). It is basically a high end plant based and vegan meal delivery service that makes beautiful and delicious meals out of organic whole food ingredients, with no GMOS, refined sugar, or gluten!
They also sell other health and wellness products, like vegan supplements for skin, hair, and overall wellness, and healthy packaged snack foods like bars and granola that contain zero animal products or byproducts.
Sakara actually has an amazing deal where new customers can get $50 off of their first order of $75 or more! This is such a great way to try out their meal delivery service with a big discount if it sounds like something you would be interested in. If you do end up trying it out leave a comment on this post to let me know how you liked it!
Probiotics are really important for keeping your gut healthy and improving your digestion, both of which are essential for beautiful, clear skin! This formula from Sakara is highly rated and loved by a lot of people, and I would say that while everything I'm including on this list is AMAZING, if you were to only try one thing out of this entire post I would say make it this (it's that good!).
Sakara uses such high quality ingredients, and this product is a blend of digestive enzymes, probiotics, and prebiotics. The bottle comes with a 180 day supply (that is a huge supply and kind of unheard of, and more than justifies the cost of the bottle), so you really cannot go wrong with this!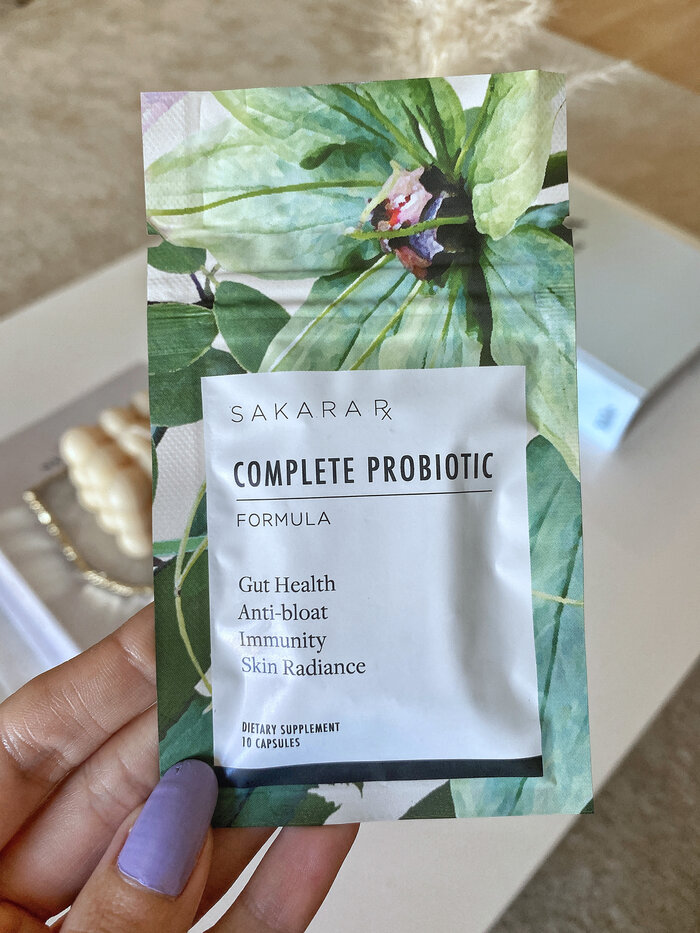 These not only taste delicious – they're chocolate, after all – but they contain collagen boosting ingredients and are made from raw and organic cacao, as well as low glycemic coconut sugar!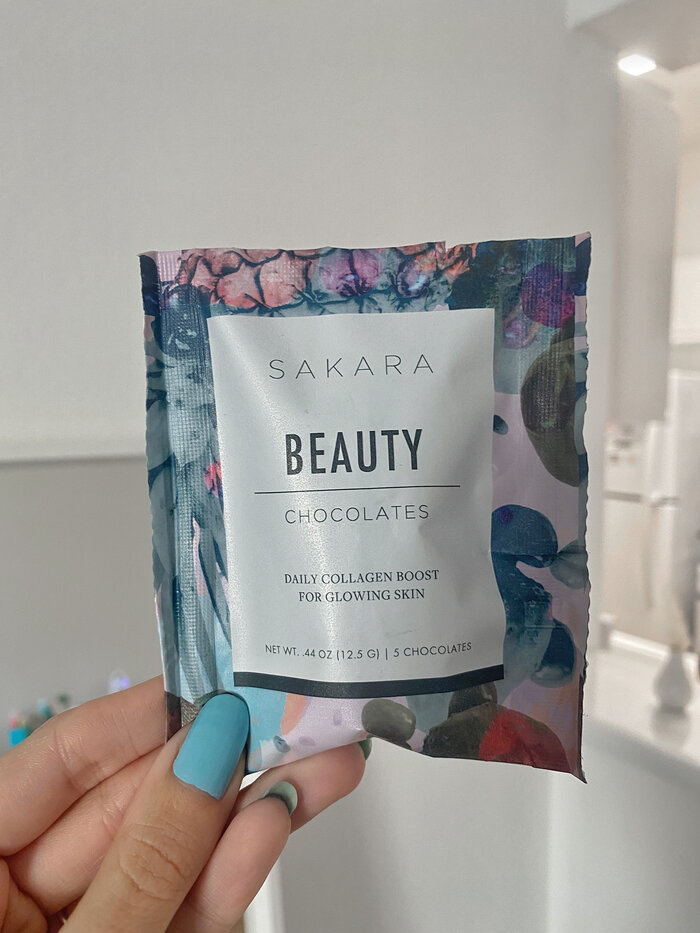 This vegan supplement from Sakara is made up of a thirty day supply of a curated daily vitamin packet that contains multivitamins, fish free algae derived omegas, probiotics, and minerals.
This is priced at a luxury price point, but if you look into Sakara's values and company ethos you'll see why pretty quickly. Every ingredient is gluten free, non GMO, organic, and free of any cheap fillers, contaminants, chemicals and common allergens that are found in your average vitamins wayyyy too often.
According to Sakara's website, the supplement industry tends to be mostly unregulated (I know this is true because I've looked into it a lot), so they choose to operate by the highest standards to ensure that only the best goes into their products.
Moon Juice is another super premium vegan supplement brand that I love so much because of their commitment to high quality ingredients that are non GMO, sustainably sourced, and plant based. They carry all kinds of different beauty supplements and they also have a new collection of natural skincare products that is currently sold at Sephora.
This is a supplement with an antioxidant packed formula that's designed for anti-aging and for renewing your skin's elasticity. Moon Juice is so high quality and this amazing vegan supplement can help you feel more energized and your skin look more radiant, and who doesn't want that?
This is a plant based vegan collagen supplement that helps minimize the appearance of any fine lines and wrinkles, and keeps your skin looking super healthy and glowing. It benefits your hair, skin, and nails too!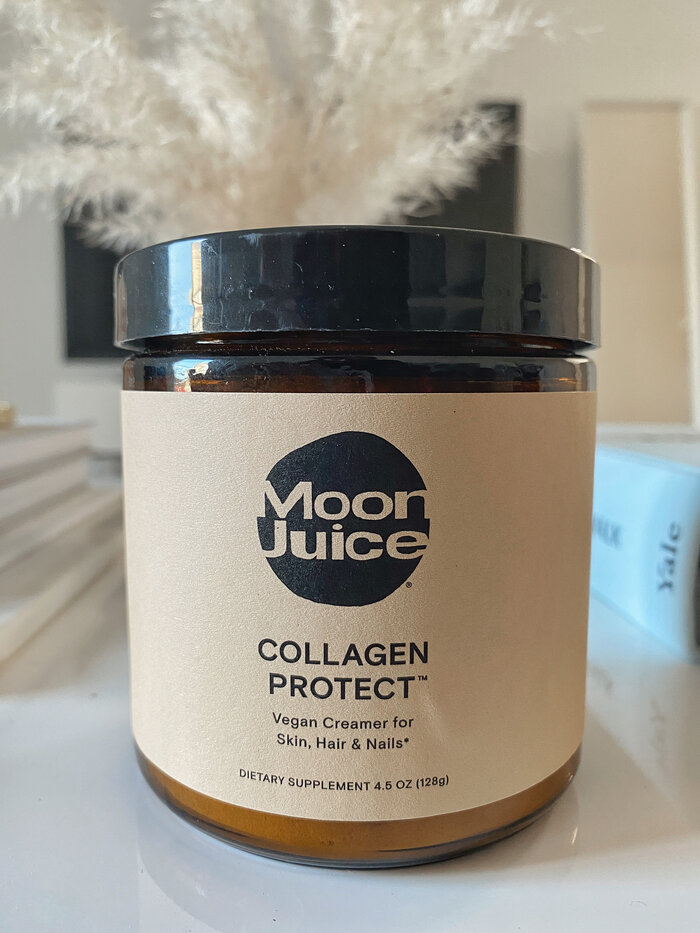 This one is really similar to SuperBeauty, except it's laser focused on building up the health of your hair. It contains biotin, kelp, ginseng, and ashwagandha, among other things, to protect your hair follicles and provide important micronutrients that are essential for hair growth!
This is an Australian luxury brand with a major focus on gut health! Their products help you heal your gut so that you're glowing from the inside out and living life as the most gorgeous version of yourself possible.
This product contains B vitamins and biotin for gorgeous, radiant skin as well as a blend of berries to help boost your body's production of collagen! It also really helps with reducing fatigue and energizing your mind and body, so it not only helps your hair and skin look amazing but it helps give you a mental boost too.
This is a powder that you can mix into your daily smoothie, a plant based yogurt, or a glass of water, and it contains no GMOs, artificial flavors, dairy, egg, or gluten!
This vegan omega supplement has amazing reviews online, and it comes in the most gorgeous packaging! It's an oil that you can add to your smoothies, a glass of water, or even your meals, and it provides you with your daily intake of the essential fatty acids that you need for a smooth, hydrated complexion and reduced inflammation and irritation.
It's so beautiful and such high quality that it's also just an amazing experience to buy and use Beauty Chef products!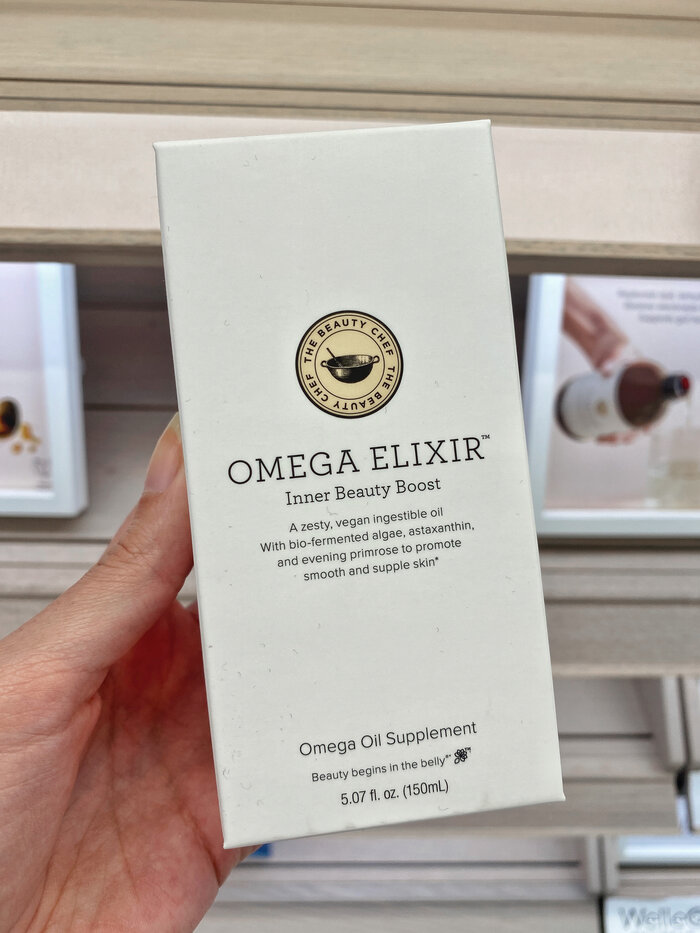 My friend Jennifer let me know about this brand and I've been obsessed with them ever since. They have so many awesome vegan supplements for your hair and skin, including powders, pills and drops.
What's great about Rae is that you can choose between a one time purchase, or if you've found something you absolutely love and want to take it every day then you can do a subscription and get a cheaper price on the product! They'll ship it to you every month for as long as you want to keep your subscription active and just charge you once per month.
We all know how important collagen production is for skin and hair, so I had to throw another collagen product onto this list. And of course, whenever I mention a collagen product it's not actually animal derived collagen, it's plant based collagen boosters that help your body to produce more collagen on its own! This product has great reviews online and I definitely noticed a positive difference in how my skin looked after a month of taking it.
This is very similar to the capsules above but in a powder form so you can add it to your water or smoothies! Each container comes with a fifteen day supply of this vegan collagen powder that also contains vitamin C for added beauty benefits.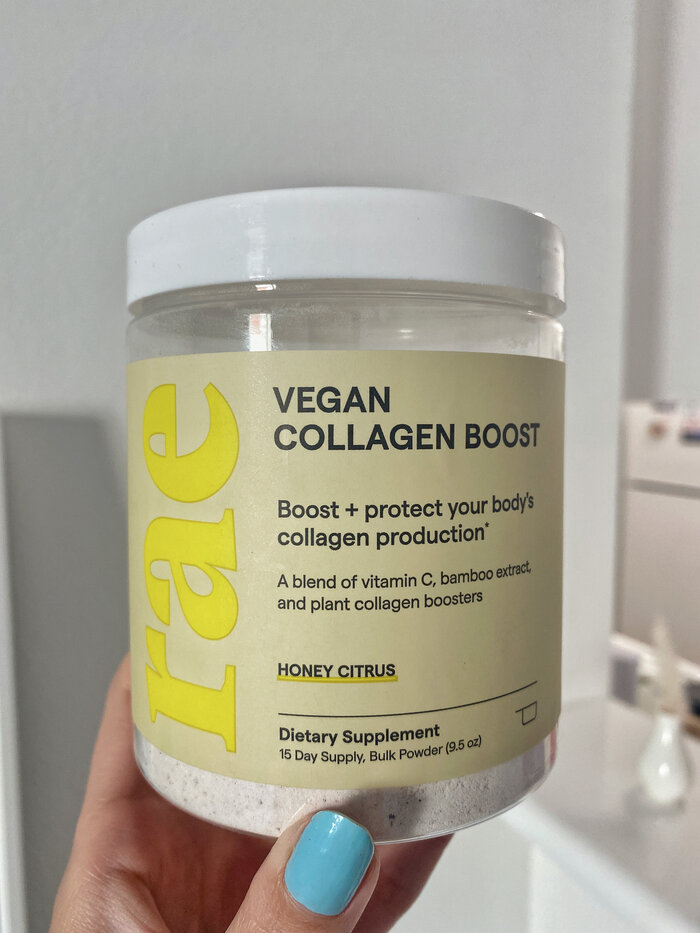 This is a really fun vegan friendly brand that creates custom supplement packets with your name literally on them! They have a really good variety of different vitamins, minerals and probiotics that you can pick and choose from and they'll put them all together in a 30 day supply for you.
Their quality is also amazing and they have a big variety of non GMO products that are made from responsibly sourced materials.
You can actually get 50% off of your first order with them by clicking here and using the code VITAMIN50, which is an amazing deal!
As far as their selection of products that will help you improve your skin and hair, they have a few different things:
This vegan vitamin D that is sourced sustainably from algae is great for improving the body's calcium absorption, which is super important for healthy hair, skin and nails.
Vitamin D can actually be somewhat difficult to get enough of every single day, so I would highly recommend checking this product out unless you know for sure you're getting enough of it in your diet.
Protein is an essential building block for healthy hair and skin, since it helps with your body's production of collagen! This one from Care/of is seriously one of the best plant based protein powders I've ever tried.
This is another awesome probiotic that that is supposed to improve your gut health and just give your whole system a cleanse, and therefore it should also improve the clarity of your skin!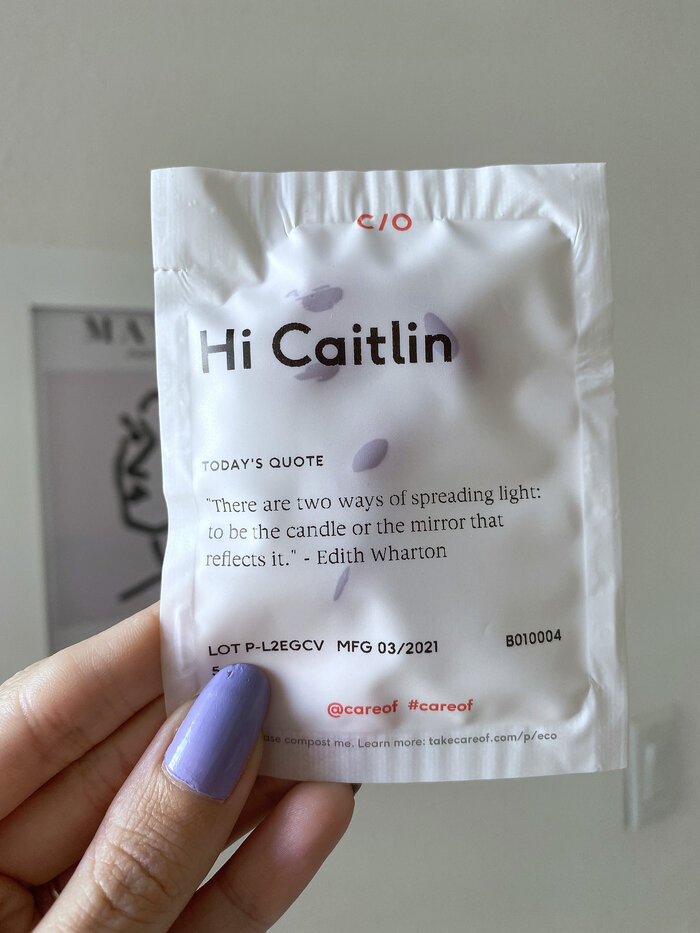 This supplement has an innovative formula that is designed to promote anti-aging, skin health, and increased renewal of your skin cells for a youthful and glowing look!
It contains vitamins A,C, and E, as well as vegan omegas, all of which can help your skin look amazing over time. The bottle contains sixty capsules and you take two per day!
This vegan supplement helps your skin by strengthening its natural protective barrier and your immune system. It is designed to stimulate your body's production of collagen for young, healthy looking skin, and it also contains adaptogens that can increase the skin's resistance to chemical and physical stressors!
This is an anti inflammatory supplement that helps to fight signs of aging by repairing your cellular function from within! The plant based ingredients are top notch and such high quality, as is everything from Barbara Sturm. So many people love and highly recommend this brand, and I would say it's definitely worth the cost!
This revolutionary beauty, lifestyle and wellness brand creates amazing clean skincare products, as well as some vegan friendly supplements that work well for skin and hair improvement. It was founded by Gwyneth Paltrow in 2008 and it's currently available at Sephora!
This is a packet that you drink once daily in about eight ounces of water that helps reduce the look of damage on your skin from free radicals like sun and environmental stress and pollution!
It also helps with protecting against future damage and preventing fine lines and other signs of aging. You should start to notice results by the two to three month mark of taking this consistently.
This is one of the best types of vegan supplements for your skin because a detox supplement typically gives your liver a little bit of extra help with its own detoxification process so that you look healthier and more radiant, which can then also translate to gorgeous shiny hair!
This is filled with nutrients and botanical extracts to make your skin and hair look and feel their best.
Related Posts:
Thank you so much for checking out this list of the best vegan supplements for skin and hair! Have you tried any of the ones on this list, or do you know of any other products or brands that I left out that should be included? Let me know in the comment section down below, and definitely feel free to share this post on Pinterest if you liked it!
Also, feel free to check out my Instagram feed for tons of similar content if you're interested. 🙂
Stay safe and healthy, and talk soon xx