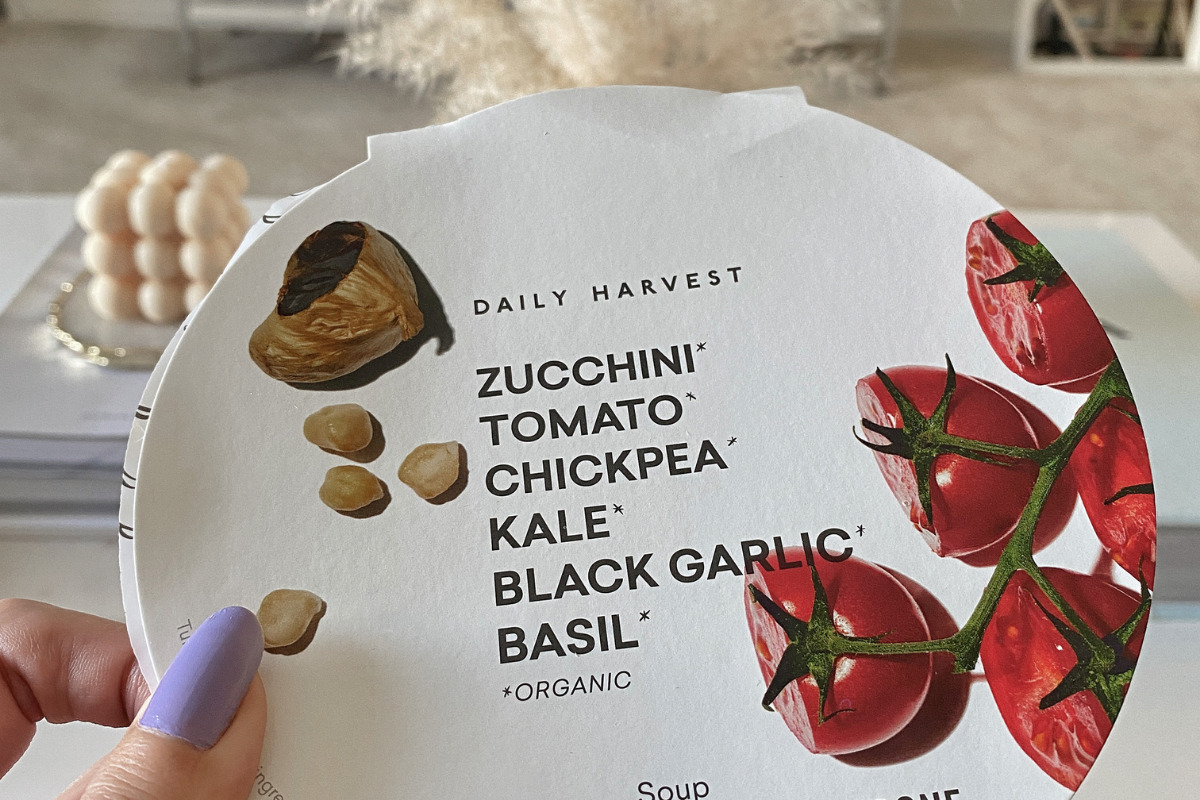 DISCLOSURE: This post contains affiliate links, which means that I get a commission if you decide to make a purchase through these links, at no additional cost to you.
If you wanted to see a Daily Harvest review before you decide whether or not it's worth the price, then don't look any further! Here is my full 2021 review of this vegan smoothie and food delivery service company, and you can use my discount code "caitlin" for $25 off your first order if you do decide that it's for you!
I'll go over some of their best products, as well as answer some questions you might have about the service and exactly how it works. Just keep scrolling for my Daily Harvest review and promo code discount for new customers!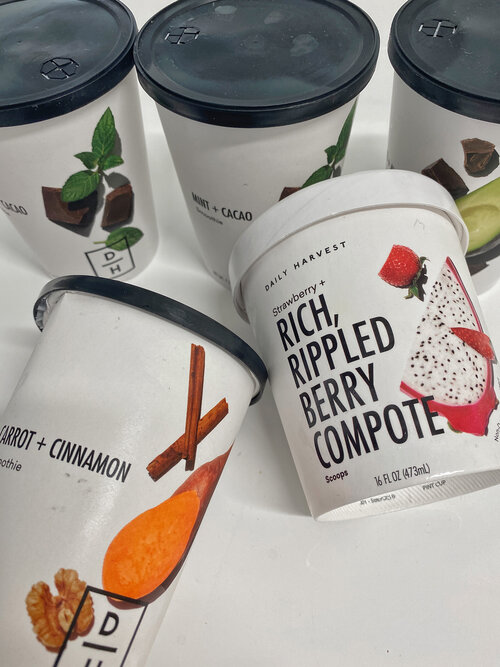 Daily Harvest Review: What Is Daily Harvest?
Daily Harvest is a plant based/vegan food delivery service that offers everything from smoothies (which are their main attraction) to soups and savory lunch/dinner harvest bowls! Everything is packed up in a box and frozen using dry ice then shipped straight to your door.
You can choose between weekly or monthly deliveries at quantities of 6, 9, 12, or 24 cups if you choose the weekly option or a box of 24 cups if you go for the monthly delivery option. The cost per cup has a small range of $6.99 – $7.99 a cup, depending on how many cups you're ordering and whether you're getting weekly or monthly deliveries (the monthly option is the cheapest at $6.99 per cup if you have the space in your freezer for 24 cups on the day of arrival).
They also have other items such as flatbreads, harvest bowls and even ice cream that can go up to about $8.99 per item.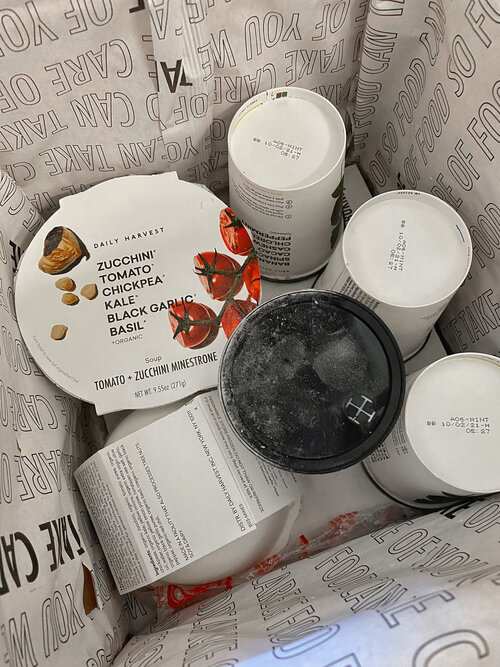 Review: Will Daily Harvest Work For You?
Daily Harvest offers high quality, delicious frozen vegan smoothies, meals, and treats for people who are busy and want a fast and convenient way to eat healthy. They dice up and freeze their fruits and veggies at the height of their nutritional prime to ensure that you are getting the freshest possible taste along with the highest amount of nutritional value, and many of their ingredients are organic.
If you live a busy lifestyle where you're constantly on the go and not spending much time at home, or if you just want something healthy that is super easy to take with you anywhere and requires little to no prep time, then this is definitely a great option for you! The cups that all of their products come in are actually designed this way – everything comes with a sturdy plastic lid for you to easily take it to go (there's even a hole you can punch out on the lid for the straw to go through!) and then when you're done with it you can recycle the lid!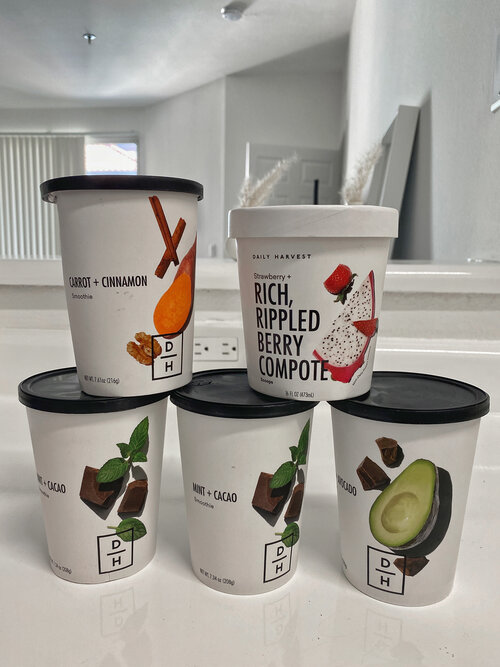 Daily Harvest is different from any other meal delivery service because everything they sell is pre-portioned and packaged, and all you have to do is blend, microwave or refrigerate to prepare your food. Compared to the other delivery services out there where all the ingredients are also pre-portioned, Daily Harvest is the most convenient of them all because with the other services you still have to set aside anywhere from 30 minutes to an hour to actually make the food!
Another really good feature that they have is they offer the ability to pause your subscription or skip a delivery. Pausing means that you will stop receiving orders and you will not be charged, and you can pause your subscription for as long as you want! If you skip a delivery, you miss only the one that you skipped and then your service continues the week after. This is great if you want to try it out but don't feel like you need deliveries every week!
The only thing you need to remember with the pause or skip options is to make the changes in your account by the deadline, otherwise your delivery for the upcoming week will still be sent out as normal (all meal delivery services have a deadline by which you need to make changes).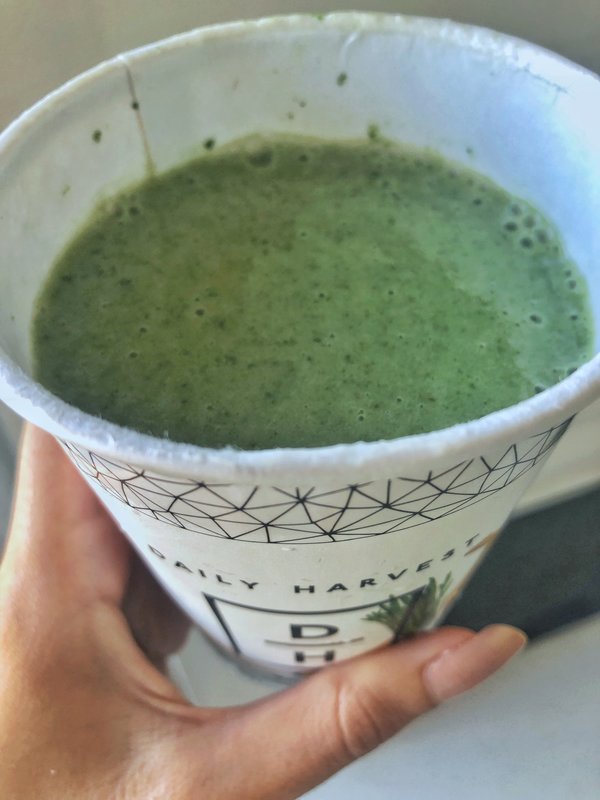 Related Posts:
Daily Harvest Review: Best Items
You might be a little overwhelmed looking at all of the different items that they have on their website, so I'm going to go ahead and walk you through my top favorites here, as well as tell you exactly why they're my favorites and why I think you'll like them too.
I'll go through each different category of products that they make, so that you can make the most informed decision possible if and when you do decide to order from them (if you decide you want to go ahead and do it, you can click here and use my coupon code "caitlin" to get $25 off your first order!).
Daily Harvest Review: Best Smoothies
Out of the 20+ smoothies available on their site (and I have tried almost all of them) these are the ones I think are the most delicious! I have also checked the customer reviews on each one I selected and all of these flavors are highly rated and seem to be loved by a lot of other people too:
This smoothie is just so light, delicious, and has the perfect amount of greens – it has cucumber, kale, AND wheatgrass! I add about a third of a small banana along with almond milk to mine (the added banana thickens it up a little bit and makes it more filling). This is a really quick and easy way to get some extra greens into your day that also tastes great.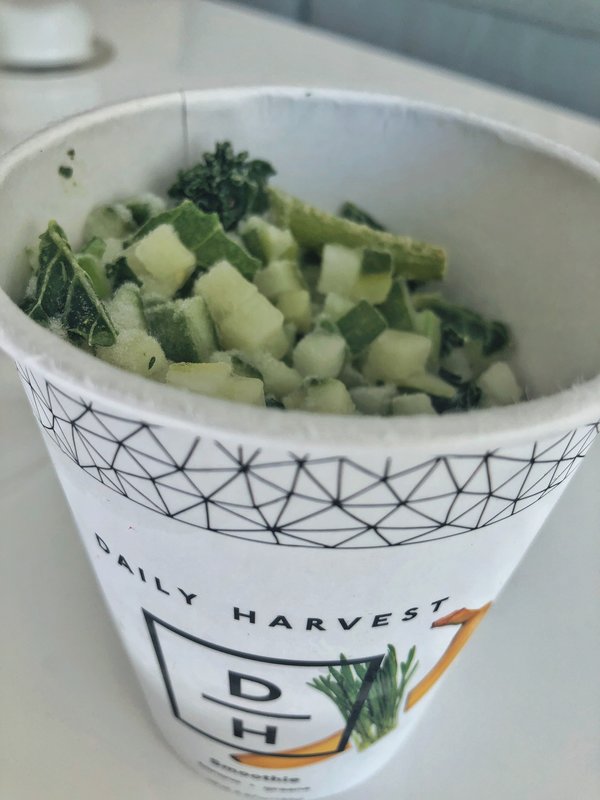 The blueberry really shines through in this one and it also has hemp protein – which contains fiber – to keep you feeling full. It's a little hard to describe this one but I would almost say it tastes like blueberry pie!
This legitimately tastes like a healthy delicious carrot cake! It has sweet potato in it for extra vitamin C, and I think that adds something really unique to the taste. This is one of my all time favorite smoothies!
The cacao and avocado smoothie is one of the thicker ones that you can either keep as is or just add a little more milk or water to it. I personally like making it thick because it tastes like chocolate pudding!
This one reminds me a little bit of mint chocolate chip milkshake, so yummy! Almost everything in this cup is organic, and one of its benefits is that it is very anti-inflammatory and therefore really good for drinking after a big workout.
If you're a fan of fruitier tasting smoothies, this one is definitely for you! It's another one that's on the lighter and thinner side consistency wise and with a really good sweet berry flavor.

Photo: Daily Harvest
Daily Harvest Review: Best Harvest Bowls
The harvest bowls are so cool because they're literally a meal in a cup, and all you have to do is add a bit of your preferred liquid (I use vegetable stock to add a tiny bit of extra flavor, but you can also use water) and microwave them for a couple minutes before they're ready to eat!
The first time I tried this bowl I was so shocked that it's not real cheese sauce because it tastes exactly like it. I was the last person who would ever eat broccoli voluntarily UNTIL I tried this bowl because the sauce is just so good it's like you're not even eating veggies!
Brussels Sprouts and Tahini
This bowl is my FAVORITE thing Daily Harvest sells. It has so many vegetables so I really feel like I'm eating the healthiest meal ever, and remember I'm not a big veggie person so this also speaks to how good the tahini sauce is! I mix in a couple tablespoons of nutritional yeast and it adds even more flavor. SO good!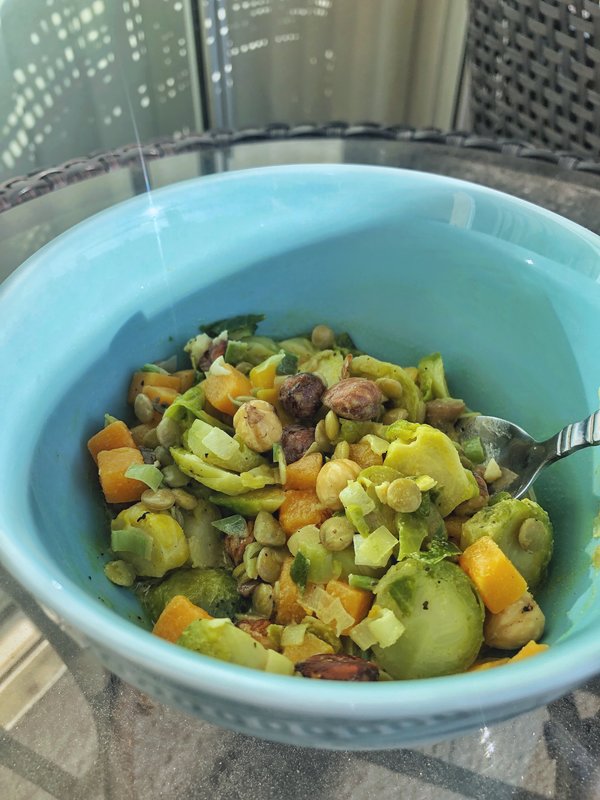 Cauliflower Rice and Pesto
The pesto in this is so good! Super healthy and filling bowl.
Such a good combination of flavors that really do give it a mediterranean kind of taste!
There are so many lentils in this bowl, so of course if you like lentils then you'll love this! It's great for protein and fiber.
Daily Harvest Review: Best Forager Bowls
Think of this as a healthy form of grits because it's filled with greens! Throw in a little bit of vegetable stock and you have a bowl filled with delicious flavors like cheesy nutritional yeast and garlic.
If you love mushrooms, then this one is definitely for you! I never used to like them, but after I found out you can retrain your taste buds to like anything, I started giving them another shot (since mushrooms are amazing for you) and I've been addicted to this bowl ever since. It's got onions, ginger, cremini mushrooms and cayenne, and the flavors all work so well together.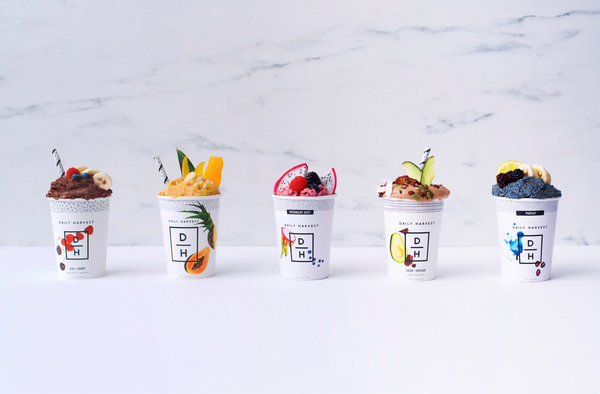 Photo: Daily Harvest
Daily Harvest Review: Best Flatbreads
The flatbreads are somewhat new, and they're currently available in seven different flavors. I find them to be satiating and filling, and they make a great snack or even small meal for one person. To make them, all you have to do is throw them in the oven and then they're ready to go.
This is such a great, savory flatbread that has both broccoli and cauliflower, but the taste of these two veggies isn't overpowering and the white tahini sauce is incredible. This is a really good way to get some greens in for the day without the greens being the main focus or star of the show.
This one is kind of similar to the artichoke and spinach, and it's so yummy. It has cauliflower, nutritional yeast, and squash, and the flavors just all work so well together.
Daily Harvest Review: Best Soups
This soup is so light but still really filling. The carrot and coconut combination is also super interesting and different! If you like coconut, this one is for you.
Tomato and Zucchini Minestrone
This is like your classic minestrone soup but with chickpeas for extra protein! It has a delicious tomato flavor too. I love this because it's so full of high quality veggies, and it's a really easy and delicious way to get a decent amount of greens into your day in one sitting.

Daily Harvest Review: Best Scoops Flavors
The "Scoops" section of their website is actually the cute name that they use for their ice creams, which are a relatively new product of theirs. These are not your typical ice creams though – they're plant based and vegan, and are made from super high quality and healthy ingredients like cacao, coconut, and probiotic (just to name a few!), so you don't even feel the slightest bit guilty after demolishing a whole container of one of these flavors!
Strawberry + Rich, Rippled Berry Compote
This flavor right here is genuinely one of my favorite ice cream products I have EVER tried. It has dragonfruit, strawberry, and raspberry as some of its main ingredients and the sweetness from the fruits as well as organic maple syrup is to freaking die for! If you love strawberry ice cream, you NEED to try this.
Chocolate + Ooey, Gooey Midnight Fudge
This is kind of like your classic chocolate flavor, except it's made from organic cacao and maple syrup, pine pollen, vanilla, and Himalayan sea salt. I have to include this flavor in this Daily Harvest review since it's such a rich, decadent chocolate – it doesn't have that slightly bitter taste like how dark chocolate does, it just tastes like your typical chocolate ice cream except you can really tell the quality of the chocolate is much higher in this.
Vanilla + Sticky, Sweet Salted Caramel
If you love just a plain vanilla flavor with a little hint of salted caramel, definitely try this product out. It has the perfect amount of vanilla sweetness and goes really well scooped on top of any homemade baking you have, like a scoop on a brownie or a blondie bar or something.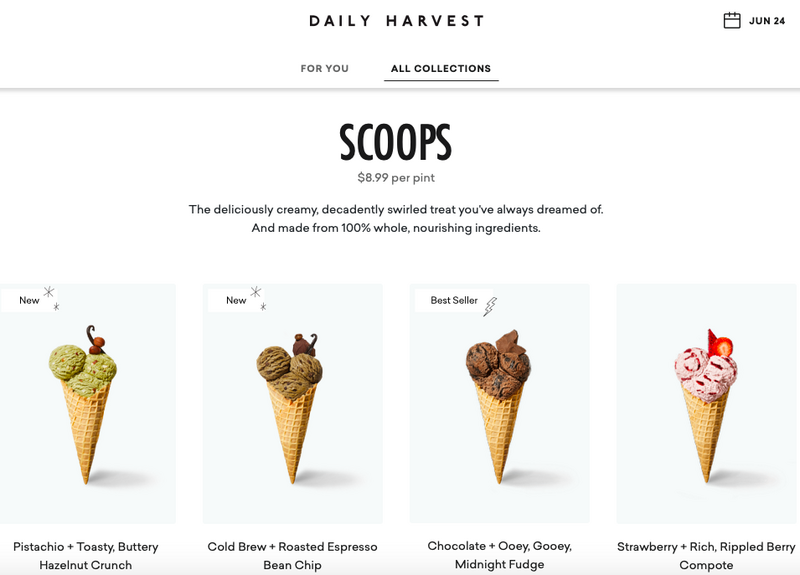 Daily Harvest Review: Best Lattes
The cool thing about their lattes is that each cup comes with three little latte pods that contain the latte mixture, and you just dump it into a mug, add milk and heat it up! So basically each latte comes out to less than $3 which is wayyy cheaper than buying something similar at a coffee or matcha shop.
This is like hot chocolate but suuuuuper healthy. It has reishi mushroom (don't let that scare you, it does NOT have a mushroom flavor it literally just tastes like chocolate and reishi is a superfood adaptogen ingredient that is really good for you) and chaga mushroom as well! I always add a little touch of either maple syrup or agave sweetener to mine for a bit of extra sweetness.
This one is for the matcha lovers out there! It has chlorella and MCT oil, which are beneficial for your gut and skin. I love making this with oat milk and frothing it up so that it's super creamy, and you can prepare this one either hot or cold on ice and it tastes great either way!
I always love the combination of ginger and turmeric because they are both great for your immune system and super anti-inflammatory! I also like adding maple syrup or agave to this one.

Pictured above: Hazelnut and Chocolate Bites
Daily Harvest Review: Mylk
They recently started making plant based milks, and the cool thing about them is they're made of literally only three ingredients! They are currently available in two flavors – regular almond milk and almond + vanilla. The milk comes frozen in little wedges, and all you have to do to prepare the wedges is thaw them a little bit, add them to a blender with some water and mix it all together to make a half gallon of delicious almond milk!
I love to use them in my smoothies – since they are made from great quality ingredients and without any gums or fillers, they have a really good taste that brings out the flavors of the smoothies even more.
Daily Harvest Review: Best Oat Bowls
This one is loaded with berries and as a result has tons of antioxidants. It's perfect for satisfying a sweet tooth in a healthy way! Dragonfruit can be hard to come by in a lot of places, so grab this bowl if you want to try it or if you already love it.
Strawberry and Goji Berry
This is another sweet fruity oat bowl that also has flax and goji berries, two great ingredients that can benefit your skin, mood, and energy levels. I always make mine with oat milk to make it extra creamy.
The pumpkin mixed with cinnamon and various other spices in this oat bowl is such a good flavor, and the raisins add a little bit of sweetness! I love this one especially around the fall time and colder weather months (as you can probably imagine).
Daily Harvest Review: Placing Your First Order
When you are ready to place your first Daily Harvest order, there are a couple of options available. You can either order a box of their most loved best seller cups, or you can create a completely customized box and fill it with whatever you want! You can use my promo code "caitlin" to get a discount of $25 off your first order (this gives you up to three products in your order completely for free!)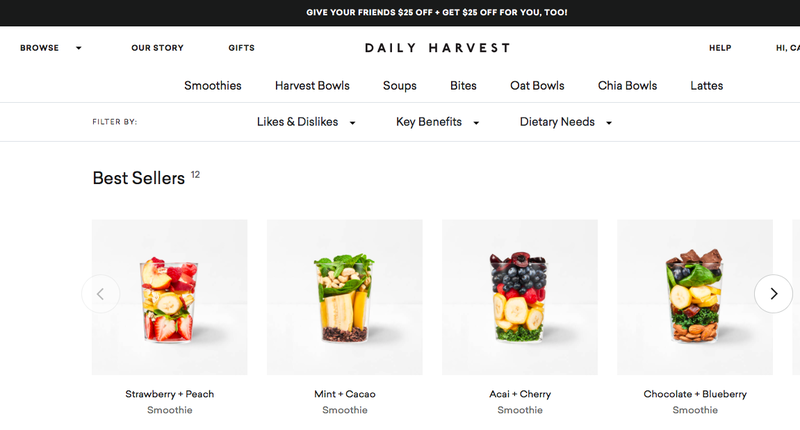 If you're still feeling a little overwhelmed, my best tip would be to set out a realistic plan for yourself in terms of how many smoothies and how many meals you see yourself making each week.
For example, I personally do not drink smoothies every single day (click here to see what I eat in a full day as a vegan – Daily Harvest is usually a part of my typical day) but I do drink them pretty frequently at about 5 days out of every week. So I usually order five smoothies and then I'll fill the remainder of my box with a mixture of some yummy harvest bowls, oats bowls if I'm in need of a couple quick breakfasts for the week, and other treats like lattes or their new "bites" (which taste like fudge by the way, sooo good!).
So for me I usually get 9 cups a week, which means that I have a delicious and filling smoothie as part of my breakfast or even lunch five days a week, then I have the harvest bowl meals about three times a week and I tend to switch up the last cup that I get so I can try something new each week!
Daily Harvest Review: Why I Love It
Daily Harvest is a healthy and convenient food delivery service. Here is a quick summary of everything I love about it:
The ingredients are high quality (95% of the ingredients used are organic)

They have a wide variety of products available, from smoothies, to ice creams, to veggie bowls – there really is something for everyone

It helps me get more veggies into my day without a ton of extra work that would normally be needed to prepare such veggie intensive meals

I can easily update my order for the next week on their website or in their easy to use app

It's super convenient: it's delivered on time, right to my front door every single week!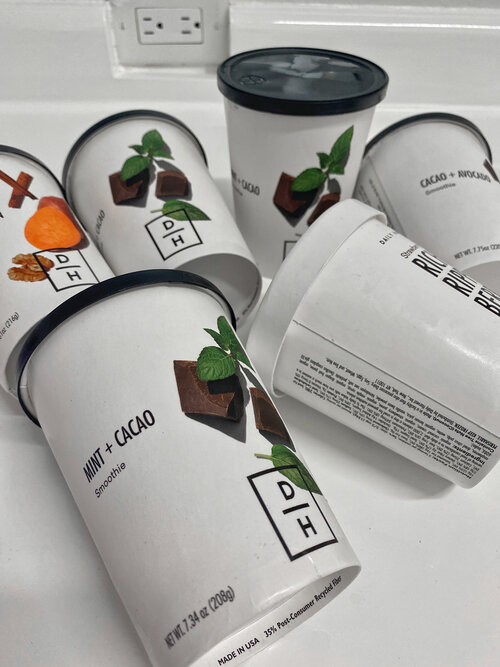 Daily Harvest Review: FAQ
Is it easy to cancel Daily Harvest?
Yes! You can cancel completely with just a couple clicks, and you can also skip your delivery for the week with just one click. This is a super convenient option for if you're going out of town and just need to miss one week's delivery.
Is Daily Harvest Plant Based/Vegan?
Yes, Daily Harvest is 100% plant based and vegan. They use high quality fruit and vegetable ingredients without any meat, dairy, egg, or fish.
Is Daily Harvest Organic?
Daily Harvest uses 95% organic ingredients, which is pretty amazing. The cool thing about them is that they've committed to always using only organic ingredients for the Environmental Working Group's "dirty dozen" list, which is the list of twelve produce items that typically absorb the most pesticides during the farming process. You can find more information on their ingredients as well as the farms that supply them with these ingredients on their website!
How Does Daily Harvest Compare to Thrive Market?
Daily Harvest delivers frozen smoothies, veggie bowl meals, flatbreads, and snack products, while Thrive Market delivers packaged groceries and operates on a membership basis. Because of the fact that Daily Harvest products are pre-made and only need to be blended or heated up to be ready to eat, I would say that they're two very different services.
You could definitely benefit from using both of them at the same time, since they are both so great for saving time! I also have a pretty comprehensive Thrive Market review post that you can check out as well if you want to know more about that service.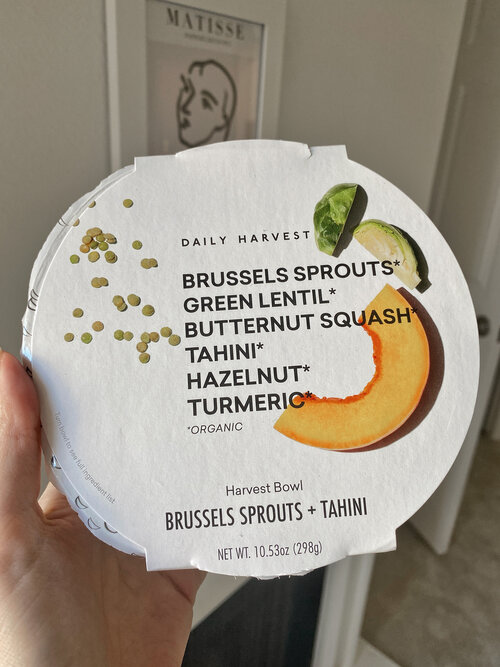 How Does Daily Harvest Compare to Revive Superfoods?
Revive Superfoods is very similar and is another great vegan friendly meal delivery service, but in my opinion the quality of Daily Harvest is even higher since the majority of ingredients that they use are organic. Revive is an amazing option, but I have to say that Daily Harvest also has a better variety and selection of items available.
Is Daily Harvest Healthy?
Yes, Daily Harvest would definitely be considered a healthy subscription service. As mentioned above, 95% of the ingredients that they use are organic, and everything is completely plant based and vegan. This means that Daily Harvest is a great way to get more fruits and veggies into your diet, especially if you're short on time and want convenient, pre-portioned smoothies and meals to take on the go.
This Daily Harvest review would not be complete if I didn't mention that they use real ingredients that you can actually pronounce, and you're definitely not going to see any cheap fillers in their products!
Does Daily Harvest Require Any Other Ingredients or Add-ons?
The food comes prepackaged with all dry ingredients included (fruits, vegetables, oats, etc) but you will need to add your liquids. For the smoothies, it can be as simple as just adding water if you like and they'll turn out great, but I personally prefer to add almond or oat milk as it makes them creamier and thicker.
For the soups and harvest bowls, all you need to add is a little bit of vegetable stock. The flatbreads, bites, and scoops are all ready to go without anything extra added in.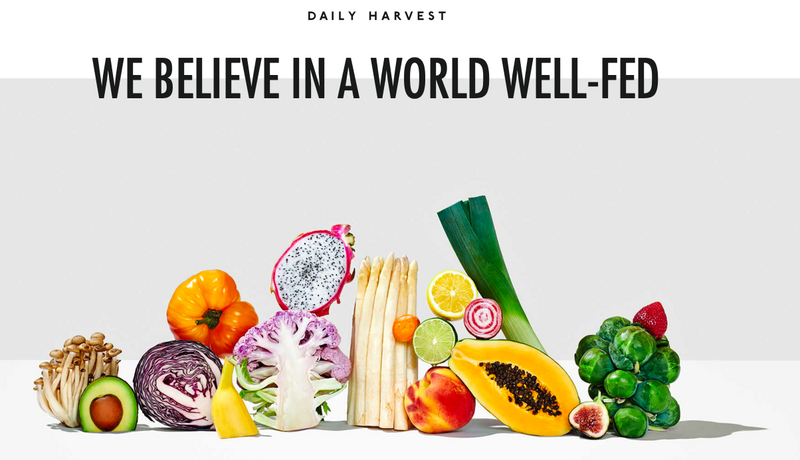 Is Daily Harvest Worth It?
I would say that if you're someone who doesn't have a lot of extra time to cook fresh meals from scratch at home, then this food delivery service is absolutely worth it. It's delicious, great quality, convenient and easy, and just saves you so much time overall. It's so perfect for people who live high energy lives and who don't spend a lot of time at home, since the way they design their packaging makes it extremely easy to take the food with you anywhere.
They also have an app with a super easy to use interface that allows you to manage all of your deliveries and weekly selections in your account, all at the touch of a button. They have great customer service and the whole thing is a breeze to navigate, so in my opinion, yes it is for sure worth it!
Daily Harvest Review: Summary
So to round everything up, I think Daily Harvest is an awesome service because they deliver high quality, healthy, and delicious smoothies, snacks and meals that can be prepared in literally 5 minutes or less. Just like with every other meal delivery service, you are paying a bit of a premium because you are valuing your time, and that's the tradeoff – spending a little more saves you a LOT more time on meal prep.
I think if you want to invest in your health and are looking for ways to free up some more of your time, then this is definitely a great option for you!
Thank you for reading my full 2021 Daily Harvest review! I tried to go as in depth as possible so that you will be able to make the best decision and have the best possible experience with this service like I have! If you're ready to order, you can use my promo coupon code "caitlin" to get a $25 discount off your first order!
DISCLOSURE: This post contains affiliate links, which means that I will get a commission if you decide to make a purchase through these links, at no additional cost to you.

beauty colour Daily Harvest healthy meal delivery meal kit plant based review smoothies vegan
Reader Interactions