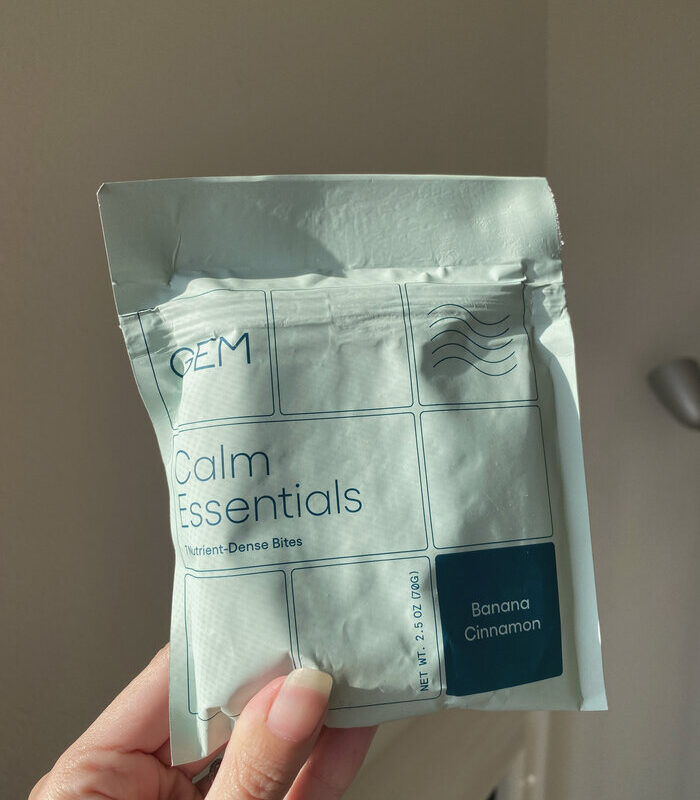 GEM Vitamins Review
Recently I got the chance to try out GEM vitamins, and I wanted to talk about my experience with them and if/how I think they would benefit you guys!
I'm always trying out tons of new health and wellness products, and I go through a lot of brands that I ultimately pass on reviewing for you guys before landing on the brands and products that make the final cut. This brand really impressed me because they're one of the few that has created supplements that are actual bites of food (rather than a pill that you take) and so I was immediately interested in testing out both the taste and the effectiveness of the product.
If you want to skip ahead and try these ASAP, you can click here to get 30% off of your first order by using my promo code GEM-A-CAITLIN 🙂 Or, keep reading for the full GEM vitamins review to find out whether these wellness supplements are worth it!
DISCLOSURE: THIS POST CONTAINS AFFILIATE LINKS, WHICH MEANS THAT I RECEIVE A COMMISSION IF YOU DECIDE TO MAKE A PURCHASE THROUGH THESE LINKS, AT NO ADDITIONAL COST TO YOU. THIS POST ALSO CONTAINS GIFTED PRODUCT, BUT ALL OPINIONS ARE MY OWN AND ARE NOT INFLUENCED BY ANY EXTERNAL PARTIES.
GEM Review: What Are They?
GEM vitamins are innovative plant-based multivitamins in the form of little bites that are made from real food. Their "Daily Multi(bite)amins" contain 15+ nutrients sourced from whole foods and are designed to fill any gaps you might potentially have in your diet nutrition wise.
They've got several different varieties that serve different purposes, including multivitamins, sleep supplements, and calming supplements to ease stress and anxiety. And, what's really great about the brand is that their products never include animal products/byproducts, gluten, soy, artificial colorants, or unnecessary binders or fillers!
If you're interested in trying these out for yourself, you can click here to get 30% off of your first order by copying and pasting my promo code GEM-A-CAITLIN 🙂
GEM Vitamins Review: Who Would Benefit From This Product?
Because we live in such a fast paced society where convenient AND healthy meals can sometimes be hard to come by, many people have nutritional gaps in their diets that they need to fill by taking supplements. That's where GEM vitamins come in – these cute little bites contain more than 15 whole food sourced nutrients that you actually need, and none of the harmful binders and fillers typically found in traditional vitamins that you *don't* need.
If you're someone who is used to taking a multivitamin already and you aren't averse to investing in your health and spending more on premium supplements, these could definitely be something that may work well for you!
Here are the different products GEM offers, and some of the functions of each one:
GEM Daily Essentials
The GEM Daily Essentials are filled with amazing ingredients like pumpkin seeds, quinoa, chickpeas, and sea minerals. I find the flavor of these is minty, and as a result it has kind of a cool refreshing taste.
GEM Sleep Essentials
If you ever experience trouble sleeping like I (and many others) do, you might want to try out the GEM Sleep Essentials to see how they work for you. These are specially formulated to support your mood, lower stress levels, and improve the quality of your sleep. They have a really nice chocolatey cherry flavor, and contain valerian root, which is an herbal sleep aid that functions as an alternative to melatonin – but without as many side effects or the next day grogginess.
GEM Calm Essentials
This supplement is formulated to sharpen your cognitive clarity, reduce your stress levels, and boost your mood throughout the day with calming ingredients like magnesium, cacao, and lemon balm. I have frequent issues with high stress levels, and I can honestly say that I did find that taking these helped to calm my nerves and reduce feelings of anxiety and stress.
GEM Review: Final Thoughts
Ultimately, I personally will be continuing to order these for the foreseeable future. I like how I feel after taking them consistently, and I want to keep it up and see how these supplements can help continue to support a healthy and balanced lifestyle going forward.
To sum it up, GEM vitamins might work well for you if you're looking for a high quality plant based multivitamin that can help support cognitive clarity, lower stress levels, and give you an overall boost in your day to day moods. Keep in mind that these are definitely a premium product, so the price point is going to reflect that (I do have a coupon code though, see below), but if you can swing it then I think it's a really smart investment in your physical AND mental health.
Remember, you can click here to get 30% off of your first order by using my promo code GEM-A-CAITLIN at checkout! 🙂
Related Posts:
Thank you so much for checking out my GEM Vitamins review post! This is an amazing alternative if you're someone who doesn't like taking pills but you still want the benefits of taking a multivitamin every day. Click here to check out the brand's website and decide if it's something you want to try for yourself. Remember that you can get 30% off your first GEM vitamins order by using my code GEM-A-CAITLIN at checkout!
That's it for today's post, but you can always follow me on Pinterest for lots of similar content – I post more frequently there FYI 🙂
Be safe and talk soon! xx
Reader Interactions