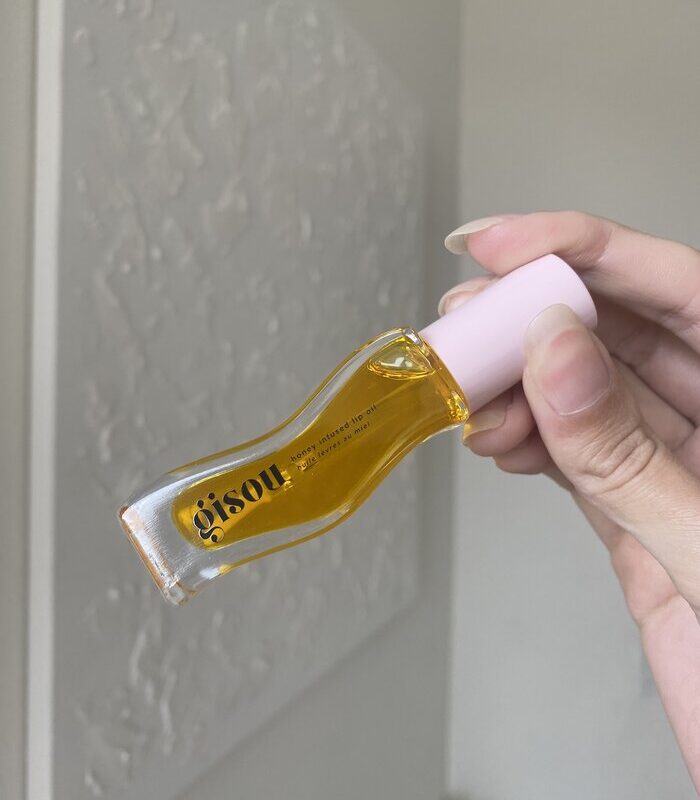 The Gisou Lip Oil is a new lip product that has taken the beauty industry by storm, offering a luxurious and effective solution to moisturize and revitalize your lips. Developed by beauty influencer Negin Mirsalehi, this product has received insane popularity due to its premium ingredients and exceptional results. This Gisou Lip Oil review will explore the remarkable qualities of product, shedding light on its key benefits, unique formulation, and whether or not it would work well for you.
DISCLOSURE: THIS POST CONTAINS AFFILIATE LINKS, WHICH MEANS THAT I RECEIVE A COMMISSION IF YOU DECIDE TO MAKE A PURCHASE THROUGH THESE LINKS, AT NO ADDITIONAL COST TO YOU.
Shop The Most Popular Gisou Products:
Gisou Lip Oil Review: About The Product
The Gisou Lip Oil is formulated with a blend of meticulously selected ingredients that work together to deliver optimal hydration and nourishment. At the heart of this innovative product lies the signature ingredient, Mirsalehi Honey, renowned for its natural healing properties. Derived from the Mirsalehi family bee garden, the honey is responsibly sourced and rich in antioxidants, vitamins, and minerals. These elements help to moisturize, repair, and protect the delicate skin of the lips, promoting a healthy and young appearance.
In addition to Mirsalehi Honey, I should also mention in this Gisou Lip Oil review that the product incorporates a range of other beneficial ingredients. Argan oil, known for its high vitamin E content, further enhances the moisturizing properties of the lip oil while providing essential fatty acids to nourish and soften the lips. Furthermore, shea butter, almond oil, and coconut oil contribute to the formula, ensuring deep hydration, reducing dryness, and creating a protective barrier against environmental stressors.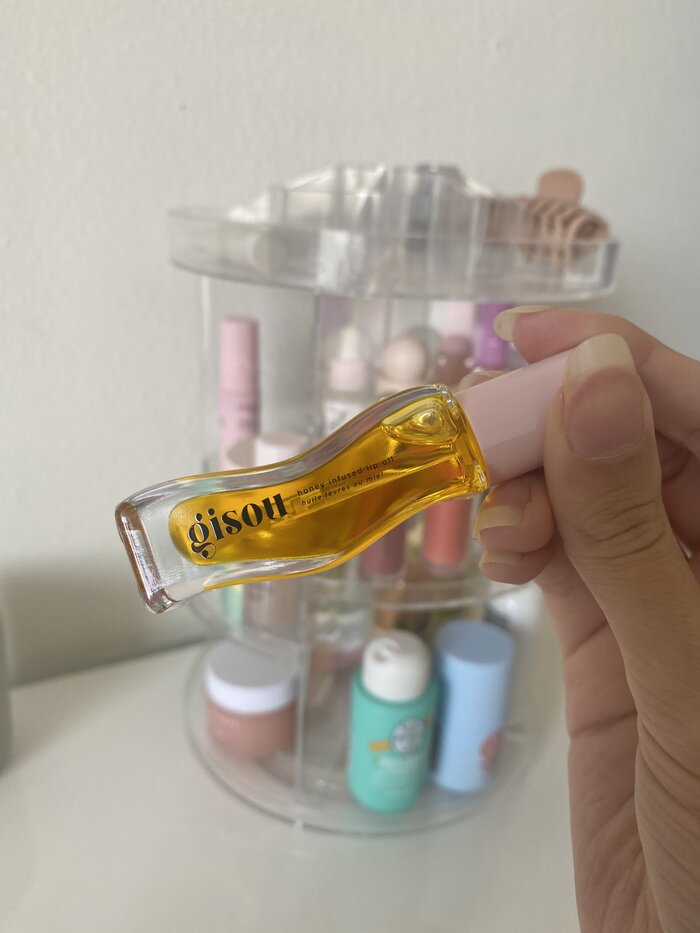 Gisou Lip Oil Review: Key Benefits
Intense Hydration: To start off, I want to state in this Gisou Lip Oil review that this product is a really potent moisturizer that replenishes the moisture levels of the lips, which really helps to relieve dryness and preventing chapping. Its rich formulation ensures long-lasting hydration, making it an ideal choice for those struggling with dehydrated lips. I personally have really struggled with chapped lips in the past, and this is one thing I absolutely love because it has helped so much with that!
Nourishment and Repair: The blend of natural ingredients in the Gisou Lip Oil provides essential nutrients to the lips, supporting their rejuvenation and repair process. The lip oil works to restore the natural lip barrier, enhance elasticity, and promote a supple texture.
Soothing and Softening: One of my favorite product benefits in this Gisou Lip Oil review is the emollient properties that soothe irritated and inflamed lips, providing relief from discomfort. With regular use, the lip oil helps to soften rough areas, making the lips feel smooth, velvety, and kissably soft.
Antioxidant Protection: The antioxidants present in this lip product help combat free radicals, protecting the lips from oxidative damage caused by environmental factors such as UV radiation and pollution. This protective shield preserves the natural beauty of the lips, preventing premature aging.
Versatility: The versatile formula allows it to be used both as a daily lip treatment and a glossy lip enhancer, which I thought was important to mention in my Gisou Lip Oil review. Whether you were it alone or as a base for lipsticks and glosses, it adds a subtle, healthy sheen to the lips, enhancing their natural beauty.
Some people might question the price of the Gisou Lip Oil, but its luxurious formulation and look make it worth the investment in my opinion. Every bottle of Gisou Lip Oil is crafted with meticulous attention to detail, using high-quality, responsibly sourced ingredients. The careful selection of nourishing oils, combined with the renowned Mirsalehi Honey, ensures optimal effectiveness and delivers visible results.
One thing I absolutely love about this product that I have to mention in my Gisou Lip Oil review is the premium packaging it comes in that exudes elegance and sophistication. This really reflects the brand's commitment to luxury and indulgence, and I always thing beautiful package adds to the experience of using your favorite product! The sleek glass bottle, coupled with a gold-accented cap, not only protects the precious formula but also adds a touch of opulence to your skincare collection.
Additionally, this lip oil offers a little indulgence in your self care routine. Its subtle, honey-infused fragrance provides a delightful sensory experience, making the application process all the more enjoyable. The lightweight and non-sticky texture glide effortlessly onto the lips, leaving behind a silky, comfortable feel.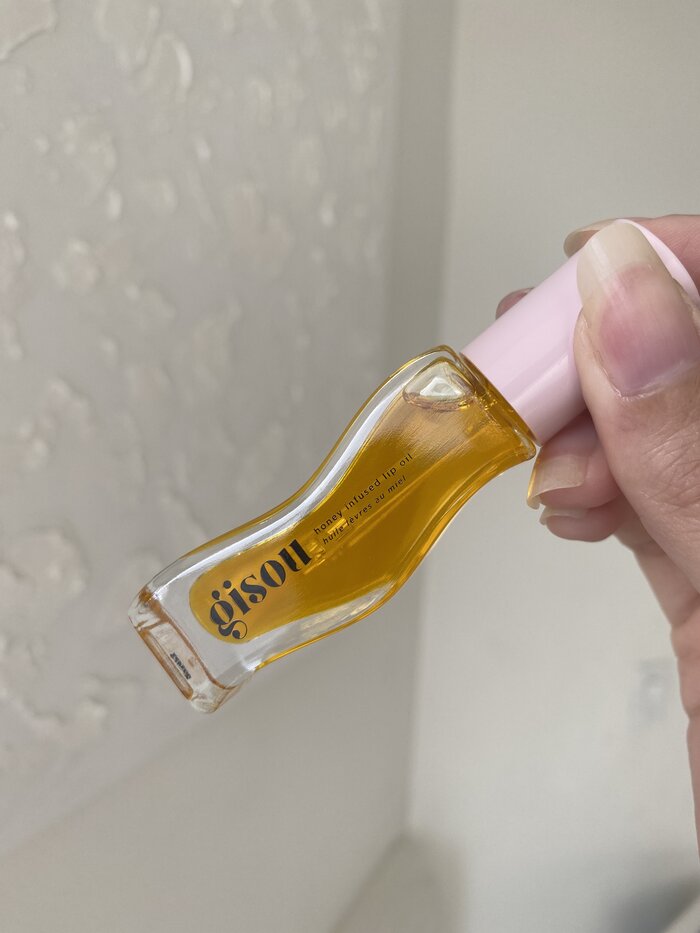 Furthermore, Gisou Lip Oil's efficacy and long-lasting results justify its price tag. With regular use, users have reported noticeable improvements in the overall condition of their lips. Dryness is diminished, chapped areas are soothed, and lips appear plumper, healthier, and more youthful. The nourishing and hydrating properties of Gisou Lip Oil make it an ideal solution for those struggling with parched or damaged lips, especially during harsh weather conditions or seasonal transitions.
It is important to highlight in this Gisou Lip Oil review that this product is not just a temporary fix for dry lips. Its carefully formulated blend of natural ingredients also provide long-term benefits by promoting the lip's natural healing processes. Regular use can help restore the lips' natural moisture balance, preventing future dryness and maintaining their healthy state.
Gisou Lip Oil's effectiveness is also backed by the positive feedback and testimonials from tons of buyers after going viral on TikTok. Both beauty lovers and influencers alike have praised its ability to transform and rejuvenate their lips, often considering it an essential part of their skincare routine. The product has gained a strong reputation for its quality and efficacy, making it a trusted choice for those seeking a premium lip treatment.
Final Thoughts
To conclude this Gisou Lip Oil review, I love this product because I think it really stands out as a luxurious and highly effective solution for lip hydration and nourishment. Its unique formulation, featuring Mirsalehi Honey and a blend of carefully selected oils, provides intense moisturization, repairs and revitalizes the lips, soothes irritation, and protects against environmental damage.
While the price might be perceived as high, the premium ingredients, remarkable results, and overall experience justify the investment. Gisou Lip Oil offers a pampering and indulgent self-care ritual, delivering visibly healthier, smoother, and more beautiful lips. By incorporating Gisou Lip Oil into your daily routine, you can experience the luxury and benefits of this exceptional lip treatment, ultimately enhancing your overall lip care regimen.
Gisou Lip Oil Review: Related Posts
Thank you for reading my Gisou Lip Oil review! I hope this was helpful for you in deciding whether or not to purchase this product.

Reader Interactions