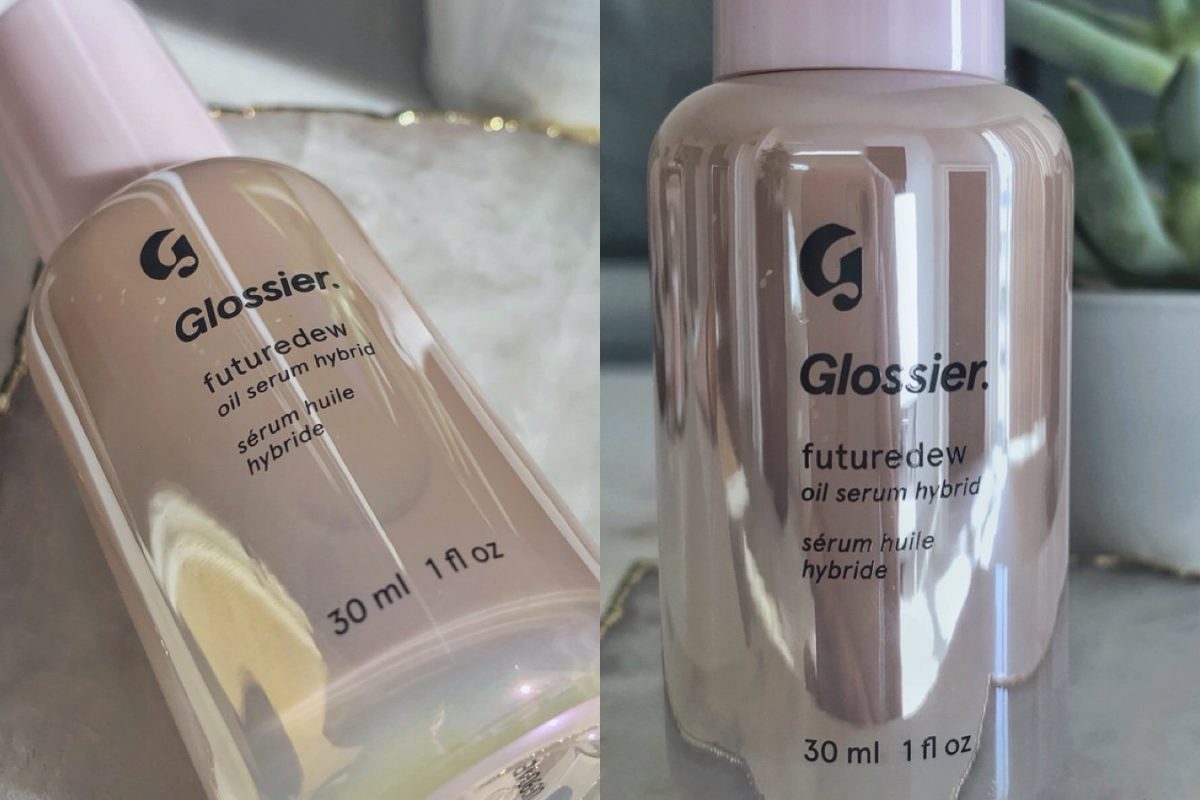 DISCLOSURE: This post contains affiliate links, which means that I get a commission if you decide to make a purchase through these links, at no additional cost to you.
Glossier Futuredew is a brand new oil/serum hybrid combination that the brand just released recently, and I bought it to try it out and give you guys a full review on the product and my thoughts on it! Click here to check it out and read what Glossier has to say about it, and keep scrolling to read my personal review on whether or not I think it lives up to the hype!

If you're not familiar with Glossier, they're a relatively new makeup and skincare brand with the mantra "skin first, makeup second." This skin wellness centric approach has created a huge dedicated following and they have store locations in LA and New York, as well as various popups throughout the year at different times in the rest of the US. Pretty much everything they make is in their signature baby pink packaging look and they're basically super trendy and popular for many reasons right now!
Keeping reading for my full Glossier Futuredew review below:
So one of the newest Glossier products is Futuredew (you can read more about the product and all of its ingredients HERE), an oil/serum combination that aims to imitate the dewy look on your skin that you get when you complete your skincare routine, but that vanishes after a few minutes or so as the products dry and absorb into your skin. The product is described as being "Glossier skin in a bottle", and it epitomizes everything that the brand stands for in that there are clean ingredients and plant based extracts in the product that are meant to provide long lasting benefits for your skin (hence why it is categorized as skincare and not makeup). The fact that it contains a blend of Jojoba, Grapeseed, Evening Primrose, and Rosehip oils means that I can definitely see this product being great for your skin over time.
Futuredew is (of course!) cruelty free and vegan – all of Glossier's products are cruelty free, but not all of them are vegan just as an FYI. A one ounce bottle will cost you $24, and I think this is pretty fair given that just a small amount will do a lot for your face. I would still love it if they made the bottle 1.5 ounces though. The bottle does say to use two pumps, but I've been using one and I find that that works perfectly for me personally.
Here's what the product packaging looks like:
When you apply Futuredew, it has a very light consistency, which I love as I don't like putting too many heavy products on my face that can clog pores, etc. Glossier says to use this as the very last step in your skincare routine after sunscreen, so it is technically supposed to go underneath your makeup. However, I've used it both under my makeup and on top of cream blush as a highlighter, and I think it looks great both ways! The look that it gives you can only be described as an actual glow – there is no shimmer and definitely no glitter anywhere in sight! It's just very natural and nourishing, and it honestly makes your skin look so healthy and radiant. I think in that respect it's unique and different than almost anything else that's on the market right now. I love everything from the idea to the packaging, and I think that Glossier does so well in marketing to a certain type of consumer that is super into skincare, and that so many people these days resonate with their message of 'less is more' when it comes to makeup.
One great thing that I notice is that the product lasts on my skin all day long. Right now in LA there's an end of October heat wave going on where the temperature is in the 90's every day this week, so that's really saying something that it lasts through that! It does not melt off – it just stays put and if anything it saves your face from looking overly sweaty and just makes it look more dewy in hot weather. I think it would work well in reverse too: I can see it providing much needed moisture to the skin during the winter when the air is so dry and harsh! I'll have to test it out this winter in a colder climate like NYC and update this post when I do!
Here's what it looks like on my skin. If you look at my forehead, bridge of my nose, and the high points of my cheekbones you can see that Futuredew definitely adds a noticeable glow: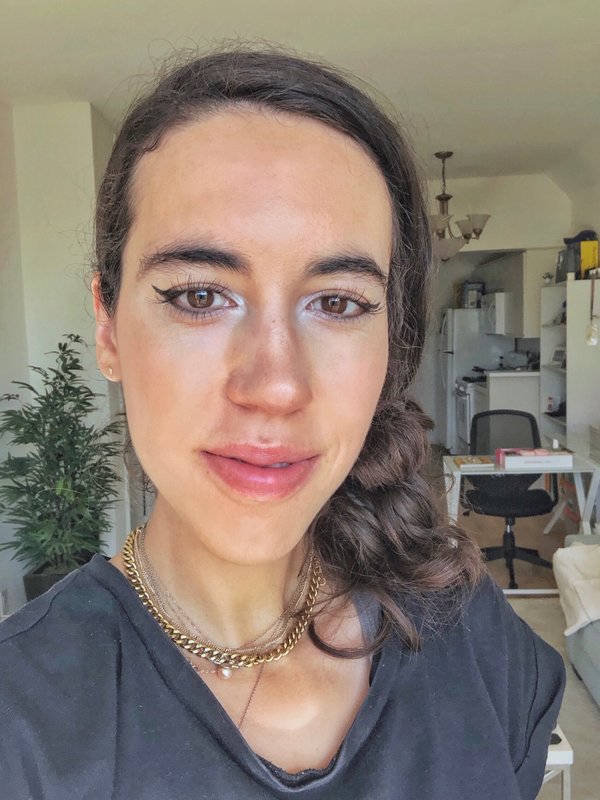 Overall I think I would rate Glossier Futuredew a solid 9/10 and definitely worth it to pick it up and see what it can do for your skin! The only reason I'm taking a point off it because I can see myself going through the full bottle pretty quickly and it would be awesome if the bottle was a little bigger, but with higher end skincare the quantities are typically smaller so that's pretty normal.
Overall Glossier Futuredew Review: 9/10 – Definitely Worth The Hype!
Thank you so much for reading my Glossier Futuredew review! If you want to check it out, just click here! Have you tried Futuredew yet, or are you planning on purchasing it? Let me know in the comment section!
Check Out These Related Posts:
If you liked this Glossier Futuredew review post, please share it on Pinterest!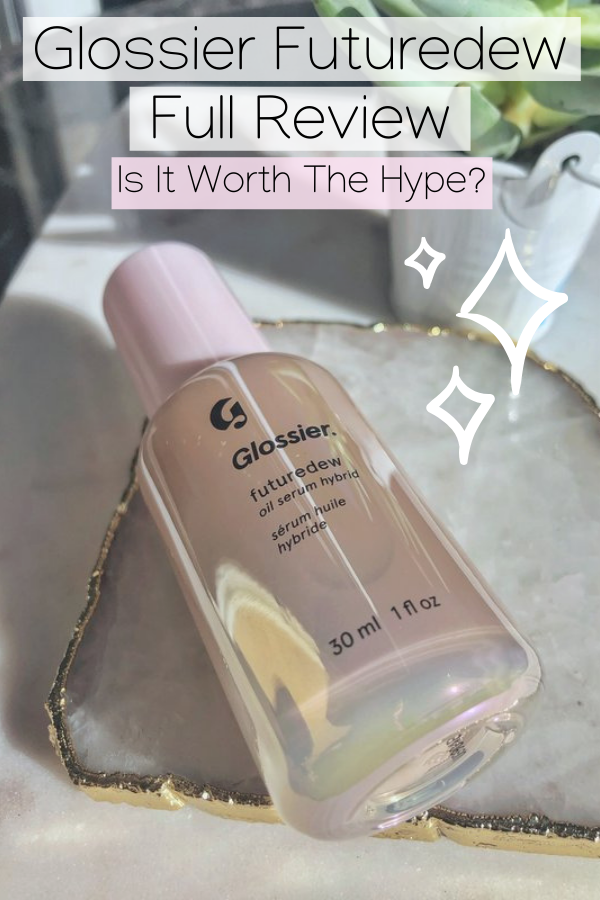 beauty colour cruelty-free futuredew glossier makeup review skincare vegan
Reader Interactions