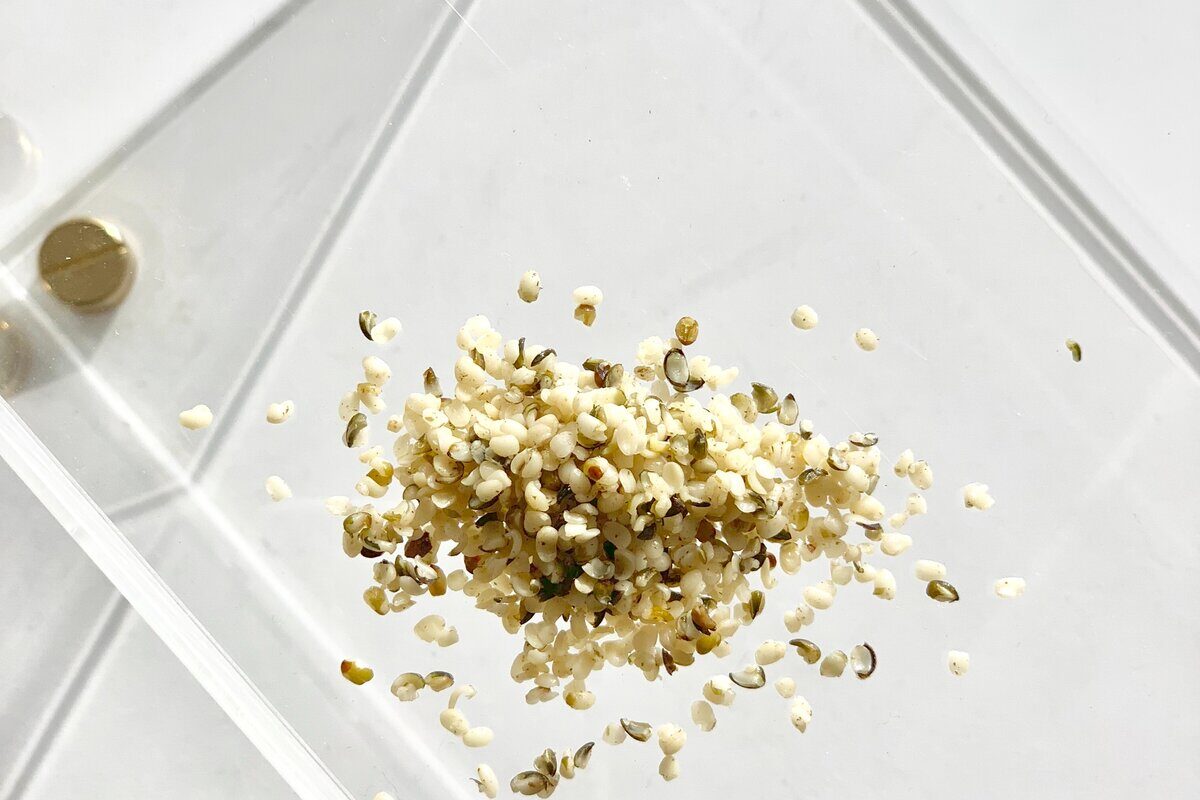 With the cold months on their way, we're all going to need lots of energy to stay happy and healthy throughout the winter. Luckily, an easy way to take care of yourself and boost your immune system is with your diet. Here's a list of some of my favorite healthy plant based snacks for more energy that will keep you healthy throughout the season!
DISCLOSURE: THIS POST CONTAINS AFFILIATE LINKS, WHICH MEANS THAT I WILL EARN A COMMISSION IF YOU DECIDE TO MAKE A PURCHASE THROUGH THESE LINKS, AT NO ADDITIONAL COST TO YOU.
1. Carrots with Hummus
Carrots are filled with antioxidants and fiber, and using hummus as a dip is perfect for added protein and more energy.
I find that this is such a great plant based snack for people who really don't like vegetables but are trying to find easy ways to sneak more of them into their diet. The hummus just makes everything taste so much better, ya know?
You can even find oil free and fat free hummus at grocery stores now, or you could just make your own homemade hummus if you're worried about fat and calorie content!
2. Avocado Toast On Gluten Free Bread
Avocado is a really good healthy fat that is pretty filling, and avocado toast on some gluten free bread is a great plant based snack that should give you more energy since it's easier for the body to break down and digest.
Gluten can also potentially make you feel more lethargic and drained if you have a sensitivity/allergy to it, so yay for gluten free bread!
3. Rice Cakes with Peanut Butter
This one is a classic because rice cakes are so low fat and low calorie. Adding on your favorite peanut butter or other nut butter is perfect for some added protein and energy.
My favorite place to get healthy snacks like rice cakes shipped right to my apartment is Thrive Market. They have lots of high quality and really healthy plant based snacks like gluten free crackers, nuts and seeds, and lots of other pre packaged snacks of all kinds.
4. Protein Bars
Protein bars are a great healthy snack IF you buy ones that are dairy/whey free and chemical additive free. The premium grocery stores have the best options available when it comes to protein bars.
My personal all time favorite protein bars are Clif Bars. They aren't your typical protein bar that has 15-20 grams (each flavor usually has about 10 grams of protein), but they also taste great and don't have that weird protein after taste!
They're also made from really high quality ingredients, many of which are organic, and for the fact that they're just a small snack they're a pretty decent source of fiber and calcium!
Click here to read more about them if you haven't tried Clif bars yet.
5. Seasoned Popcorn
Typically with popcorn, what makes it unhealthy and fatty is all of the artificial flavorings and butter that are put on it. If you pick up a healthy version at an organic or premium grocery store, you can find one that's free of the typical chemical additives and that contains only good, clean ingredients!
Popcorn with seasoning instead of oil or chemical additives is actually pretty low calorie and a really great, light healthy snack!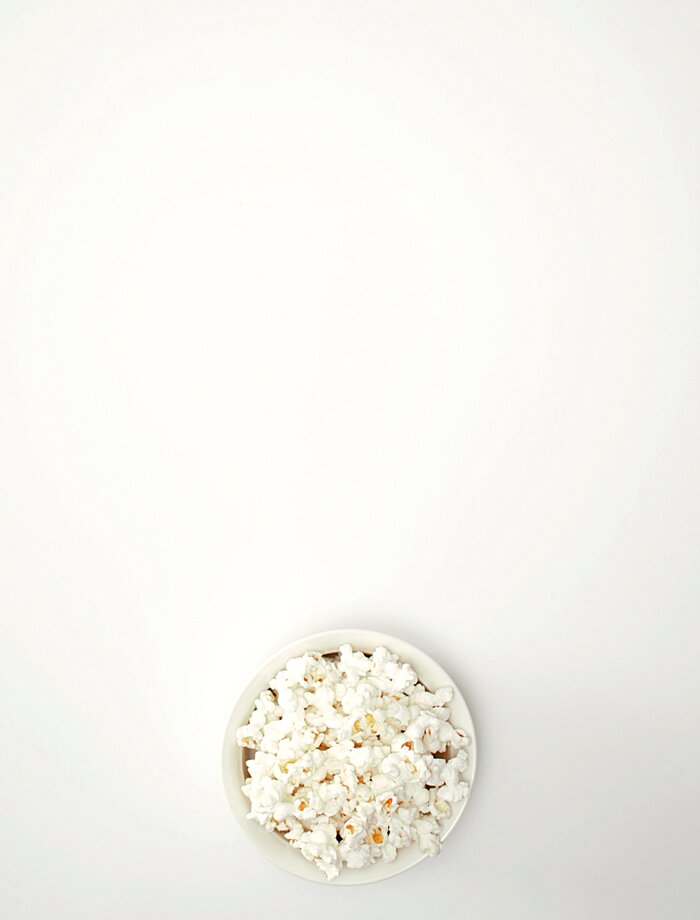 6. Fruit Plate
Fruit is always a great plant based snack, since it's filled with antioxidants, vitamins and minerals! My go to is usually a bowl of berries or sliced watermelon, but I also love to switch it up sometimes and go for something different.
The key here is just to eat enough of whatever fruit you want to snack on, since obviously fruit is so light that you're going to need to eat a decent amount of it to satisfy hunger.
7. Apple Slices with Granola
A fun but healthy snack idea is making apple nachos, which basically means slicing up some apples and dipping them in your favorite nut butter than then sprinkling some plant based granola and some hemp seeds on top of it! It's so yummy and it's a fun way to spice up just a plain apple by adding on some healthy fats and a little bit of protein.
8. Oatmeal
Oatmeal is amazing because you can make it so many different ways. You can top it with berries and fruits for a sweeter summertime snack, or you can top it with cinnamon and cardamom for a warmer, cold weather version!
It's also really easy and quick to make, and you can take it with you to go in a glass container.
9. Smoothies
Smoothies are relatively easy to make and also pretty filling! They even make cute portable, personal sized blenders like this one that I have and LOVE. I use it so much and for being so small it's a pretty powerful little blender.
If you're not already into making smoothies, there are tons of amazing smoothie recipes that you can find on recipe blogs with a quick search. Find ones that incorporate your favorite fruits and veggies and get into making smoothies regularly – they're the best way to get extra veggies into your diet without being able to taste them as much!
10. Assorted Veggies
This one is pretty easy – just throw a plate together of 2-4 of your favorite veggies and you have the perfect plant based snack that will give you more energy during the day.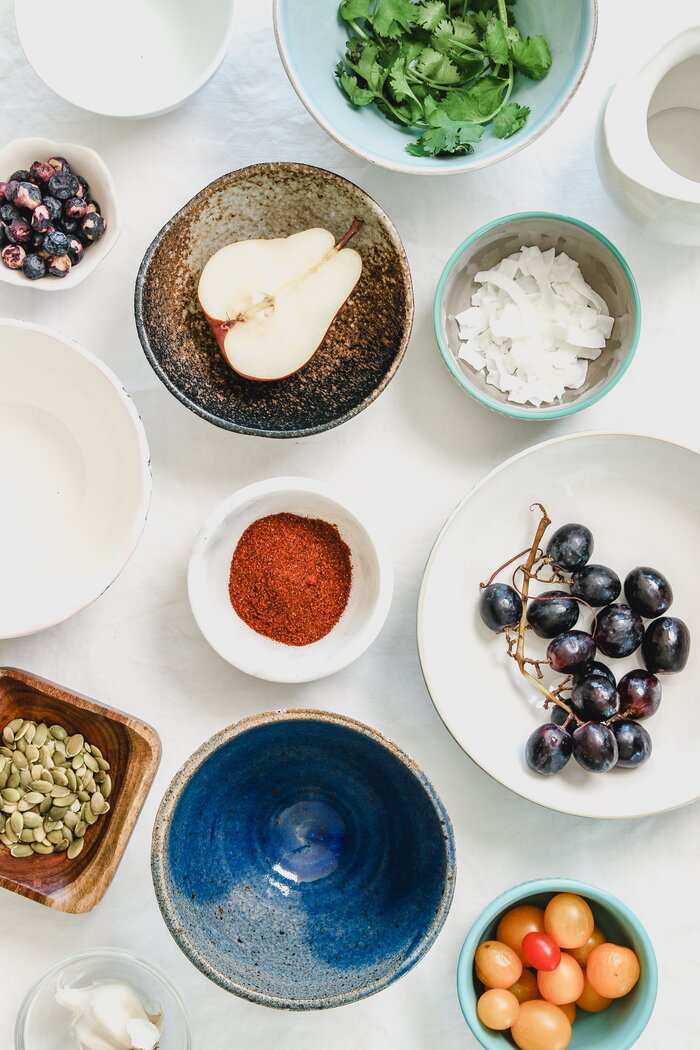 11. Frozen Grapes
If you haven't tried this before, trust me! Wash some grapes and freeze them overnight or for 4+ hours – they are the most refreshing and delicious healthy snack!
12. Chia Pudding
Chia seeds are a really good source of fiber and protein! To make chia pudding, you only need chia seeds and your favorite plant based milk. You can flavor it with spices like cinnamon or sweeteners like maple syrup, but it's so easy to make and it's an amazingly clean and healthy snack.
13. Banana Ice Cream
Banana ice cream is so clean, healthy, delicious AND easy to make! It's literally made up of just frozen bananas, a little bit of plant milk, and a second fruit to add some extra flavor if you want (like strawberries, blueberries, etc).
The texture that is created by putting those things in the blender together at the right ratio is exactly like soft serve ice cream, except it's dairy free and filled with antioxidants from actual fruit!
14. Mixed Nuts
Nuts are a great source of protein and fiber, and they give you long lasting energy that won't have you crashing mid-day like coffee will! Some of my favorites are peanuts, walnuts, almonds, and pecans. You can even make your own homemade trail mix with a mixture of a bunch of your favorite types of nuts and then add in some mini dairy free chocolate chips.
15. Dried Fruits
Things like dried mango and kiwi are so good they almost taste like candy, yet they are clean and healthy and a great plant based snack for more energy throughout the day!
I love getting my dried fruits at Trader Joe's if you're wondering where to find good ones. They're really affordable and high quality there 🙂
Related Posts:
Thank you so much for checking out my list of healthy plant based snacks that can help give you more energy! Let me know what your favorites are in the comment section below, and if there are any plant based snack ideas you think I should try also comment below!
Remember if you liked this post you can always share it on Pinterest, and feel free to check out my Instagram feed for tons of similar content as well.
Stay healthy and safe, and talk soon xx

Reader Interactions