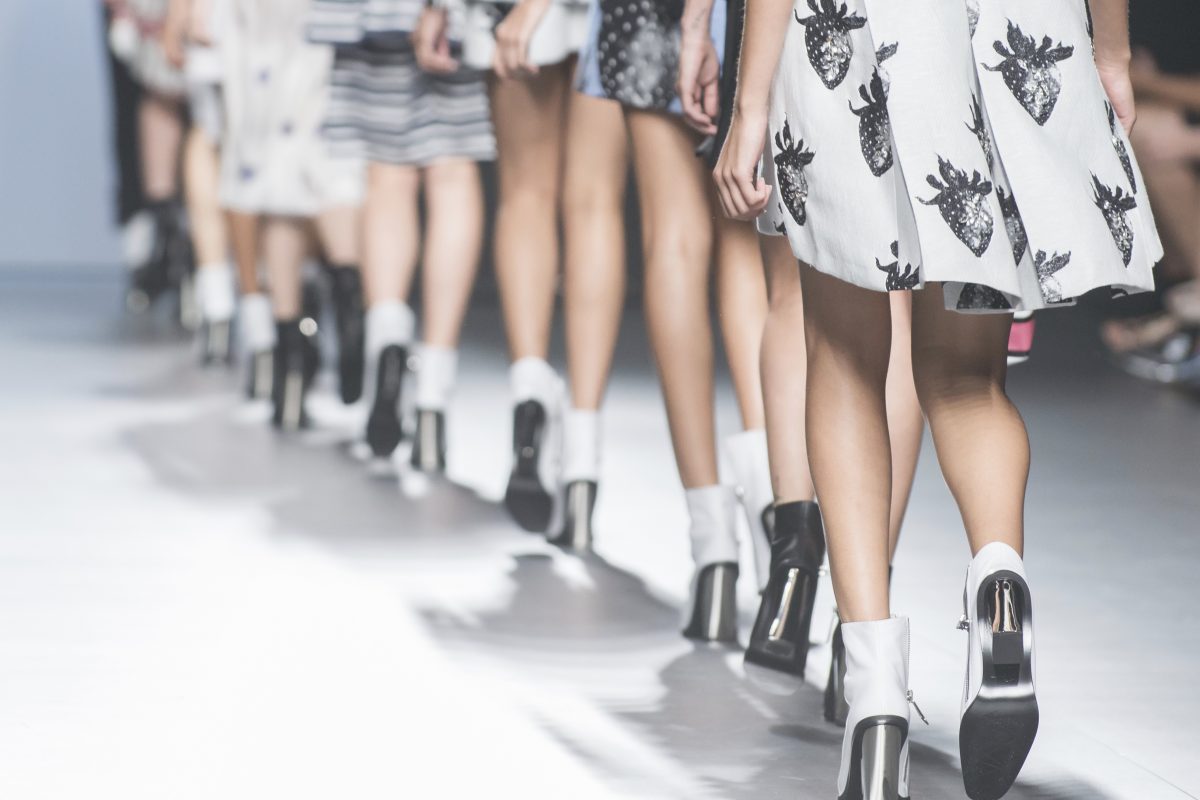 This past February, I attended my first season of New York Fashion Week and saw 26 shows in total. Needless to say it was a dream come true and something I didn't even think was really possible. Fortunately, it IS possible to get invited to NYFW as a small or mid-size blogger and in this post I'm sharing my best tips on how you can attend New York Fashion Week shows and get invited to NYFW parties for the upcoming season!
DISCLOSURE: This post contains affiliate links, which means that I get a commission if you decide to make a purchase through these links, at no additional cost to you.
To see exactly what you should pack for NYFW, click here.
How To Get Invited To NYFW
1) Create Your Schedule: 2-3 Months Before
The first step is deciding that you want to commit to going and actually booking your stay in New York if you don't live there. In order to plan well, you should familiarize yourself with how fashion week is organized first – i.e. NYFW doesn't start on a Monday, it almost always starts midweek and goes until the following Wednesday or Thursday.
The spring/summer shows coming up in September will go from the 7th to the 14th, which is Thursday to Thursday. Keep in mind that this is when the majority of shows take place – NYFW is essentially an industry agreement for designers to show their new collections during the same time period, but some designers still have shows before or after the official fashion week timeline, and there are always pre NYFW and post NYFW parties!
I recommend getting to NYC on either the first or second day of fashion week and staying for 3-5 days. The reason I'm not telling you to go for the whole week is because you will definitely be tired and burnt out by the end of it. NYFW is very hectic – you'll be doing lots of running around, calling Ubers, catching the subway, hailing taxis, and scrambling to get ready and eat something, but with that being said it will honestly be the best time of your life! Last season, I was in NYC for 8 days and the only day I didn't attend shows was the last day. I wouldn't trade that experience for anything and I wouldn't have changed anything about it either, so if you have the stamina (maybe you're vegan too hehe) then absolutely go for the whole week.
You can view one of the best resources for finding the official fashion week dates and schedules by clicking here – this site will tell you all about industry events, open to the public shows, parties, and more.
The actual schedule of when each show takes place doesn't come out until about 3 weeks to a month before the start of fashion week, and changes are made to the schedule up until the first day of fashion week. My best advice would be to not worry about the schedule so much – just book your trip first and then when the schedule is released you can choose which shows occur within the dates of your stay that you think would be a good match for you and your brand.
2) Plan Your Outfits: 1 Month Before
Planning your outfits is a big one because you're not going to have time to do it even the night before, let alone when you wake up in the morning and have to be somewhere in a couple hours. NYFW is world famous not only because of the talented designers it showcases, but also because of the amazing street style.
One thing I was unprepared for that no blog post I read mentioned was that photographers WILL be taking your picture as you're in the street walking to Skylight Clarkson Square or getting out of a car to go to a show. There are literally so many crowds of photographers that you'll feel like a celebrity, which is so fun. The first time they started taking my picture I had to look behind me because I thought I was standing in the way of someone famous, but no – street style is such a big component of NYFW that photographers from all over the world come to shoot pictures of everyone who attends! And you never know who is taking your picture – it could be a small photographer just getting started on Instagram or they could work for Vogue. To me that is so cool that when you get invited to NYFW you get to have your picture taken and be made to feel like a celebrity. Sorry to sound cheesy but that's the magic of NYFW. Bottom line is plan your outfits far in advance and dress to impress! You know those insanely stylish outfits you see on Pinterest that you love to scroll through but would be way overdressed in for everyday life outside of New York? NYFW is the perfect time to wear those.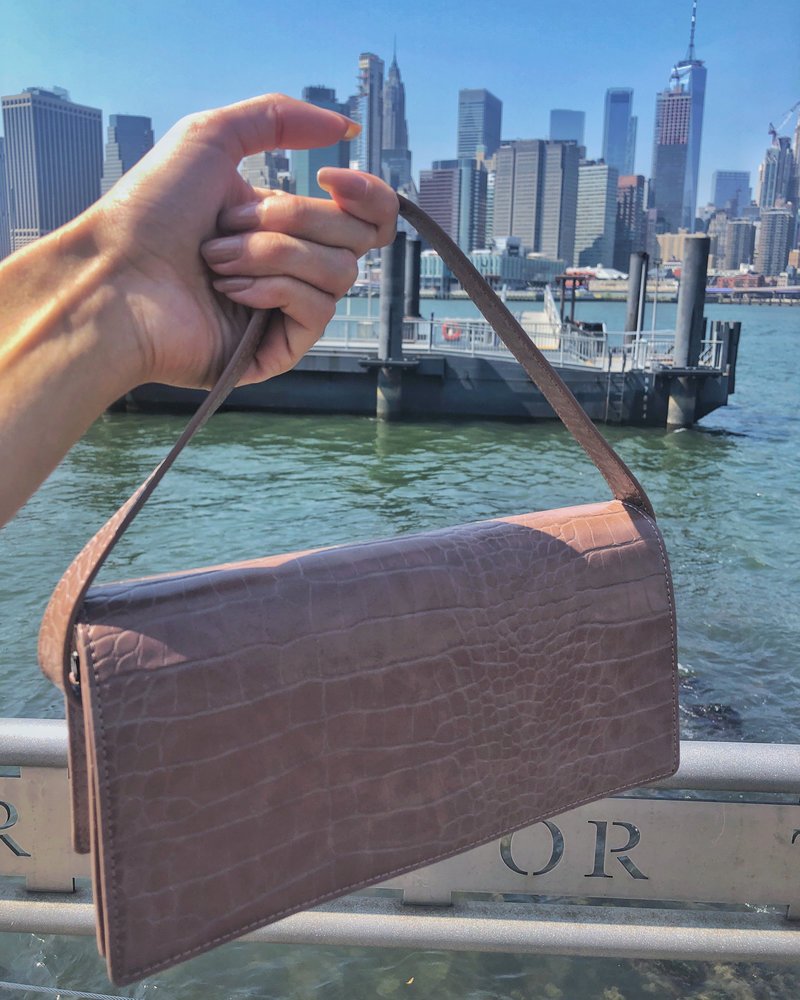 3) Start Pitching PR Agencies + Designers: 2-3 Weeks Before
Fashion week is the biggest event of the season for a designer and I can't even imagine how much work goes into it. For that reason, don't start sending out emails any earlier than 3 weeks before the start of fashion week.
This is exactly what to do to get an invite to a show: click here* to see the most current list of press contacts that you'll be able to reach out to for show invites. Use that list together with the schedule link (click here to open it, but remember it won't be completely filled in until we get closer to the middle of August, hence why you start emailing only 2-3 weeks in advance) so you can see which designers are showing and exactly the right person's email address to get in contact with who is responsible for the guest list and sending out invitations. This is usually outsourced to a PR agency but sometimes the brand handles invitations in house.
*This link is pretty extensive, but sometimes a designer who's showing doesn't have a contact listed there. In that case simply find the designer's website and look for a PR or press email address on the "contact" page.
What to write: Here's the most important part, which is what to write in your email to a press contact when you're trying to get invited to NYFW. While it's great that attending NYFW has been your dream for as long as you can remember, don't write that in your email. What you DO want to write is why you should be there from the brand's perspective and what you've done to earn a ticket to that particular designer's show over the thousands of other girls that want to be there too. For example: write a quick line or two about the demographic of your blog readers and Instagram followers. The main reason designers show at fashion week is to create hype around their brand and ultimately drive sales. If the majority of your followers are females who are highly interested in fashion and shopping for clothes, then write that in your email. Tell the press contact how you can help create awareness about the brand and get eyeballs on their collection. If your writing was featured in Teen Vogue, then mention that. Show that you're worthwhile and you'll get invited.
Here's the good news if you're a small blogger:
NYFW has transformed over the years from an event limited to only magazine editors and buyers for department stores to much more of a blogger/social media friendly event. This is due to the fact that fashion and the world in general have evolved into something very fast paced where people want to see next season's clothes on influencers and be able to buy what they see immediately rather than having to wait. Brands are now very open to inviting bloggers to shows because they know it's a great way to gain exposure and generate sales quickly! This is awesome news for micro influencers because it means there's a greater likelihood for you to get invited to NYFW shows!

For many designers, it may be their first time ever showing at fashion week. They could be brand new and working on building a name for themselves in New York, and it is a PR agency's job to fill the seats at their show. By you reaching out to press contacts, you're actually being helpful because PR girls spend tons of time researching and looking for high quality bloggers and influencers!
When you send out your emails, keep it to two paragraphs at the absolute max. Brands and PR companies receive literally thousands of NYFW related emails and they just don't have the time to read a novel of an email. The more quickly you can get to the point of why you're a great choice to invite to the show, the better.
You should hear back from most contacts within a week. It can be a bit longer since this is a really busy time for them, but if it's been much longer and you haven't heard anything, send a follow-up email. You never know if the first email you sent even went through, and it won't hurt to get in touch once more just to make sure your request was received. This is key if you want to get invited to NYFW shows – you have to be persistent and on top of your game.
4) Finalize Your Schedule: 5-7 Days Before
At this point, your invites will have been extended and now is the time to be super on top of your schedule. Once you receive your first invite, you'll be able to create an account on GPS Radar. GPS Radar is an industry only site that keeps track of fashion events and you'll be able to see all of the events you've been invited to for NYFW on it. When going through your invites, RSVP to all of them. Even if you can't make a show, it's way better to RSVP "no" than to not respond!
I personally need a physical planner I can write in because if I schedule things in my phone I've found I don't remember them as well as I do when I write them down, so I use one in addition to GPS Radar. Whatever you use, be very diligent about writing in every single show and party you've RSVPed "yes" to. The last thing you want to do is RSVP to something and then not show up. Obviously that's rude, and it can affect your chances of getting invited back to the same designer's show for next season. The PR teams who check people in at shows have the list of everyone who RSVPed "yes" and they do know when you're not there.
Mistakes can happen though, and in February because I had so many shows, I made the mistake of not checking my planner and assuming that a show I had was at Skylight Clarkson Square where most of the shows take place. This one was at a different venue however. I even had it written down properly but because I didn't check what I had written, by the time I realized my mistake it was too late for me to make the show and I was so disappointed in myself. So the moral of that story is not only do you have to write everything down very precisely, but while you're there you have to be on top of reading your planner and referring to it constantly. You want to ensure you get invited to NYFW again in the future so your planner will be a lifesaver!
As far as parties, you will find out about all kinds of events going on just by being there. If you want to RSVP to some in advance, check out Eventbrite and try searching for NYFW related events. Lots of designers also have after parties that you'll hear about and you will most likely get invited to some if you attended their show.
Click here to see some pictures from the ShopStyle NYFW party I went to in February!
So that is my best advice on how to get invited to NYFW shows. If you have any questions, feel free to ask in the comments below! 🙂
NYFW Essentials:
If you liked this post, share it on Pinterest!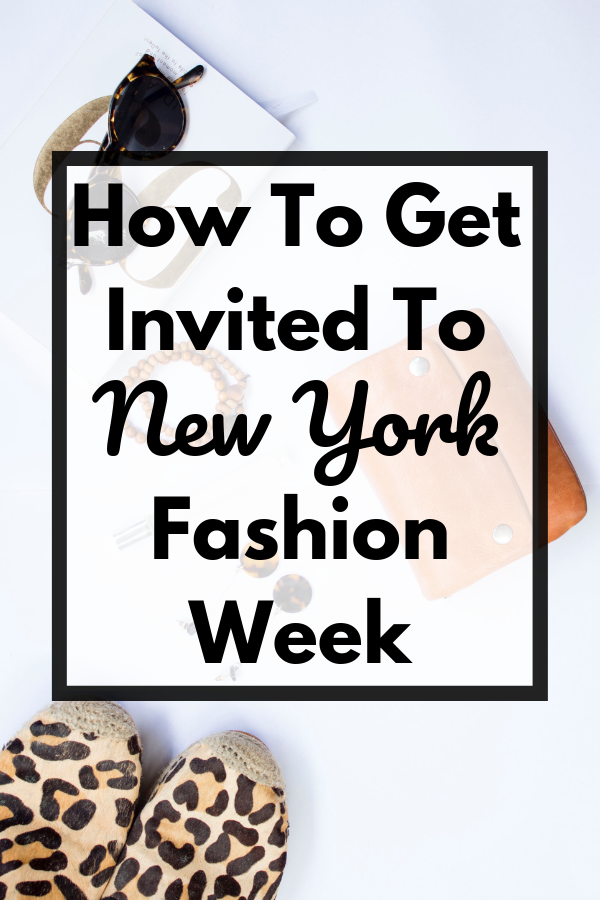 Reader Interactions