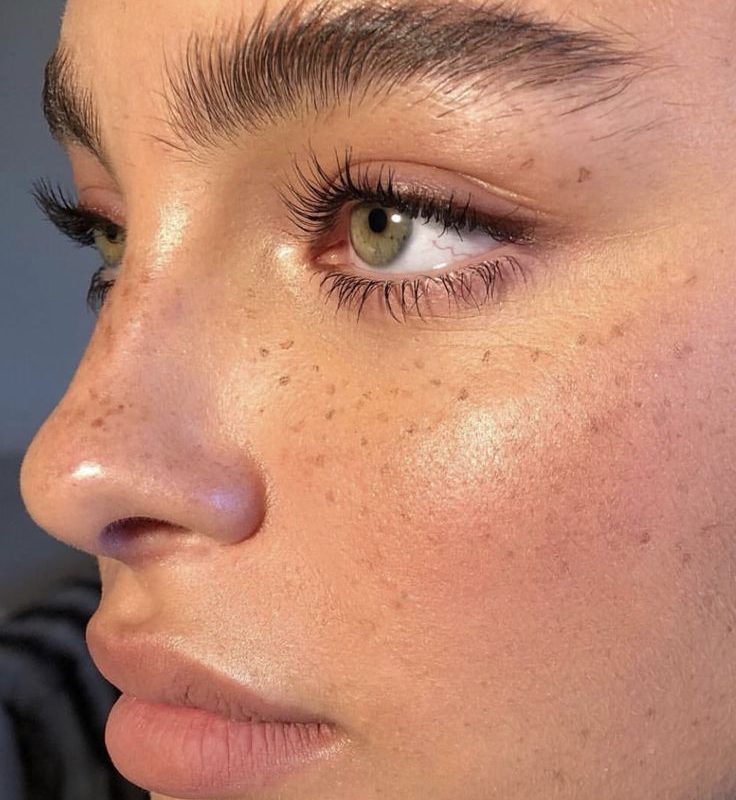 With most of us being in quarantine and having to work from home, we all now have a ton of extra time on our hands. One upside to the coronavirus situation is that we are finally able to slow down and re-evaluate everything in our lives, and ask ourselves whether we're living the way we really want to be. So, today I'm sharing my best tips on how to glow up and take time to improve your health and wellness during social distancing!
If you think about it, now more than ever is really the best possible time to focus on yourself. You finally have the free time to be able to do all of those things you've been wanting to do, but have been putting off for weeks or even months!
Self care is one of those things that can go out the window as soon as life gets busy (which is almost always). This post is going to be all about how you can start to take better care of yourself and focus on you again.
So keep scrolling for my best tips on how to glow up during this time of social distancing and isolation!
DISCLOSURE: THIS POST CONTAINS AFFILIATE LINKS, WHICH MEANS THAT I GET A COMMISSION IF YOU DECIDE TO MAKE A PURCHASE THROUGH THESE LINKS, AT NO ADDITIONAL COST TO YOU.
Do A Face Mask 3x A Week
This is something that I definitely let slide during the normal hustle and bustle of life. But, your face will really start to glow if you give it some extra love by doing masks.
Find one that you like and pick up a bunch from Target or Sephora! This face mask is my favorite for improving texture and overall skin clarity, and I use it twice a week but you can for sure do up to three. It's also cruelty free and vegan (of course)!
Drink Half Your Weight in Ounces of Water
I talk a TON on my blog about drinking water, and it's because it's genuinely so great for your hair, skin, nails, and the rest of your body as well.
Staying properly hydrated is just going to ensure that your skin retains its elasticity which is what contributes to that "youthful" look.
So my trick is to drink half your body weight in ounces of water. As an example, if you weigh 130 pounds then you're going to want to aim to drink 65 ounces a day!
Take A Multivitamin
Taking a vitamin really helps in terms of providing extra insurance that you're getting all the nutrients you need on a daily basis, which will definitely help you glow up during this time of social distancing and not getting out much.
My absolute favorite vitamins at the moment are these ones from Hum Nutrition. They have both Vitamin C and hyaluronic acid to make your skin glow from the inside out. I would say I noticed a difference from taking them after about a week to a week and a half!
Start Moisturizing Every Day
If you already do this, nice work. Most of us do moisturize a little bit every day, like our faces and our hands, but with all this extra time at home you can now really go all out with the moisturizer. I'm talking your legs and arms, neck, and collarbone too.
All of these areas can get extremely dry with the stress and hustle and bustle of life, so do a full body moisturizing routine at least every other day (if not every day!). Your skin will thank you for it and you'll see a big difference in how it looks in just a week or two!
Eat More Plants
We all know that fruits and vegetables are what supply us with vitamin C, and many other antioxidants and nutrients that can only be found in plant based foods.
During these uncertain times, it's best to strengthen your immune system by eating a good amount of plant based, vegan foods.
Doing so will also help you glow up in a big way, since fruits and veggies are the best possible things you can eat to improve your skin and your energy levels too!
Check out my What I Eat In A Day As A Vegan post for some ideas on meals and recipes!
Keep Your Nails Trimmed and Filed
Since nail salons in most parts of the country are closed as a result of the pandemic, it's going to be a little rough if you count on getting your nails done in a salon a lot.
But this is a great chance to let your natural nails breathe and hopefully even strengthen them before you start getting them done again!
This means trimming and filing them regularly, which will encourage new growth and turnover! Soon you can get them strong and healthy, especially if you follow my nail care tips!
Whiten Your Teeth
Whitening your teeth is another thing that can be easily left out or forgotten during our everyday lives. The great thing about it is that you only have to do it once in a while to see and maintain results, and when you do it and really commit to it then you basically have an instant glow up!
Having bright white teeth makes your smile look even better and just brightens up your whole face.
This cruelty free and vegan friendly teeth whitening pen is the best one I've tried! I see results instantly and it's buildable so you can use it multiple times throughout the day.
Get Your Life Organized
This is a must for your mental health and wellbeing. Use this time to recycle or donate items that you've collected that you just don't need or have a use for anymore.
There's a great saying out there that states that your place should be a home, not a storage space. Basically, you don't want clutter and junk building up because it can make you feel stressed and unsettled.
So go through everything one small space at a time and do some major spring cleaning – you'll feel so much better after!
Related Posts:
Thank you so much for reading my tips on how to glow up and take care of your health and wellness during social distancing! What tips do you have that I forgot or left out? Let me know in the comment section below, and if you liked this post you can always share it on Pinterest or follow me on Instagram for lots of similar content! Stay safe and healthy out there xx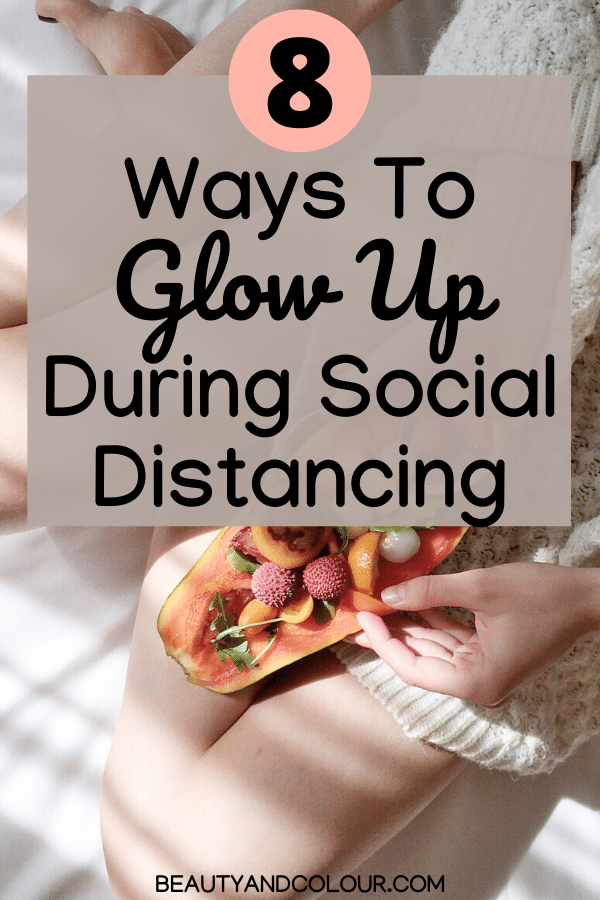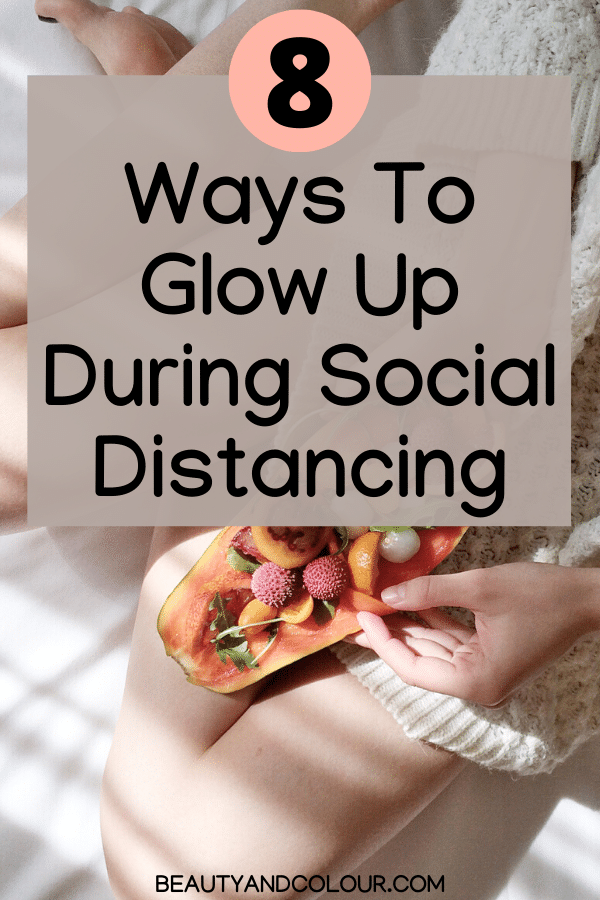 beauty and colour glow up hair healthy nails plant based skin social distancing tips vegan
Reader Interactions