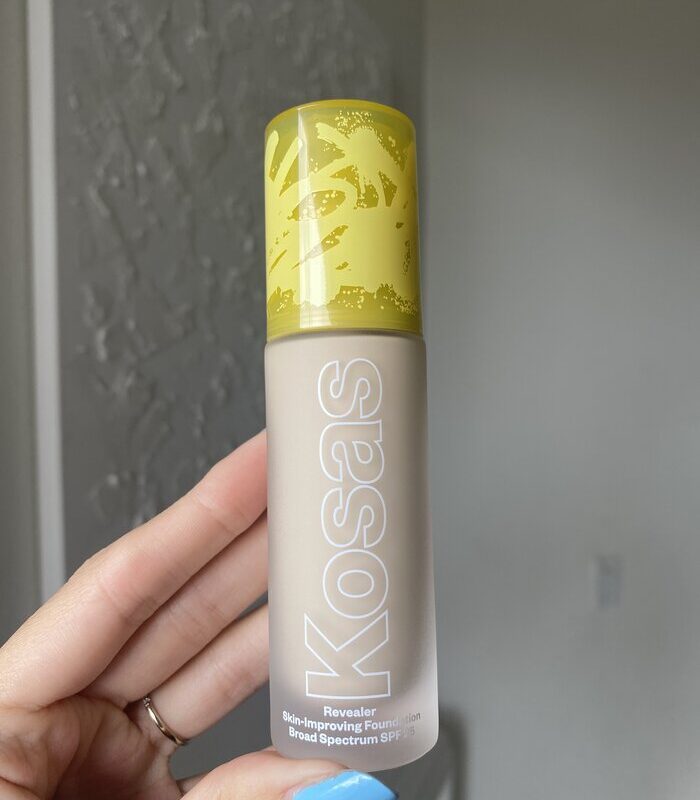 Kosas is one of my favorite non toxic and cruelty free makeup brands at Sephora, and they're also super popular on TikTok at the moment (and for good reason). So today I have a Kosas foundation review where I'll go into detail on what exactly this product is and some of its features and benefits so that you can hopefully get a good idea of whether it will work well for you!
I purchased this foundation for the first time earlier this year and I've been using it regularly since then, so I feel like I have a pretty solid understanding of how it works and who it would be best for. Keep reading my Kosas foundation review for my thoughts on if you should get it for yourself!
DISCLOSURE: THIS POST CONTAINS AFFILIATE LINKS, WHICH MEANS THAT I RECEIVE A COMMISSION IF YOU DECIDE TO MAKE A PURCHASE THROUGH THESE LINKS, AT NO ADDITIONAL COST TO YOU.
Shop The Most Popular Kosas Products:
Kosas Foundation Review
First off, one of the standout features of the Kosas Revealer Skin-Improving Foundation is its ability to provide flawless coverage. The lightweight formula effortlessly glides onto the skin, which creates a smooth canvas for makeup application. With just a small amount, the foundation effortlessly conceals imperfections, such as redness, blemishes, and dark circles, leaving behind a natural and radiant finish.
Here are some of the main features I wanted to mention off the bat in this Kosas foundation review:
Medium coverage
Contains SPF 25
Planet/reef safe formula
Long wearing and long lasting
Cruelty free and vegan
What really sets this product apart from others is its unique skin-improving properties. Enriched with nourishing botanical extracts and active ingredients, this foundation works tirelessly to improve the overall health and appearance of your skin. Ingredients like arnica, rosehip seed oil, and peptides work in synergy to reduce the signs of aging, boost collagen production, and promote a more youthful complexion.
In my opinion, this product gives pretty good coverage and I would say I think I've noticed a difference in how my skin is looking after consistently using it for a few months now. The fact that this is almost like a hybrid between a foundation and a skincare product is kind of unique and different in my opinion, and something I really wanted to mention in my Kosas foundation review. I always love those two in one type of beauty products that offer multiple benefits or do multiple different things because it saves time by eliminating steps in your routine!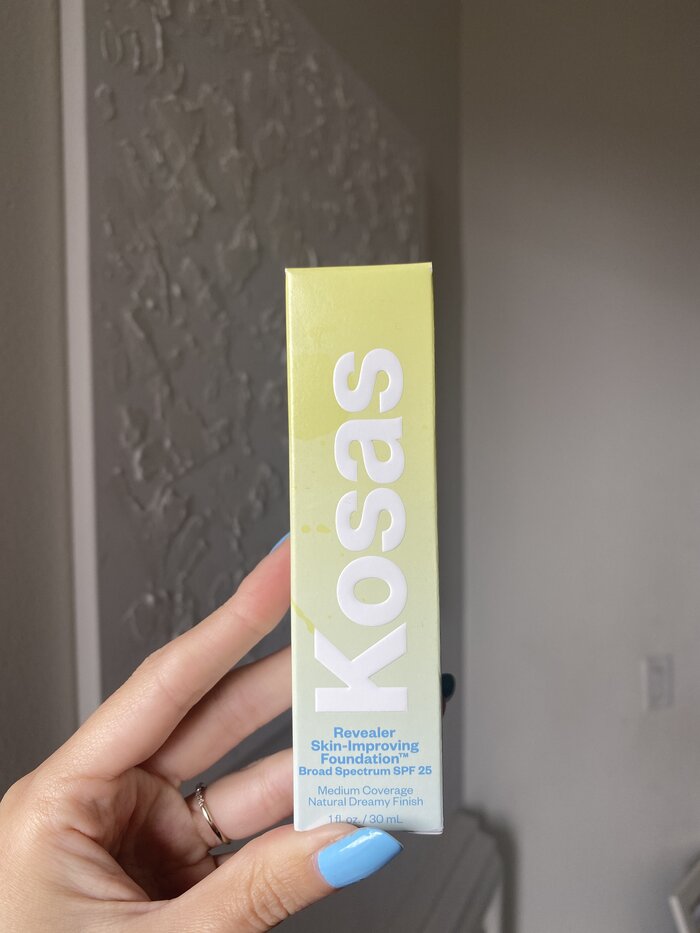 In addition, this foundation contains hyaluronic acid, which effectively hydrates and plumps the skin, resulting in a smooth and supple texture. The presence of niacinamide helps regulate sebum production, reducing the appearance of pores and controlling shine throughout the day. It's important to note in this Kosas foundation review that these skin-loving ingredients make the Revealer Foundation a true multitasker that provides coverage while at the same time nurturing your skin.
Longevity is a crucial factor when choosing a foundation, and the Kosas foundation does not disappoint. This remarkable formula is designed to withstand the test of time, ensuring your flawless complexion lasts all day long. Whether you're facing a busy day at work or dancing the night away, this foundation stays flawless all day, maintaining its coverage and finish without creasing or fading. I definitely like to set it with a powder, but that's just my personal preference and it's not really necessary unless that's what you prefer as well.
In my experience, this product maintains its flawless finish throughout the day, even withstanding sweat and humidity, which makes it an ideal choice for anyone with an active lifestyle!
For those conscious about what they put on their skin, it's worth mentioning in this Kosas foundation review that this foundation is an amazing clean beauty solution. It is free from harsh chemicals, parabens, phthalates, and synthetic fragrances. The brand prioritizes clean, high-quality ingredients, making it suitable for sensitive skin types. This foundation is also cruelty-free, ensuring that no harm is done to animals during its production!
Kosas has done really well in curating a diverse shade range to cater to a wide array of skin tones. From fair to deep complexions, the Revealer Foundation offers a spectrum of shades that truly celebrate inclusivity. It actually comes in over thirty different shades, which I think is so great! Each shade is thoughtfully formulated to provide seamless coverage, allowing everyone to find their perfect match effortlessly no matter what your skin tone is.
The last point I want to mention in my Kosas foundation review is that the product is conveniently packaged in a sleek, travel-friendly tube, making it ideal for on-the-go touch-ups. The formula also blends effortlessly, whether applied with a brush, sponge, or fingers. The buildable coverage allows for customization, allowing you to achieve your desired level of flawless complexion.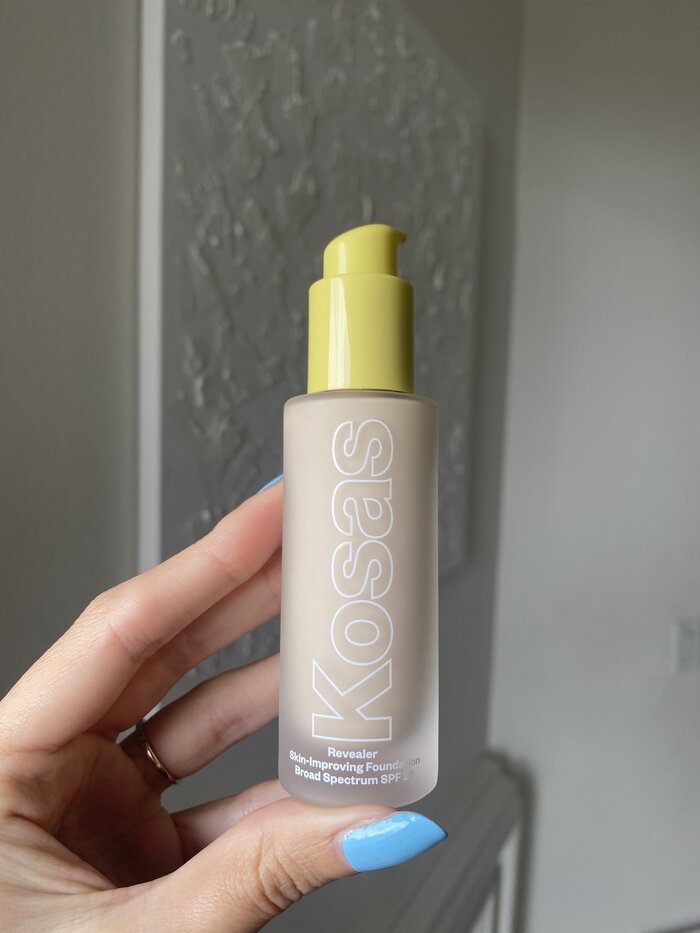 Kosas Foundation Review: Final Thoughts
In conclusion, the Kosas foundation honestly exceeds expectations in every aspect. Its perfecting coverage, skin-improving properties, long-lasting formula, clean beauty commitment, inclusive shade range, and easy application make it a standout choice among foundations. With this high end foundation, you can achieve the flawless, healthy-looking skin you've always desired.
For anyone looking for a combination product that gives you flawless makeup AND skincare all in one, the Kosas Revealer Skin-Improving Foundation stands out as a game-changer. With its unique formula, buildable coverage, and skincare benefits I mentioned earlier on in this Kosas foundation review, it has gained so much popularity among beauty enthusiasts. This foundation not only enhances your natural beauty but also improves your skin's overall condition, making it a versatile and beneficial addition to your beauty routine. If you're looking for a foundation that goes beyond traditional coverage and nourishes your skin, the Kosas Revealer Foundation is definitely worth a try. Say hello to your new holy grail foundation 🙂
Related Posts:
Thank you for reading my Kosas foundation review! I hope it was helpful to you in determining whether this product will be a good fit for you, and look out for my next post coming soon 🙂

Reader Interactions