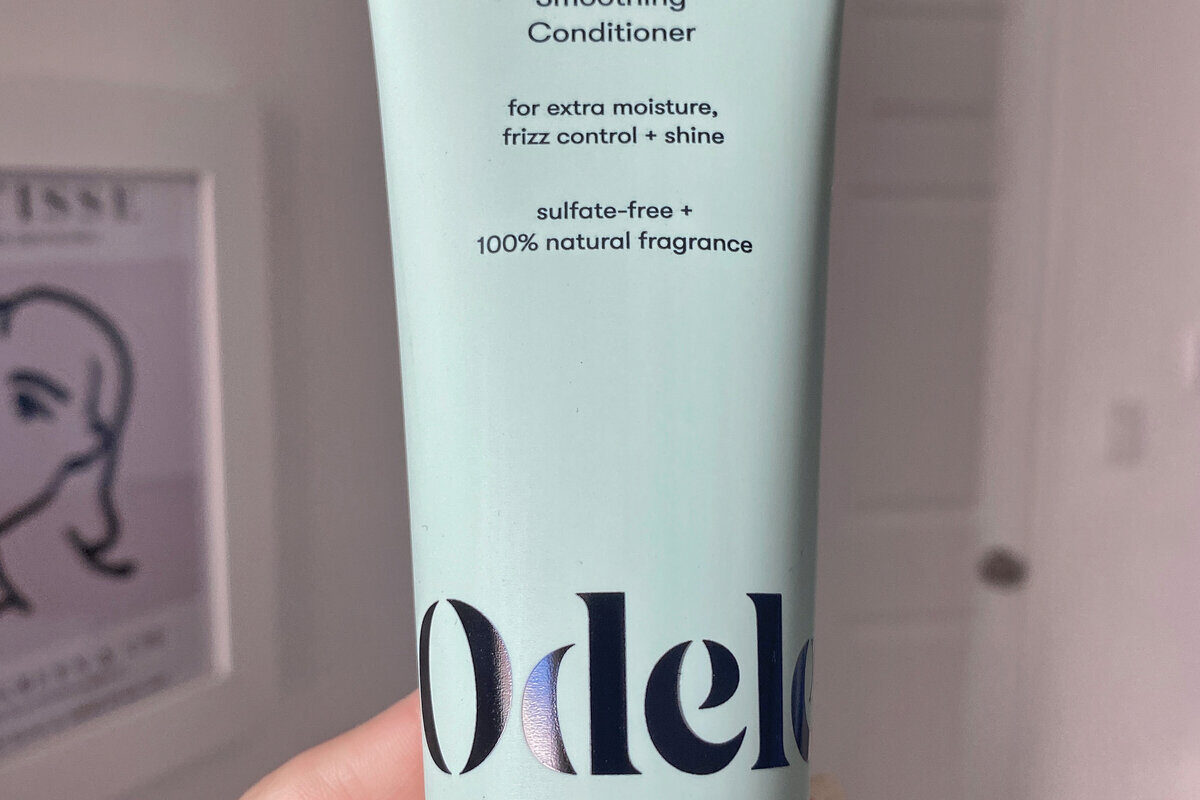 If you're in the market for new shampoo and hair products that use clean ingredients and come to you in pretty, aesthetic packaging, look no further than Odele Beauty! This is a brand that has been all over social media recently, and this full Odele Beauty review will fill you in on all the details about whether or not it's worth all of the hype surrounding it.
Based in Minneapolis, this is a company that is female founded, completely gender neutral, and designed with all hair concerns and types in mind. I'm excited to get into all of these reasons (and more) why I love their products and think that everyone should give Odele Beauty haircare a try.
It's time to stop throwing money away on haircare products that don't work, and hopefully find your new all time fave hair products in this post. Keep scrolling for the full Odele Beauty review!
DISCLOSURE: THIS POST CONTAINS AFFILIATE LINKS, WHICH MEANS THAT I GET A COMMISSION IF YOU DECIDE TO MAKE A PURCHASE THROUGH THESE LINKS, AT NO ADDITIONAL COST TO YOU.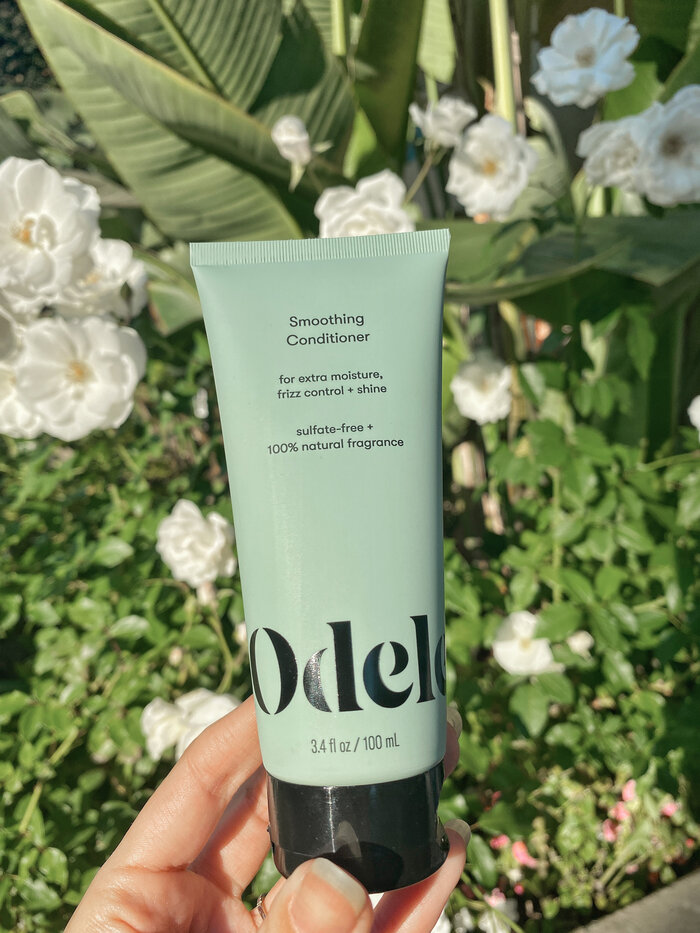 Odele Beauty Review: About The Brand
Odele Beauty, currently available exclusively at Target, is an affordable hair care brand with a commitment to making clean products that address a variety of different hair concerns. Their products are genderless and come in super aesthetic, cute packaging that looks great in your shower space!
As always, the brand is cruelty free and vegan friendly (I never share brands that aren't) and they have high standards for their formulas – they don't include any of the 1,300+ cosmetic ingredients that the European Union has banned. If you scroll further down this honest Odele Beauty review, I'll go into more detail on which products I've actually tried out for myself and whether or not I think you should check them out too.
Odele Beauty Review: Products I Tried
As someone with naturally curly hair that can get weighed down since it is extremely thick AND long, I always like finding a good curl defining product just to refresh my natural hair and keep it consistently healthy. This product was a win for me – I feel like my hair doesn't even need to be styled after using this shampoo, and all I have to do is let it air dry and can then wear it as is!
WORTH IT? YES, IF YOU HAVE NATURALLY CURLY HAIR!
I have to say this is probably my absolute favorite product from this brand. I have super thick hair, and a good clarifying shampoo is a MUST for people with thick hair (and anyone, really) because it gets rid of buildup and product residue that has settled since your last deep cleanse.
I recommend using this at least once a week to really tackle dirt, excess oil, and product residue to leave your hair feeling soft and looking shiny. Out of everything in this entire Odele Beauty review, this is the one product that I would recommend you get your hands on asap!
WORTH IT? YES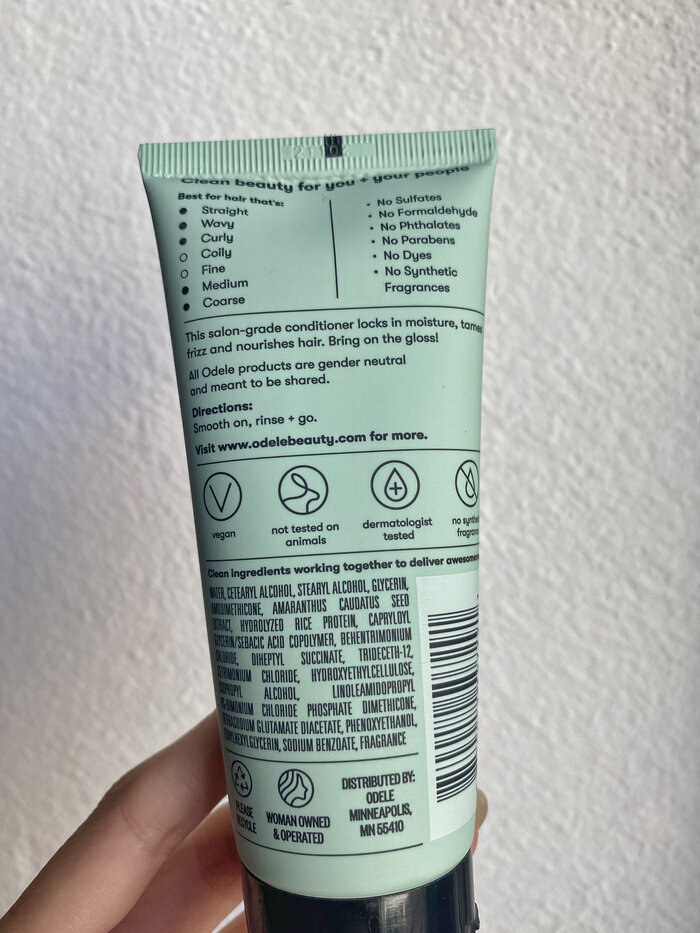 Odele Beauty's products are cruelty free, vegan, and free from synthetic fragrances.
As someone with extremely thick hair, not only do I need a great clarifying shampoo but I also need to be using a detangling product at least once every few days. I found that this one did the trick for me and made it much easier to get a brush through my crazy thick hair and be able to tame it.
And, according to the product page, it also helps to protect your hair from heat damage in addition to smoothing out tangles and de-frizzing it!
WORTH IT? YES
This was one of the first products I ever tried from Odele, and if you struggle with frizzy hair then this could be the thing for you. I bought this to try to fix exactly that problem, and it worked okay for me (this might be my least favorite Odele Beauty product) but I will say that I have extremely frizzy hair that needs extra TLC above and beyond what most people's hair needs.
So if you were going to pass on one product in this Odele Beauty review, in my opinion this might be the one to skip.
WORTH IT? ONLY IF YOU HAVE MILD TO MODERATELY FRIZZY HAIR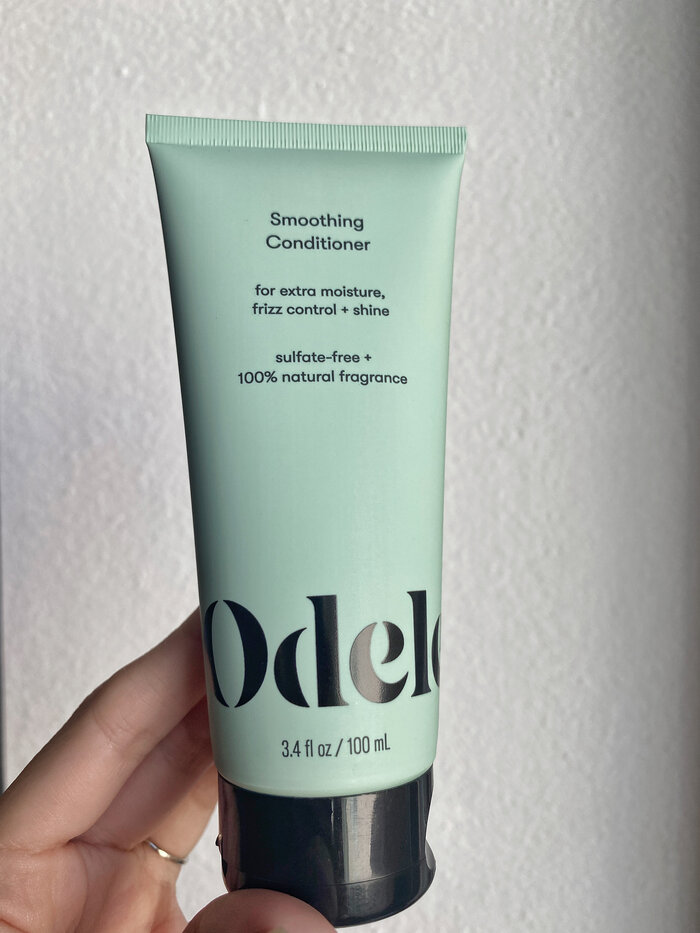 Odele Beauty Review: Final Thoughts
Overall, I'm a big fan of this awesome cruelty free brand and I think that they make high quality and effective vegan friendly products at really great, affordable prices. I love that they're gender neutral, so you can share them with your significant other and cut down on the amount of products that are cluttering up your bathroom countertop space.
Their formulas are currently completely vegan, so nothing contains honey or any other animal derived ingredient – just high quality plant based ingredients that nourish and hydrate your hair to the fullest.
So, now that you've reached the end of this Odele Beauty review, I would for sure recommend checking some of their products out and seeing how they work out for you! You never know, this just might become your new all time favorite hair care brand.
Related Posts:
Thank you for reading through this full Odele Beauty review! Have you tried any of their products out yet, or are you planning to after reading this post? Are there any similar cruelty free/vegan brands you know of that you think I should review next? Let me know in the comment section down below – I always love hearing about up and coming brands and seeing what you guys are interested in too.
And, if you liked this post then feel free to pin it on Pinterest, and make sure you go and check out my Instagram feed for lots of similar content if you like 🙂
Stay safe, healthy, and see you next time xx

Reader Interactions