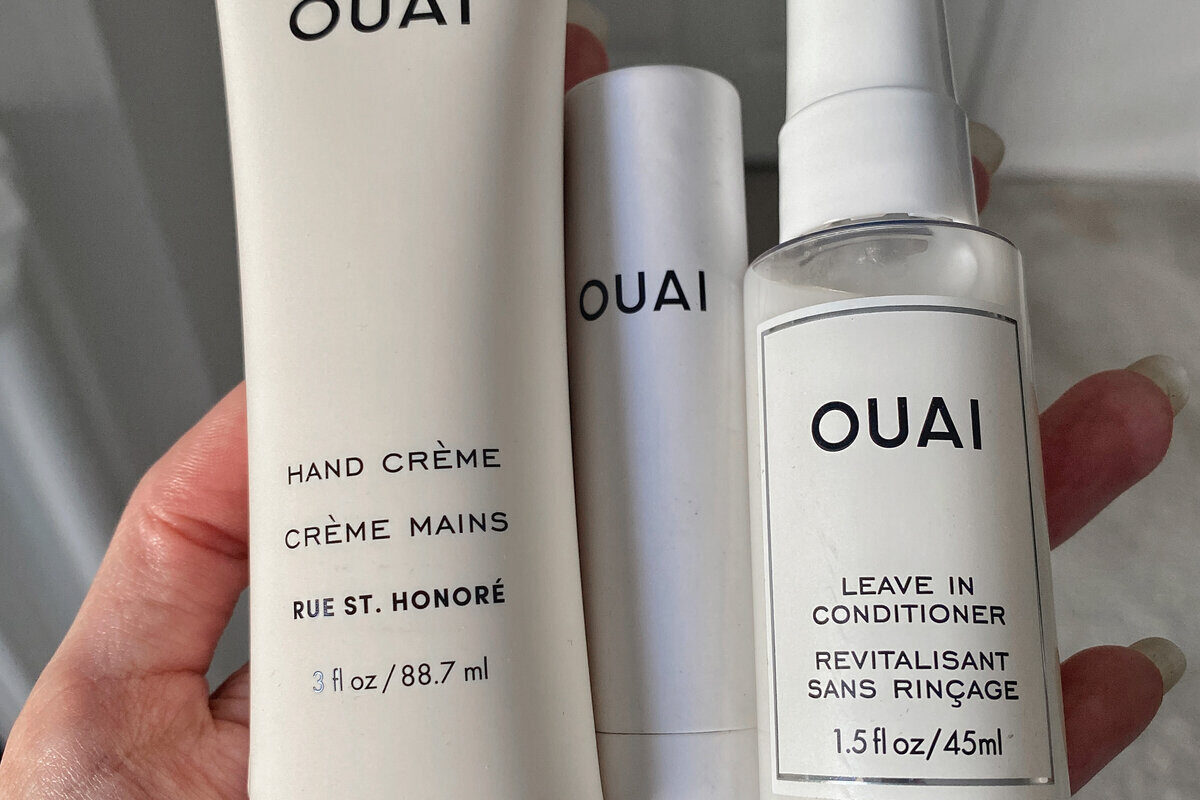 You've probably seen Ouai all over social media, thanks to their gorgeous aesthetic packaging and of course all the hype around the products themselves, but you might be wondering whether or not they're worth purchasing and if they'll work for you. So, today's post is going to be an honest Ouai body products review, including a detailed review of their Body Creme, the Hand Creme, and their Melrose Place perfume.
The brand is premium, and they're super popular and well known mainly because of their amazing hair care products. But recently, they've started to expand their collection and have created products like hand wash, perfume, moisturizers, and even super gorgeous candles!
And as always, Ouai is cruelty free and vegan friendly – you guys know I never review brands that aren't!
In this post, I'll go into detail as to whether I would recommend these items and if I think they're worth it. Keep reading for my honest Ouai body products review!
DISCLOSURE: THIS POST CONTAINS AFFILIATE LINKS, WHICH MEANS THAT I RECEIVE A COMMISSION IF YOU DECIDE TO MAKE A PURCHASE THROUGH THESE LINKS, AT NO ADDITIONAL COST TO YOU.
Ouai Body Products Review: Shop The Best Of
Moving on to the hand lotion that I keep in my bag at all times throughout the winter, the Ouai Hand Creme! This is a 3 fluid ounce bottle (so you can travel with it!) in their signature scent "Rue Saint Honore" which is again very light and floral smelling, similar to their Melrose Place fragrance.
The formula is ultra nourishing and so great for dry, irritated skin. The ingredients are luxurious as well – it's got murumuru seed butter, coconut oil, and shea butter to give you the softest and most hydrated hands, and it is completely vegan!
When I apply this, I only need to use a little bit for both hands to be covered. I do notice that it's pretty long lasting, and I'm saying that as someone who really struggles with dry skin during the winter months. This product has really helped me get rid of the flakiness and cracking on the backsides of my hands that can occur during cold weather, and I think if you have similar issues then this would work great for you.
If you need a new hand lotion, try this one out. It smells amazing and keeps your hands soft and smooth!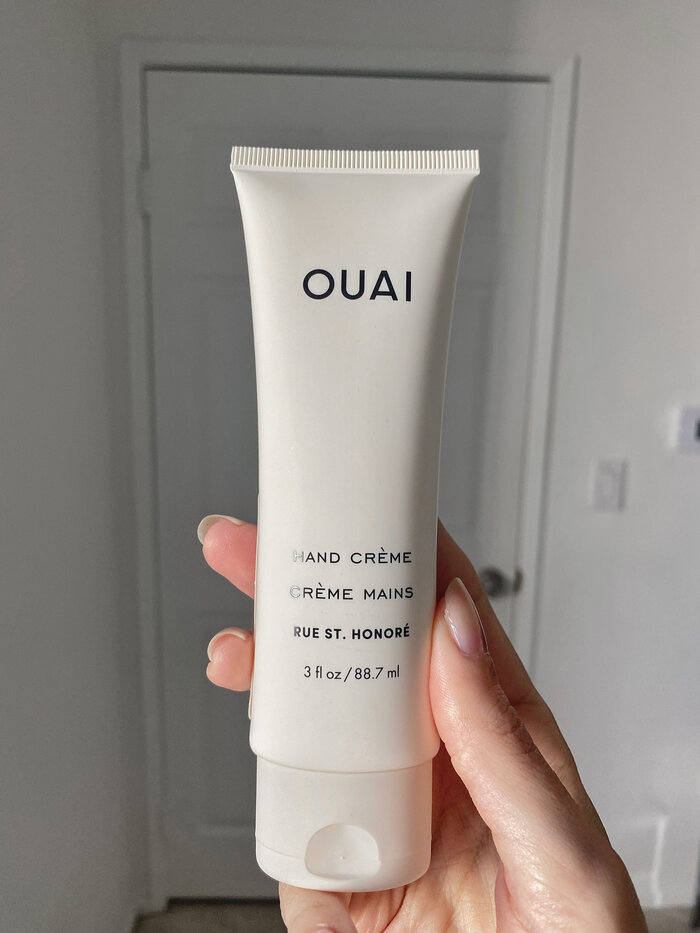 Relatively new to Ouai's line of products are their signature scents, and my personal favorite is Melrose Place. I would say this is a super light, floral scent that is perfect to wear at work or just running your errands.
At the time of writing this Ouai body products review, the full size bottle is 1.7 ounces and comes in at under $60, which is honestly not too bad for a nice perfume. You can even buy a bottle that is 0.34 ounces for around $20 in order to try it out and see how you like it!
So Melrose Place is currently my favorite day to day perfume that I've been consistently using for around a couple of months now, and I can definitely say I'm obsessed and that I would recommend it to everyone who likes a summery type of floral scent. According to the brand, they "bottled the good taste of Melrose Place" and the scent has notes of white musk, cedar wood, lychee, and bergamot.
In my opinion, this product smells amazing and is well worth it. I think the bottle should last you a pretty long time (of course, depending on how much of it you use at once).
Now that we've made it to the coldest part of the year, it's important to have a go to moisturizer to keep your skin from becoming flaky and dry. This is one of my favorite things that I have to mention in this Ouai body products review, because to me the formula just feels so high quality and it absorbs quickly without creating a mess after applying it! It's also completely plant based/vegan.
The way it smells reminds me of a spa – it's a clean scent that isn't overpowering, and I feel like it would appeal to most people. The product does what it's supposed to do, and I mainly use this on my legs and arms (I get especially dry elbows in cold weather).
It does come in a 7.5 ounce jar that should last you at least a month or two with frequent usage, and of course longer if you only use it every few days. At the time of writing this, you can get your hands on the Ouai Body Creme for $38 at Sephora.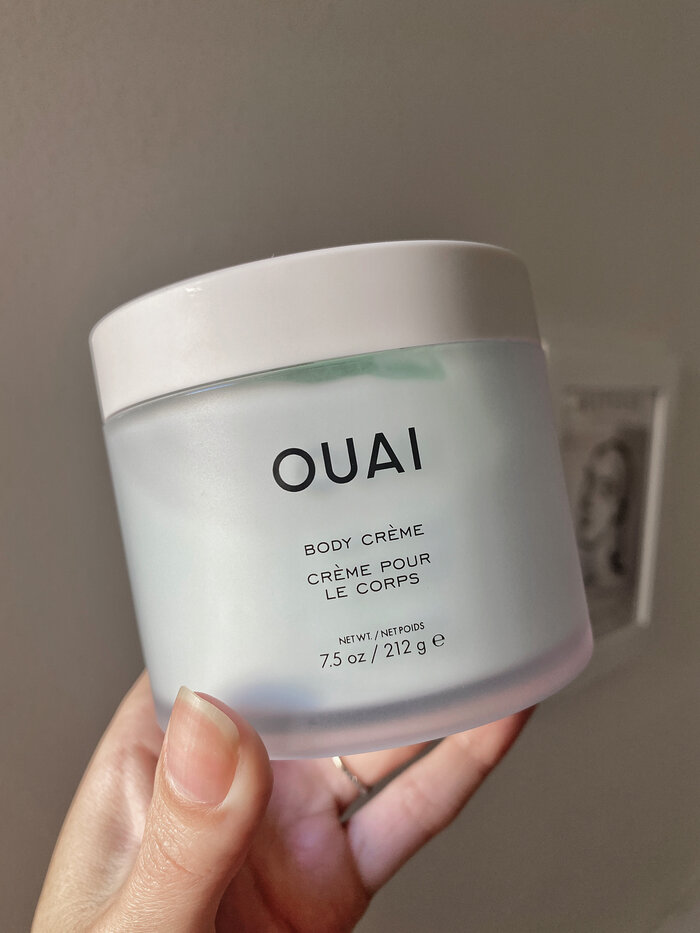 These candles are another super new launch from Ouai, and trust me when I say that they're honestly so gorgeous. I initially picked one up because I was absolutely obsessed with the aesthetic and thought it would fit in so well with my apartment decor.
And, not only does it look stunning, but the scent is as amazing as you would expect from Ouai, especially due to the fact that the scents of both candles are identical to their popular fragrances, North Bondi and Melrose Place.
These candles retail for $44 each, and I wanted to include them in my Ouai body products review even though they're technically for the home because they're one of my favorite things this brand has ever made and I can't recommend them enough!
Overall I would say that if you're okay with paying a little bit more for a beautiful, premium candle, then this purchase would definitely be worth it for you. It's perfect if you like a very minimal aesthetic or you have a super neutral home space.
Related Posts:
Thank you so much for reading my honest Ouai body products review including their perfume, hand creme, candles and body creme! I hope this post was useful for you in some way, and that it answered any questions you might have had about Ouai body products and whether or not they're worth purchasing. Let me know in the comment section below what you think of these stunning cruelty free and vegan Ouai products!
PS: If you enjoyed reading this, you can save it on Pinterest to look at it again another time, and be sure to check out my Instagram feed for a ton of similar content if you are at all interested 🙂
Stay safe out there, and I hope 2022 is going well for you so far! xo
Reader Interactions