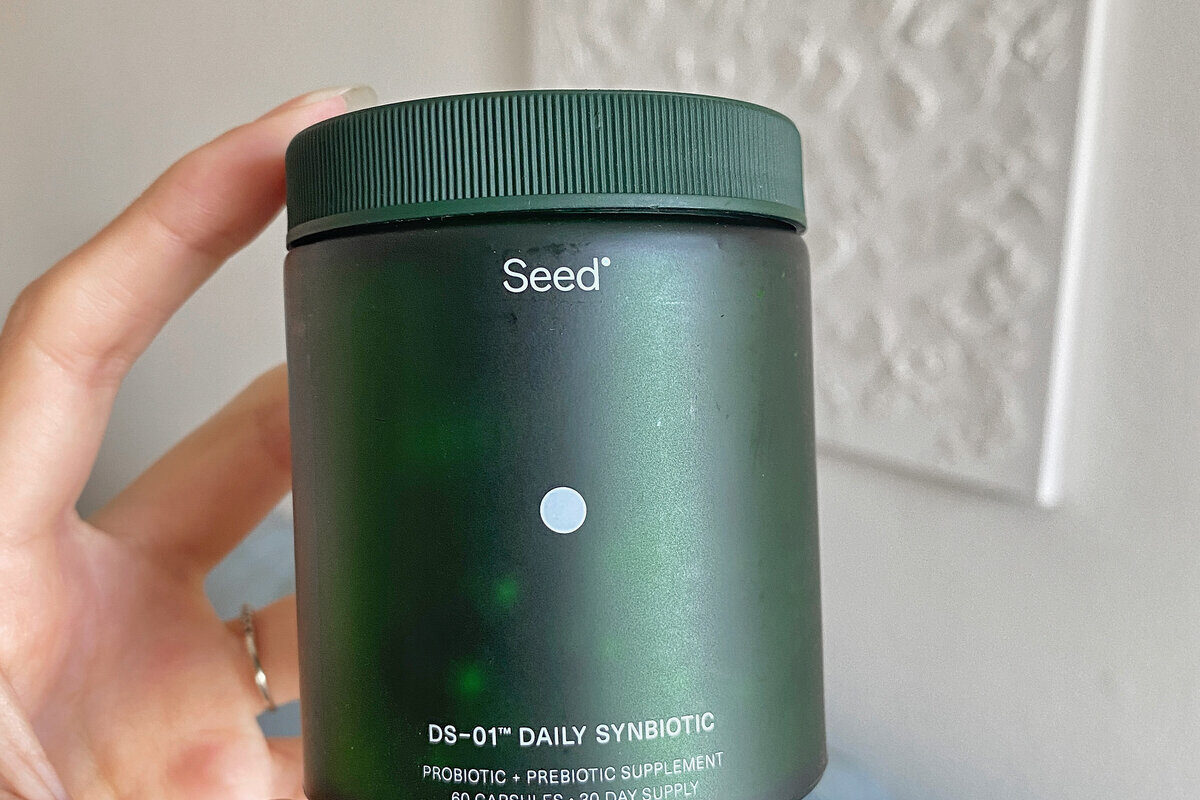 If you've been reading my site for a while, you probably know that I'm a huge fan of supplements. I love trying different ones out and seeing what kind of benefit they can bring to my life, whether they're meant to address a vitamin or mineral deficiency or if they're just fun ones to make my hair or nails grow more quickly. So on that note, today's post is going to be a Seed probiotic review, and if you haven't heard of Seed before or aren't super familiar with what exactly it is, you'll want to keep reading because it's definitely worth it.
Seed is a relatively new product on the market that is research backed and vegan friendly, so if you're looking for a new plant based probiotic supplement then it could be perfect for you. If you want to know more about it, I'm going to go in depth in this Seed probiotic review post to hopefully answer any questions you might have about this awesome product! Just keep reading to learn more.
DISCLOSURE: THIS POST CONTAINS AFFILIATE LINKS, WHICH MEANS THAT I GET A COMMISSION IF YOU DECIDE TO MAKE A PURCHASE THROUGH THESE LINKS, AT NO ADDITIONAL COST TO YOU.
Seed Probiotic Review
Long story short, I've tried a ton of different probiotics, and I've finally found the one that I'm going to be sticking to and using for the long term. I've been taking it for about two months now and I can say that I've seen noticeable benefits even in that relatively short time frame. So, if you're interested in trying Seed out as well, this post will go over all of the information you need and hopefully answer any questions you might have about it before starting your first month!
And, if you already know you want to give them a try, you can click here and use my Seed promo code "beautyandcolour" for 15% off of your first month!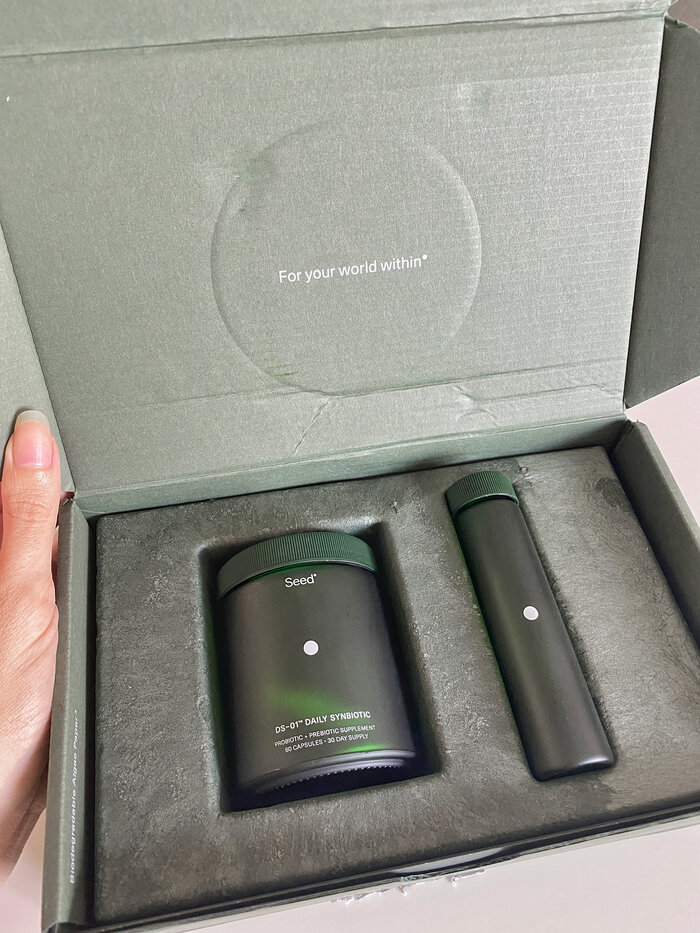 Seed Probiotic Review: What Is Seed?
Seed's DS-01 is a daily synbiotic (a synergistic combination of both a prebiotic and a probiotic) that promotes digestive health for decreased bloating and healthy stool. Not only that, it can potentially bring you tons of other benefits for overall health and wellbeing, including supporting clear, glowing skin, heart health, immune function, and more.
This is a subscription based service that has a 30 day risk-free guarantee, free US shipping and an international flat-rate (which I think is really nice because you can order even if you live outside of the US), and they've also made it super easy to skip or cancel your monthly delivery at any time. I have heard great things about their customer support, and they have both a customer care email address and a phone number to contact in case you have any questions or concerns.
The DS-01 Daily Synbiotic contains 24 different scientifically validated strains and is shelf stable for up to 18 months at temperatures up to 78 degrees Fahrenheit. The formula is research backed and was developed with the help of a scientific advisory board that consists of top researchers, doctors, scientists and more. You can check out Seed's website to learn all about the science behind their product and the clinical research that they conduct!
According to Seed's website, you will want to take the DS-01 Daily Synbiotic on an empty stomach or at least ten minutes before a meal. It is also suggested that you start off by taking one pill per day for the first three days and then increasing it to two per day on the fourth day (or whenever you feel ready to do so). Each container comes with 60 capsules, so your first order could last you a little bit longer than a month if you were to start off on one per day!
Seed is:
Completely vegan

Gluten free

Soy free

Nut free

Preservative free

Sustainable
Seed Review: What Is A Probiotic For?
Probiotics are live bacteria that offer many health benefits for the human body. They are meant to maintain or improve the "good" bacteria in your system so that your digestion is optimized and as a result the appearance of your skin can be improved, you might experience less bloating and gassiness, and your heart health and immune function may be improved as well.
One of the best parts is that the biodiversity of your microbiome can be supported by taking a high quality probiotic like the Seed DS-01 Daily Synbiotic. If you're not sure what exactly the term "microbiome" refers to, it simply means the many microorganisms living in and on our bodies (38 trillion of them to be precise!). These microorganisms need to work efficiently with your body to perform necessary functions and keep you – and the ecosystem that is your body – healthy.

While there's no exact picture or clear standard of what a perfectly healthy or "ideal" microbiome looks like, and such a thing might not even exist – since we as humans are all so different – we do know that a diverse microbiome is desirable, and that is precisely what Seed is designed to support.
If all of the above sounds good to you and you don't want to read the entirety of my Seed review, remember that you can click here and use my Seed promo code "beautyandcolour" for 15% off your first order!
Seed Probiotic Review: What Are The Pros?
There are so many benefits to this amazing supplement. One of my personal favorites is the improvement I saw to my skin after the first three or so weeks of taking it. I feel like I have more of a glow now that I didn't have before starting this, and for me that alone is enough to continue taking Seed!
Another thing I've noticed is that I have been experiencing less bloating after meals and just in general. This is something that is important to me, since I am pretty prone to bloating and would always be extremely self conscious of it after a meal, especially if I was around friends or other people. I am someone who tends to wear fitted clothing so the bloating was always pretty noticeable, and I'm really happy with the improvements I've seen in that category.
There is also a sustainability aspect to this brand that you would be hard pressed to find in any other probiotic brand. The jar that your first order (known as your "welcome kit") comes in is a gorgeous glass jar that is refillable, along with a smaller sized glass vial you can use for when you travel, and you can keep using both of them for as long as you're subscribed to Seed. Everything is packaged and sent to you in a bio-based tray that breaks down in 90 days and is actually compostable at home – it's made from starch, natural fibers and water! Even the pouch that your monthly refill is mailed in is biodegradable, which I think is really cool.
Basically, this is a beautiful premium product that provides an all around great experience. I really enjoy and even look forward to taking it every day because I know that when I do, I'm supporting my gut health and making a great choice for my body.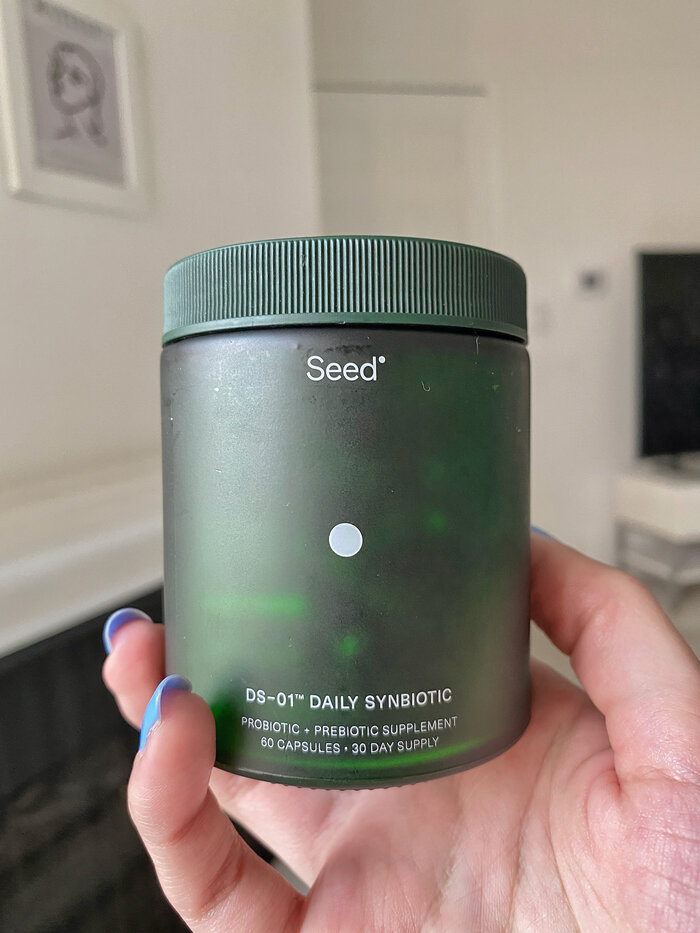 Seed Probiotic Review: What Are The Cons?
In my opinion, there really aren't many downsides to this supplement aside from the price. It is definitely a premium probiotic at about $50 per month, but the quality that you're getting for that price point is basically unmatched.
If you're looking to find an inexpensive probiotic, then this might not be the one for you. But if you want the highest quality and don't mind paying a little bit more in exchange, then this could be your new favorite supplement and I would highly encourage you to check it out (click here and use my Seed discount code "beautyandcolour" for 15% off your first order!).
Other than that, I honestly really can't think of any other cons. This is a high quality product that is science and research backed and I would recommend it to anyone and everyone!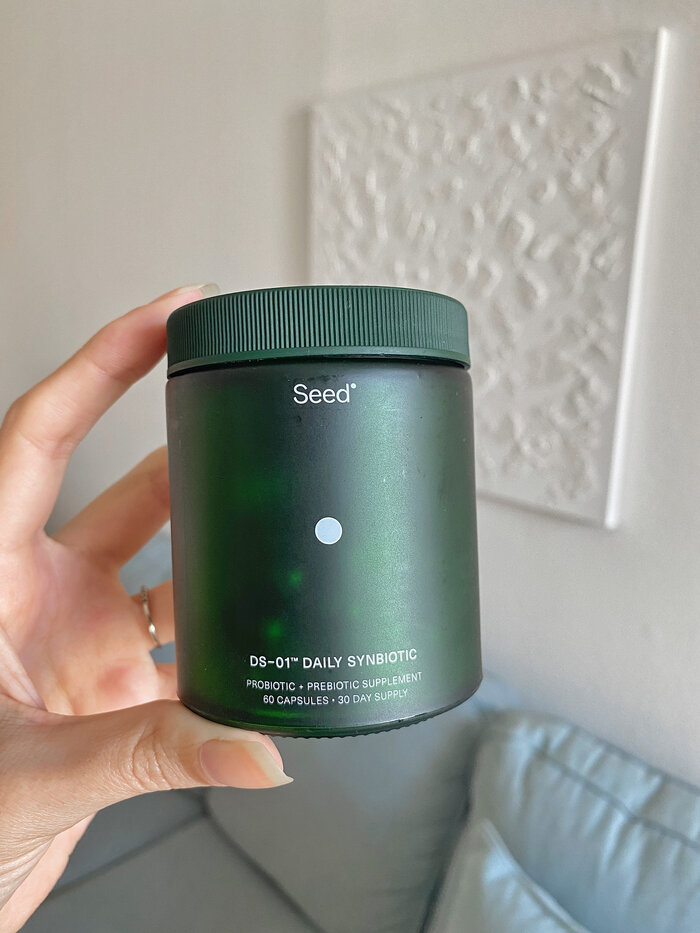 Related Posts:
Thank you so much for checking out this Seed Probiotic review post going over what I think is one of the best vegan friendly probiotic supplements out there right now! Remember, you can click here and use my Seed promo code "beautyandcolour" for 15% off of your first order.
I hope that this was helpful for you guys and that it answered any questions you might have had about placing your first order with Seed Probiotic. Let me know in the comment section below if you've tried Seed out yet, or if you're planning to now after reading this post! I'm always interested to hear about other people's experience with the products that I love.
As always, if you liked this post then feel free to share it on Pinterest, and make sure to check out my Instagram feed for tons of similar content if you're interested 🙂
Stay safe, healthy, and talk soon xx