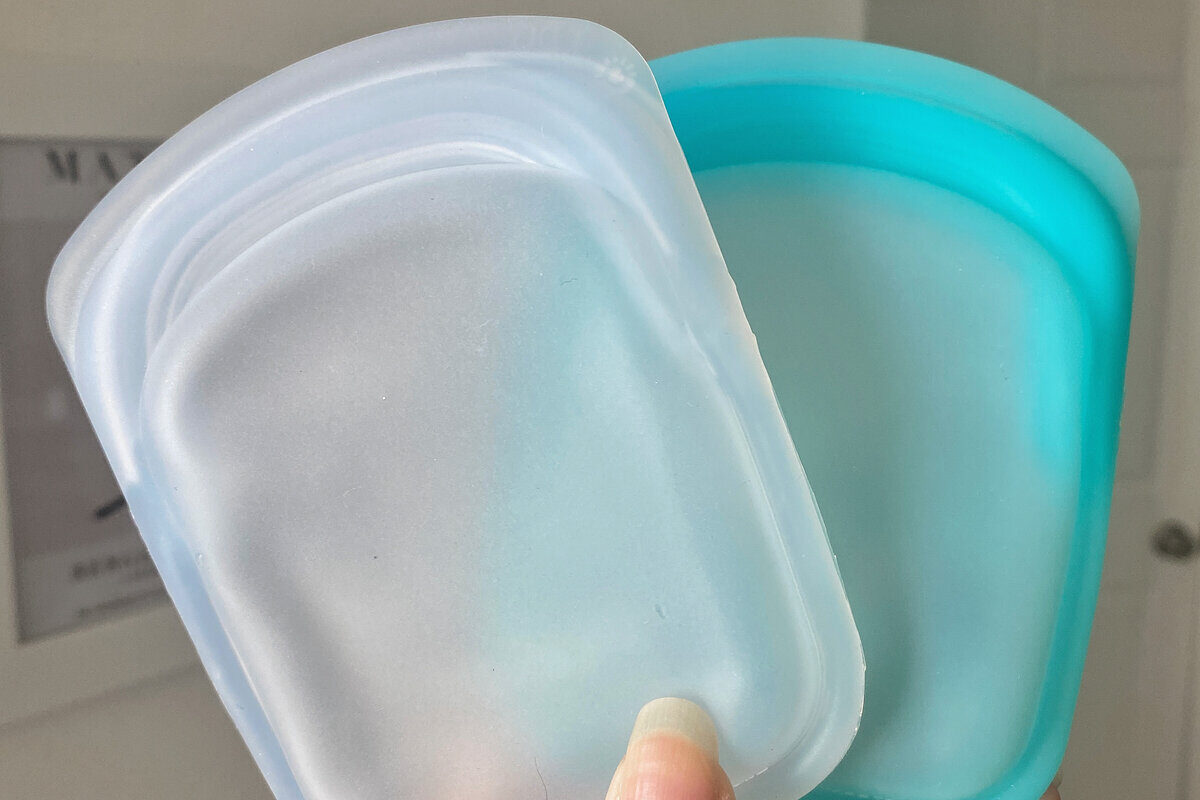 If you're at all interested in reducing your carbon footprint or even just the waste produced by your household, you might want to look into this awesome brand Stasher, who creates a sustainable solution to food storage and taking snacks or meals with you on the go! In this Stasher bag review, I'll dive into what exactly Stasher bags are, talk about why I think they're ultimately worth the price, and tell you where you can grab some of your own and hopefully get the best possible deal.
You may have seen this brand on social media at some point and so you came to this post wanting to know more about them. I hope this blog will help answer any and all questions that you might have about the product!
Keep scrolling for my honest Stasher bag review for 2022!
DISCLOSURE: THIS POST CONTAINS AFFILIATE LINKS, WHICH MEANS THAT I GET A COMMISSION IF YOU DECIDE TO MAKE A PURCHASE THROUGH THESE LINKS, AT NO ADDITIONAL COST TO YOU.
What Are Stasher Bags?
Stasher bags are super high quality, beautiful and reusable food storage baggies made from food grade silicone. They come in all kinds of cute colors and even some fun limited edition patterns/designs every now and then!
The first point I want to make early on in this Stasher bag review is that these are not "cheap" in either sense of the word – they are beautifully made, quality resealable silicone bags that are not going to fall apart after a few uses, and they are also not what most people would consider "inexpensive". They are a premium product, and the price point does reflect that, but ultimately you will actually save money over time with these as you will not have any need to purchase single use plastic baggies anymore!
Further to the above point, these are an investment that, with typical use, should pay off for multiple years from the time that you purchase and start using them. You'll feel great knowing that you're saving a ton of plastic from entering our landfills and also just having one less item to buy every time you need to make a trip to the grocery store.
Here's one of many amazing things the brand does: if for any reason your Stasher bag gets damaged or just worn out over time and you don't want it anymore, you can reach out to them and they will actually send you a prepaid mailing label so you can send the bag back to them for responsible up-cycling!
Click here to check out all of the different colors and options for yourself!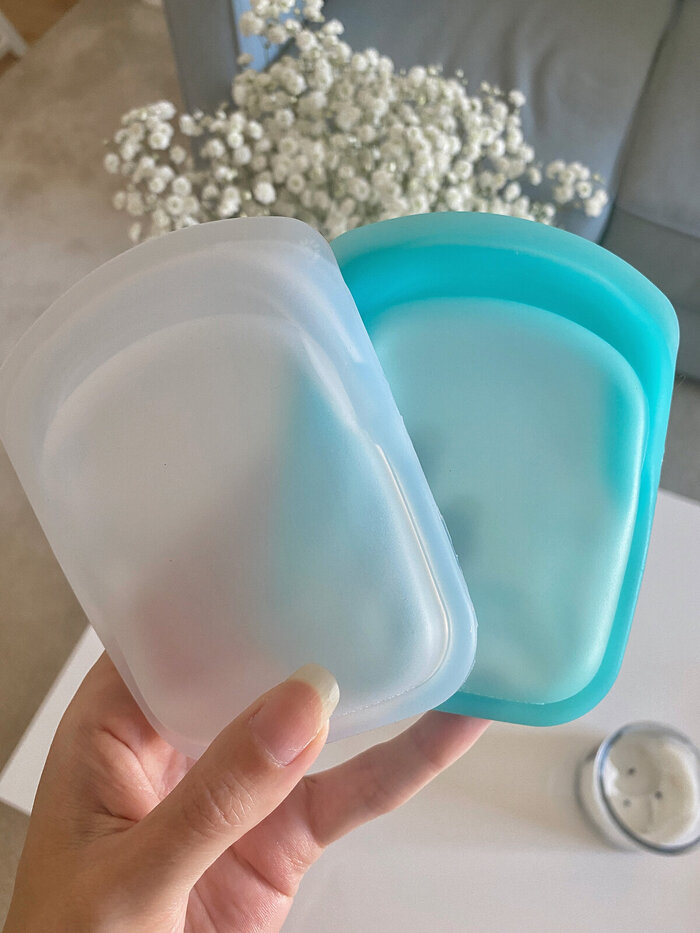 Stasher Bag Review: How To Use Stasher Bags
You can use these guys in a number of different ways. I think Stasher bags are so great to send to school with your kid's lunch packed in them – you can buy different sizes and throw in sandwiches, fruits and vegetables, crackers or chips, falafel, nuts or seeds, pretty much anything you can think of!
I don't have any kids, but my favorite way to use them personally is for travel. I love to pack a bunch of healthy snacks to bring with me to the airport whenever I have a long flight and am not counting on the airport having healthy food available. Also, this way I am bringing them along with me not just for the flight itself but so I'll have them for the entirety of my trip. As a result, I save money on eating out at restaurants in whatever city I'm traveling to because I can literally just go to the grocery store when I get there and buy snacks to take with me in my Stasher bags for every day that I'm away from home on my trip!
Of course, you know before even finishing this Stasher bag review that these are so ideal for day to day use. You can bring them with you to class if you're in high school or college, to work at the office, or just wherever you're going on any given day.
They do make different ones for slightly different purposes as well – for example, they make "on the go" bags that actually have metal hooks on the outside of them that you can use to clip them to your backpack (so those ones might work out great for you if you're a college student!).
Why Should You Use Stasher Bags?
I have multiple reasons I want to list in this Stasher bag review as to why you might want to use these cute little bags instead of single use plastic baggies, and they are as follows:
Sustainability – First and foremost, as I've mentioned a couple times now, these bags are sustainable and that's my favorite thing about them! I hate throwing a plastic bag away after literally one use – it's wasteful for both the planet and your bank account! And according to the brand, they have now sold millions of their products which has helped keep BILLIONS of single use plastic baggies out of our oceans and landfills – how amazing is that?!
Resealable and leak proof – These are super easy to reseal and the great thing is that the seal actually lasts. I used to have problems eating snacks out of plastic baggies – if I ever had something I wanted to snack on over a period of a few hours and I'd want to open it and seal it back up multiple times, sometimes the seals stopped working on those things after 2-3 uses! They are also leak proof, so you do not have to stress about spills in your kid's backpack or in your purse.
Freezer AND oven safe – Did you know that not only can you store food leftovers in these in your freezer, but you can even cook food in them?! Yes, you can actually put them in the oven and cook food inside the bags. How amazing is that? Another thing to mention in this Stasher bag review is that you can also steam them in boiling water or put them in the microwave (homemade popcorn anyone?).
Design and functionality – They perform well for a number of different uses, and besides that, they are so CUTE! I love the selection of different colors and styles, and I just think they're much better looking and more fun to use than regular plastic baggies.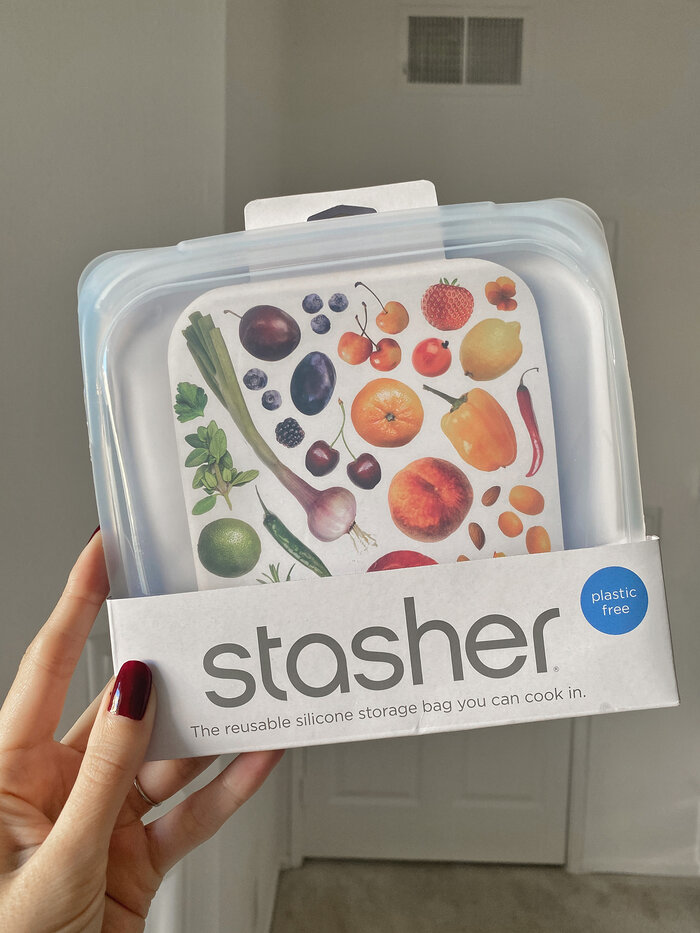 Stasher Bag Review: Are They Worth It?
I would personally say yes, they are worth it. One of the reasons why I say this is because although they are pricey initially, they really do save you money over time given the fact that you really should not have to buy single use plastic snack baggies anymore when you own these.
Stasher bags are cute, stylish, and make me actually look forward to packing snacks for the day. Plus, these bags are not going to rip open or leak and cause a huge mess in your backpack or purse, which has definitely happened to me with single use baggies before!
I find that because they're made from such thick, quality silicone that my food never gets squished or crushed into crumbs since Stasher bags offer a lot more cushioning (even if I have heavy stuff in my bag).
To me, the only downside is that they are on the expensive side.
Stasher Bag Review: Where Can You Buy Stasher Bags?
These reusable silicone bags are available from a ton of different popular retailers, which is super convenient. If you have a Prime membership with Amazon, you can have some Stasher bags at your doorstep in a day or two.
Otherwise, you can order them online from the following stores: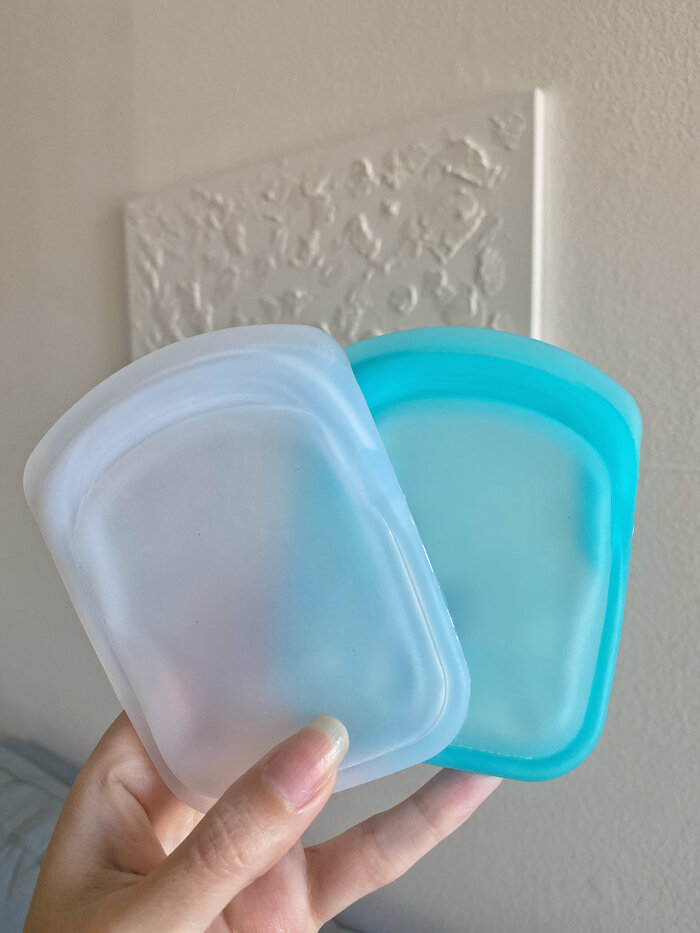 Stasher Bag Review: Frequently Asked Questions
How Do You Clean Stasher Bags?
So they are completely dishwasher safe, and that's how I've been cleaning mine since I've owned them. It works well for me since I have a pretty good dishwasher, and you can put them on either the top or bottom rack.
The brand advises NOT to turn them inside out when cleaning them even though you may be tempted to, since they say it will degrade the bonded edges and cause the bags to rip open eventually. If you want to give them a deep clean, grab a bottle brush to reach into all the crevices and eliminate any lingering particles.
Do They Come In Different Sizes?
Yes, they come in multiple sizes. It's worth mentioning in this Stasher bag review that they also come in different styles – they have some that are "on the go" type bags that have metal clips on the outside so you can hook them to your backpack or a duffel bag, and they have some that can stand up on their own that I love to use for storing and microwaving leftovers.
Are Stasher Bags Dishwasher Safe?
Yes, they are 100% dishwasher friendly on either the top or bottom racks! They're also microwave safe and freezer safe, FYI.
How Long Do Stasher Bags Last?
I have personally had my oldest ones for several months and they're still in great condition. There's no discoloration that's occurring, and I'm careful with them so the silicone is completely in tact and looking good. I've even heard some people say they've had theirs for years and they're still going strong.
You want to follow their tips for keeping them in the best possible condition. To include just a few of their tips in this Stasher bag review, some of the basic advice that the brand gives on this includes avoiding using the bags as cutting boards and not opening them further than where the seal naturally goes.
If you follow this advice carefully, you should have your bags for years!
Stasher Bag Review: How To Contact Customer Support
If for any reason you need to contact Stasher customer support, you can do so by using the contact form on their website, by calling 510-531-2100, or you can send an email directly to [email protected] if you have questions about returning unopened products.
Related Posts:
Thank you for checking out my Stasher bag review and thoughts on whether or not these reusable silicone bags are worth it! Have you tried Stasher bags out before, or are you interested in picking some up now that you've read this review post? Let me know in the comments below, I'd love to hear how they worked out for you!
And remember, if you're on Pinterest, you can always save this post so you can look at it again later, and definitely check out my Instagram feed for lots of similar content! 🙂
Stay safe babes, and I hope you're all having the absolute best holiday season so far! xo