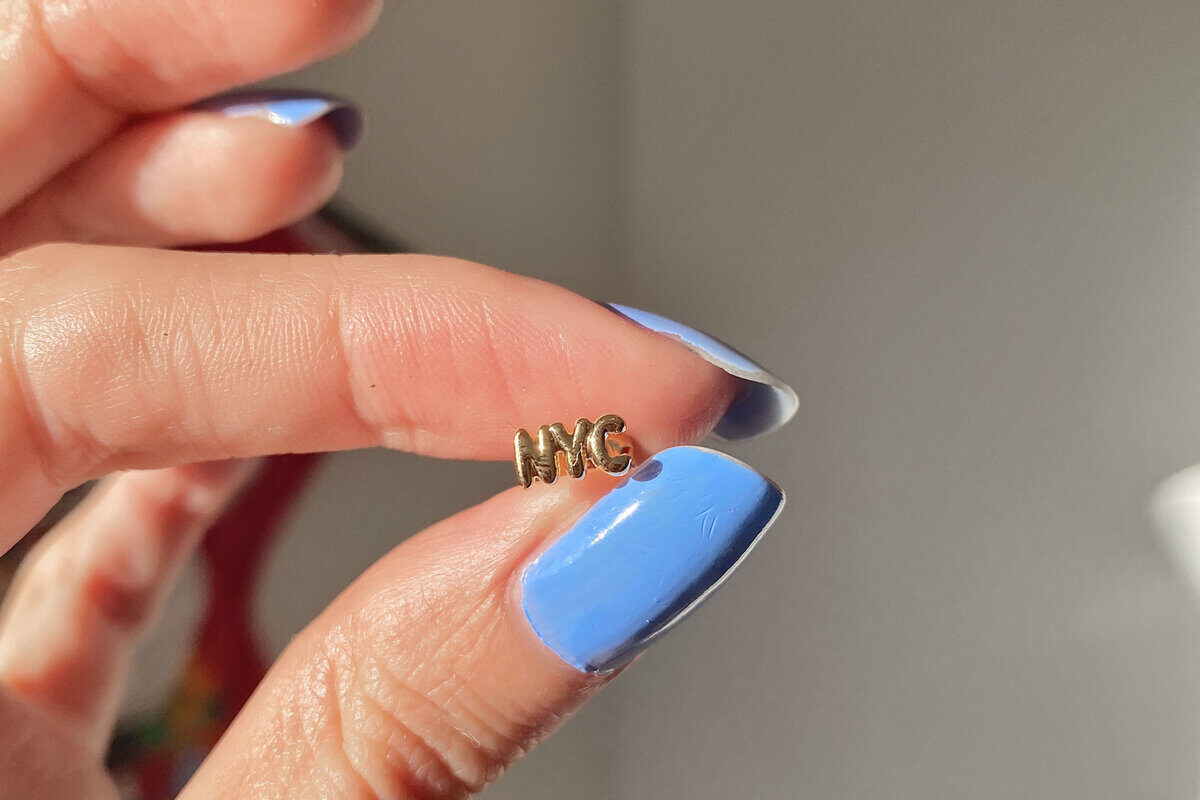 There's a super trendy new earring brand that everyone is loving lately, and it goes by the name of Studs! Studs earrings are available in a wide variety of cute designs and they are affordably priced, so it's pretty easy to see why they're all over social media these days. So, today's post will be a full Studs earrings review, in which I'll be going into detail on all of the specifics of this brand, including my thoughts on the quality of the earrings and where you can get some for yourself!
If you want to design a custom "Earscape" and not break the bank, then this earring brand is definitely worth looking into. They have so many fun designs to choose from that you're bound to find something you love.
The brand was started by Anna Harman and Lisa Bubbers, who envisioned a more upscale version of the mall chain store Claire's for ear piercings, but with reliably affordable prices. They've now grown Studs into an incredibly successful brand and are making the process of getting your ears pierced safer and more accessible for all.
Keep scrolling for my Studs earrings review!
DISCLOSURE: THIS POST CONTAINS AFFILIATE LINKS, WHICH MEANS THAT I GET A COMMISSION IF YOU DECIDE TO MAKE A PURCHASE THROUGH THESE LINKS, AT NO ADDITIONAL COST TO YOU.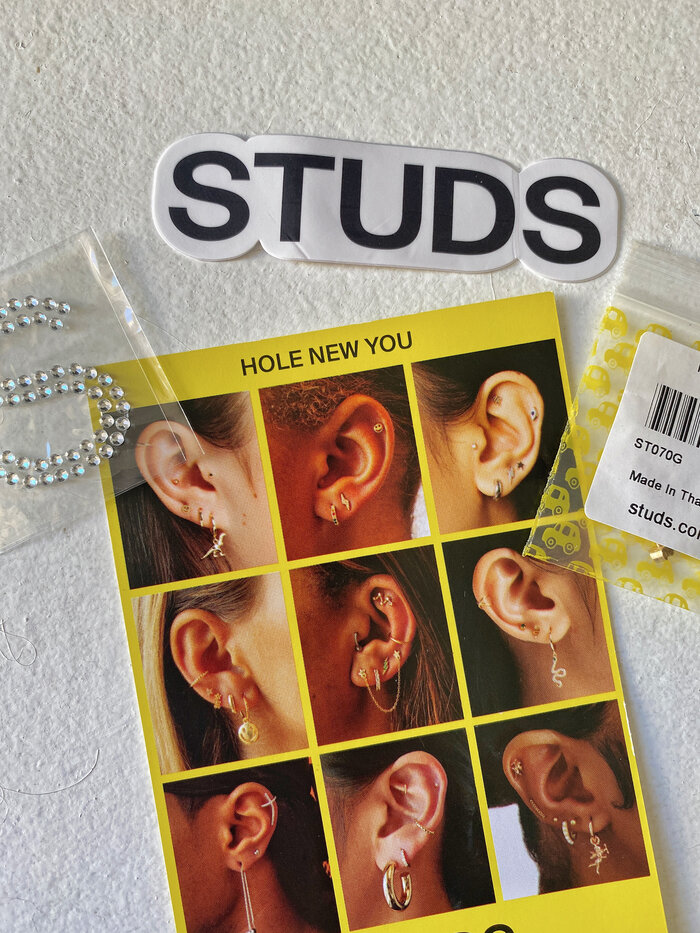 Studs Earrings Review: Quick Overview
Studs earrings are all about self expression, and the brand has an amazing unique and curated collection of pieces. The storefronts they currently have are aesthetically pleasing and minimalistic, so you're never overwhelmed by all the choices available to you. Plus, the people who work in their store locations are super stylish and can help you pick out the best pieces to complement each other and look great on you.
They have tons of different styles to choose from, and they've got both piercing jewelry and fashion jewelry. You can check out their website and social media platforms for some inspiration on how to style your ears and for more information on which parts of your ear they can pierce!
Studs Earrings Review: Why I Love This Brand
Here's a quick list of some of the things I think are awesome perks that Studs has to offer:
Affordably priced yet great quality jewelry
Trendy and unique pieces that are hard to find anywhere else
Jewelry that is safe for sensitive ears and durable enough for everyday wear
Cute freebies with each purchase (a free pouch to carry your new earrings home in and some fun stickers)
You can purchase single earrings or pairs, which isn't always the case with jewelry brands
Free shipping on online orders $50+
Brick and mortar stores in New York, Los Angeles, Boston, Austin, and a new shop opening soon in Miami, Florida
Studs Earrings Review: Best Designs
So this is going to be 100% my own personal opinion, but below is a list of some of the earrings that I think are the best on the entire site. Some of these pieces are unlike anything I've seen from any other jewelry brand, and I think you guys will love them too!
I own one of this design and love it so much! This one is so cute if you're from LA, or if you just love Los Angeles and want to represent it with your jewelry. It's for sure one of my personal favorites and was actually the first earring I ever bought from Studs. It's $22 for a single and $44 for the pair, and it is 14K gold plated with a butterfly backing.
This is another really cute one – a little palm tree! You can get it in either gold or silver, and it has a butterfly back closure. It's recommended that you remove it before showering, working out or swimming.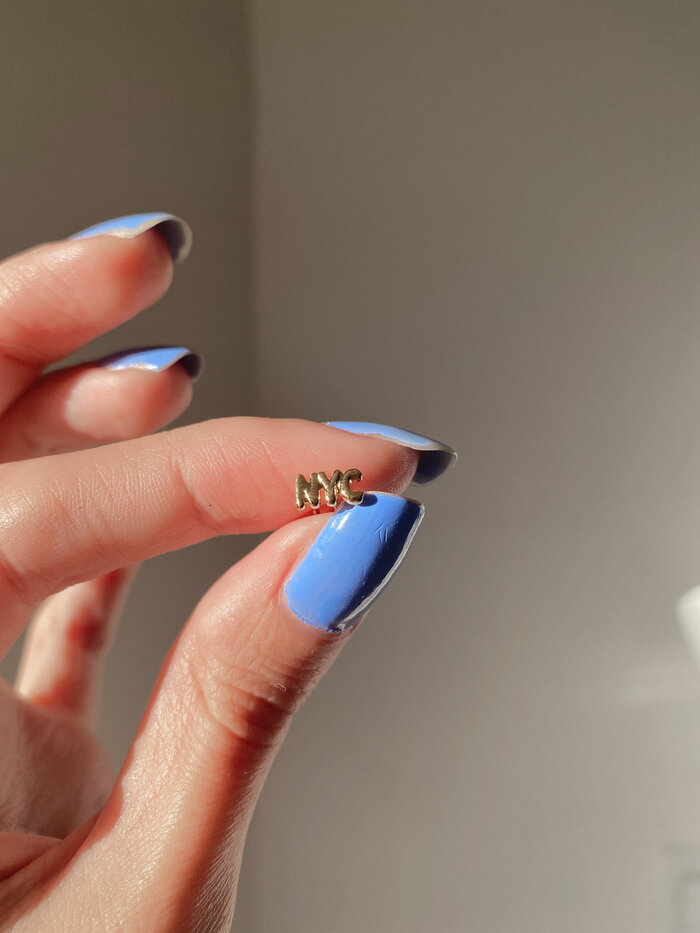 Pictured above is one of my other absolute favorite styles from the brand – this is a design from the "Studs Loves New York" collection.
This is one of the larger designs that they have, so if you're going for a bold look this could work for you. It's 14K gold plated with internal brass, and is $36 for a single or $72 for a pair.
I'm big on dainty jewelry but I definitely love a chunkier hoop to switch things up once in a while, and this one is really pretty! I had to include this one in my Studs earrings review because I feel like a chunky hoop is a staple piece and really never goes out of style.
This is another one that comes in both gold and silver, and as its name would suggest, it's very dainty and slim and just has a perfect minimalistic look for everyday wear. This style is $20 for a single and $40 for a pair.
Studs Earrings Review: Piercing and Aftercare Guide
Studs has professional piercers working in all of their physical stores with single use piercing needles, so you can get your piercings done there if you happen to live near one of their shops! They recommend keeping a new piercing in for at least two months if it's a lobe piercing, and 3-12 months if it's an inner or upper ear piercing. This is because lobe piercings just happen to be the quickest to heal, while other areas need more time.
You don't want to take out your new piercing before the recommended time period is up because then you're at risk of the hole closing up. You do want to make sure that you're keeping the new piercing clean but not over cleaning it, and that you're aware of the common side effects that tend to occur after you get a piercing done (such as swelling, tenderness, some bleeding, itching, etc).
It is advised that you try to avoid playing contact sports until the piercing is healed, and don't submerge it in water for at least two weeks afterward.
It's worth mentioning in this Studs earrings review that the brand says that if you're going to change out the earring that was put in before the initial healing period is up, then you're only going to want to swap it out for either implant grade titanium or solid 14K or 18K gold, as these materials won't irritate the area while it's still going through the healing process.
Remember to make an appointment if you're looking to get your ears pierced at a Studs store, as they currently are not accepting walk-ins.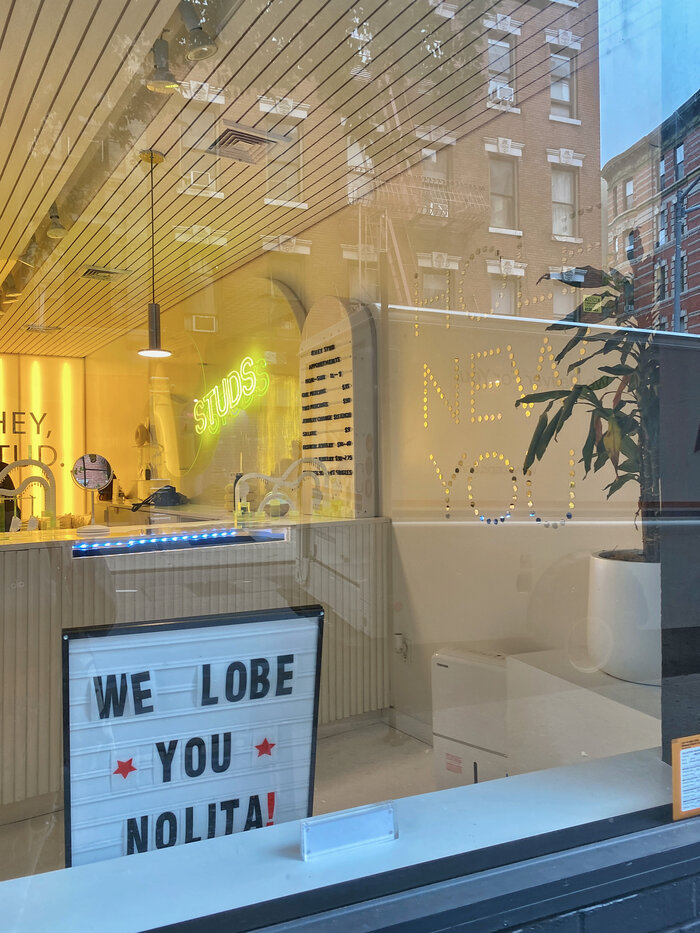 Studs Earrings Review: FAQ
What Is Studs Earrings Return Policy?
Returns and exchanges are accepted within 21 days of the original purchase date, and refunds will be processed in 3-5 business days. Earrings must be unworn, returned in the original packaging and in original condition/have no damage to be eligible for a refund.
What Type Of Jewelry Does Studs Sell?
The brand sells earrings (as you can probably guess from the name!) and that is what they specialize in. Within that category, however, they have all different types of earrings, including studs, hoops, cuffs, "huggies", and more. They have both piercing jewelry (meaning that they use implant grade, 14K or 18K gold plated jewelry) and fashion jewelry.
How Many Styles Does Studs Have Available?
The brand has over 200 different earring designs to choose from! There is pretty much something for everyone on their site, and they have different styles like hoops, dangly earrings, and of course studs!
Which Parts Of Your Ear Can You Get Pierced?
If you get your ears pierced in a Studs store, you can choose between 12 different areas of your ear! They provide a graphic on their site that you can take a look at to see for yourself which parts of the ear can be pierced and decide where you want to get yours done.
How To Contact Studs Customer Support
If for any reason you need to get in touch with the brand's customer support team, you can fill out the contact form on their website or send an email to [email protected]!
Related Posts:
Thank you so much for reading my full Studs earrings review! Have you heard of the brand or bought anything from them before? Let me know in the comment section below, and if you know of any brands that make similar products also let me know so I can check them out!
Remember you can always save this post for later or share it on your Pinterest account if you enjoyed it, and make sure to check out my Instagram feed for lots of similar content if you're interested 🙂
Stay safe out there, and talk soon ladies! xx