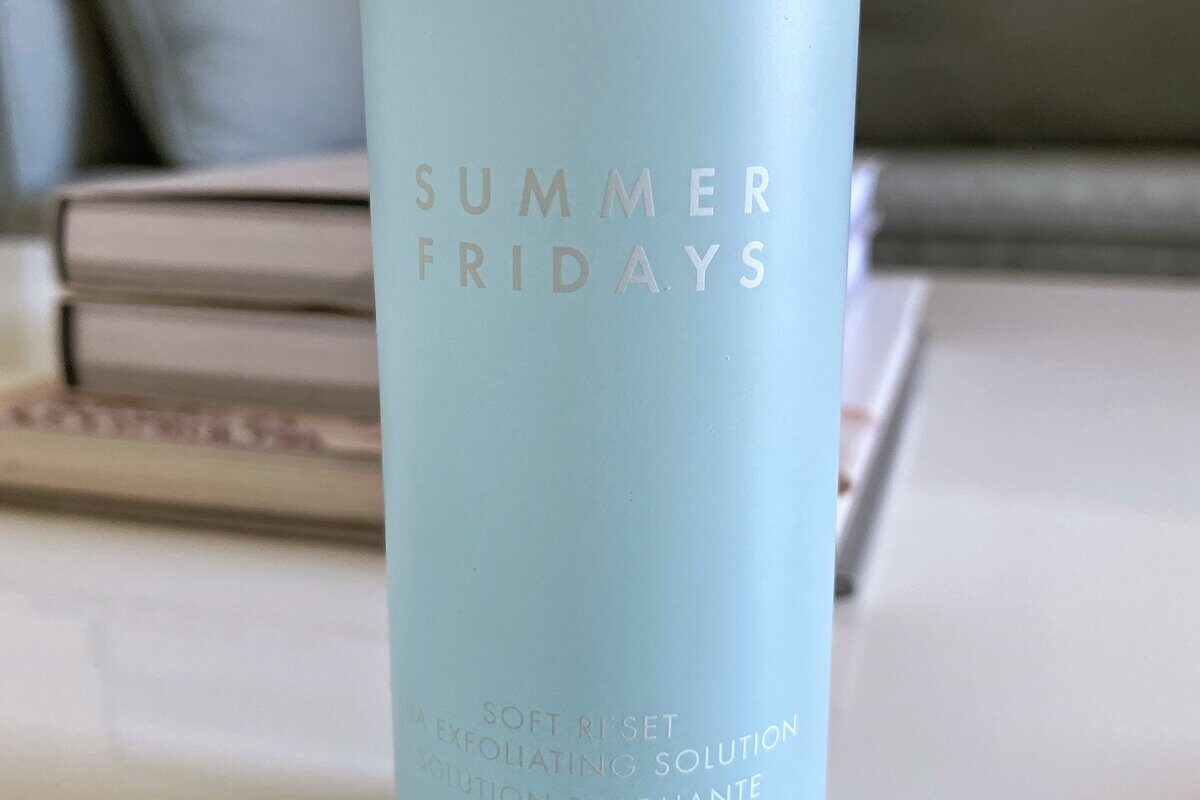 One of my favorite skincare brands, Summer Fridays, released a new product a little over a month ago that I think you guys are going to love! It's called the Soft Reset AHA Exfoliating Solution, and it's essentially a toner that is going to reduce the appearance of your pores, slowly erase scarring and unevenness, and just really brighten up your skin. And of course, the brand is cruelty free and vegan friendly and the product itself contains only vegan ingredients. Keep reading for my Summer Fridays Soft Reset review!
DISCLOSURE: THIS POST CONTAINS AFFILIATE LINKS, WHICH MEANS THAT I GET A COMMISSION IF YOU DECIDE TO MAKE A PURCHASE THROUGH THESE LINKS, AT NO ADDITIONAL COST TO YOU.
Summer Fridays Soft Reset Review
If you're not familiar with the brand Summer Fridays, you're going to want to look into this brand stat! It's an amazing cruelty free skincare line founded by two fashion bloggers, Marianna Hewitt and Lauren Gores Ireland, who wanted to create skincare that was luxurious but with clean ingredients that are good for you. They founded Summer Fridays and it launched at Sephora and Revolve, so they must be doing something right!
The Summer Fridays collection is certified Clean At Sephora, meaning that their products are free of potentially harmful ingredients like sulfates, parabens, pthalates, and more.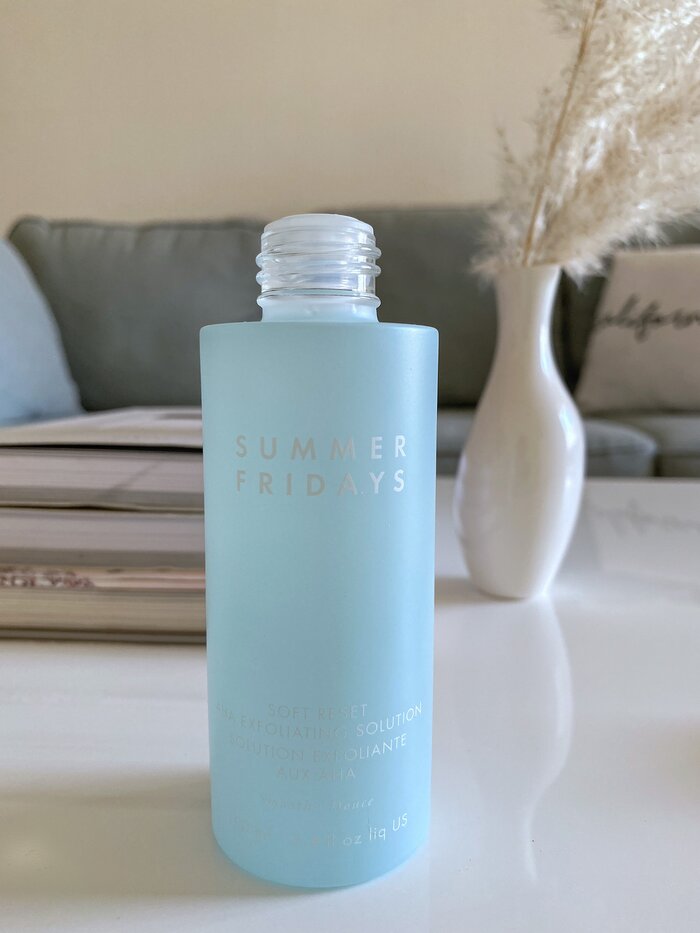 How To Use It
To start off this review, the Summer Fridays Soft Reset is meant to be used after cleansing your skin at night. Just grab a cotton pad and swipe the product all over your face and neck while avoiding your eye area. Then, wait a couple minutes while it absorbs into your skin, and then follow that up with your favorite moisturizer before hopping in bed!
They say it can be used every day (use it at night) but if you have sensitive skin it may be best to work up to using it every day, since it does contain both lactic and glycolic acids which sensitive skin might need to get used to.
What Does It Do?
Exfoliates dead skin cells and unclogs pores

Smoothes and plumps fine lines, improves discoloration

Minimizes appearance of pores

Improves texture and evenness of skin

Reduces signs of aging

Brightens your skin

Works on all skin types

Increases absorption of your other skincare products
My Thoughts
So the first thing I noticed with this product was that I saw results overnight. I have some light scarring that I'm working on erasing, and after only one use I could tell that the texture of my skin was noticeably smoother. That being said, there is no such thing as a miracle product, and while this is amazing, I wouldn't buy it with the expectation that it's going to completely erase anything you don't like on your skin in a week. It is meant to create steady, consistent results over time!
The thing that I love about the Summer Fridays Soft Reset is that when I wake up after having used this the night before, my skin feels super soft and I can really tell that this does have a plumping effect, meaning it makes your skin look a little more lively and not dull!
I have been using this for just under a month, and I'm continuing to see improvement day after day. This has honestly become one of my obsessions that I can't leave out of my skincare routine!
I also of course love that it's cruelty free and vegan, but you guys already know that haha 🙂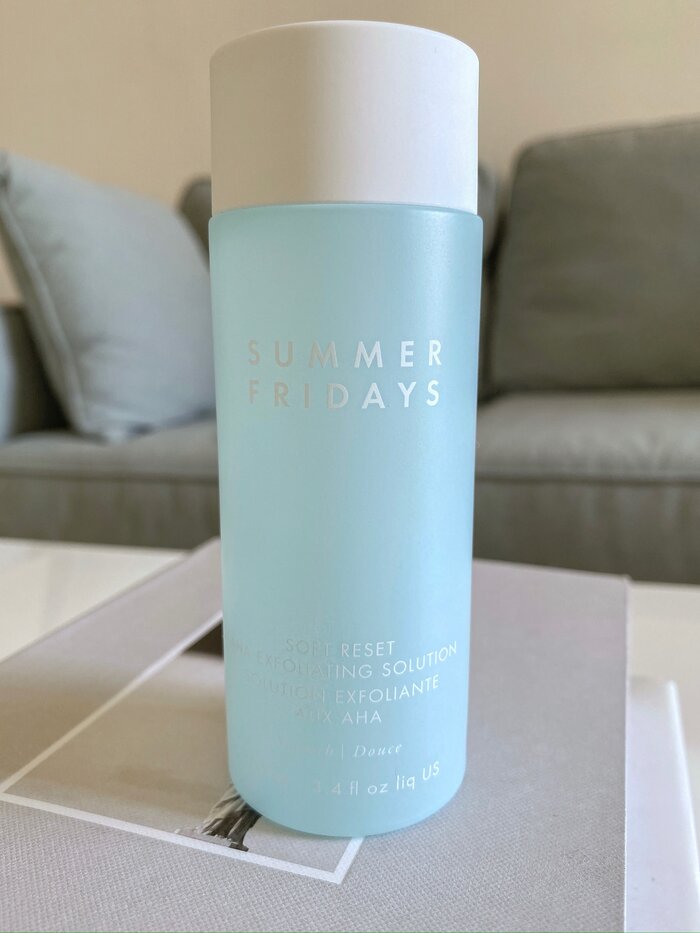 Rating: 9/10
Overall, I loved everything about this product, from the packaging to the actual results it has delivered so far. The only reason I'm taking a point off and not giving it a perfect 10 out of 10 is because it's a little on the expensive side, but that being said the size of the bottle basically justifies that! You don't need too much product to get the job done, so the bottle will most likely last you a while.
If you're looking to buy a premium product that may help you avoid an expensive micro needling appointment to correct minor to moderate scarring, this product could be for you.
I would definitely recommend picking up the Summer Fridays Soft Reset AHA Exfoliating Solution if you are trying to get a smoother and more even skin tone and reduce the look of scarring, fine lines and/or pores!
Summer Fridays Soft Reset Ingredient List: Water/Aqua/Eau, Lactic Acid, Propanediol, Aloe Barbadensis Leaf Juice, Glycerin, Glycolic Acid, Niacinamide, Sodium Hyaluronate, Sodium Citrate, Phenoxyethanol, Citric Acid, Acer Saccharum (Sugar Maple) Extract, Camellia Sinensis Leaf Extract, Citrus Aurantium Dulcis (Orange) Fruit Extract, Citrus Limon (Lemon) Fruit Extract, Saccharum Officinarum (Sugarcane) Extract/Saccharum Officinarum/Extrait De Canne À Sucre, Vaccinium Myrtillus Fruit Extract, Chamomilla Recutita (Matricaria) Extract, Curcuma Longa (Turmeric) Root Extract, Xanthan Gum, Caprylyl Glycol, Tetrasodium Glutamate Diacetate, Ascorbyl Glucoside.
Related Posts:
Thank you so much for checking out my Summer Fridays Soft Reset review! Have you tried this exfoliating solution product yet, or are you planning on picking it up? Do you have recommendations for other similar products to try out? Let me know in the comment section down below!
As always, if you liked this post feel free to share it on Pinterest, and you can definitely check out my Instagram feed for a ton of similar content xx

beauty beauty and colour cruelty-free fashion healthy lifestyle plant based summer Fridays vegan
Reader Interactions