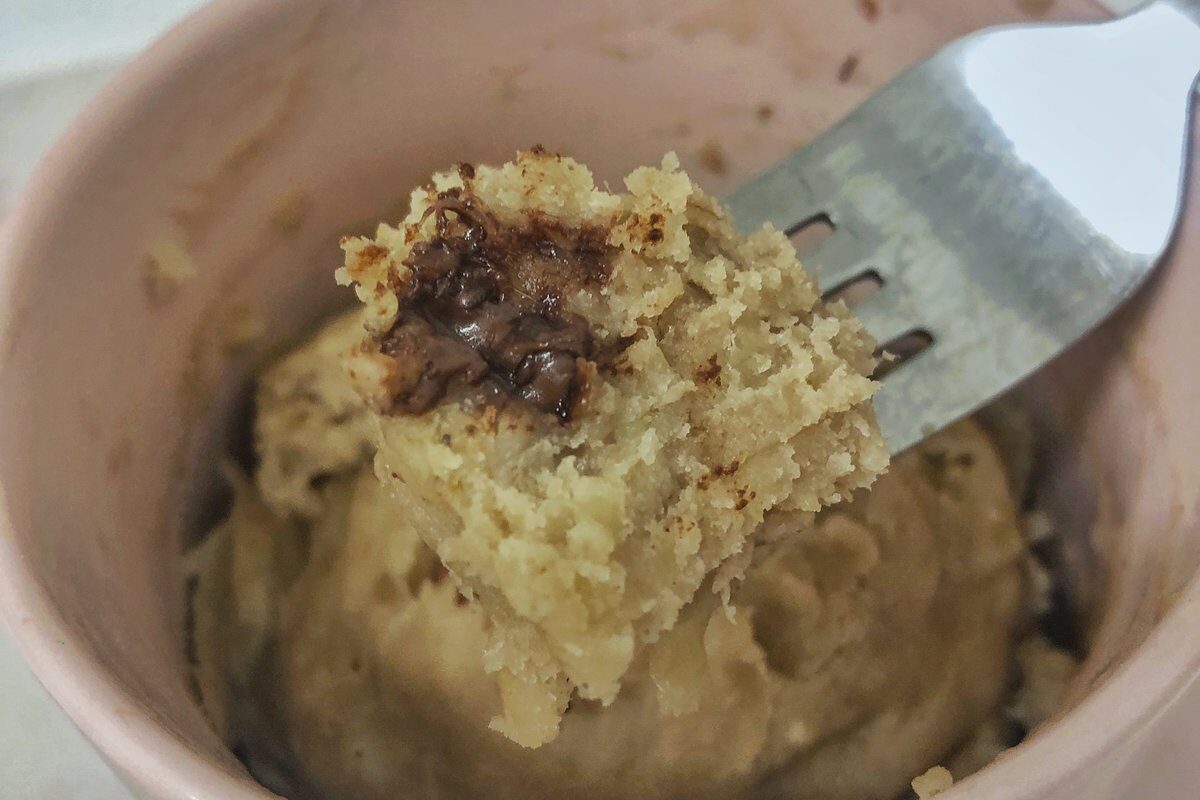 This delicious vegan banana chocolate chip mug cake recipe is so easy and quick to make, you might find yourself making it for dessert every day! The recipe is overall pretty healthy, since it's low sugar, dairy free, plant based and vegan! It also has a decent amount of protein because of the peanut butter, so it's overall just a super clean and healthy snack that you won't feel guilty about. You can also make this gluten free – there's an option included in the recipe if you're looking for that as well.
The ingredients are all things that you probably already have lying around your kitchen, so you don't even need to go shopping to make this yummy vegan mug cake dessert. The cleanup time is also super minimal, so it's basically a win win!

Vegan Banana Chocolate Chip Mug Cake Recipe
Ingredients
One ripe banana

One teaspoon of organic cane sugar

Half teaspoon of baking powder

Two tablespoons of smooth peanut butter

Two tablespoons of your choice of plant milk (almond and oat milk both work really well with this recipe)

Six tablespoons of flour (*can substitute almond flour or oat flour here for a gluten free version!)

A tablespoon or two of vegan chocolate chips* (depends on how much chocolate you want)
*Trader Joe's semi sweet chocolate chips are completely vegan and they taste like milk chocolate. They are absolutely delicious and I cannot tell the difference between those and non vegan chocolate chips.
Tips
Make sure it's cooked, but don't overcook or burn it! The outer edges of the cake should be starting to peel away from the inside of the mug, and the chocolate chips should look melted. If you see any tiny pockets of batter that still look moist, then put it back in the microwave for 20-30 more seconds

Use bananas that are ripe or a little overripe, since they will be easier to mash

Use a large mug that's short and wide, not a taller and more skinny mug (it cooks much better in a short, wide mug and won't work well in a skinny one)

Throw it in the freezer for about ten minutes right when it comes out of the microwave. It will be way too hot to eat when you first take it out, and putting it in the freezer will cool it down quickly and also allow the chocolate to solidify again

Add your favorite toppings! Use anything you think would go well with chocolate chips – maybe coconut shavings, walnut pieces or even a scoop of vegan ice cream!
Instructions
1. Start by cutting the banana up into smaller pieces with a knife, then put the pieces into your mug of choice and mash them up fully so that the banana mixture is completely smooth.
2. Add in the two tablespoons of peanut butter and stir to fully combine.
3. Next, add in your two tablespoons of milk and mix everything until smooth.
4. Now stir in your teaspoon of cane sugar.
5. Add in your half teaspoon of baking powder and your six tablespoons of flour, and stir until the mixture has a consistency that's a little thicker than pancake batter. It should be thick enough that when you stir it and hold the spoon upside down above the mug, it's super slow to fall off the spoon and you have to scoop it off with your finger. If you find that it's a little bit TOO thick and tough to stir, add in just a small splash of extra milk, but don't add in so much that it becomes runny or it will not cook well.
6. Then, throw in your desired amount of chocolate chips (I typically use between one and two tablespoons) and distribute them evenly throughout the mixture.
7. Finally, put the mug in the microwave for two and a half minutes on a normal setting. When it comes out, it should fully cooked and have no pockets of wet batter. If you see it still looking shiny and not fully cooked through, put it back into the microwave for 30 second increments until it's cooked to your liking. You can also do the fork test by taking your fork and making holes in the top of the cake to see if the prongs of the fork come out dry.
8. Let it cool, then enjoy 🙂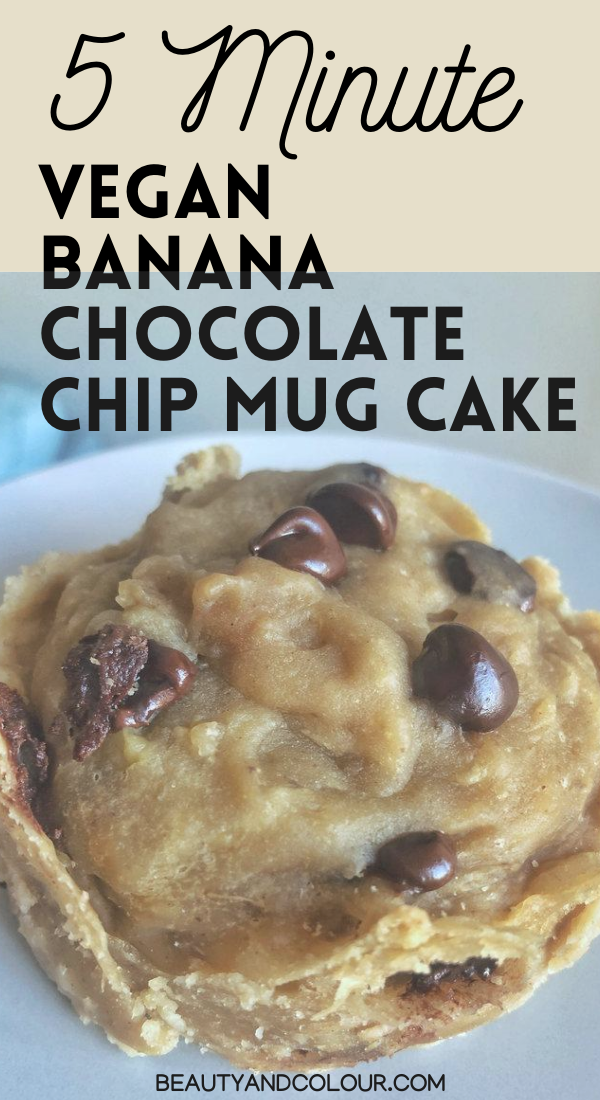 Related Posts:
Thank you so much for checking out my vegan banana chocolate chip mug cake recipe! Have you tried a mug cake before? Let me know in the comment section below, and you can always share this post on Pinterest if you liked it! Also be sure to check out my Instagram feed for tons of similar content 🙂
banana mug cake beauty beauty and colour dairy free fashion gluten free healthy lifestyle low sugar plant based recipe vegan
Reader Interactions