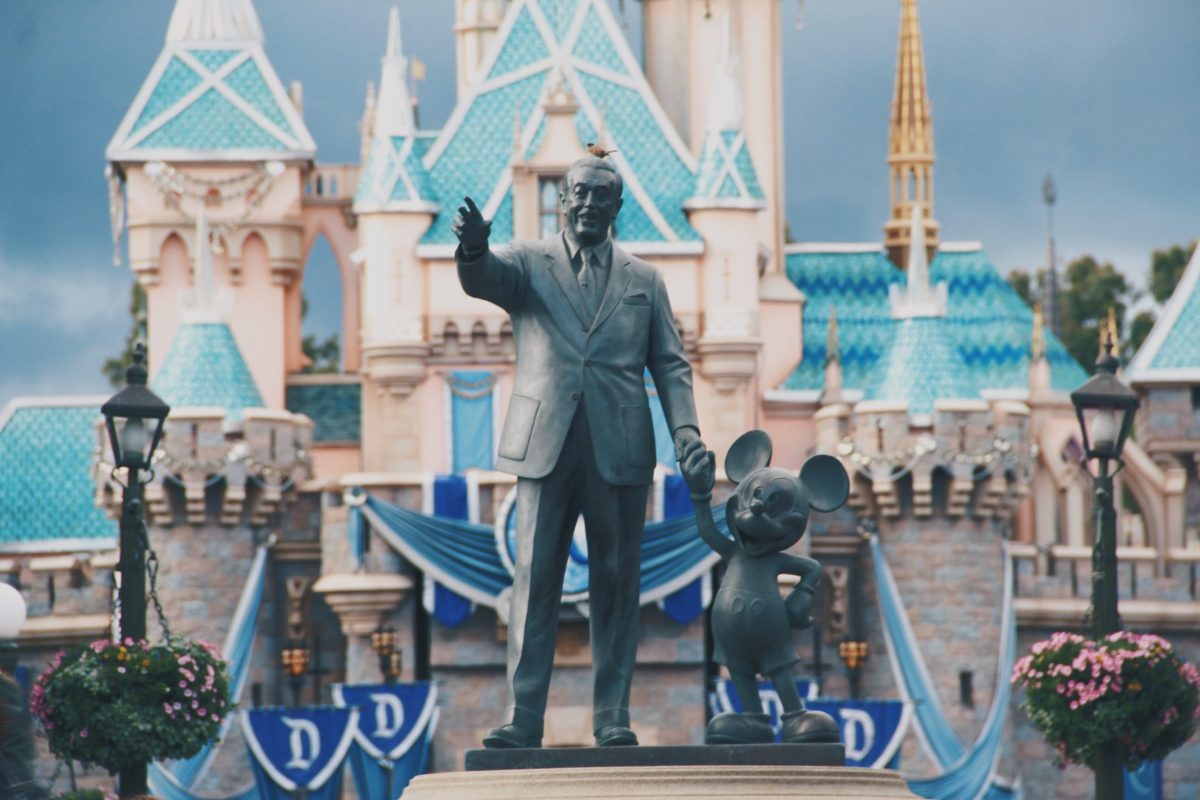 If you want to find vegan food at Disneyland, the great news is that this is not only possible but really easy these days. Because they're so big on guest service, the cast members are really knowledgeable on food ingredients and they're also very willing to help you out by checking ingredient lists if they personally don't know something. Keep in mind that at Disneyland and really anywhere you go, YOU are the customer and you're giving the establishment your money in exchange for their product, so never feel guilty if you need to ask someone about ingredients in a certain menu item. It's their job to make sure your experience is great.
I will probably do a vegan guide to California Adventure sometime soon too but for now here are my tips for finding vegan food at Disneyland:
Breakfast
For breakfast, my favorite place is the Plaza Inn on Main Street U.S.A. near Tomorrowland. No joke, they have vegan/gluten free waffles in the shape of Mickey Mouse's head (of course). They're made to order so you have to ask for them specifically. You can get those and a plate of hash browns with some orange juice or water and then you're good to go for breakfast. Make sure you get there before noon though, because that's when they stop serving breakfast and switch to lunch which means no more Mickey waffles.
Lunch
Also on Main Street U.S.A., the Carnation Cafe actually has a "Chef's Vegan Burger" on their menu that you can get with either a side of fries or fruit. Carnation Cafe is more of a table service restaurant rather than a buffet place like most other restaurants at Disneyland so I suggest you make a reservation because they can get really busy. When we were there yesterday (Wednesday Dec 7) they weren't taking any walk-ins because their reservations were already full. I think it's so cool that you can get a vegan burger at Disneyland and I highly recommend this place!
Dinner
For dinner we went to Redd Rockett's Pizza Port in Tomorrowland. I've been a big fan of that place since I first ate there, probably because I love pizza so much! They apparently do have vegan cheese if you ask for it and they can make you a whole pizza with it (no individual slices) but I didn't ask because I wasn't about to pay $40 for a pizza! What we did have was a big plate of "Mars-inara" spaghetti without the parmesan and two sides of breadsticks which are so delicious and you get two per side.
Snacks
Disneyland has fresh fruit carts all around the park which is nice, and the portion sizes/prices are really reasonable too. I saw that someone else wrote this and I agree, in all of the various airports I've traveled through in the world I've had to spend more money for even smaller portions than what you can get at Disneyland. They have a fruit stand by the Indiana Jones ride that sells baggies of grapes or pineapple for $2.99, along with hummus packs and other fresh fruit like bananas and apples for pretty good prices. The fruit carts that they have make it even easier to get vegan food at Disneyland.
Also don't be afraid to pack small snacks and water bottles in your backpack or purse if you don't want your day at Disney to get too expensive. We brought Clif bars, bananas, and avocado toast (my idea haha!) with us so we wouldn't have to buy food every time we got hungry. Pro tip, just don't bring any glass food storage containers because those aren't allowed in the park.
BONUS: DESSERT!!
So this one has been debated many times, but yes, the world famous Disneyland Dole Whip IS vegan! If you look at this page, you can read the ingredients list for yourself. I know there are lots of different Dole Whip flavors and not all of them are vegan but the pineapple one that you can get at Disneyland is. If you like ice cream which most of us do, getting a pineapple whip for dessert is a fun way to end your day at Disneyland. So that's my guide on how to find vegan food at Disneyland, thanks for reading and here are some Disney pictures:
diet disney disneyland food lifestyle vegan veganism vegetarian
Reader Interactions