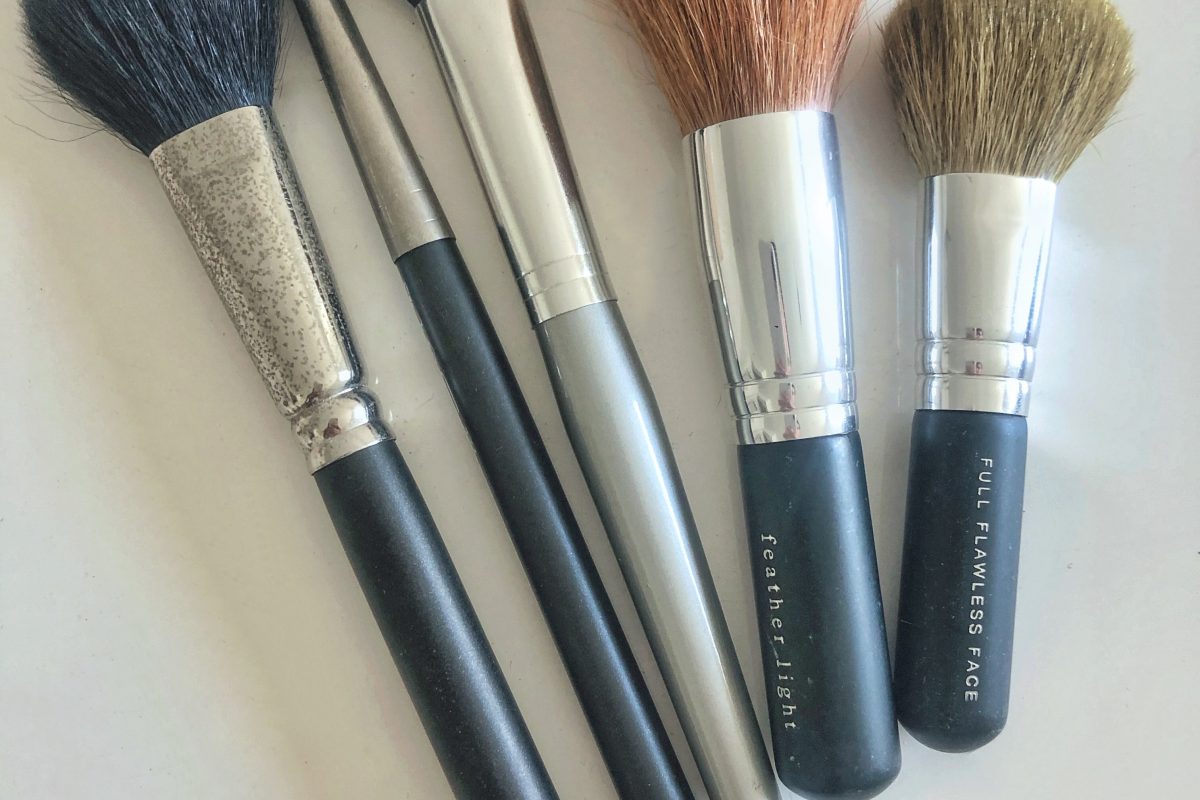 If you're looking for vegan makeup brushes that are super soft and high quality, it's easier than ever to find them in 2020! Cruelty free brushes with super soft bristles are so easy to come by these days – from drugstore to high end brands, everyone is making them!
What's really nice about synthetic brushes is that not only are no animals harmed to make them, but they don't collect as much bacteria as real animal hair does. They are easier to clean and I also find that they tend to shed less than makeup brushes made from animal hair.
Keep scrolling for some of the best brands of vegan makeup brushes that I've found so far!
DISCLOSURE: THIS POST CONTAINS AFFILIATE LINKS, WHICH MEANS THAT I GET A COMMISSION IF YOU DECIDE TO MAKE A PURCHASE THROUGH THESE LINKS, AT NO ADDITIONAL COST TO YOU.
Ecotools is a super affordable drugstore brand with a focus on sustainability! In addition to all of their brushes being cruelty free and vegan, they use bamboo to make the handles and packaging that they're sold in! They even support awesome foundations, like The Girl Project, which works to empower women in underdeveloped countries.
I find that their brushes are SO soft and great quality for the price. You can find them in major drugstores like Walgreens, at Target, or shop their products online at Ulta's website (they usually have sales or some kind of deal going on where you can find a great starter set of a few different brushes!).
These brushes are all pink and SO cute! Love Rihanna, and love that she decided to make her makeup brushes cruelty free and vegan!
These brushes are amazing quality and definitely higher end, so if you're looking makeup brushes like that then this would be a more premium brand to check out.
This is a great cruelty free brand that sells only makeup brushes, so they have a really good selection of a ton of different brush styles.
They are super cute and girly – a lot of their brushes are baby pink and they also have amazing white ones! And you know they're good because they're sold on Revolve!
These brushes have amazing reviews on Sephora's site and I have tried a couple of them as well and LOVED them! They're all black and super sleek, but most importantly the bristles are very soft and I didn't notice them shedding, which can be a big problem with some makeup brushes.
I would definitely recommend you try these out! They have a good variety of a few different basic staple brush styles!
NYX is an awesome and affordable drugstore brand that is loved by many! Their brushes are great quality and they have a decent selection of different kinds.
Tarte has an amazing five brush set that comes with face brushes and a couple eye ones! Perfect if you need a new set of just basic everyday makeup brushes.
Too Faced also has a set of five makeup brushes that are vegan, similar to the set above from Tarte, that's perfect for beginners or for if you just need a few basic brushes in a cute little kit.
Glossier actually only sells one single makeup brush, but I'm including them in this list because it's the most gorgeous brush ever, it's a brush that EVERYONE needs (a mid sized pressed powder brush to use with foundation, blush, highlighter, etc) and it comes in a cute little travel pouch! Who can resist Glossier?!
Related Posts:
Thank you so much for checking out the top picks for vegan makeup brushes that I've found! Let me know if there are any good makeup brush brands that I missed in this post or that you think I should check out in the comment section down below, and if you liked this post, you can always share it on Pinterest or check out my Instagram feed for tons of similar content if you're interested 🙂
Take care and talk soon xx


beauty and colour blogger cruelty-free fashion lifestyle makeup vegan makeup brushes
Reader Interactions