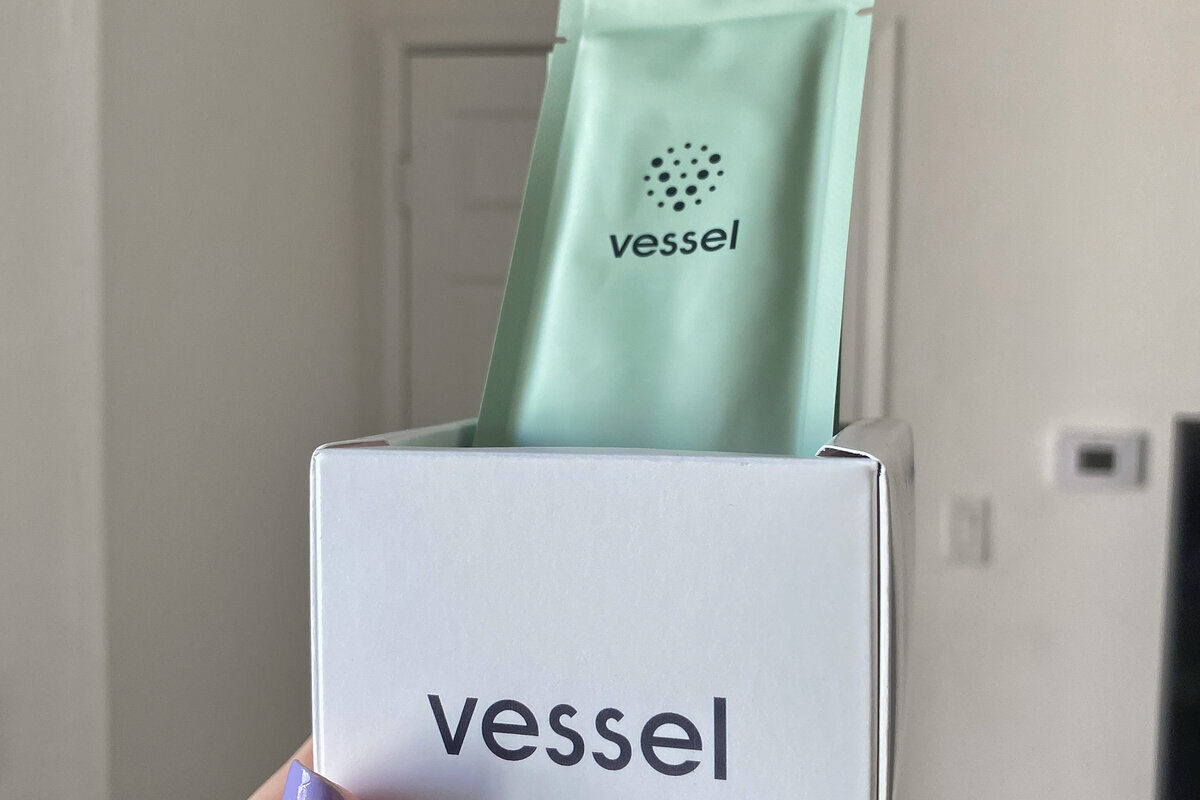 Today I have a Vessel health review for you guys, and I think you're going to find this company and what they do so interesting and valuable! I found out about them a few months ago and had been super intrigued and wanting to try them out for myself ever since.
Vessel is an at home wellness testing kit that essentially enables you to take control of your health and wellbeing, and offers customized recommendations for you based on your results in order to help you achieve this. It tracks certain metrics like your hydration levels, several different nutrients, and even your cortisol levels (which is your body's main stress hormone).
This post will go over all of the important information you need to know about Vessel before deciding if you want to give their at home wellness testing kits a try. Just keep scrolling to check out my full Vessel Health review for 2022!
DISCLOSURE: THIS POST CONTAINS AFFILIATE LINKS, WHICH MEANS THAT I RECEIVE A COMMISSION IF YOU DECIDE TO MAKE A PURCHASE THROUGH THESE LINKS, AT NO ADDITIONAL COST TO YOU.
What Is Vessel Health?
So just to give a quick breakdown of what exactly the brand does and how they can better your life, Vessel is an innovative wellness testing kit that you can do for yourself in the comfort of your own home! It utilizes urine tests to check your body's levels of important nutrients and a couple other key health factors in order for you to identify what you may be lacking in so that you can be the healthiest, best version of yourself.
Vessel Health aims to make it simple to track your health metrics like hydration, stress levels, and certain nutritients so that you look, feel, and are performing your best! They offer customized recommendations based off of your test results that can help you level up in any areas that need some improvement, ranging from things you can do to reduce your stress to foods that you can eat more of to improve your levels of a specific nutrient.
I should also mention in this Vessel Health review that the brand recommends testing once a week, but you can do it as often as once a day or even just once a month if you prefer. You can click here to check out their website and see more information regarding their membership options and pricing (I have a lot more detail on all of that if you scroll down within this post as well!).
Basically, this is a groundbreaking approach to understanding, managing and optimizing your health using an at home assessment tool, personalized action plans and continual progress monitoring and I think this is such a game changer for those of us who love to stay on top of our physical and mental wellbeing.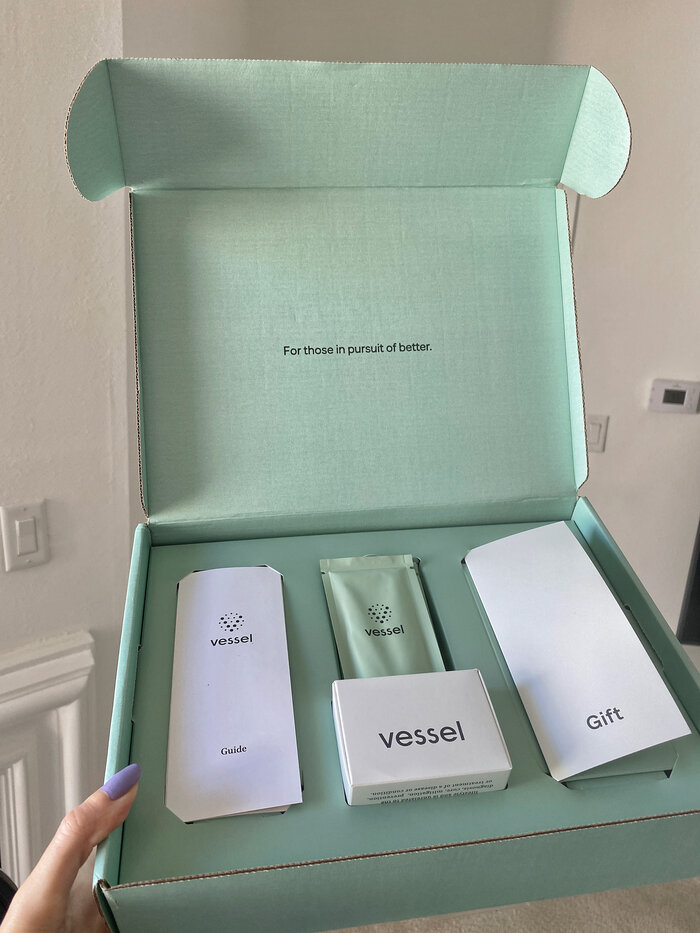 Vessel Health Review: How Does It Work?
So the first thing I want to go over in this Vessel Health review is how it actually works. This is an at home urine test that analyzes some of your key nutrient levels and important wellness indicators, and it uses an app to make recommendations to you on how you can improve your levels if you happen to be lacking in anything.
I'll break the whole process down step by step below:
1. Download The Vessel App
You'll need to have this app downloaded because this is how you'll be able to scan your tests and receive your results. There is no mailing in required to see your results; it's all done using your phone, which is so convenient!
2. Take The Test First Thing In The Morning
According to the brand, you are going to want to take the test as soon as you wake up and go to use the bathroom – that is, before you've had anything to eat or drink. This is so that the test can provide you with the most accurate results possible. The app provides everything you need to be able to take the test properly, including a video tutorial that shows you exactly how to use the test strips.
Once you've used the bathroom and taken the test, you should wait about three or so minutes before moving on to the third step (there is even a timer in the Vessel app that you can use to help you determine exactly how long you need to wait).
I want to stress in my Vessel Health review that as someone who has literally never done any type of at home urine test before, I found the whole process to be extremely easy. The tests come in wrapper type packaging that you can use to place the test on top of after you've peed on it to avoid getting any kind of mess anywhere, and then you can easily dispose of it after.
3. Scan The Test With Your Phone
When the timer is finished counting down, the test results are ready to be scanned into the Vessel Health app! Just get the test strip into good lighting and position your phone over it to scan the data successfully into the app.
Then, you'll be able to see your overall wellness score and your metrics for each category, along with some tips to get that score higher!
4. Follow Your Action Plan To Work Towards Results
I recommend taking some notes and physically writing down the key pieces of advice that the app gives you so that you really internalize the tips and are ready to put them into practice. If you can commit to following the suggestions you receive and making positive change in your life, you should start to see solid results that will lead to you looking and feeling amazing!
If this sounds like something you would benefit from, you can click here to check out their site!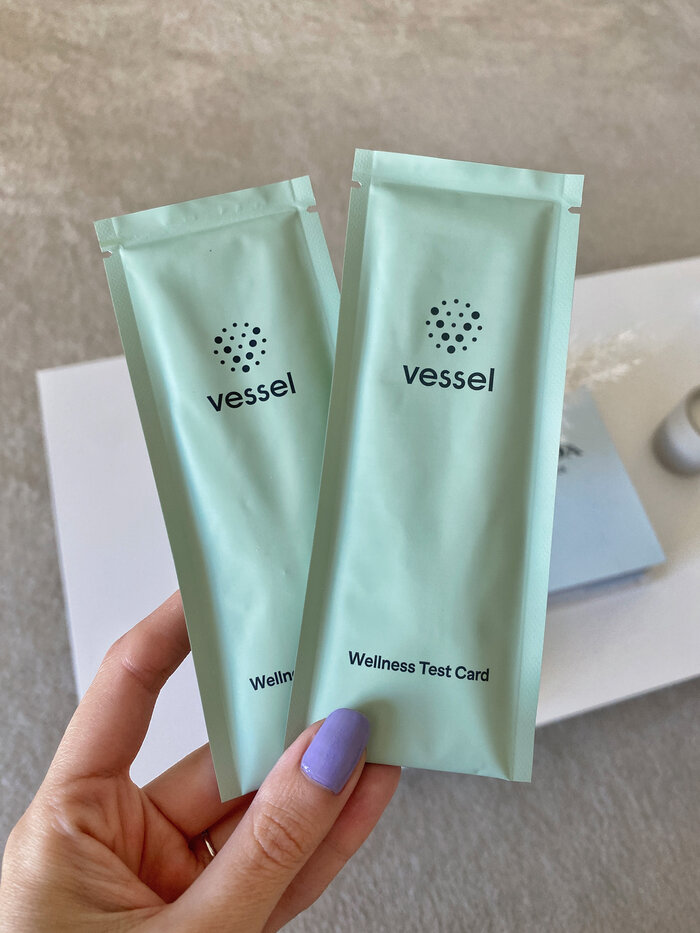 Vessel Health Review: Pricing and How Membership Works
There are a few different options available as far as testing frequency and pricing. Check out the membership categories below for all the details. You can also click here to view the brand's website.
1 Month Membership:
This membership option is perfect for you if you want to start out on a month to month basis. Choose whether you want to test daily, weekly, or monthly. All options include free shipping.
Monthly testing, receive 1 card per month = $30
Weekly testing, receive 4 cards per month = $50
Daily testing, receive 30 cards per month = $350
6 Month Membership:
Choose whether you want to test daily, weekly, or monthly. Discounted prices as compared to the 1 month membership if you choose to do 6 months instead. All options include free shipping at the time of writing this Vessel Health review.
Monthly testing, receive 1 card per month = $25
Weekly testing, receive 4 cards per month = $40
Daily testing, receive 30 cards per month = $280
12 Month Membership:
Choose whether you want to test daily, weekly, or monthly. Discounted prices as compared to the 1 month and 6 month memberships if you choose to sign up as a member for a year. All options include free shipping.
Monthly testing, receive 1 card per month = $20
Weekly testing, receive 4 cards per month = $35
Daily testing, receive 30 cards per month = $245
Members can easily pause, modify, or cancel their membership with just the click of a few buttons, and Vessel even offers a 30 day money back guarantee just in case, for any reason, you weren't completely satisfied with the experience.
Vessel Health Review: My Results
Here are my own results from the very first test I took. I had to include this screenshot in my Vessel Health review so that you can see how fun and easy it is to use the app, check out your results and find out what they mean!
As you can see, my score was an 82, which I was pretty happy with. The biggest issue here is my stress level, as it's totally normal for ketones to be low in anyone who is not following a ketogenic diet, and having high levels of vitamin B7 isn't bad at all as your body just gets rid of any excess B7 that it doesn't need through urination.
I think my score would've been in the 90's had it not been for my high stress levels! But, now that I'm aware of all of these metrics, I know exactly what I need to work on improving, and the app offers a lot of suggestions on how to do just that.
You can also click on any one of these wellness indicators to access even more in depth information on your range for that particular indicator, as well as check out the tips that Vessel has on how you can improve in each area.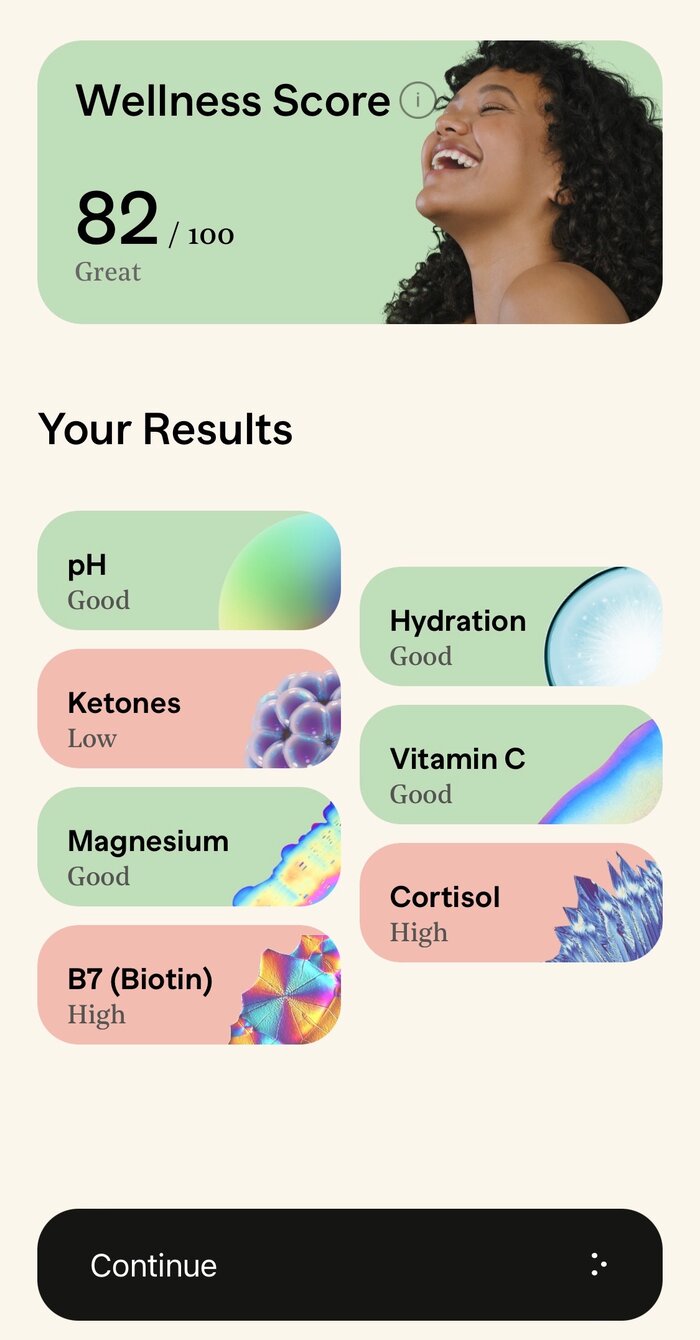 Who Should Use Vessel Health?
Vessel would be ideal for anyone looking to take charge of their health and wellbeing, and transform their lives in a hugely positive way. The brand utilizes technology that is both reliable and affordable (it's been around for decades) and provides users with personalized action plans and the ability to monitor your progress over time using their app.
You are probably someone who would benefit from this if you like taking a hands on approach to your health and wellbeing, and you are motivated to follow an action plan to improve in any areas that might need a little extra help.
It's important to note in this Vessel Health review that while the brand's products are doctor approved and backed by more than a few scientific studies, it is not a replacement for seeing a physician. It is, however, a great tool to have in addition to still going and getting your regular checkup done by a doctor, and I love to test weekly just to make sure that I'm doing okay in between doctor's appointments.
There is even wellness coaching available within the app, so you can contact a team of certified nutritionists with any questions you might have and they'll get back to you ASAP! They are literally there to support you on your journey of improving your mood, sleep, energy levels and overall wellbeing.
Vessel Health Review: Pros and Cons
In the interest of creating a completely transparent Vessel Health review, I have some pros and cons to go over so that you can get the full picture and make the most informed decision on whether to give this brand a try.
Pros:
Super easy to use
Beautiful, high quality product and packaging
Tests can be read and analyzed using just your phone and the Vessel app – no need to send the tests in to a lab, meaning you get access to your results much more quickly
Measures several important wellness metrics like hydration, stress levels, vitamin C, and magnesium levels
Access to certified nutritionists and wellness coaches via in app messaging function
Does not require any finger prick or blood
Cons:
Currently only ships within the US
Not everyone will be able to afford this – I would consider it a premium product
Can easily be overwhelming with the wide array of information that is available in the app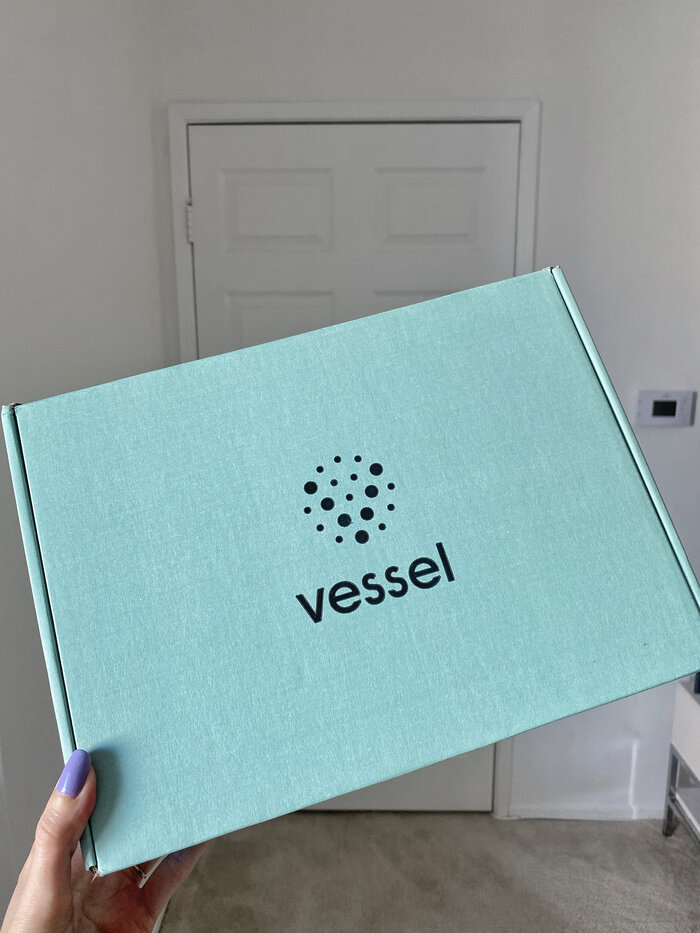 Related Posts:
Thank you so much for checking out my Vessel Health review! I've had such a positive experience using this at home wellness testing kit, and I'm confident that you guys will love it just as much as I do. I think that it's easy enough for anyone to use and benefit from, and it can help enhance a couple of your key wellness metrics that will ultimately lead you to a happier life.
Have you heard of the brand before, and are you interested in trying it out for yourself after reading this post? Let me know in the comment section below! I'm always trying to create content that you guys will find informative and useful.
As always, you can follow me on Pinterest and Instagram for tons more similar content. I post more frequently on those platforms as well 🙂
Take care and talk soon xx
Reader Interactions