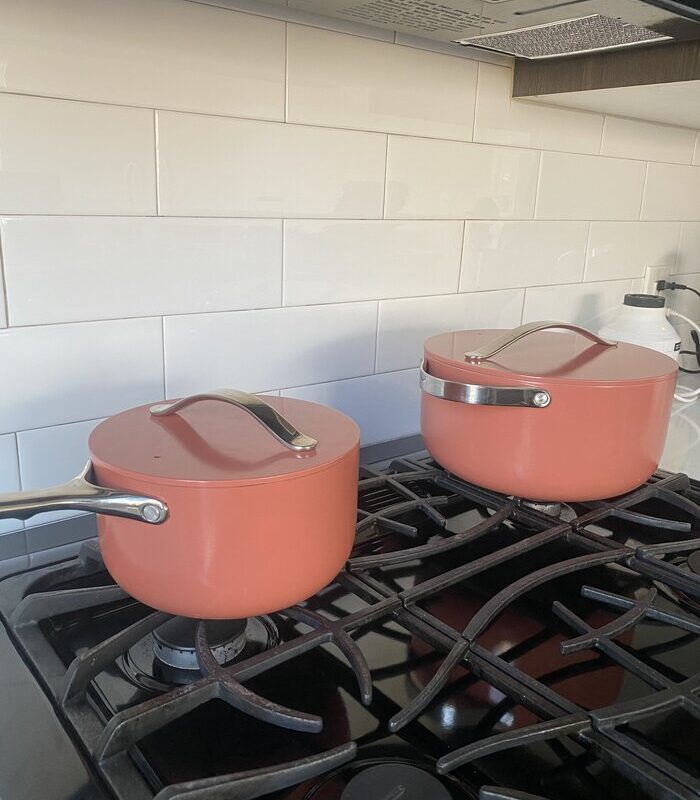 If you're like me and have been hearing about Caraway cookware literally all over social media but haven't been able to decide whether or not you want to make the investment, then keep reading! Today's post is going to be a full Caraway cookware review, including photos of my own pans to show you how they have held up in the time that I've been using them.
In such a fast paced world where convenience is usually treated as more important than quality, it's a refreshing change to find cookware that not only looks stunning but also delivers on performance. I have had the pleasure of trying out Caraway cookware, and I can honestly say that it's been a game changer in my kitchen. In this comprehensive Caraway cookware review, I'll delve into why these pots and pans have been so viral on social media and what exactly makes them so unique.
Keep scrolling for my full Caraway review!
DISCLOSURE: THIS POST CONTAINS AFFILIATE LINKS, WHICH MEANS THAT I RECEIVE A COMMISSION IF YOU DECIDE TO MAKE A PURCHASE THROUGH THESE LINKS, AT NO ADDITIONAL COST TO YOU.
You can check out the full Caraway set and all the available colors here!

Caraway Cookware Review: Performance
Now, let's get to the heart of this Caraway cookware review: performance. Looks can only take you so far; it's what's inside that truly matters when it comes to cookware.
Caraway cookware is constructed with a nontoxic, eco-friendly ceramic coating that not only ensures even heating but also makes cooking and cleaning a breeze. The nonstick surface works like a dream, reducing the need for excessive oil or butter in your cooking. Plus, it's free from harmful chemicals like PFOA, PTFE, and heavy metals, so you can cook with peace of mind.
The nonstick performance thing is honestly probably what stood out to me the most during my Caraway cookware review. They literally are not joking about that part, food SLIDES off of the surface of this cookware! Makes it so easy to clean too. Another thing – incredible heat retention. These pots and pans excel at maintaining a consistent temperature, which is crucial for achieving perfect sears and even cooking. Whether you're searing a veggie burger or simmering a delicate sauce, you can trust Caraway cookware to deliver outstanding results.
The lids are designed with a small gap to allow steam to escape slowly, preventing boil-overs and ensuring your dishes stay flavorful and moist. Plus, they're made from sustainable materials, adding to the brand's commitment to eco-conscious cooking – something I felt was important to mention in my Caraway cookware review.
Overall I would say these are my favorite pans I've used in a very long time because of the fact that they actually do what they say they will, and they are ridiculously easy to clean which really cuts down on my time in the kitchen.
Caraway Cookware Review: What Comes In The Full Set?
The brand offers a variety of cookware sets to suit different needs, which I'll go into more detail on further into this Caraway review. I opted for their complete set, which includes a sauté pan, saucepan, Dutch oven, and frying pan, along with corresponding lids. It also comes with this amazing magnetic storage set that has a place for each piece to sit, so you can display the set really aesthetically on you kitchen counter, as well as a fabric hanging component for the lids that you can place on the inside of a kitchen cupboard! It's important to note in this Caraway review that this set truly has everything you need to tackle a wide range of recipes.
If you're considering adding Caraway cookware to your kitchen arsenal, you should definitely know exactly what you're getting. Here's a full breakdown of what's included in the complete set:
Fry Pan (10.5 inches): Ideal for everything from pancakes to stir-fries.
Sauté Pan (3.5 quarts): Perfect for searing, sautéing, and making one-pot dishes.
Saucepan (3 quarts): Great for making sauces, boiling pasta, and reheating leftovers.
Dutch Oven (4.5 quarts): A versatile workhorse for soups, chili, and slow-cooked meals.
Lids: Matching lids for each piece, designed to trap heat and flavors.
I also want to mention in my Caraway review that sometimes I see that they include cute little extras, like a branded cork trivet for your cooking utensils or a sponge to keep the outside of the pans clean, but this isn't a guarantee and is basically an added bonus.
The complete set provides a well-rounded selection of cookware to meet pretty much everyone's cooking needs. However, Caraway also offers individual pieces if you prefer to build your collection one step at a time. I will say for the sake of an honest Caraway cookware review that the cheapest possible option is to purchase the full cookware set altogether – you're definitely getting the best price as compared to buying every single piece individually.
However, you could definitely purchase their products individually if you just wanted to start collecting the pieces as you can afford to do so, and they do have different sets like this super cute two piece mini frying pan and saucepan set for about $200 as well. I feel like the minis set would be so perfect if you live alone because the products are a great size to cook for one!
Caraway Cookware Review: What Are They Made From?
Caraway cookware is made up of an aluminum core and ceramic coating on both the inside and outside of each pan. All of their cookware is also covered in a coating that is both nonstick and nontoxic, and that is free from things like teflon, PFOA, and PTFE.
Another thing to discuss in this Caraway cookware review is the aesthetics because, after all, presentation always matters. Caraway cookware is designed with an eye for elegance. The pieces are available in a range of muted, sophisticated colors that instantly elevate your kitchen's decor. From cool blue and sage green to classic cream and sleek black, you'll for sure be able to find a shade that complements your kitchen's decor style.
But it's not even just about the colors. Caraway cookware features a minimalist design that exudes modernity and sophistication. The satin finish gives the pots and pans a premium feel, and the ergonomic handles are super enjoyable to hold. It's evident through both my own personal experience and my research for this Caraway review that the brand has really put a lot of thought into the aesthetics of their cookware, making it a focal point of any kitchen.
Who Would Caraway Cookware be Good For?
Caraway cookware is good for people who:
are interested in nonstick cookware that actually does what it says it will
want beautiful/aesthetically pleasing and trendy cookware
are looking for pots and pans that are easy to store
want their cookware to be nontoxic
In my quest to provide you with a thorough Caraway cookware review, it's also essential to highlight the safety features of this cookware. Caraway takes safety seriously, and it shows in their product design.
The handles are ergonomically designed to stay cool on the stovetop, reducing the risk of burns. This feature is especially appreciated when you're handling a hot Dutch oven filled with a hot soup!
Additionally, Caraway cookware is compatible with all cooktops, including induction, making it versatile for all cooking needs.
Caraway Cookware Review: Is It Easy to Clean?
Cleaning up after cooking is usually a huge chore, but Caraway actually makes it as painless as possible. Because of the nonstick ceramic coating, food residue slides off effortlessly with very little scrubbing. The pots and pans are so easy to clean that I genuinely look forward to using them, since the clean up time after making a big meal with these is significantly reduced!
How Durable Is It?
No one wants to invest in cookware that will need replacing in a year or two. That's why durability is a key factor in this Caraway cookware review.
Caraway products are designed to withstand the test of time. The ceramic coating is scratch-resistant, so you don't have to worry about using metal utensils (although in their care instructions it does say not to). With proper care, these pots and pans can last you for years, making them a wise investment for any home cook.
They are also stovetop agnostic, which means that they can be used on any kind of stove, whether you have an electric, gas, or induction stovetop. In my opinion this makes them a versatile and valuable addition to your home.
Caraway Cookware Review: Is It Actually Nonstick?
All it takes is to watch a couple videos about this on TikTok and you'll see that Caraway cookware is very much nonstick. I've seen so many people talk about how it's the best nonstick performance they've seen and they won't go back to using anything else! I wanted to also include a few tips in my Caraway review on how to make the nonstick coating last for a long time (because sadly, all nonstick coating fades over time, it's just the nature of it).
Tips on how to make your Caraway last:
Cook on low to medium heat only. The brand recommends not using high heat settings specifically for the reason that it's not good for the nonstick component, and they say that the cookware distributes heat best on a low to medium setting anyway!
Don't use metal utensils, as this can scratch your pans. That's true for pretty much any cookware.
Do not put these pans in the dishwasher, because the hot water in the dishwasher will break down the nonstick coating which is really unfortunate! But, like I've mentioned already in this Caraway review, these pans are SO easy to clean because they are nonstick, so you really don't have to scrub these much at all when washing them.
Caraway Review: Price
While Caraway cookware is for sure an investment, the quality and durability of these pieces honestly make them worth every penny (in my opinion). The complete set comes at a competitive price point, especially when you consider the craftsmanship, safety features, and aesthetic appeal. Plus, it's important to mention in my Caraway cookware review that they will periodically run promotions and discounts, specifically during Amazon Prime deals days, which does make it more accessible to those looking to upgrade their kitchen gear.
The full Caraway set is roughly $400 on Amazon and on their website. This includes not only the pans, but also a beautiful magnetic storage system AND a fabric hanging component that you can put the lids in and hang inside a kitchen cupboard. They also sometimes include cute surprise things with their products, like a cork trivet!
Caraway Cookware Review: Customer Service
In the research that I did for this Caraway cookware review, I came across a ton of satisfied customers who raved about their Caraway experience. From the seamless non-stick surface to the beautiful design, it's clear that Caraway has struck a chord with their customers.
One recurring theme in customer ratings of the brand is the reduction in cooking time and the ability to cook with less oil. Many users reported that their food turned out perfectly, thanks to the even heating and precise temperature control provided by Caraway cookware.
If, for any reason you're not satisfied with your purchase, you can always reach out to Caraway by emailing them at [email protected]. They also have a chat function on their website to get in touch with their customer service quickly!
Caraway Cookware Review: The Negatives
While this Caraway cookware review might seem overwhelmingly positive, I of course want to give a more balanced perspective. Some customers have noted that the cookware can be a bit heavy, especially when full. However, this is a pretty common tradeoff for the durability and heat retention. And, the brand is obviously priced to reflect the premium product, so you need to take that into account when looking at purchasing.
Additionally, the ceramic coating, while scratch-resistant, may require more delicate handling to maintain its pristine appearance (this is one of the key things to note in this whole Caraway review). Using non-metal utensils and avoiding high heat settings can help prolong the life of the coating, and both of these tips are actually recommended by the brand as well. I will say that you need to be careful with these because the colors are so beautiful and it is possible that you could chip the paint if you were to accidentally hit them against a surface (such as your stovetop) too hard. I want to keep my Caraway cookware review honest, so I'll say that I personally just always try to keep in mind that I need to be treating these as the investment pieces that they are, meaning I'm always super careful whenever I use them just because I want them to stay in pristine condition for as long as humanly possible!
Here's a list of what I would say are the negatives about Caraway:
Dishwasher use not recommended – the hot water a dishwasher uses can unfortunately break down the nonstick coating over time, which we do not want! This is probably my least favorite point of my Caraway cookware review but hey, at least the pans are super easy to clean!
Expensive – these are definitely a premium product, and the price point reflects that. nonstick products are typically more expensive, and add to that the fact that these ones are also NONTOXIC, and you can see the reasoning for their prices
Have to be used on low to medium heat only – this is recommended by the brand so as to keep the pans from getting burn marks on the bottoms, and they said that using low or medium heat allows the products to best distribute heat evenly

Caraway Cookware Review Summary: Is It Worth It?
In my opinion, Caraway cookware has earned its place as a standout in the world of cookware, so my answer would be that yes it is worth it. It seamlessly blends style and functionality, making it a must have for anyone who takes their cooking seriously.
While it may require a bit of an investment upfront, the long-lasting durability and exceptional performance make it a worthwhile addition to your kitchen. If you're ready to elevate your culinary game and add a touch of sophistication to your cooking space, then this brand is definitely the answer.
Throughout this Caraway cookware review, I've highlighted the amazing features that really set this brand apart. From the elegant design and eco-friendly materials to the even heating and easy maintenance, I would say that Caraway cookware delivers on all fronts.
In a world filled with cookware options, Caraway cookware really stands out as a true gem. Its stylish design, exceptional performance, and commitment to safety and sustainability make it a top choice for home cooks of all levels. With a variety of colors and sets to choose from, you can customize your collection depending on your needs. The durability and long-lasting quality of Caraway Cookware make it a really smart choice for those who value both form and function in the kitchen. So why wait? I recommend that you elevate your kitchen space with Caraway cookware as soon as you can.
Related Posts:
If you're like me, you probably spend a significant amount of time in the kitchen. Whether it's whipping up a quick breakfast on a busy weekday or preparing a fancy meal for guests, the right cookware can make a world of difference. That's where Caraway cookware comes in. This brand has managed to strike the perfect balance between style and functionality, making it a must have addition to any kitchen.
Thank you so much for reading my Caraway cookware review, and I really hope that it helped you decide whether to go ahead with your purchase! If you have any other questions about the product that I didn't answer here, you can definitely DM me on social media or send me an email and I'll be sure to get back to you 🙂

Reader Interactions