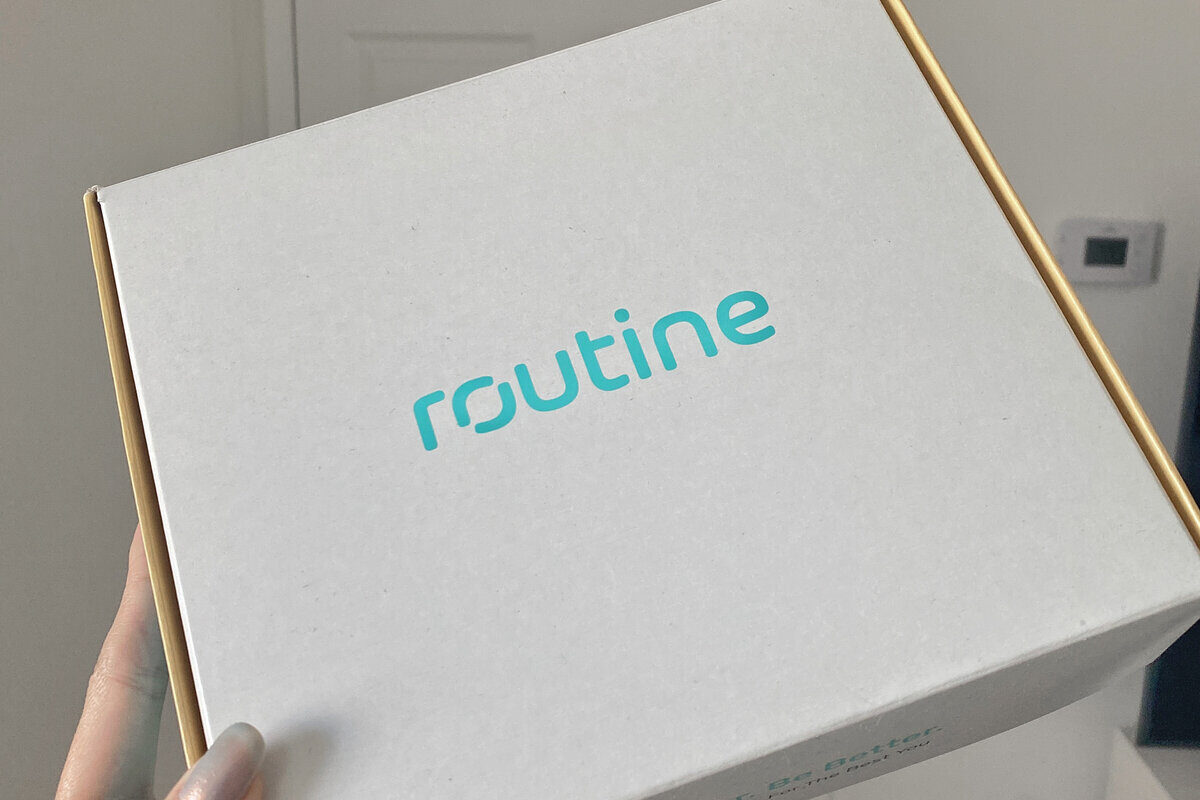 Routine Probiotic Review
If you've ever looked into probiotics for women in hopes of improving your gut health or increasing your energy levels, Routine For Her might be something of interest to you. I had been seeing a lot of this brand on social media, so I decided to try it out for myself and do a full Routine daily probiotic review for you guys to let you know the pros and cons of the brand and whether or not I think it's worth purchasing.
Since looking through and researching a ton of different supplements is definitely time consuming and can even be overwhelming, I'm going to make this clear, concise and to the point so that you can make your most informed decision on this product! Keep reading for my full Routine probiotic review.
DISCLOSURE: THIS POST CONTAINS AFFILIATE LINKS, WHICH MEANS THAT I RECEIVE A COMMISSION IF YOU DECIDE TO MAKE A PURCHASE THROUGH THESE LINKS, AT NO ADDITIONAL COST TO YOU. THIS POST ALSO CONTAINS GIFTED PRODUCT, BUT ALL OPINIONS ARE MY OWN AND ARE NOT INFLUENCED BY ANY EXTERNAL PARTIES.
Routine Probiotics For Women: What Are They?
Routine For Her is a vegan friendly probiotic supplement that is designed to help strengthen your immune system, promote a healthy weight, and improve your gut health (in addition to a couple other impressive health benefits). They also contain ashwagandha, which is an adaptogen known to help with stress relief and relaxation.
The Routine probiotic supplement is vegan and contains no GMOs, artificial colorants or preservatives, gluten, soy, sugar, dairy, or wheat. This is amazing because it means it could work for just about anyone with any type of dietary restriction or allergy.
Routine probiotics for women are also environmentally friendly in that the brand focuses on sustainability by creating their packaging from recycled materials, and your first order includes a cute reusable glass jar that you can refill each month whenever you get your new shipment! They even send you your order in a mailer pouch that's completely compostable, which I think is so cool.
You can click here to check out their website and find more information on pricing, shipping, and how to contact Routine customer service with further questions.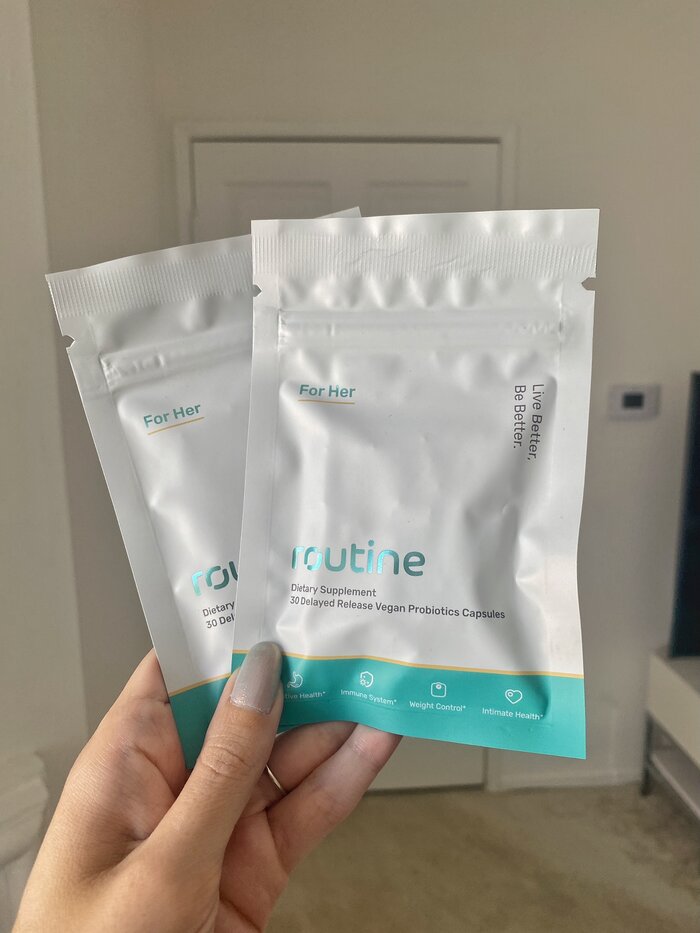 Routine Probiotic Review: How Do They Work?
In order to provide the most comprehensive Routine probiotic review possible, I'll start with a quick overview of what exactly a probiotic is and what it does just in case you're reading this and you're not quite sure.
So, one of its main functions is to promote a healthy gut microbiome (the collection of bacteria and organisms that lives within our bodies) by maintaining a good balance of healthy bacteria within your body to fight off the bad bacteria. Probiotics also help your body break down and digest food, encourage the elimination of toxins, and they help to reduce gut inflammation. They can essentially be used by anyone who is looking to up their health and wellness game!
The Routine probiotics for women are intended to be taken before a meal due to their "delayed release" formula that helps the capsules dissolve in the areas of your gut where they will be most efficiently absorbed. This also ensures that there will be minimal interference with the capsules from stomach acid or your food so that you're getting maximum benefit.
Probiotic supplements can help with improving a wide range of health and beauty related issues, including your gut health, your skin, helping you control your weight, and improving your immune function so that you potentially get sick less than usual.
I should note that before starting this (or any) probiotic, I would recommend first talking to your healthcare provider so that they can ensure that the supplement won't interfere with any medications you might be taking.
Routine Probiotic Review: Benefits
According to the brand, the Routine daily probiotic for women contains one of the most studied strains, "Bifidobacterium lactis HN019″, which helps to increase the amounts of good gut microflora and healthy bacteria in your system while reducing instances of bloat, constipation and uncomfortable stomach issues/gas.
Below is a list of some of the key benefits of this supplement:
Improves gut health
Helps you maintain your ideal healthy weight
Encourages elimination of toxins (keeps your bowel movements regular)
Reduces flatulence and bloat
Routine Probiotics for Women: My Experience
This Routine probiotic review wouldn't be complete without me telling you about my personal experience with it and how it worked for me, so I'll start off by saying that I genuinely enjoyed using this supplement. I tried it out for one full month (the brand kindly gifted me a 30 day supply to sample) and I do plan on purchasing refills of it myself going forward.
For some context, here's a little bit about me and my lifestyle so you can get a better idea of where I am in my own health journey to possibly gain more insight into how this supplement will work for you:
I don't drink alcohol at all
I consume a 100% plant based diet (this means no meat or fish, dairy products, or eggs)
I'm a pretty active person – I usually work out about 4 times a week on average, and I do some form of light movement every day
I have a few allergies, and the brand is safe for me to take
Now here are a couple of key things I noticed after taking Routine For Her for one month:
Improved skin texture and clarity – I'm someone who pays careful attention to what my skin looks like each day, because I'm very prone to acne and allergic reactions that cause hives and blotchiness. So I can pretty much always notice a difference in how my skin is looking, and I would definitely say that after taking Routine probiotic for a month my skin is looking smoother and old acne scars are flattening out!
Helped my digestion – I already have pretty good digestion to begin with considering I am vegan, but I still experience some bloating from time to time just like anyone else. Typically what causes me issues are foods like beans and sugary desserts (which I LOVE indulging in more than once in a while haha), and while taking Routine I noticed that the bloating went away more quickly and that there was less of it even occurring in the first place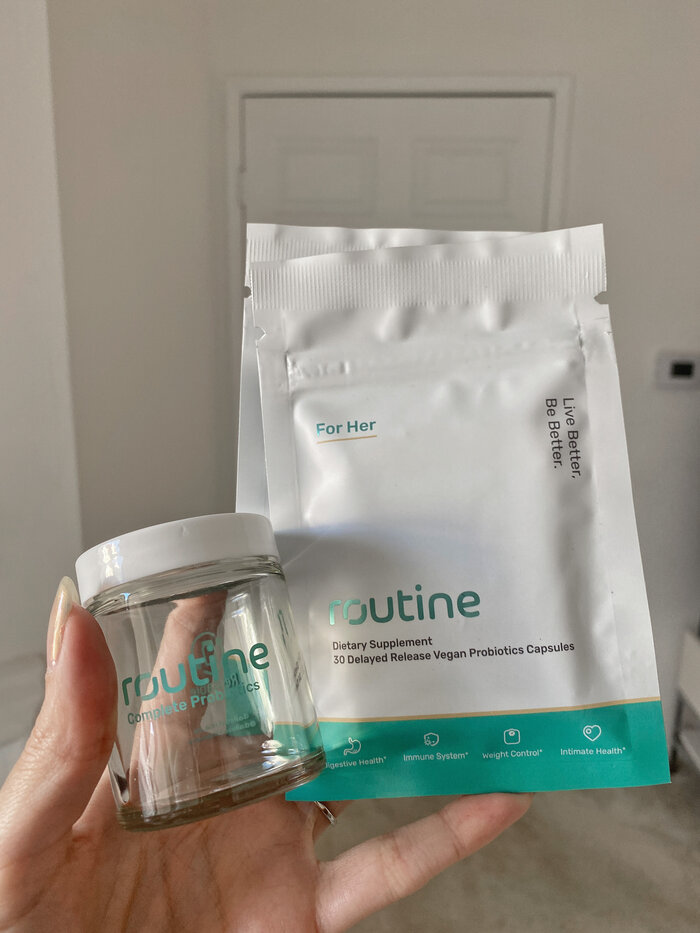 This is a full and honest Routine probiotic review, so to be transparent, this product is on the more premium side of things in terms of pricing – however, the above benefits alone are enough for me to purchase a refill. You can of course make that judgment call for yourself too, but keep in mind, those are just the main things that it was easy enough for me to notice. In addition to the improvements that I could see with my own eyes, the supplement was also helping to strengthen my immune system and encouraging the elimination of toxins from my body.
In general, I'm a huge fan of health and wellness products like this Routine daily supplement, and I think it's important to try these things out for at least a month or two in order to make the best decision on whether or not it's working for you. Routine does have a great return policy (which I'll go into more detail on in the very next section of this Routine probiotic review), so if for any reason you just don't want to finish out your first month's supply, you can contact them to request a refund.
To conclude though, I had a really positive experience using the Routine probiotics for women and I feel like this product could help a lot of people who are experiencing minor digestive or skin issues!
Routine Probiotics For Women: Return Policy
Routine has a satisfaction guaranteed type of return policy that allows you to try the product out for 30 days and return it for a full refund if, for any reason at all, you are in any way dissatisfied with the probiotic.
You can contact [email protected] if you need to initiate a refund or if you have any questions about how that process works.
Related Posts:
Thank you for checking out my Routine For Her supplement review post! You can click here to see the brand's website and pricing info if you're interested. If you've been looking for good probiotics for women, I feel like you should start by checking this product out. It's affordable, high quality, and overall just a great starter probiotic if you've never taken one before.
To summarize, Routine For Her might be for you if you're looking to improve your gut health, get mild skin issues under control, strengthen your immune system, and maintain a healthy weight. It's a really nice, affordable probiotic for women who are experiencing digestive issues or who just want to do something proactive for their health and wellbeing.
That's it for now, and remember, you can always follow me on Pinterest for tons of similar content. I post a lot more frequently on there too 🙂
Take care and we'll talk soon! xx