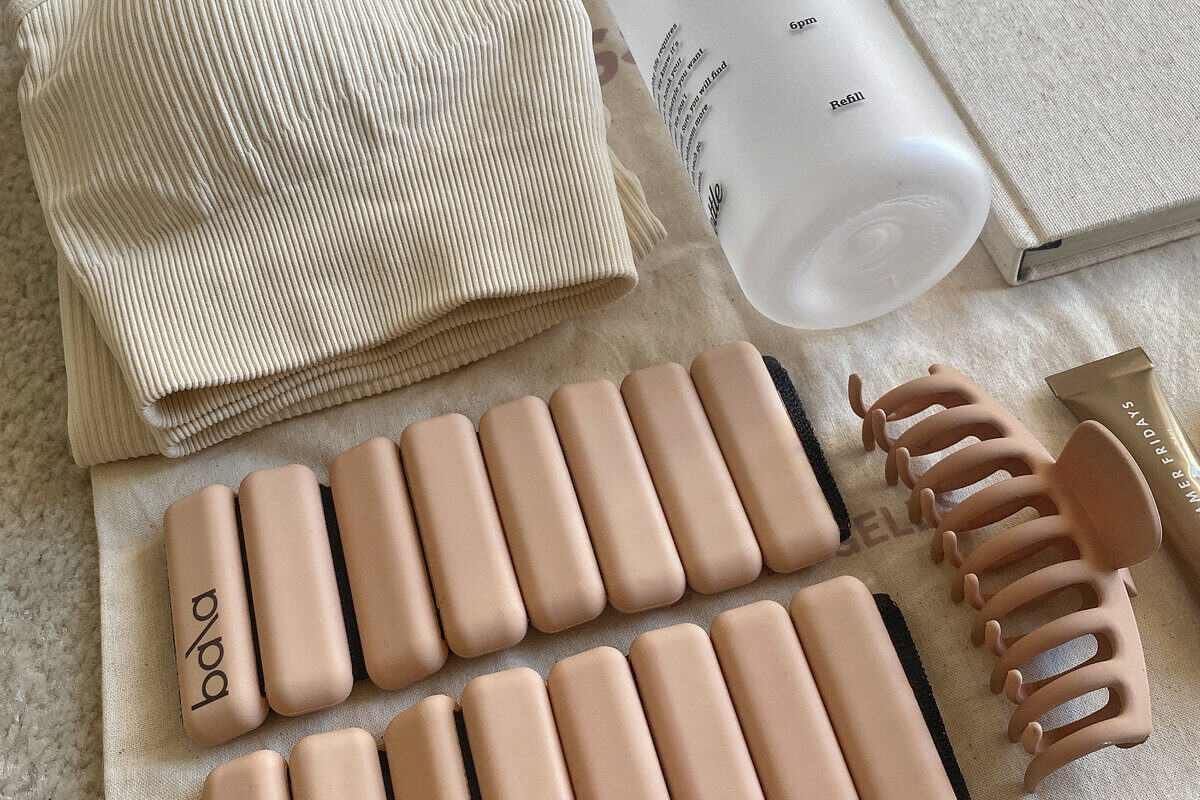 So as you've probably guessed, this post is going to be an honest Bala Bangles review, including pricing information, where you can find them, and whether or not it's worth investing in a pair!
By now, you've probably seen Bala Bangles all over Instagram, and for good reason. They're super cute and they can help elevate your workout by adding some extra resistance to your repetitions. Not only are they aesthetically pleasing, but they're functional as well!
If you're looking for a way to make yourself actually look forward to your workouts, then this could be the solution for you. I know for me, having cute workout outfits and accessories is one thing that gives me a kick in the butt to actually go and get the workout done (and maybe even have a good time doing it)!
Keep scrolling to read more about the Instagram famous brand and check out my full Bala Bangles review.
DISCLOSURE: THIS POST CONTAINS AFFILIATE LINKS, WHICH MEANS THAT I GET A COMMISSION IF YOU DECIDE TO MAKE A PURCHASE THROUGH THESE LINKS, AT NO ADDITIONAL COST TO YOU.
Shop Bala Bangles:
Bala Bangles Review: What Are Bala Bangles?
They are basically cute weights that you can strap around your wrists or ankles to add greater intensity to your workouts. They are little weighted blocks attached to a thick velcro strip that come in a ton of different colors, so you can match them to your workout sets if you want! If you keep reading, I'll go over more details in this Bala Bangles review on how exactly you can use them and what types of workouts I think they're best for as well.
Basically, these are sold in a pack of two weights, and you can grab yourself either a one pound set or a two pound set. They are very similar to regular wrist/ankle weights, except that they're cuter and are likely higher quality than a lot of the other brands that are on the market right now.
The company was founded by a husband and wife duo that even had their products featured on the show Shark Tank, which to me is pretty cool.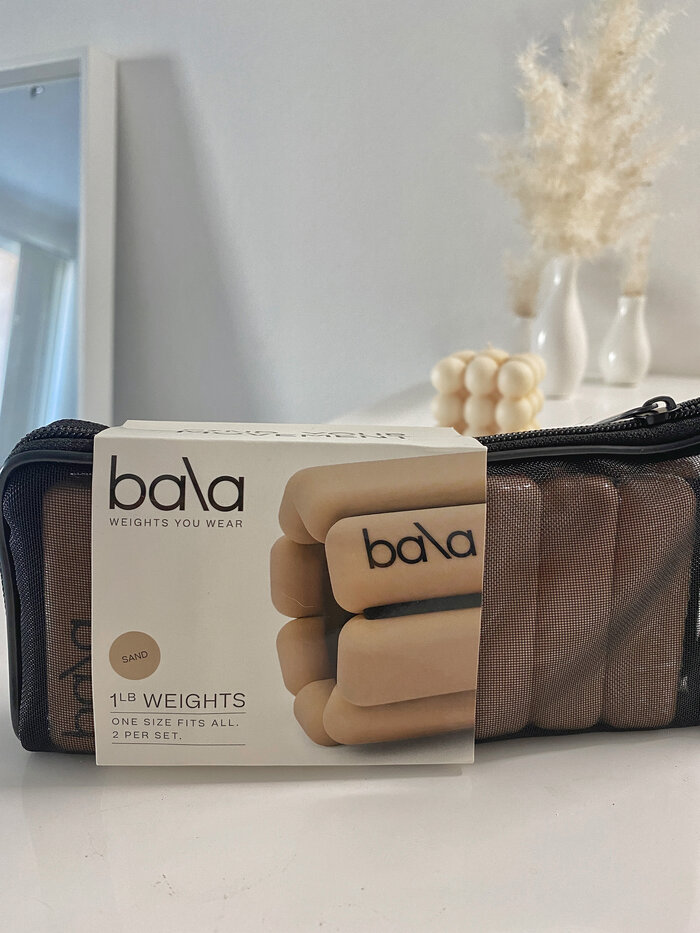 Bala Bangles Review: How To Use Them
Bala Bangles can be strapped to your wrists or your ankles, depending on which area of the body you're targeting and working out. A few different ways I use them are as follows:
Around my wrists for bicep and tricep building exercises
On my ankles for glute strengthening and toning – this is amazing for really making your booty burn and trimming a ton of fat around that area and I highly recommend using your Bala Bangles this way
Strapping them around my ankles and going for a power walk – helps to tone your legs even more during an otherwise low intensity workout
Should I Get The One Pound or Two Pound Set?
I would say that unless you're an absolute workout pro who is looking for a challenge, you should get the one pound weights. It sounds way too easy and light when you think about the fact that it's only one single pound, BUT if you've ever done workouts with tons of reps per exercise then you know that that single pound will start to feel like a lot more prettyyyy quickly.
I own and love the one pound weights in the color "sand" and I've been using them religiously for a while now. In order to write the most honest Bala Bangles review possible, I should mention that I don't use them in every single workout that I do, but I have been using them in most of my workouts recently. Sometimes I need a break from the extra weight because when I do use them I feel the burn a lotttt more haha.
But I think they're perfect for me because I'm not super strong or muscular, and I definitely do get tired and really feel the burn after just a few reps.
So, for the average female, I recommend getting the one pound Bala Bangles, but if you're a gym pro then you might want to order the two pound ones.
Bala Bangles Review: Where To Buy Them
Here are a few different places you can find them in stores and online:
Amazon – They have a wide variety of colors available, both permanent and some limited edition, as well as both the one pound and two pound options in stock. And, if you're a Prime member, you can get these sent to you super quickly!
Free People – Who doesn't love Free People?! They have pretty much the full range of Bala products, from the Bangles to the Power Rings and the Bala Bands!
Bloomingdales – They have six different colors available of the one pound variety, and you can order them straight to your home or do in store pickup!
Bandier – They also have six different colors of the one pound weights (including a really gorgeous lilac shade) and you can find a ton of other cute workout gear and accessories on Bandier's website as well.
Nordstrom – Nordstrom currently sells Bala Bars and a couple of their other products that are NOT the bangles, but I highly recommend the bars as well and I think they're worth checking out!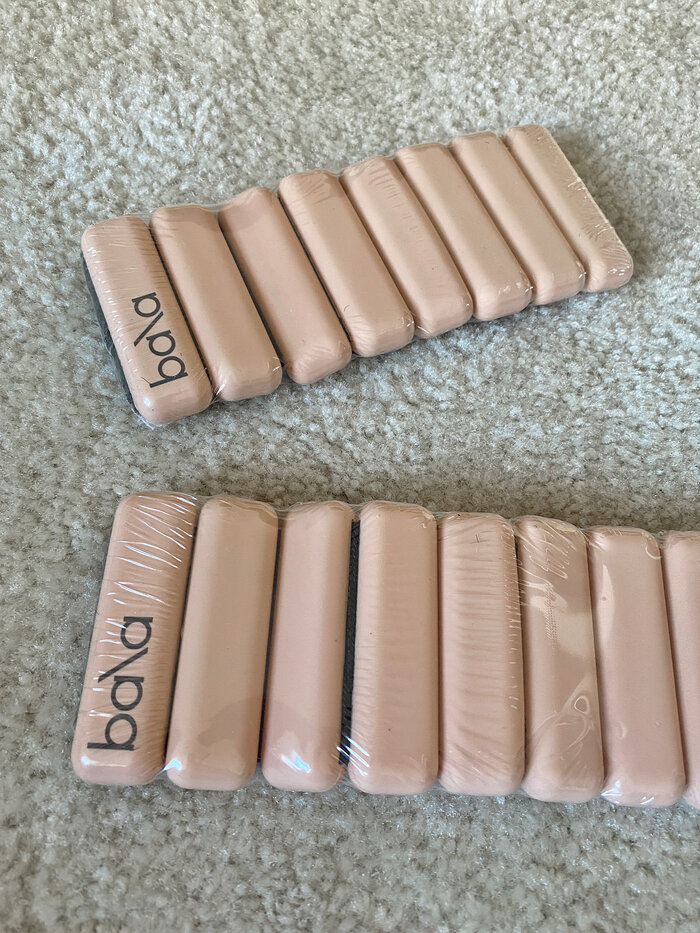 Bala Bangles Review: Are Bala Bangles Worth It?
In my opinion, they are absolutely worth it IF you're looking to buy a premium product that you want to get a lot of use out of over a long period of time. The quality is top notch and they just add a little something to your workout look, which makes you more motivated to work out in the first place.
I feel like I have to mention in this Bala Bangles review that if you're looking to save or buy a more budget friendly product, I would say skip this, since at around $50 for a pair this isn't the most cost effective option. But on the other hand, even if they are a little bit more than what you're looking to spend, keep in mind that that just might be a motivating factor to ensure that you get maximum use out of them IF you do decide to splurge and treat yourself!
Bala Bangles Review: Summary
If you are wanting luxurious, beautiful workout accessories then Bala Bangles are definitely going to be for you. They come in a wide array of cute trendy colors, and you can choose between a one pound or two pound set. They also sell a few other related products that I recommend checking out if you do a lot of your workouts at home and want all of the trendy accessories you can get your hands on.
However, at around $50 a pair for the one pound weights, they would be considered a premium product, so for that reason they may not be for everyone. This is a completely honest Bala Bangles review, so therefore I think that that is worth mentioning. On the other hand, they really do elevate your workout game and make you look forward to using them, which is super valuable in and of itself.
Overall I think that they're probably not a necessity, but they are going to bring you happiness and make your workouts even more effective. They're just one of those products that are not a need but they are just fun to use – and if you can make a workout a little more fun, then why not do it? 🙂
Related Posts:
Thank you for reading this honest Bala Bangles review! Have you heard of the brand or tried any of their products before? Let me know in the comment section below, and if you know of any brands that make similar products also let me know so I can check them out!
I love products like this that make life more enjoyable and fun, and motivate you more to do the mundane things like working out. They are so cute and come in such fun colors, and although Bala Bangles are on the pricey side I think they're a good buy because they are an investment in your own health and wellbeing. I know I find myself working out more than I would if I didn't own these, and I think you'll notice the same.
With that being said, I'll finish this up by reminding you that you can always save this post for later or share it on your Pinterest account if you enjoyed it, and make sure to check out my Instagram feed for lots of similar content if you're interested 🙂
I have a lot of new posts coming up soon that I'm super excited about and I'm hoping you guys will love. I know I've been slacking with content recently, so I'll be getting back on the grind and hopefully posting anywhere from three to five times a week going forward.
With that being said, talk soon! xx