Skincare has become more important than ever before in the last five years, with so many environmental pollutants and stress out there forcing us all to take better care of ourselves! There are tons of products out there (and I've tried a lot of them lol), so today I'm going through my list of the best cruelty free serums I've tried that can help you get clear skin.
When you're shopping for a serum, you want to look for one that absorbs quickly and that has really clean ingredients that are actually going to improve your skin's health. All of the serums mentioned in this post are great for both of those things, and are listed as clean products at Sephora!
Here are my five favorite cruelty free serums with clear skin and anti-aging benefits:
DISCLOSURE: THIS POST CONTAINS AFFILIATE LINKS, WHICH MEANS THAT I GET A COMMISSION IF YOU DECIDE TO MAKE A PURCHASE THROUGH THESE LINKS, AT NO ADDITIONAL COST TO YOU.
This serum is amazing if you have dry skin like I do, since it's super hydrating and moisturizing. I also noticed that it really reduced the appearance of pores so if you're looking for that I would try this out!
Yep, so here's another vitamin C serum! This is the one I'm currently using. I've been using it for about three weeks and I have noticed a difference in the evenness and overall texture of my skin. I also do think that it brightens well and does what it says it should!
I love Ole Henriksen's Banana Bright line and I'm also currently using the eye cream, which I love as well.
Moon Juice is a local juice shop here in LA, and they've started branching out into supplements and now beauty! This serum is so good for a boost of hydration for dry skin, but it works well with all skin types.
This is an exfoliating serum that is specifically designed to clear up your skin and also can help erase fine lines.
Because it contains AHA and BHA, I would say that it's the best serum out of everything on this list to fight acne and clear up your skin!
Tatcha is one of my favorite skincare brands, and this product is amazing. It's the third vitamin C product on my list, so you've probably noticed that I love vitamin C in skincare!
This can reduce dark spots and improves skin's overall texture really nicely.
Related Posts:
Shop The Post
Thank you for checking out my picks for the best cruelty free serums to help you get clear skin! Have you tried any of these, or is there one you recommend that I didn't include in this list? Let me know in the comment section below, and if you liked this post don't forget to share it on Pinterest, or you can follow me on Instagram for similar content!
As always, I hope you're staying safe and healthy xx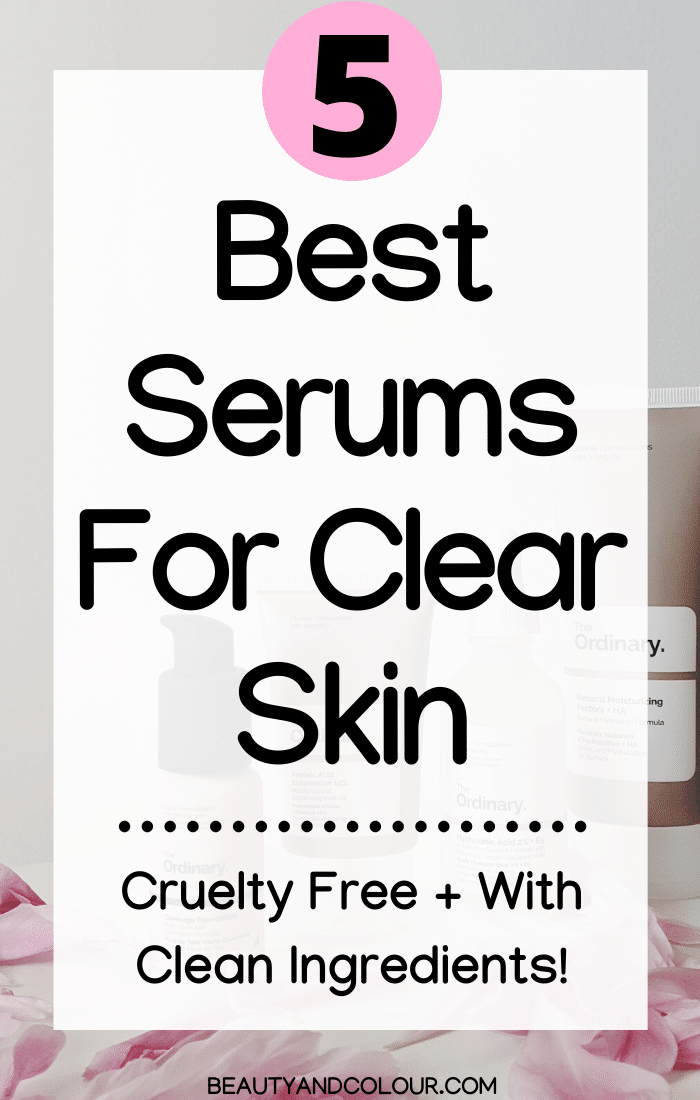 beauty and colour blogger clear skin cruelty-free fashion lifestyle plant based serum vegan