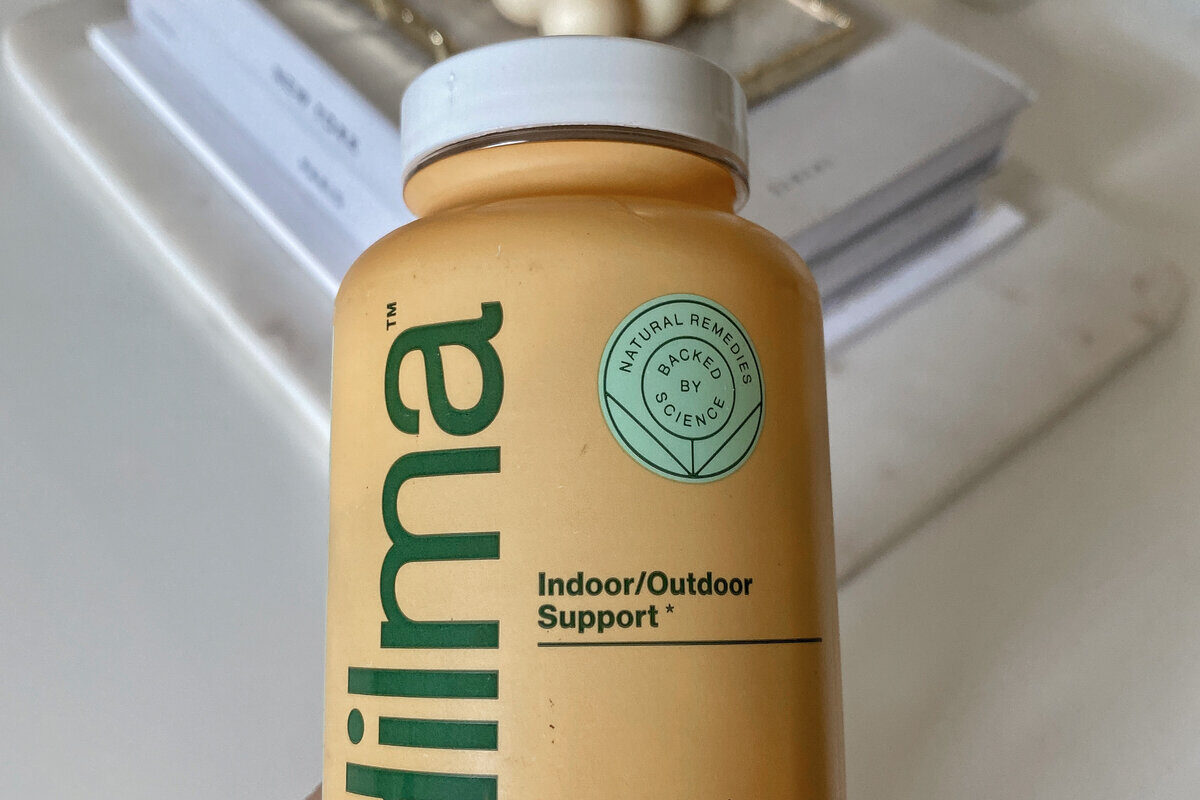 Have you ever tried to look for the best natural remedies for things like allergies, stomach issues, and body aches and pains, only to be disappointed by what you found? I definitely have, but luckily there's a new player on the market that makes solutions to all of those problems and more. The brand is called Hilma, and today I'm going to be doing a full Hilma review post diving into their products and how they can help you with alleviating some common issues that we all suffer from!
I always love finding new brands like this that are vegan friendly and customer centric, and that keep the long term health of both people and the planet in mind. Plus, their packaging and branding is SO cute, which makes you want to keep the products out where you can see them, which in turn encourages you to use them more and reap all of the benefits!
If you've been seeing these guys all over social media like I have and are wondering whether or not their products live up to the hype, I hope my Hilma review talking about these natural remedies helps answer any questions you have.
Personally, I have purchased several different Hilma products and tried them all out for myself before writing this, so keep scrolling if you want to know my thoughts on how they worked for me and whether they'll work for you too!
Disclosure: Beauty & Colour is a participant in the Amazon Services LLC Associates Program, an affiliate advertising program designed to provide a means for us to earn fees by linking to Amazon.com and affiliated sites.
Click here to check out even more info on the brand and its products before reading this Hilma review!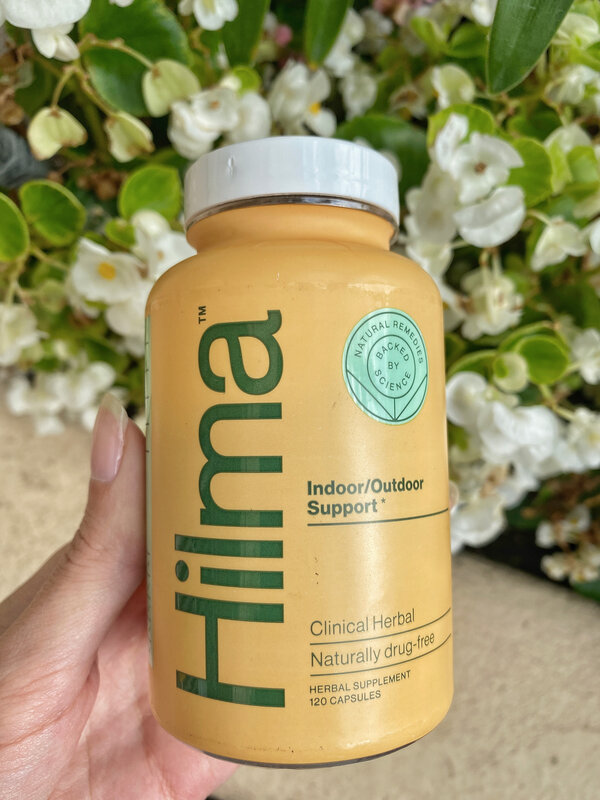 What Is Hilma? About The Brand
Hilma is an amazing female founded brand that creates natural remedies using clean ingredients that actually work. They invest in their own clinical research, they work with MDS, PhDs, and herbalists on their formulations, and they use only ingredients that have been clinically studied.
Some of the common issues and ailments that Hilma currently makes products for are stomach aches and heartburn/indigestion issues, allergies, body pains and headaches, and they even have products that strengthen your immune system as well!
To make this Hilma review fair, I should mention that they would definitely be considered to be more of a premium brand, since they only use top notch ingredients that are independently reviewed by a third party.
Additionally, their products are all:
plant based and vegan
gluten free
non GMO
free from harmful fillers and dyes
They make the best natural remedies for stomach aches and things that we all have to deal with, and I'll go into more detail on some of their products below.
Hilma Review: Best Products
Every product that Hilma makes is vegan, gluten free, non GMO, made in the United States, and free from dyes and harmful fillers as well. They believe that you should not have to compromise your long term health just to feel some relief in the short term, which is what many pills in today's day and age actually do. They are third party tested, and each ingredient used in their products is thoughtfully selected based on both the short term and long term benefits it will provide for you.
Here are my favorite products that I have to mention in my Hilma review:
Hilma Indoor/Outdoor Natural Sinus Support
This is one of their most hyped up products that I've seen, and for good reason. It's made for allergy sufferers who have tried every traditional allergy medication out there and have found nothing that works that great so far.
Some ingredients include stinging nettle (this one is widely used by tons of people as a great natural antihistamine and it is also anti-inflammatory), spirulina, and butterbur, and the recommended dosage is two pills per day for extra sinus support and allergy relief.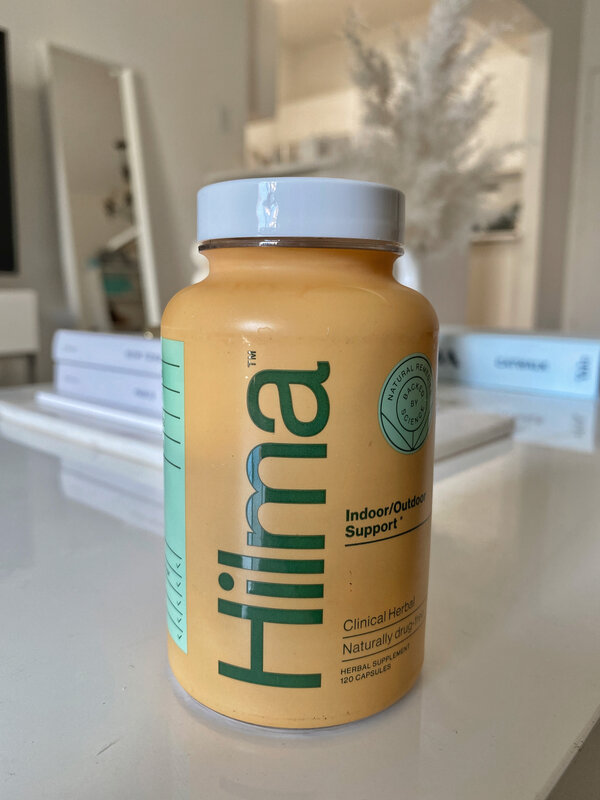 I will say that I don't have the absolute worst allergies in the world, but during pollen season in southern California it honestly does get to be pretty bad for me. While taking this supplement, I saw a noticeable difference in my sneezing and congestion – they were reduced to almost nothing, which actually amazed me!
I definitely recommend trying this product for yourself if the over the counter stuff hasn't been working for you. The claim is that this stuff does not make you drowsy like some of the typical allergy medications can, and it really followed through on that claim since I noticed zero drowsiness while taking it.
Hilma Natural Upset Stomach Relief
If you ever suffer from indigestion or heartburn, you might want to pick up this product. You take two pills whenever you're experiencing an upset stomach, and according to a study that was run, 94% of the participants felt relief after just half an hour.
This one has really great reviews online, and for me it's another winner. This soothing herbal supplement contains things like chamomile and ginger to relax the intestine and promote digestive comfort. I prefer it by far over the traditional indigestion pills that contain sugar and so many other random ingredients.
I feel like for the sake of a completely honest Hilma review I should mention that I personally eat totally plant based and vegan, so to be fair it is really rare that I experience stomach issues. BUT sometimes if I'm really stressed, my stomach starts to feel not so great and this really helps. They say you can also use it if you've just gotten off of a flight and are feeling a little nauseous, which I know happens to a lot of people so this could be an awesome natural fix!
So for those people that suffer from headaches, stress, tension, and that kind of thing, this product would be the one for you. Its plant based ingredients include magnesium (which has been clinically proven to reduce tension), white willow bark (this one promotes body comfort), and skullcap (which promotes feelings of peace and calm, and relaxes the mind and body).
I should mention in my honest Hilma review that they do say to take this only occasionally, so it's really meant for people who get headaches and experience tension once in a while, and obviously if you have really bad migraines day in and day out then go see your doctor ASAP instead of trying to treat yourself with a natural remedy.
But if you do fall under the category of only getting occasional headaches, I think this could work really well for you! And the nice thing about these natural remedies is that not only do they not contain things that are bad for you, but many of them (including this particular product) contain things that a lot of people actually NEED and tend to be deficient in – in this case, magnesium!
Hilma Review: Other Products
Here are a couple other things from the brand that I haven't tried yet but wanted to include in this Hilma review:
Hilma Natural Respiratory Support
Similar to the Natural Sinus Support, this product really helps with easing congestion and seasonal allergies. It contains elderberry and thyme to support healthy lung function and regulate mucous production. You take two capsules at a time as needed, and they help to support nasal health to stop you from feeling stuffed up and congested!
These are made to provide support to and strengthen your immune system! They contain vitamin C as well as zinc and elderberry, which is rich in antioxidants and great for fighting off free radicals and potentially helping to stop you from getting sick. I think I'll probably pick these up during the fall when it starts to get colder out and see how they work for me during the cold months!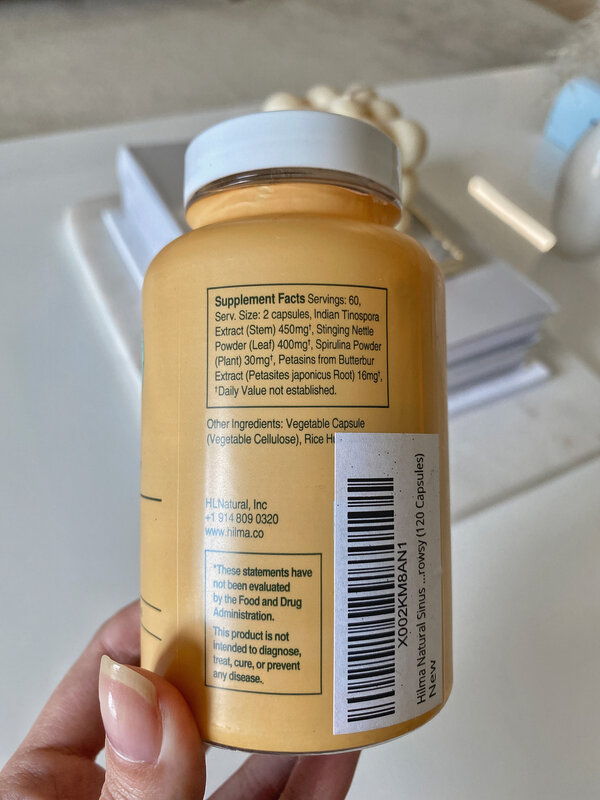 Hilma Review: Is It Worth It?
While their prices are a little bit higher than other allergy medications, I believe the price points are justified since the quality of the ingredients used is so high. And, if you break it down, it's pretty comparable in price to similar brands, and you're basically just making an investment in your health and wellbeing that I don't think you'll regret.
It can be difficult to find natural remedies that actually work, and I think that Hilma is one of the best brands out there for what it does. They are also Clean Label Project certified, which means that the integrity of their ingredients has been reviewed by a third party, so you can actually trust what their product labels say!
Another awesome point to note in this Hilma review is that the high quality plant based ingredients in these products do not leave you feeling drowsy or sleepy, so in my opinion they're great to use at any time of day or night. This is not always the case with various other allergy and tension relief medications that can only be taken at certain times due to the effects they have on your alertness.
The bottom line is this: if you're looking for the best natural remedies for everyday things like body pain, allergies, and stomach issues that are vegan friendly and gluten free, then I think this brand will be a big win for you!
Related Posts:
Thank you so much for checking out this Hilma review post on what I think are the best natural remedies for stomach aches, allergies and body pain! I hope that this was helpful for you guys and that it answered any questions you might have had about placing your first order with Hilma. Let me know in the comment section below if you've tried any of their products out yet, or if you're planning to now that you've read this post!
As always, if you liked this post then definitely feel free to share it on Pinterest, and be sure to check out my Instagram feed for tons of similar content if you're interested 🙂 I'm starting to get more active on social media again after taking a very extended break, and I would love for you guys to follow along.
Stay healthy, safe, and talk soon xx

Reader Interactions