Happy 2021, and I hope you guys are all super excited and feeling good about this fresh new year! Today I'm bringing you a post on the best cruelty free and vegan concealers on the market right now. I think that lately a ton of people are realizing how gruesome and horrific animal testing is and as a result are wanting to switch to cruelty free brands only, which is so great!
It can be overwhelming and tough to know where to start when switching to vegan friendly makeup brands since there is sooo much out there, so I love doing these guides and just creating huge lists for different types of products in different posts. Keep reading to see the best cruelty free and vegan concealers out there right now!
DISCLOSURE: THIS POST CONTAINS AFFILIATE LINKS, WHICH MEANS THAT I GET A COMMISSION IF YOU DECIDE TO MAKE A PURCHASE THROUGH THESE LINKS, AT NO ADDITIONAL COST TO YOU.
Best Cruelty Free and Vegan Concealers:
This is THE concealer that everyone has and that everyone raves about, and I would say it's definitely worth picking up. It's one of the best ones that I've personally ever tried – it's full coverage, super creamy and easily blendable, and so natural looking and beautiful!
It comes in over 30 different shades, so it's definitely made for a wide variety of skin tones and you're pretty much guaranteed to find your perfect match with it.
This concealer is super silky and smooth, and very easy to blend. I've found that it's amazing at minimizing and covering the look of dark circles! It's also really great at staying put on your face and not creasing or settling into fine lines under your eyes, which is a huge bonus since that feature can be hard to find in a concealer.
It also comes in a cute little squeezy tube that makes it a little bit easier to get all of the product out when you're running low, if you're like me and hate wasting the leftover product at the bottom of the tube when you can't get the last of it out!
This cruelty free and vegan concealer is from Selena Gomez's new collection Rare Beauty, It's also super affordable compared to a lot of other high end products, so if you're not wanting to spend too much money or are just starting out with makeup then definitely try this one out!
I would recommend this one specifically for people with an oily or combination skin type, but it does work on ALL skin types.
Glossier's concealer is moisturizing and hydrating, and is another great option for avoiding the dreaded under eye creasing! It has natural looking coverage with a slight brightening effect for the under eye area, and it has a really gorgeous glowy finish to it.
This product is somewhat of an affordable option, and since you only need to use a little bit of it, it should last you a decent amount of time too. It's super buildable and its formula really enhances the under eye area in a gorgeous way.
This is an amazing, super affordable vegan and cruelty free concealer from ELF Cosmetics! It comes in about 25 different shades and is full coverage, long lasting but also lightweight, and has a satin finish that doesn't crease or settle into fine lines!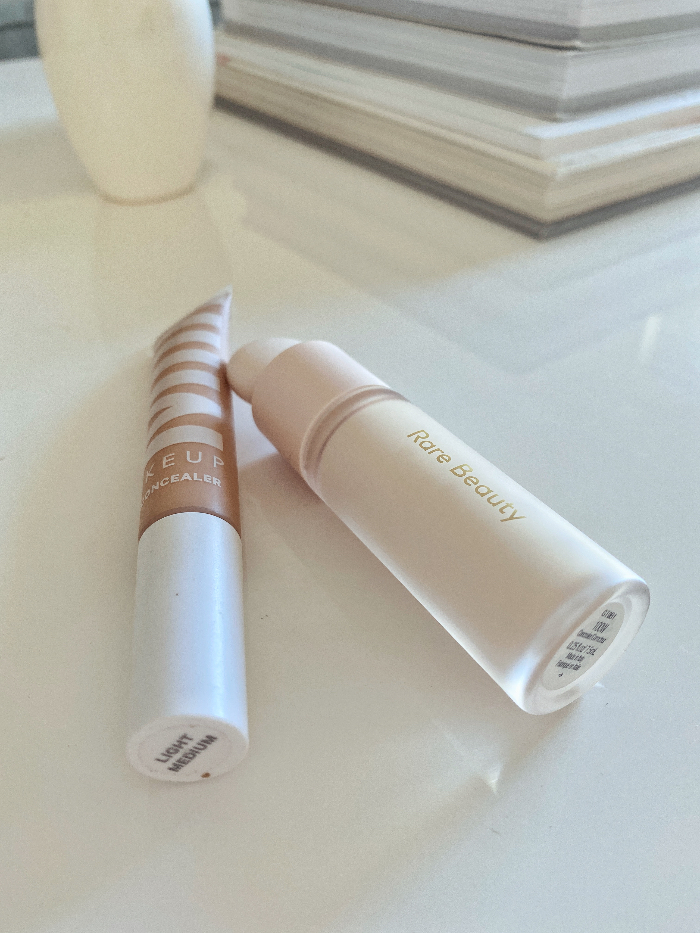 This concealer from Fenty Beauty probably has the highest number of different shades available that I've personally ever seen. There are sooo many to choose from that there pretty much HAS to be one that's a perfect match for your skin tone.
As far as coverage, this one is considered full coverage with a matte finish. It's also sweat resistant, which is really great for the summer! If you're looking for a product with a huge range of shades that looks and feels very light but still gives you amazing coverage, then this one is for you!
Becca honestly has some of the best foundations and face products around! I'm obsessed with this product from Becca because it's full coverage and has a really nice, hydrating formula that doesn't look cakey or overly heavy on your skin.
I find that this tube lasts a pretty long time, so I think it's worth it to pick one up if you've been wanting a really nice higher end concealer!
This cruelty free, vegan concealer comes in almost 30 different shades, so it's another one with a great range of color tones available. It's also super affordable and I would label this one as full coverage. Definitely a great option that you can find at Ulta!
*Side note – this contains beeswax, so if you are strictly vegan in the sense that you refrain from purchasing bee byproducts, then this one would not be for you.
This brand markets themselves as completely vegan and cruelty free, which I love! This one is another really good one for foundations and face products – I've never tried a product from Cover FX that I haven't loved.
This is a long wearing, crease-proof and full coverage concealer. It also contains niacinamide, which helps to improve the appearance of any fine lines you have, and it can also help improve the clarity of your skin!
This cruelty free and vegan concealer from Hourglass is full coverage, waterproof, and comes in 20+ shades. This is definitely a really nice product with a gorgeous natural looking finish that looks good on all skin types!
Something I love about Hourglass Cosmetics is that they are proudly cruelty free and they always state that in their marketing materials! They are also working on going completely vegan and eliminating all animal derived ingredients from their entire collection in the near future.
This one from Charlotte Tilbury makes your skin look almost poreless and so smooth and beautiful! This is a long lasting, water resistant full coverage product that is paraben free as well as fragrance free. I find that this one really helps with dark under eye circles too!
Kosas is an amazing clean beauty brand that puts a big emphasis on creating makeup products that actually HELP your skin while you wear them with super nourishing and hydrating ingredients! This concealer is exactly what the name implies – very creamy and brightening for the under eye area. This one is medium to full coverage, and very buildable.
This is a medium to full coverage cruelty free and vegan concealer that is long lasting but that still feels very lightweight and breathable. The Naked line from Urban Decay is super popular, and for good reason – the whole collection is so good and comes in beautiful packaging that makes you so excited to use the products!
Too Faced is another really animal friendly brand that is proud to be cruelty free and to sell tons of vegan products! This cruelty free, vegan concealer is definitely full coverage (hence the name), makes your skin look perfect and doesn't crease! It also contains a few amazing and hydrating ingredients for your skin – coconut water and hyaluronic acid just to name a couple of them.
This concealer has a light to medium coverage and it's super buildable. It's also one of the most affordable options available at Sephora, so definitely pick this up if you want something that is Sephora quality but don't want to spend too much. The packaging is also baby blue and super cute!
This product comes in 24 different shades, and it's a great drugstore option that's available at Ulta! I would say this has a medium to full coverage, its formula is super creamy and easily blendable, and applies well with the brush that it comes with, or with any other concealer brush you have.
This creamy, full coverage product is available in about 20 different shades and has a matte finish that works well on all skin types. It's infused with green tea for an ultra soothing and calming effect on the skin, and it also helps to protect your skin from environmental stressors while you're wearing it!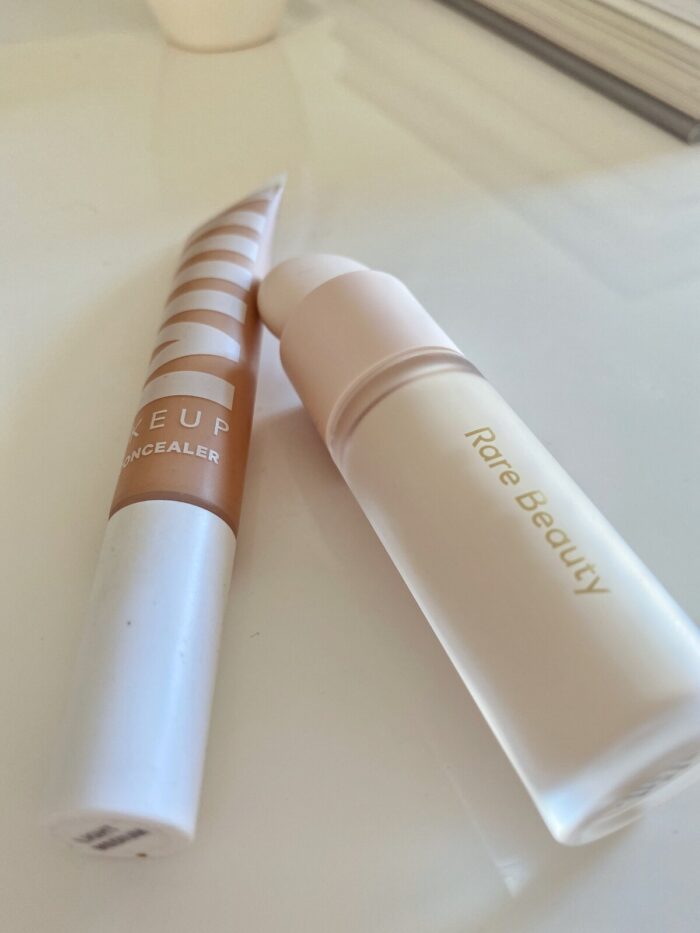 This amazing cruelty free and vegan concealer contains vitamin C and other premium ingredients that help even out your skin tone and improve the appearance of your skin over time! I would say this one is medium coverage, and this comes in twelve shades. Get this one if you don't want or need a full coverage concealer and still want to balance things out by having your natural skin to shine through, BUT still with a good amount of coverage!
This product is actually in a stick form, which can be harder to find than the typical liquid ones, so if you prefer that then this is definitely for you! It's a full coverage product that helps to smooth the look of fine lines and pores, and it's also long wearing, waterproof, and humidity resistant!
And, if your skin is acne prone then this product is perfect for you: it's noncomedogenic, does not cause acne AND it's hypoallergenic!
This product from the fully vegan KVD collection is a matte finish, super full coverage concealer that is also long lasting and paraben free! Out of all of the many amazing cruelty free and vegan concealers on this list, this is another one of my all time favorite products because the coverage is so great and it just stays put all day and looks amazing.
This is a light coverage concealer that is somewhat sheer but still buildable. It has a lightweight feel and a glowy finish, it helps to minimize the look of pores, and it can also be used as a base for eye makeup. This is for you if you don't need a ton of coverage but still want something light and breathable to help even out your skin tone a little bit!
This is a full coverage product made by the famous Beauty Blender brand! It has a really nice natural finish and works well on all skin types. It also contains hyaluronic acid for a plumping effect on your skin, and it helps to smooth away fine lines as well.
This is a medium coverage product that is easily buildable! It can also be used as a primer for eye makeup, and it comes in a cute little pot that makes it easy to apply with your fingers or a small brush. It has super clean ingredients that you can feel good about putting on your skin, and the packaging is so aesthetic!
Last but not least, this product from Josie Maran has the "clean at Sephora" seal, meaning that it doesn't contain any sulfates, parabens, phthalates, and a long list of other common toxins in makeup.
It's a full coverage cruelty free and vegan concealer that works great on dark under eye circles and acne scarring, and the Argan oil it contains really helps with depuffing your skin and nourishing it with vitamin E!
Related Posts:
Thank you so much for checking out my list of the best cruelty free and vegan concealers! Have you tried any of these products before, or are you planning to after reading this? Let me know in the comment section below, and tell me if there's an amazing concealer you know of that I missed in this post as well 🙂
Be sure to share this post on Pinterest if you liked it, and also check out my Instagram feed for tons of similar content if you're interested!
As always, I hope you're all staying healthy and safe, and talk soon xx