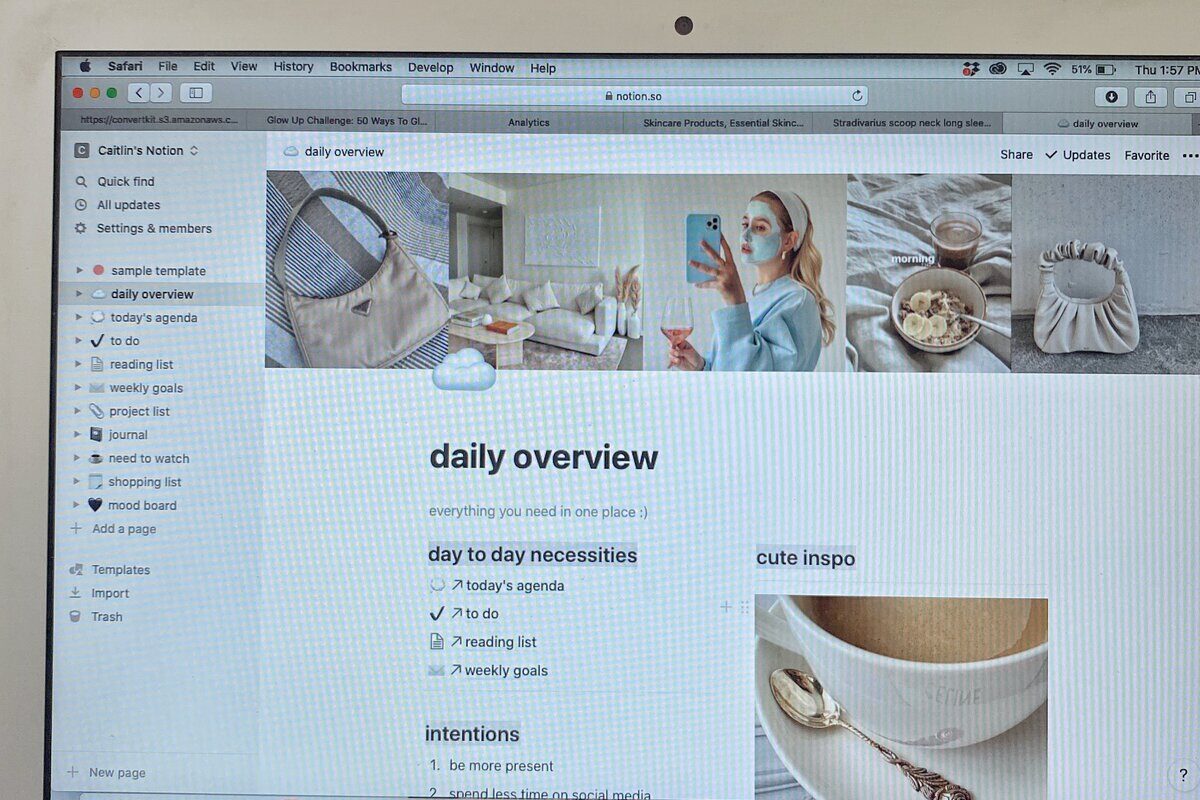 So we're only a couple of weeks into the new year, and it's the perfect time to get to work on crushing your goals for 2021! One of my favorite things that has happened so far is that I recently discovered a new online planning app that I've been using nonstop, and it's been helping so much with keeping things more organized and also with keeping my motivation high into this new year.
We're already at a point where a lot of people are giving up on their resolutions and reverting back to old ways, so it's a great time to read this post and get re-inspired to make big things happen in 2021.
Keep reading for some of the best ways you can get started on crushing your goals for 2021 🙂
Plan Your Life With Notion
If you haven't heard about Notion yet, you need to get on it asap! It's an all in one online planning tool that allows you to create pages and upload your own cute banner image (think cute inspirational vision board type stuff as your header) and add anything within the pages such as to do lists, links, or even embed YouTube videos and Spotify playlists!
Here's a screenshot of my Notion for reference! You should definitely try it out, you won't regret it 🙂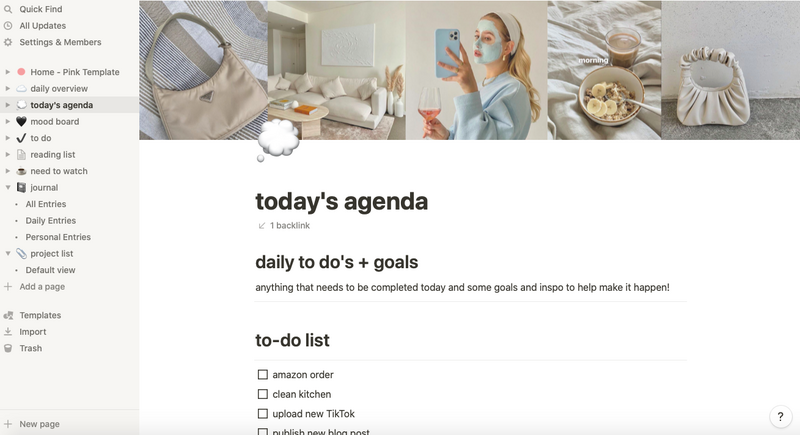 Wake Up Earlier
This is one thing that nine times out of ten ultra successful people will list as one of the habits they attribute their success to the most. It just sets you up to get so much more done in a day, and not only that but getting an early start on your day will give you the motivation you need to get tons of stuff done.
You can easily create more time in a day by waking up earlier, and I say this because even if you were to wake up an hour earlier and go to bed exactly an hour earlier because of it, typically for most people our most productive and motivated hours of the day are actually early on. So basically you're not going to be nearly as productive at night as you are during the day, and as a result it just makes more sense to get up earlier, even if it means going to bed earlier!
Break Down Bigger Goals
Sometimes our goals can seem so overwhelming simply because they're ambitious (as they should be :). The best thing to do whenever you feel overwhelmed by a large task or project is to break it down into several smaller tasks that you can work on one at a time to steadily bring yourself closer to getting the entire project done.
As an example, if one of your goals is to redecorate your bedroom, you could start by making a list of things you want to do to it, like painting the walls, taking out the carpet, getting some new furniture, etc, and then break each of those down into precise steps of how you can accomplish each one, like picking out a new paint color, buying the paint from the store, and putting stuff up to protect your room from paint spills.
When you get even a small step done, it really helps with keeping you motivated and on the right track to finishing the whole task.
Nourish Your Body
So many people focus on short term diet and fitness trends, and not enough on eating intuitively and fueling yourself the right way long term. The most effective way I know of to do this is to eat entirely (or almost entirely) plant based and to drink a ton of water (I always try to drink half of my body weight in ounces of water every single day). This is the solution to more energy, better digestion, clearer skin, and so many more typical struggles.
Related Posts:
Thank you so much for checking out my tips on how to succeed at crushing all of your goals in 2021! What are you planning to accomplish this year – a new career, graduating college, or getting your own house or apartment? I would love to hear, so let me know in the comment section down below!
As always, if you liked this post definitely feel free to share it on Pinterest, and you can also check out my Instagram feed for tons of similar content 🙂

Reader Interactions