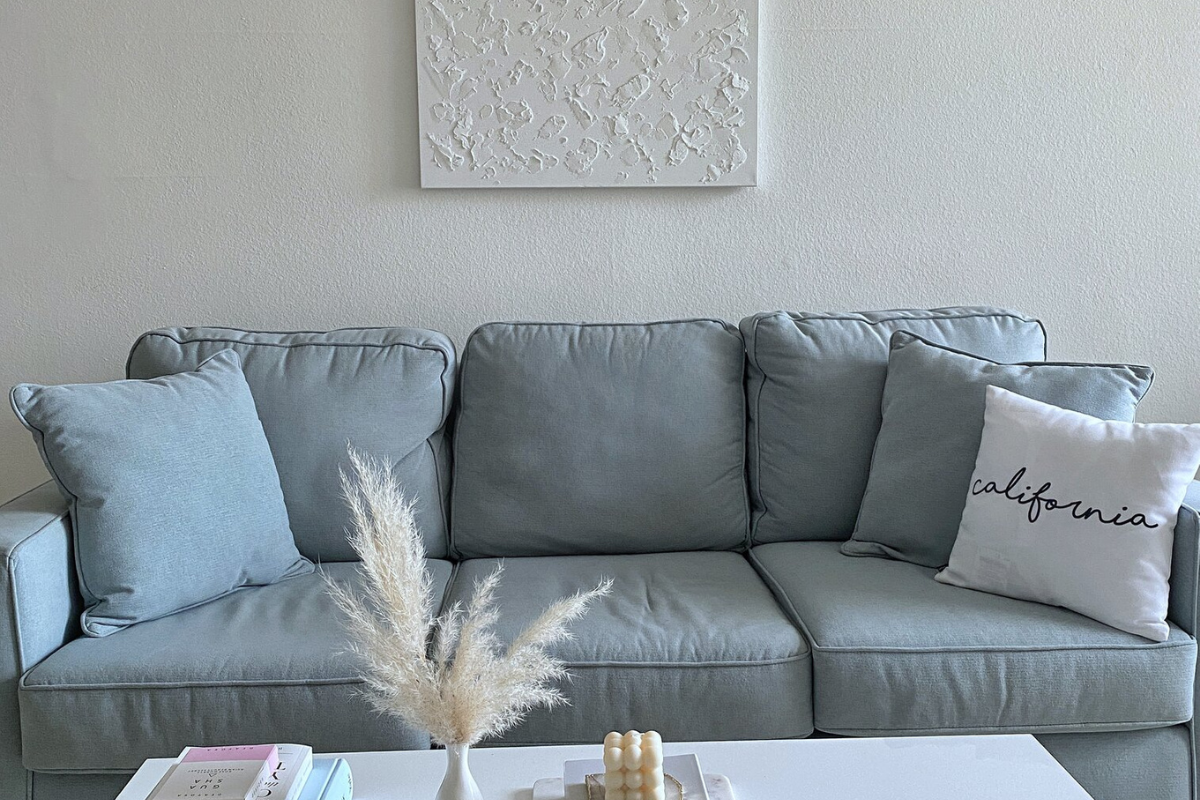 Lately I've been finding soooo many cute vegan friendly home decor pieces on sites like Etsy that I felt like creating a post to share them with you guys. I feel like this is going to be especially helpful if you're one of those girls like me that is constantly scrolling on Pinterest and getting ideas and inspiration for your apartment – but this post is going to actually going to clue you in on where you can actually find all of those pieces that you see while scrolling!
Some people might be confused by what I mean when I say "vegan home decor", but basically that means all things that are free from leather, cowhide, fur, and bone china. All of these pieces are beautiful and high quality, so you would never even know that they're vegan decor items!
The items featured in this post are for you if you like a very minimalistic and neutral style of aesthetic. There are lots of beige/nude items in here, lots of white, and a tiny bit of black but not a ton of color. I will most likely do another post in the future with more colorful items if that's your preference, so look out for that one coming up soon.
Keep scrolling for the cutest neutral aesthetic vegan home decor items!
DISCLOSURE: THIS POST CONTAINS AFFILIATE LINKS, WHICH MEANS THAT I GET A COMMISSION IF YOU DECIDE TO MAKE A PURCHASE THROUGH THESE LINKS, AT NO ADDITIONAL COST TO YOU.
Vegan Home Decor Pieces:
Vases
With vases, you need to look out because they can be made from bone china, which would of course make them not vegan friendly. I actually didn't know what "bone china" even was until a few months ago (I thought it was just a name that referred to the color of the china) but it actually literally is made from animal bones and is super cruel and horrific.
Luckily these vases are all gorgeous and they're all made from either ceramic, porcelain, or other vegan friendly materials!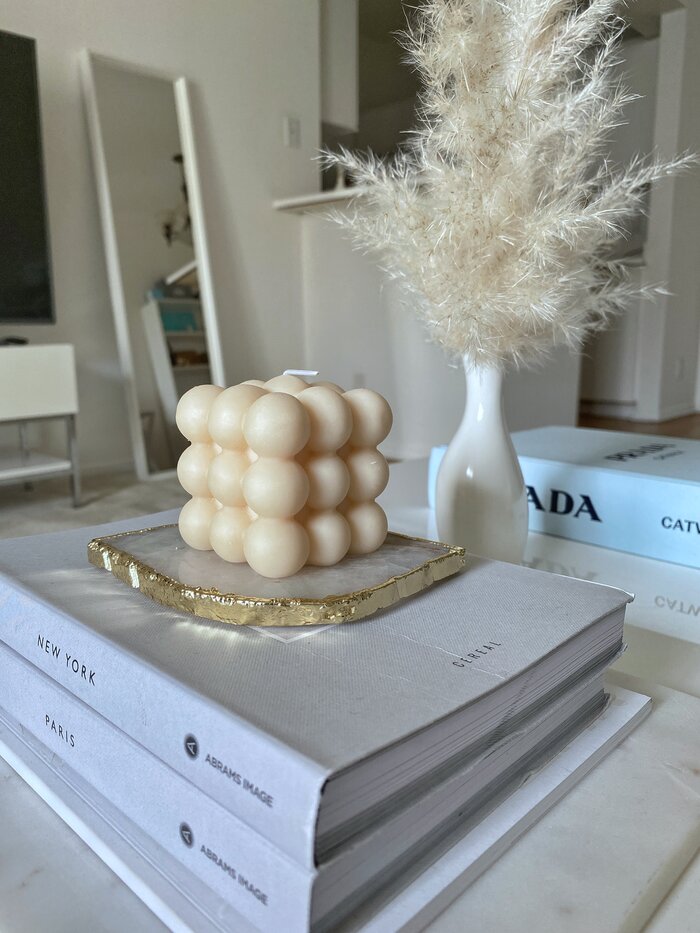 Candles
A lot of the time, candles are made from beeswax, so when looking for vegan friendly candles your best bets are usually the soy based ones. Some of my favorite places to find candles with plant based wax are Etsy and Sephora, but you can also typically find them in small local boutiques that make their own products by hand.
These candles are also super aesthetic and will look amazing in your space:
Bubble Cube Candle: These bubble candles (pictured below) have been all over Pinterest and Instagram lately, and they can be kind of hard to find unless you know exactly where to look for them. I have a couple, both from different shops, and I have to say they are insanely cute and so worth buying! Click here to check out where I got this adorable neutral one pictured below!
David Bust Candle: This candle is seriously one of the most beautiful and intricate candles I have EVER seen, it's amazing! It's very Greek/Roman sculpture inspired (it is a bust of David candle, so if you're not familiar with what that means just click this link to go to the Etsy shop and check it out for yourself). The quality is so good and it's so beautiful, you might not even want to actually burn it, but that's totally fine because it will look amazing in your living room!
Colored Bubble Cube Candle: These look exactly like the one pictured above, except they come in fun cute colors! They make the perfect accent piece in a mostly neutral room.
Furniture/Random
Small Asymmetrical Mirror: This mirror is small, cute, and super unique. It's the perfect interesting piece you can add to your room or to your front entryway so you can check it before you leave the house!
Prints + Wall Art
Matisse Abstract Print: This is a cute abstract print inspired by the French artist Henri Matisse. It's neutral, super aesthetic, and it makes for the perfect Pinterest inspired wall decor! You just order it and then you're able to download the digital file in a ton of different sizes, and then you get it printed at your printer of choice, frame it, and hang it on the wall!
Neutral Abstract Print: This abstract print is again all neutral and so cute for a minimalistic white and beige themed apartment. I just recently ordered this and love it so much! Again, it's a digital file that you're purchasing, so just find your local printer and choose from either glossy or matte paper (I personally think matte paper is best for this style of print), get a cute frame and then you're good to go!
Set of 4 Matisse Prints: I had to include another set of Matisse prints because they are just sooo cute and aesthetic and perfect for your apartment! This set comes with four prints in complementary colors that would make the perfect gallery wall in your living room.
Related Posts:
Thank you so much for checking out this list of the best vegan home decor pieces! Did you see anything on this list that you loved or want to get for your own apartment or house? Let me know in the comment section below, I would love to hear which pieces were your faves 🙂
As always, if you liked this post please feel free to share it on Pinterest, and you can also check out my Instagram feed for tons of similar content if you're interested!
Take care and talk soon xx

Reader Interactions