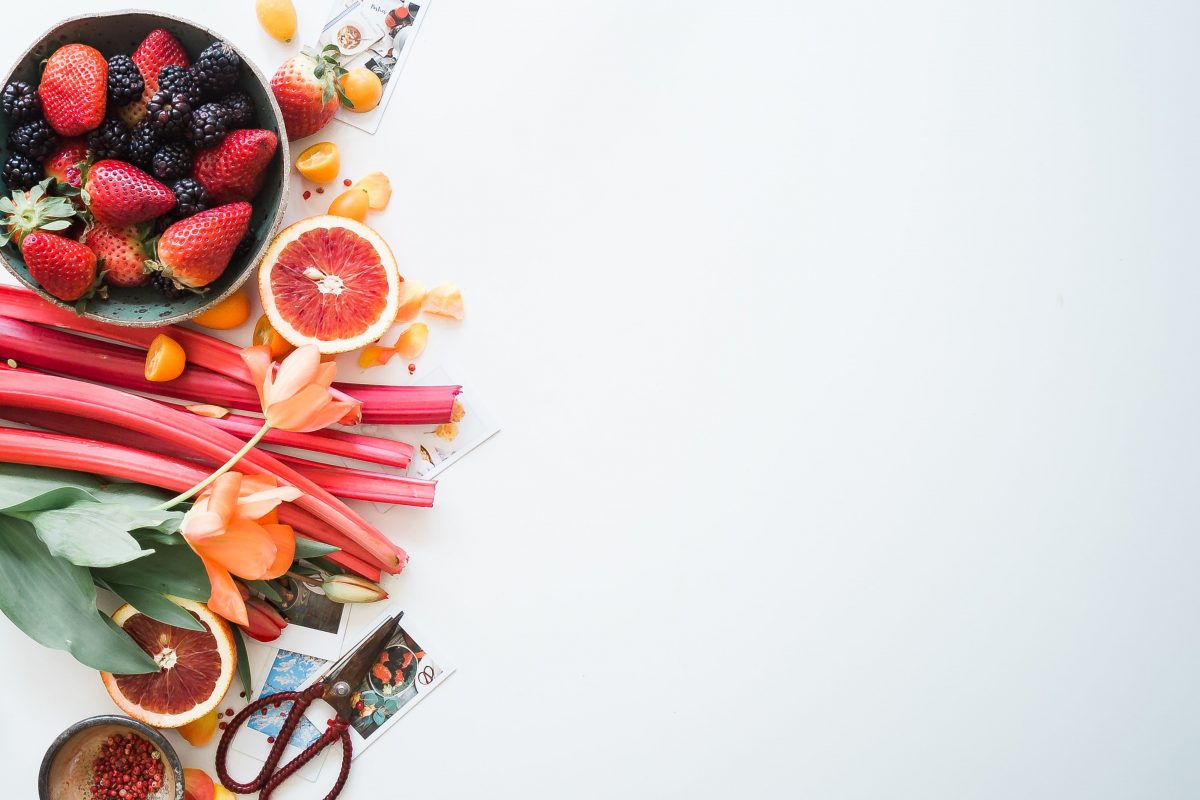 We are officially in the middle of a global pandemic, and now is the time not to panic but to stay calm and to make sure you're well prepared. Today's post is going to be all about the top vegan quarantine essentials that will help you remain happy and productive while you're at home during the isolation period.
The actions you take now are going to set yourself up for when this is all just a bad memory, so the most important thing you can do right now is to fuel yourself as healthily as you can and set yourself up for success when this all ends.
This post won't be focused as much on specific grocery lists per se or foods that you should keep stocked during this time, but more so on general items that are going to help your mind and boost your mood in order to get you through the current situation.
Without further ado, here are my healthy vegan quarantine essentials for staying happy and productive at home:
DISCLAIMER: All content found on BeautyandColour.com, including text, images, and posts, has been provided for informational purposes only. The content contained within this website is NOT intended as a substitute for professional medical advice or treatment. Always make sure to seek the advice of a qualified professional healthcare provider, and contact them with any questions you might have regarding your health and/or current medical condition. If you think you may be infected with the coronavirus, call your healthcare provider immediately to seek medical advice.
THIS POST CONTAINS AFFILIATE LINKS, WHICH MEANS THAT I GET A COMMISSION IF YOU DECIDE TO MAKE A PURCHASE THROUGH THESE LINKS, AT NO ADDITIONAL COST TO YOU.
A Good Book (Or A Few!)
Now is the perfect time to get caught up on some reading, or to start a book that you picked up but haven't touched since you bought it because you haven't had the time!
Reading is so calming and relaxing, and I think we all get so caught up in the hustle and bustle of day to day life and scrolling on our phones that it can easily be forgotten. It's such a great way to broaden your mind and learn new things, or even just help you escape the stress of the current global situation if you're reading a light fiction book.
3-4 Week Supply of Food
None of us knows how long this is going to last, but my recommendation is to make sure you have about a month's worth of food stocked at your place. The best way to do this is by buying lots of dry packaged plant based foods like crackers, pasta, beans, and rice, and choose frozen for fruits and veggies.
Thrive Market is my all time favorite online grocery store. They're a brand that provides such a great quality selection of healthy and organic packaged goods like bread, pasta, rice, snacks, etc, at discounted prices from what the same brands they're selling would be in stores!
Their shipping might be delayed a little with this virus situation but what I'm doing is stocking up and ordering for when I'll need more food within the next couple weeks or so. It's the best option right now because you can simply order everything and have it shipped straight to your door without having to come into contact with others at a grocery store! Click here to check them out and see if they have any brands or products you love!

High Quality Vitamins
This one is so important for me, and I talk about it a lot in a few of my posts! For me, I do NOT rely on taking vitamins every day to get the essential minerals and nutrients that I need.
I always make sure to eat a well balanced plant based diet – check out my What I Eat In A Full Day As A Vegan post to get some meal ideas and recipes! I also do regular blood testing once per year to make absolute sure I'm going above and beyond on protein, calcium, iron etc. for all you vegan skeptics out there!
BUT, that being said, what I do use vitamins for is for things that most of us definitely don't get in our day to day diets, such as adaptogens or herbs like ashwagandha, that have been shown to reduce stress and help us feel more calm (which is PRICELESS at the moment!).
I love Hum Nutrition's selection of vitamins because they have ones that help you sleep, ones that support your immune system, ones that help reduce your stress, and more. I am alll about that kind of holistic approach to health and wellness – instead of taking an over the counter sleeping pill I would much rather take something like their Beauty Zzzz vitamin which contains melatonin and actually does help you fall asleep without any scary addiction risks!
I would highly recommend checking out Hum's vitamins for anything you might need to balance your gut, reduce stress, probiotics to help clear up your skin, and more. They have a ton of plant based + vegan options, too!
A Solid Routine
If you're not used to working from home, or if you're not working at the moment due to this pandemic, it can come as a shock. You go from a very structured environment where you have a boss who gives you tasks that you have to do, to being at home where you could literally choose to do whatever you want to.
A lot of people think that working from home is just lounging on the couch in your pajamas and watching Netflix, but this couldn't be further from the truth.
In order to be successful with working from home, you need to establish a routine where you're getting up at a similar time every day, getting changed into something you would actually wear outside of your house, and feeding yourself a highly nutritious breakfast.
If you can find the discipline to do these things, then you'll do great through this difficult time. It's all about keeping order and structure so that you can be as productive as possible and not let things slide. The better you prepare yourself for this to end, the happier you'll be when we come out on the other side of this!
Related Posts:
Thank you for checking out my vegan quarantine essentials for staying home, and I hope you guys are all staying safe and healthy out there. These are tough times but we can all act together to quickly stop this pandemic, and life will get back to normal soon xx
Please help get this information out there to others by sharing this post on Pinterest, and you can also follow me on Instagram if you want someone to reach out to during all of this.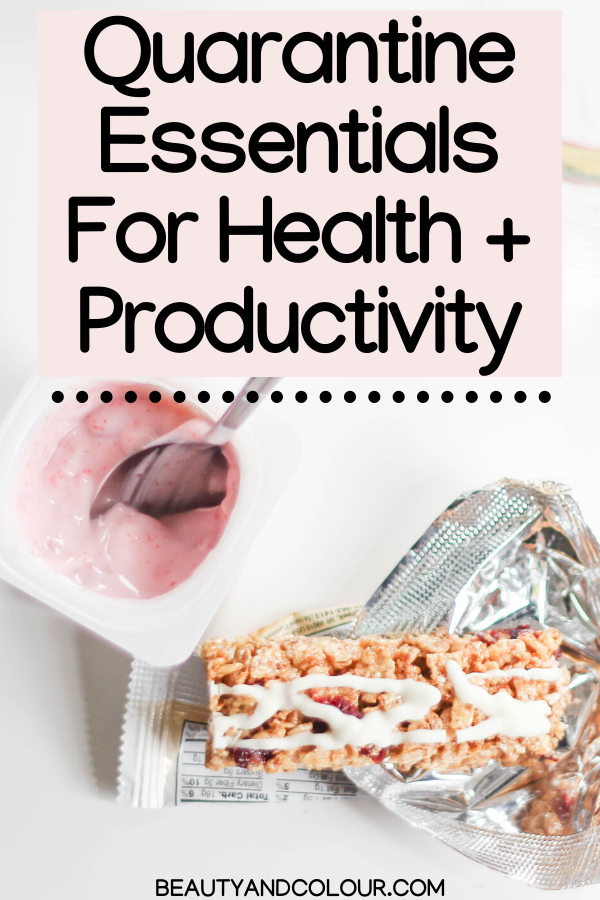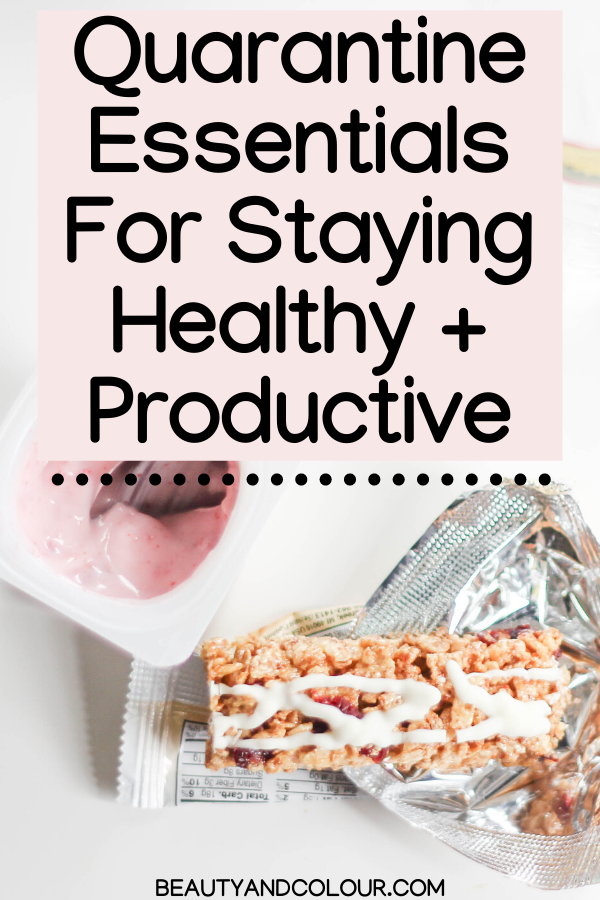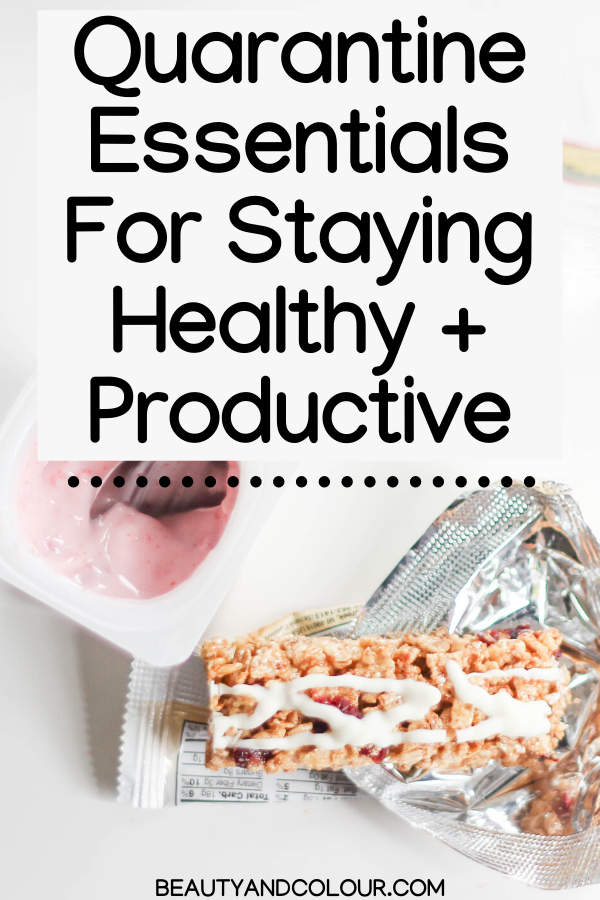 beauty and colour blogger coronavirus COVID-19 essentials plant based quarantine vegan vitamins
Reader Interactions