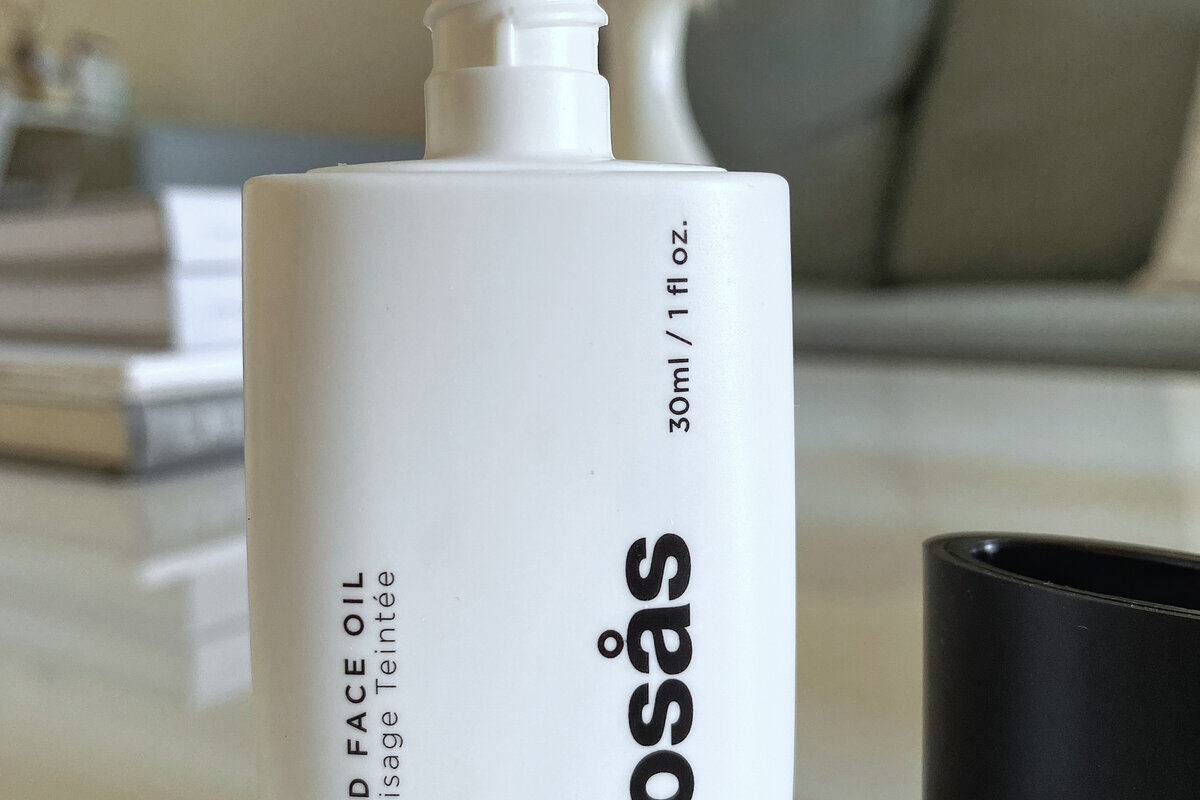 Now that we're going into the colder months, you might be looking to transition to a lighter foundation for the winter time. So with that being said, today's post is going to be a full Kosas Tinted Face Oil review!
If you haven't heard of the brand Kosas yet, it's an amazing clean beauty brand that is cruelty free and super vegan friendly! The brand is also carried at Sephora, so it's really easy to get your hands on their products.
Kosas talks about being "makeup for skincare freaks", meaning that its products contain ingredients that are good for your skin and can potentially help soothe and moisturize your face while you are wearing them. I love the brand's philosophy of nourishing your skin with the makeup that you use every day, and I think that putting good clean ingredients in makeup is for sure the right way to go about it!
Their whole brand philosophy is "easy, unrestrained beauty that defies convention", meaning that they create products that are revolutionary and unlike anything else on the market. I'm a big fan of the brand and I think you will be too!
Just keep scrolling for my Kosas Tinted Face Oil review!
DISCLOSURE: THIS POST CONTAINS AFFILIATE LINKS, WHICH MEANS THAT I GET A COMMISSION IF YOU DECIDE TO MAKE A PURCHASE THROUGH THESE LINKS, AT NO ADDITIONAL COST TO YOU.
This clean face oil foundation contains six nourishing botanical oils that hydrate and moisturize your face, as well as even out your skin tone! It's definitely for people who are looking for a lighter foundation, as this is a minimal coverage product that is really meant to cover up slight blemishes while letting your natural skin shine through.
There is the ability to build coverage with this face oil, but it's still somewhat sheer and would not be considered a full coverage foundation. This is really great if you have pretty clear skin overall and are just looking for something to even out your skin tone a little bit more!
It comes in sixteen different shades, so there's a really good variety of colors for different skin tones available. The product itself is very easy to blend into your skin and it looks really natural on. Also, because of the fact that it's a sheer but buildable face oil type of foundation, if there isn't an exact match for your skin tone it shouldn't really be that big of a deal or all that noticeable if you just get the closest match.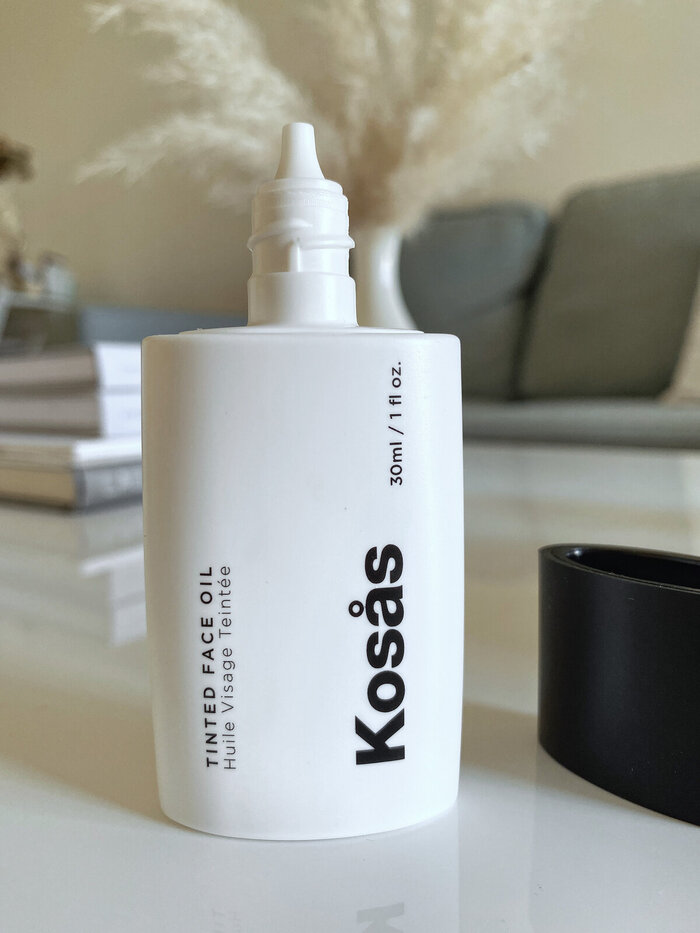 How To Use It
Start out by shaking the bottle up a little bit – since it is an oil, there might be a tiny bit of separation, and shaking the bottle will create an emulsion of the oil and the pigment of the product.
Next, depending on the amount of coverage you're looking for, apply between 1-4 drops of product directly onto your face. You can also layer the product and build up more coverage by using 4-6 drops, according to the brand.
With this foundation, I think it's best to apply it with your fingers. Doing this is going to ensure that the product gets fully blended into your skin, since the warmth of your hands will melt it into your skin so well and make it look really natural on your face. If you have oily skin and prefer not to use your fingers to apply your makeup, then a sponge or brush will both work great with this foundation as well, but I personally think the best way to apply it is with your hands.
What Does It Do?
This cruelty free and vegan foundation contains a ton of nourishing ingredients, including avocado oil for moisturizing your skin and giving it a plumping effect that smoothes away the look of fine lines, jojoba oil and raspberry oil to soothe your skin, and rosehip seed oil for a brightening effect!
According to the product description, every one of the ingredients in the Kosas Tinted Face Oil is doing something for your skin in terms of either hydrating, soothing, and/or protecting it from environment stressors! So it is essentially actively working to improve your skin while you're wearing it, which is really cool.
Overall, this product just looks so gorgeous and natural and really gives you that perfect "no makeup" makeup look. It goes on smoothly and feels super light on the skin, and I think this would work well for anyone who is looking for a nice light winter foundation for when they want to look put together, but not overly made up!
I love the fact that it's actually doing something great for your skin throughout the day while you're wearing it, and I think this product is a great option for skincare lovers everywhere. It doesn't contain the typical pore clogging ingredients that foundations can tend to have, and it's just so light and breathable.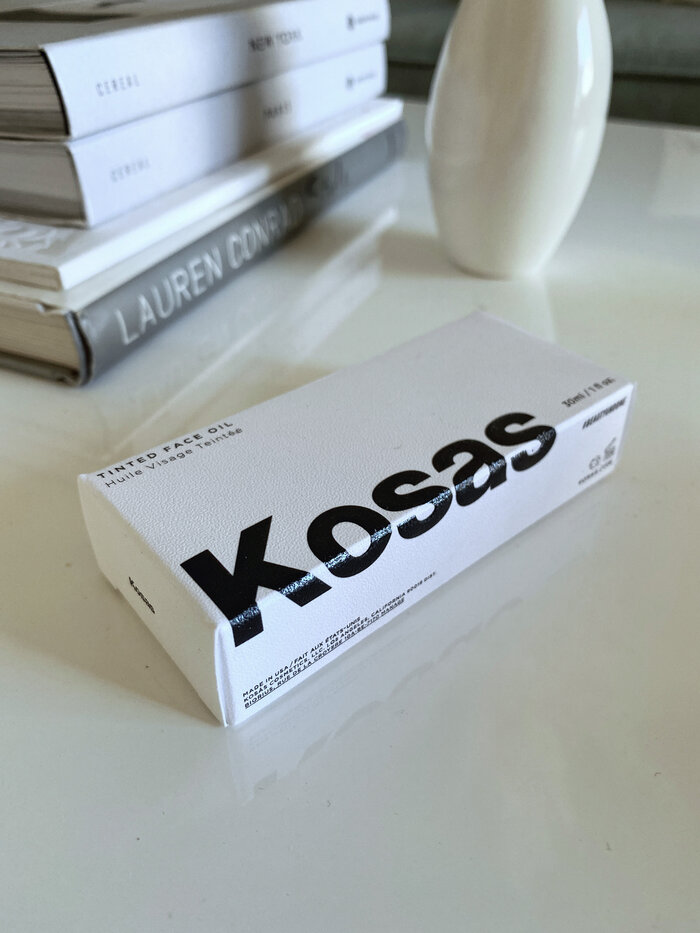 Kosas Tinted Face Oil Review: My Thoughts
As someone who likes a pretty light coverage foundation, I found that this was a pretty perfect fit for me. If you're also someone who doesn't like to use too heavy of a foundation but you want something more than just a tinted moisturizer or a BB cream, then this could work well for you too.
I love that this product is vegan and cruelty free (you guys know I don't post products that are not both of those things). Anytime a brand goes out of their way to create beautiful vegan friendly products that are also clean and contain high quality ingredients, I'm on board!
I wish that the bottle were a little bit bigger, since it is only one ounce, but since it's supposed to be used so sparingly (only 2-6 drops per application or so) it should last you a decent amount of time.
Hopefully this Kosas Tinted Face Oil review has been helpful if you're thinking about picking it up! This product is definitely for you if you're looking for a beautiful light coverage face oil style foundation that smoothes out any imperfections, plus has a bit of build-ability.
My rating for this product is as follows:
Rating: 9/10
Overall I would rate this foundation a 9/10. My only critique is that I wish that the bottle were a little bit bigger, but I think if you use this as the directions state then it should last you a while. Again, the Kosas Tinted Face Oil is definitely for people who like a lighter coverage foundation, and for those who love clean makeup products that will help to hydrate your skin while you wear them.
I think the range of shades is really good, and since this is so lightweight, it should work well even if the color you pick out is a pretty close – but not perfect – match.
If you're looking for a heavier coverage foundation, this probably isn't the one for you, but Kosas has other products that you might love, like their Revealer Concealer. You might also want to check out the Glossier Perfecting Skin Tint for a foundation that is slightly heavier, or the Too Faced Born This Way foundation for a full coverage product!
I would highly recommend the Kosas Tinted Face Oil, and I hope this review was helpful to you if you're thinking about picking it up!
If you need to see the ingredients list for this product, I included it below:
Kosas Tinted Face Oil Ingredient List: Coco-Caprylate/Caprate, Octyldodecanol, Simmondsia Chinensis (Jojoba) Seed Oil, Persea Gratissima (Avocado) Oil, Silica, Kaolin, Mica, Oryza Sativa (Rice) Bran Extract, Camellia Oleifera Seed Oil, Limnanthes Alba (Meadowfoam) Seed Oil, Rosa Canina Fruit Oil; Helianthus Annuus (Sunflower) Extract, Rosmarinus Officinalis (Rosemary) Leaf Extract, Rubus Idaeus (Raspberry) Seed Oil, Tocopherol, [+/ -: Iron Oxide (CI 77492), Iron Oxide (CI 77491), Iron Oxide (CI 77499), Titanium Dioxide (CI 77891)]
Check Out These Related Posts:
Thank you so much for checking out my Kosas Tinted Face Oil review! Have you tried this product yet, or are you planning to after reading this review? Let me know in the comment section down below, and if you have any products you use that are similar to this one I'd love to know what they are!
I'm always looking for new cruelty free and vegan face products to try out, so I'll definitely be posting more reviews like this in the future if you happen to like these kinds of posts 🙂 I always find that I learn so much about a new product before I even try it just by reading people's reviews online, so I'm hoping this review was helpful for you!
As always, you can definitely share this post on Pinterest if you liked it, and be sure to check out my Instagram feed if you're interested in lots of similar content 🙂 I took a long break from Instagram but I'm actually going to be getting back into a routine of posting regularly on there, so go and follow me if you want to!
Lastly, I hope you guys are all doing okay and keeping healthy. It's been a really tough and challenging year, but the good news is that 2021 is close and things will hopefully start to look up in the new year! Wishing you all the very best for 2021.
Take care and stay safe, and we'll talk very soon xx

Reader Interactions