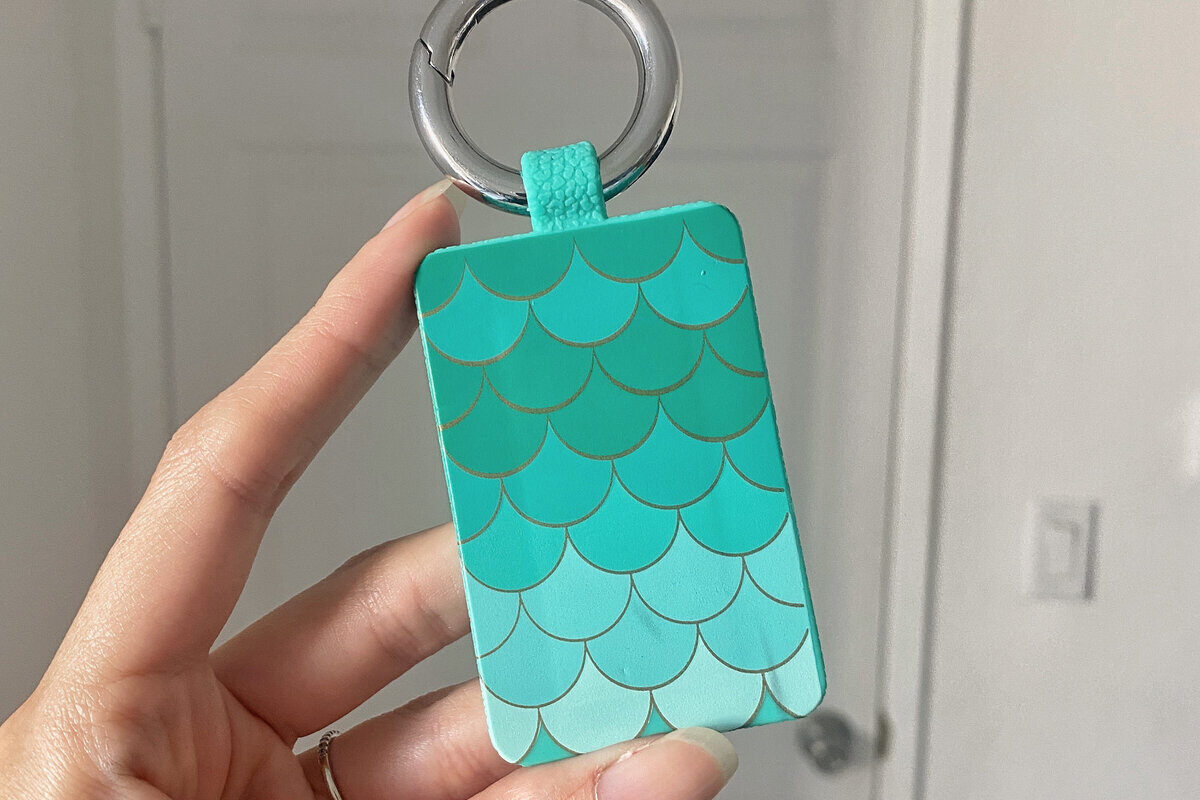 There are so many viral Amazon products from TikTok that I'm finding these days, it's almost impossible to keep track of them all without some sort of checklist, which is why I decided to create one here for easy access to all of the best stuff available! These products will provide solutions to problems you didn't even know you had, and trust me when I say that these will make your life so much easier.
These viral Amazon products you may have seen on TikTok are all great because many of them have multiple different uses, and they're also loved and highly reviewed by a ton of people. I think you'll find at least one thing on this list that you'll love for sure, and maybe even a few different things! So just keep scrolling to see these amazing Amazon finds and read more about them. 🙂
DISCLOSURE: THIS POST CONTAINS AFFILIATE LINKS, WHICH MEANS THAT I RECEIVE A COMMISSION IF YOU DECIDE TO MAKE A PURCHASE THROUGH THESE LINKS, AT NO ADDITIONAL COST TO YOU.
Check out these deals that Amazon is currently offering in 2022:
Now let's get into the product list!
Viral Amazon Products from TikTok – Electronics
This is genuinely something that I had never seen or heard of before this particular product, and I ordered it as soon as I saw it on TikTok because I think it's so genius! It's a power bar that is fully extendable and you can bend each component around and twist it into numerous different shapes (see the photo for reference).
I have to say that I think this is one of my favorite viral Amazon products from TikTok that I've ever found, it's that good. It has a five foot long cord, two USB ports and three regular electrical outlets, and as you can probably guess from its name, it does have surge protection to keep all of your devices safe in the event of a power outage.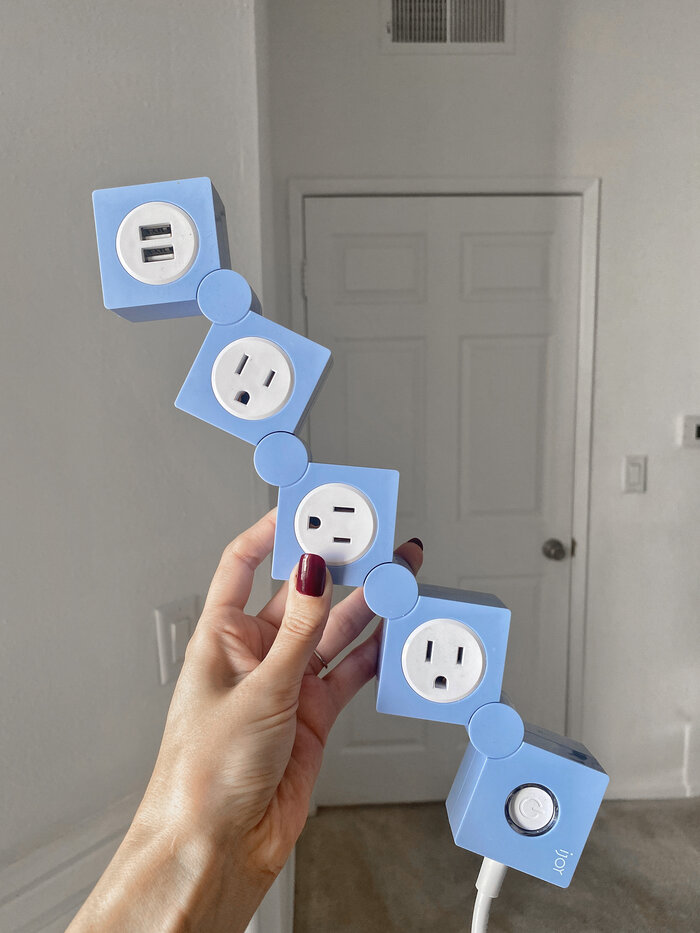 Out of all of the viral Amazon products from TikTok on this long list, this is one of my favorites for studying! I think it's so great if you're in high school or college because it's a reading light that doesn't disturb other people, but provides just enough light for you to be able to study from a textbook or just do some late reading.
The top part is detachable from the base part that clips on to your book, so you can use it as a little mini flashlight if you need to get up and use the bathroom at night. It's USB rechargeable and its tiny size makes it so easy to travel with or bring with you anywhere.
This thing is so useful because it completely eliminates the need to buy any other lighters, which is great if you like having a lot of candles going in your space. You just flip the switch into the "on" position and hold down the button with the wick in between the prongs, and you can quickly and efficiently light all your candles and then plug it in to recharge it when its battery gets low.
And since it's electric and there's no flame, there's no risk of you accidentally getting burned, making it so much safer to use.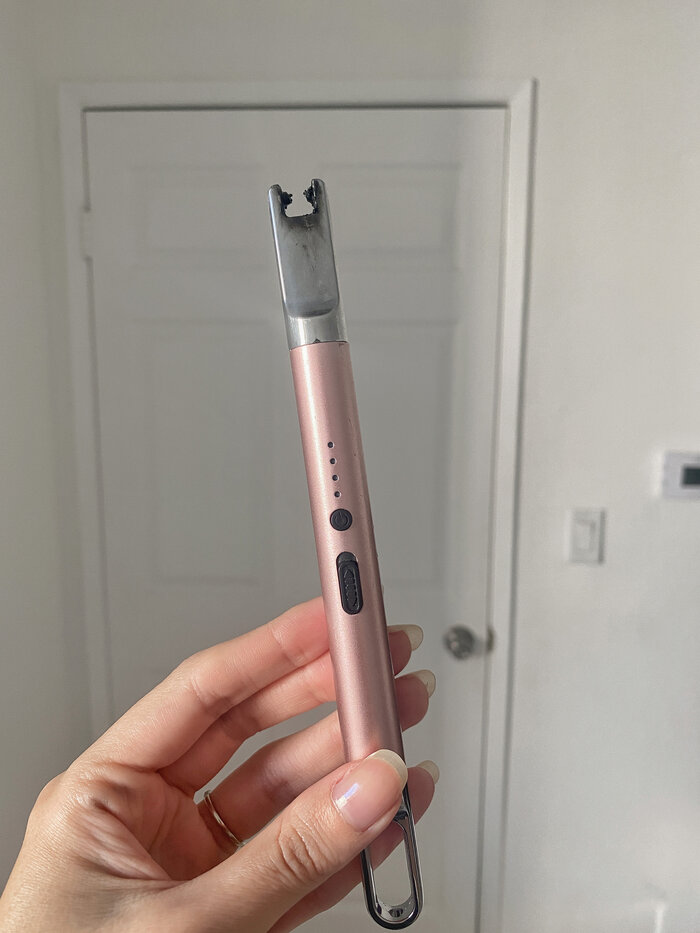 This little tool is another one of my favorite viral Amazon products from TikTok. It's a small spray bottle of screen cleaner for all of your devices, but the reason why it's viral is because the bottle itself is covered in a microfiber type of material that enables you to clean each of your devices with the same bottle that the spray comes from (so it's a two in one thing if you didn't already guess that).
You can get it in a couple of different colors, and what's amazing about it is you can see how well it actually works. In the right lighting, take a look at how many fingerprints are on your iPad, computer screen or phone screen and then spray and wipe with the bottle and watch how it wipes everything away and your screens become crystal clear!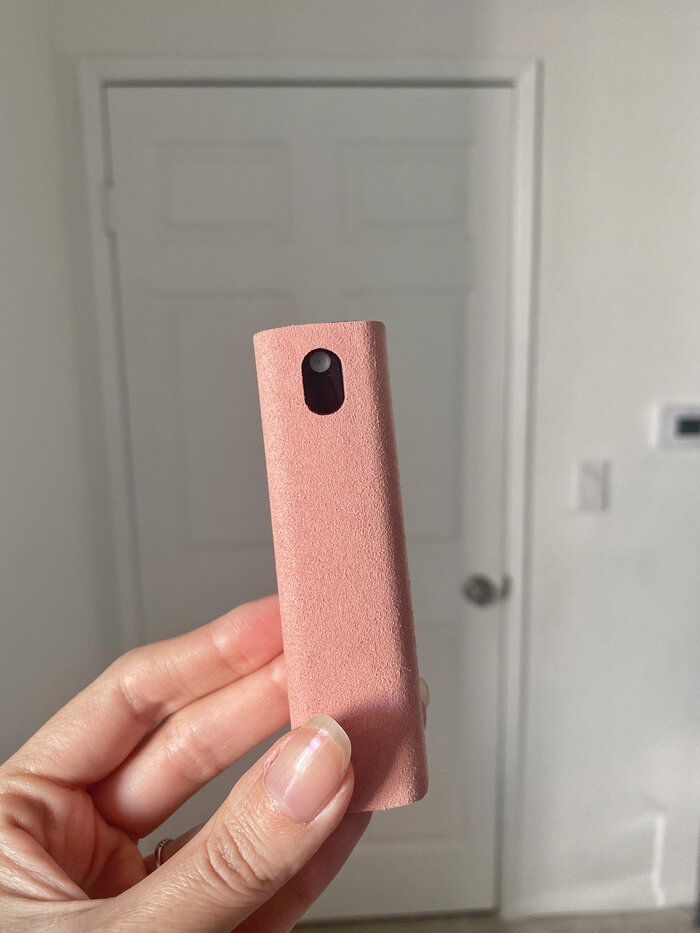 Okay, so I had been looking for something like this for a while and I'm so glad I finally found the perfect one. It's a charging stand for your phone that is super sleek and comes in three different colors (I have the white one and it is so chic looking, I love it). Rather than just getting a charging pad where your phone is lying on a flat surface, I wanted something like this so I could prop my phone up next to my computer and use it to work while it's charging!
This is such a fun choice on this list of viral Amazon products from TikTok, because what's so cool about it is that it charges your phone both ways – either standing up vertically OR horizontally if you want to watch a video or something while it's charging! It works with most iPhone models except the newest one, and it works with Samsung phones as well.
This is perfect for women to carry around on a keychain at all times. If you ever feel endangered, you just click the "SOS" button quickly twice in a row and it emits a super shrill alarm that would get anyone's attention and fast. It can also be used as a flashlight – the bottom end of it is where the light shines from.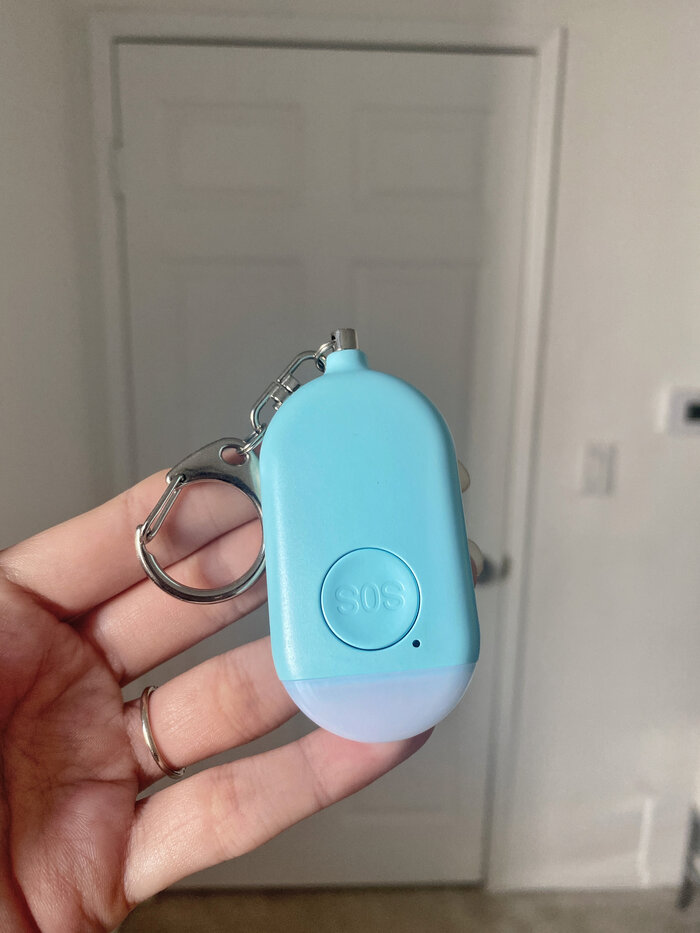 This cute and trendy iPad case has a couple of different functions. First, it obviously serves to protect your iPad from damage in the event that you were to drop it or if it hit something that might otherwise chip it.
Second, it comes with a bluetooth enabled keyboard that you sync to your iPad so you can actually turn it into a little mini computer where you can type in your notes app – or any other app where you would normally use the touchscreen to type! The case has the ability to prop the iPad up and make it look and feel like a laptop so you can properly type. Definitely a great option on this list of viral Amazon products from TikTok.
The keyboard even lights up when you press the right button, and it can stay one solid color or rotate through different colors, which is really cool at night especially!
3 In 1 Portable Power Bank, Flashlight and Fan
This little device charges your phone on the go, serves as a flashlight if you need one, and even turns into a mini personal fan for you to use on a hot day! It currently comes in three different colors, and it is made to look like a cute little bear with some ears and a nose on the top of it.
The fan has a couple of different speeds, and according to the product page has up to 46 hours of runtime on one charge! And if the device itself is fully charged, it charges your phone with no problems.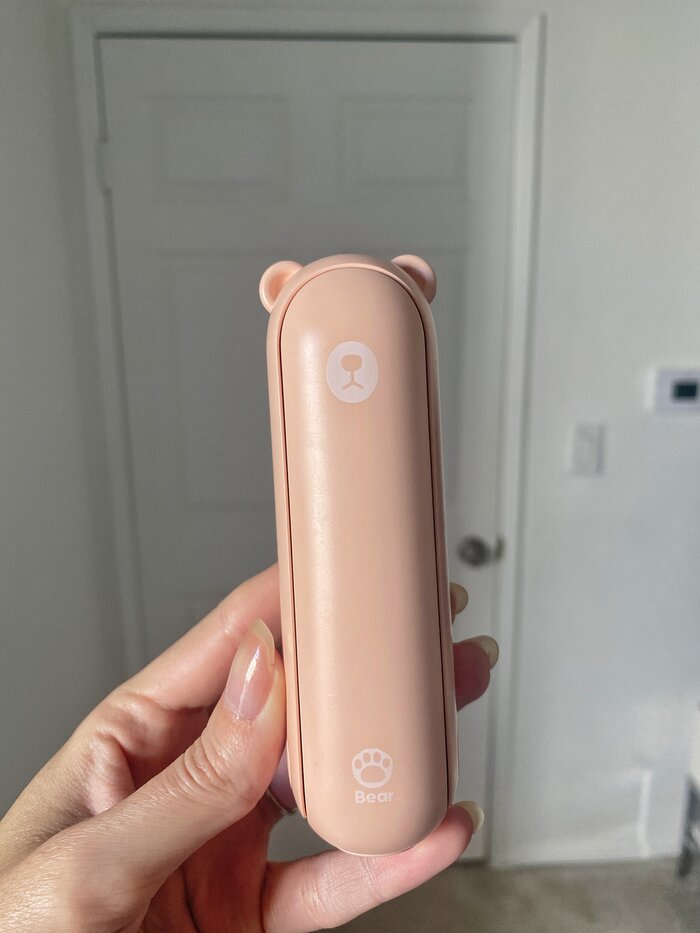 Waterproof Shower Phone Holder
So this is for you if you're someone who likes to be able to use your phone while taking a long relaxing bath (or even in the shower too, no judgement!). It's a phone holder that is completely waterproof AND has touchscreen functionality, so when you put your phone in it you're still able to use the screen as normal but through the case! This way your phone is completely protected from any water damage and you can still watch videos or listen to podcasts while you're in the bathtub.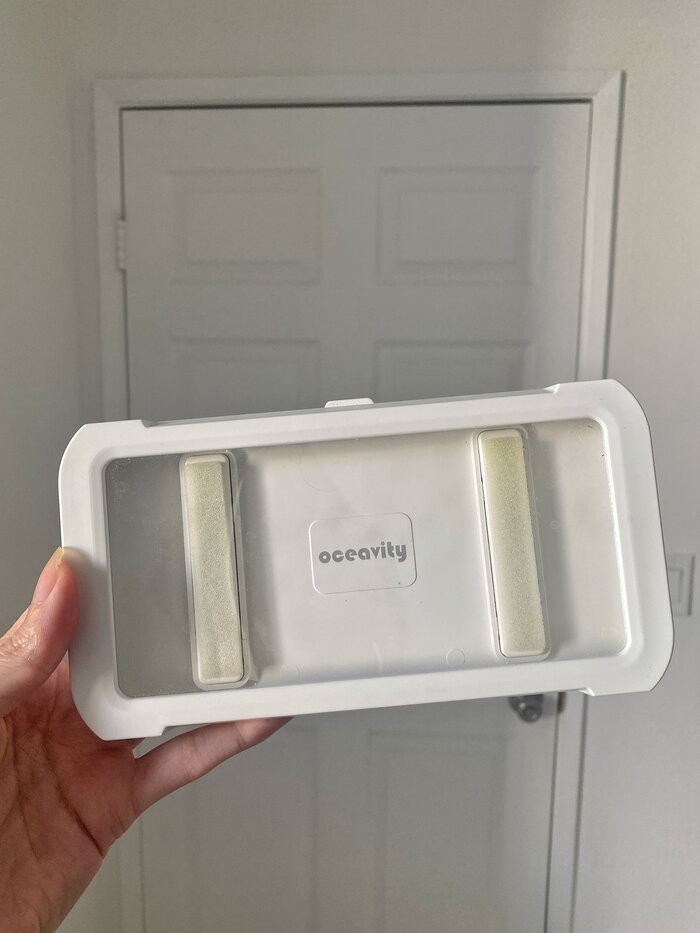 Viral Amazon Products from TikTok – Beauty
This is one of those viral Amazon products from TikTok that might not be an absolute necessity, but it IS just really nice to have around. It's an ice roller that you can use to de-puff your face first thing in the morning – you can use it under your eyes, on your cheeks and along your jawline, and it even helps to calm headaches if you use it gently on your temples and forehead area.
I find that it helps you look more awake, and it's also just a really nice refresher to cool you down, especially if it's a hot day or you've just finished a long workout!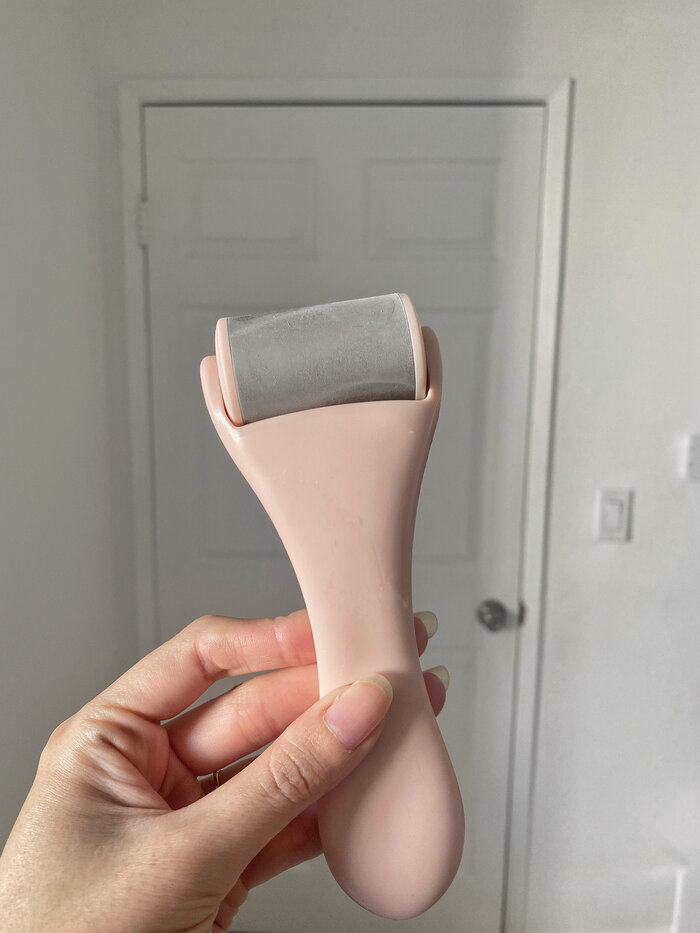 Gua sha tutorials have been all over social media for the past year or two, and for good reason. Using a high quality gua sha tool daily helps to tighten and lift your face for a more sculpted look! It's also very relaxing and just feels decadent and luxurious, like you're doing a day at the spa but in your own home.
This is definitely a staple in my self care routine, and this tool is affordable but still great quality. It makes my face look slightly more lifted and more defined every time I use it.
I think this item is on a lot of viral Amazon products from TikTok lists because gua sha is genuinely so popular right now (and for good reason) and I really love how inexpensive this specific one is! For sure a must have if you love a good multiple step skincare routine like I do, haha!
It seems like every single girl on Pinterest has these, and it's because they're super trendy and so adorable! This pack of four large hair claw clips has four different cute colors, so you can always change it up depending on your outfit or the look you're going for that day.
The clips are some of the strongest I've tried, and they're durable and well made. You'll probably get a ton of compliments every time you wear one of these in your hair, they're so cute. This specific set comes with a staple black clip, a pink one, a super trendy mint green one, and a beige one.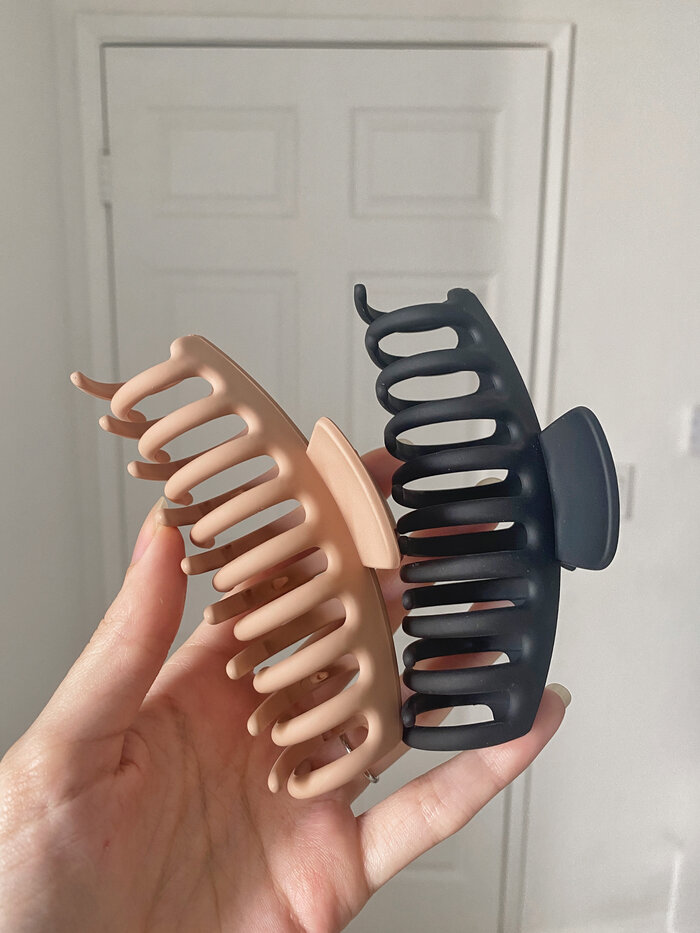 Next on this list of the best viral Amazon products from TikTok is my new favorite razor. If you've ever struggled with ingrown hairs, this product is an amazing solution I've found that definitely can help a lot with that. The idea is that most razors on the market have multiple blades for the purpose of getting you the closest shave possible. Unfortunately, having so many blades running over the same spot numerous times is what leads to bacteria being spread and then causing those annoying ingrown hairs.
This product only has one single blade that is extra sharp, so you're still getting that super close shave and almost none of the ingrown hairs. And as the name would suggest, it's double edged so you can use both sides of it and get twice as much use out of the blade. For me, it has significantly reduced the number of ingrowns I've been seeing since I started using it, and what's really cool about this is that the brand will plant one tree for every product sold through their partnership with Eden Reforestation Projects!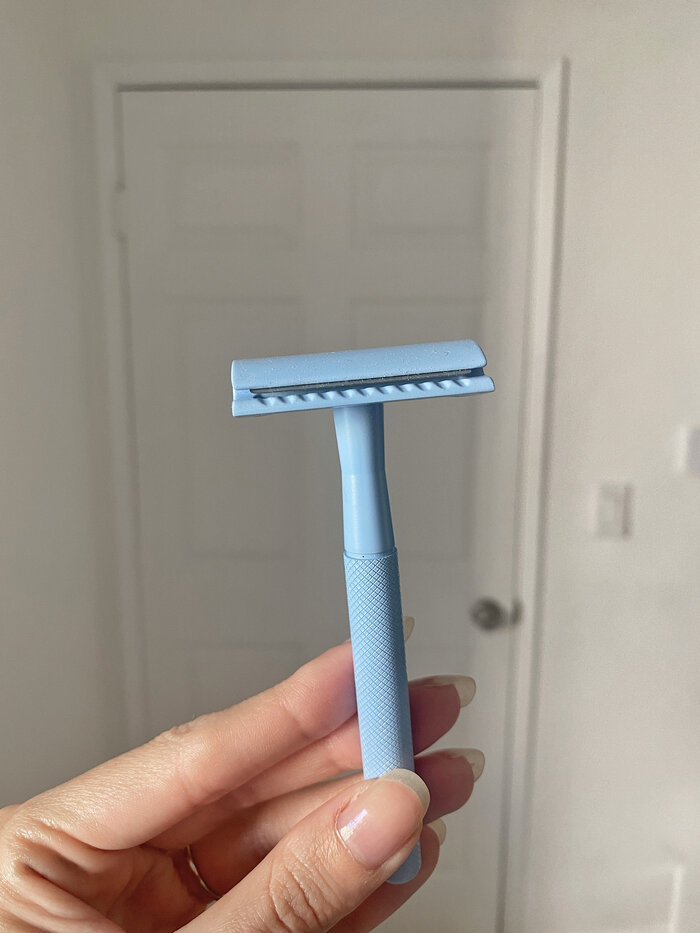 Motivational Hydration Tracking Water Bottle
I'm obsessed with this water bottle, and it's gotten a lot of attention on both TikTok and Instagram lately! It's a BPA free, high quality plastic bottle that has a really pretty frosted look to it, and it's labeled with different times of the morning and afternoon to motivate you to drink the corresponding amount of water by those times.
If you are someone who has trouble remembering to drink enough water in a day, having this bottle with these visuals on it might be really helpful for you. This is one of those viral Amazon products from TikTok that I seriously can't live without and use every single day. The bottle is leak proof and very durable, and I just love the aesthetic of it!
Reusable Silicone Hair Catchers
These are basically like little silicone covers that you put over your shower drain so that when you wash your hair, the hair doesn't clog up the drain and instead you can easily peel away the cover (and take all the hair with it!).
In addition to using them in the bathtub, you can also even use them in your kitchen sink to keep food remnants and other junk from clogging up the kitchen sink. What's great is that you get five that all come in a set together, so you can put them in multiple areas in your house or apartment!
They're super cute and come in a pack of five different – and really pretty – colors! I love how durable they are, and they're so easy to put on and take off.
If you love the outdoors and spend a decent amount of time camping or at the beach, you need to pick these up. Up next on this list of viral Amazon products from TikTok is a pack of paper soap sheets, and if you're wondering what these are, it's exactly as it sounds. They are super thin paper like sheets that are actually soap, and they come in containers with a little snap closure that are about the size of a pack of breath mints.
All you have to do is get your hands wet and then lather the soap sheet up like you would with normal soap. These are amazing for those times when you're on an adventure and there's a bathroom available but no soap (sometimes this even happens in public places like mall bathrooms so I bring mine everywhere with me!).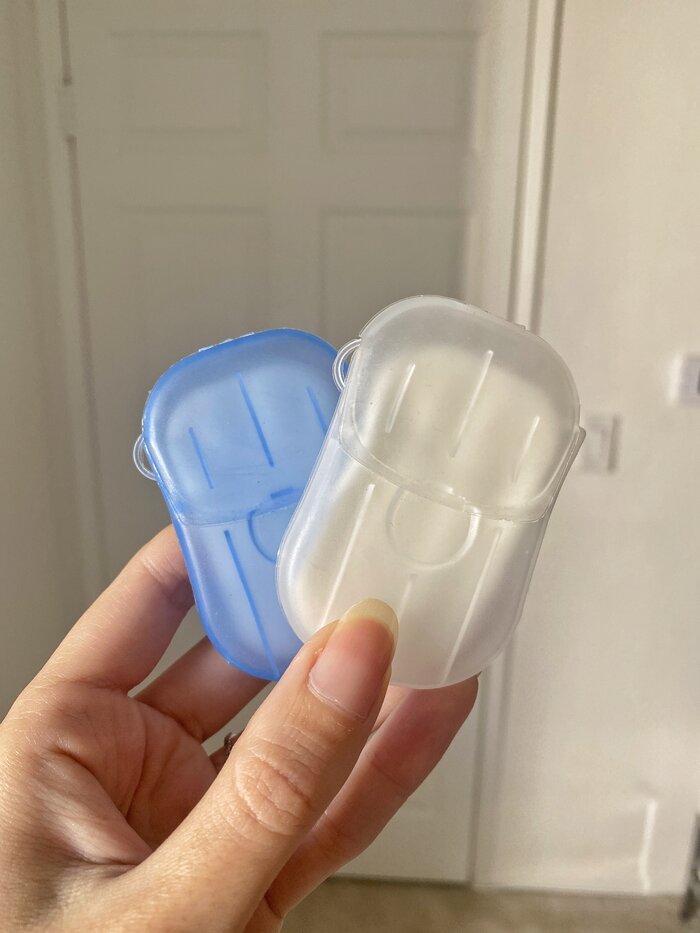 Whenever you need to travel, and specifically fly, this product is the best that I've found for bringing liquids along with you. I know some people don't need to bring any liquids with them at all because they just use whatever shampoo and body wash the hotel provides for them when they get there, but if you're as picky as me with what you use and you need to bring your own brands of shampoo, conditioner, face cleanser, etc, then this viral Amazon product from TikTok is for you!
It's a dispenser that has space for four different mini bottles, which are all just under three ounces so they're travel safe. You fill up the bottles with your favorite products and then the top can be twisted around to whatever one you need to use, and is then dispensed with a pump that you just press down on the lid to activate.
Viral Amazon Products from TikTok For Your Car
For those who want to be able to drive more safely, this is one of the best viral Amazon products from TikTok because it essentially eliminates your blind spots! As its name would suggest, it's a larger and wider mirror that clips on top of your current rear view mirror in your car, allowing you to see way better than before.
It takes literally seconds to set up and honestly makes a world of difference.
This one is a cute and novel little product. It's a sticky mat that you place on your dashboard on the passenger side of your car, and you can place things on it that literally just stick there and don't move around at all while you're driving!
It's super convenient for your passengers to place their phone on it, a snack bar, a bottle of hand sanitizer, or whatever else they need a little extra storage space for.
There are so many different surfaces in your car that are hard to reach and even harder to clean. This putty is literally just like slime in a jar that you use to get those hard to reach spots, like around your vents, in the cup holders, all along the dash, and anywhere else you can think of!
It's a sticky gel consistency that picks up a ton of dirt and dust that you might have otherwise missed. It comes in a few different colors and is super fun to use.
So ladies, have you ever gone to use a public restroom and noticed that the back of the door did not have any type of hook for you to hang your bag on? It happens to me pretty regularly, so I found a product that solves that issue completely. It's a magnetic bag hook that comes in several different fun designs, and you basically stick it to a bathroom door (or any magnetic surface) just like you would place a magnet on your fridge, and there's a hook at the bottom of it for you to clip your bag onto so you no longer have to place it on the floor!
This is honestly one of my favorite viral Amazon products from TikTok because it's genuinely so useful. It also works with a lot of restaurant tables and other similar surfaces, so you never have to place your bag on the ground again.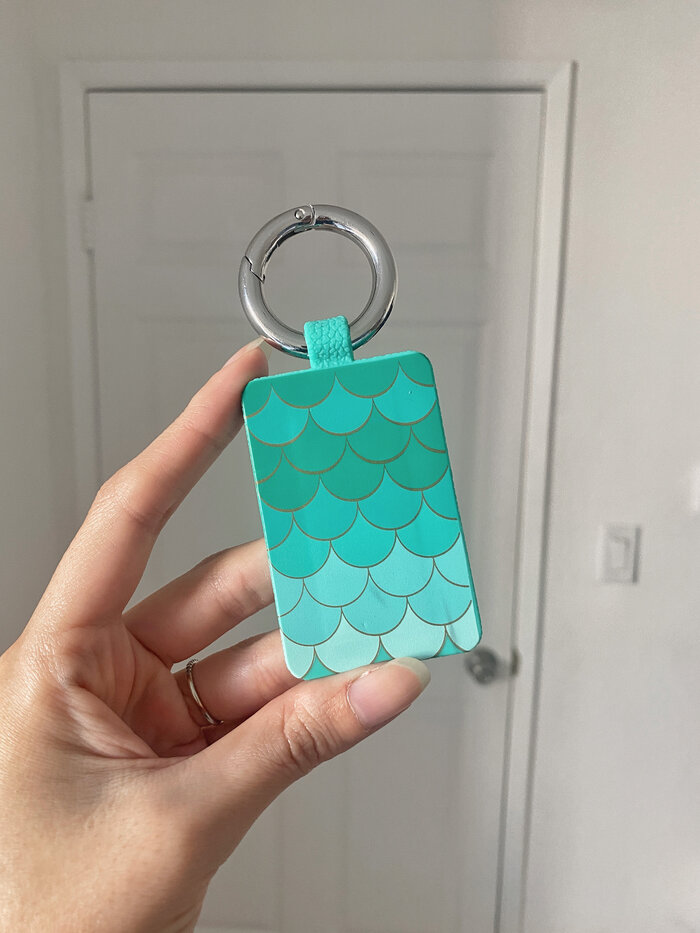 Viral Amazon Products from TikTok – Kitchen
These silicone food covers turn any bowl you have lying around in your kitchen into an airtight container for leftovers. All you have to do is stretch one over whatever bowl you're planning on storing your food in (and you can even eliminate a step if you eat the food from a bowl to begin with instead of having it on a plate) They come in a pack of rectangular ones and round ones so you literally have one for bowls and containers of all sizes!
Similar to the above item on my very long viral Amazon products from TikTok list, these are silicone food covers but for produce that's been cut open that you want to save. For example, if you like to have lemon water with fresh, real lemon juice, and you've cut your lemon and have half of it left to use on a different day, you take that half and put it face down in this little food saver. The silicone edges then "hug" the lemon and create an airtight seal that preserves the freshness of your produce and allows you to use it up days later while also saving a ton of space in your fridge compared to those big bulky reusable plastic food containers.
I love these because they're cute and functional. With this order, you're getting a set of five different food savers that are all different sizes, so you can always choose the one that's going to fit best to whichever piece of produce you want to save.
Over The Sink Extendable Colander
This is the absolute best colander I've used and I will not be going back to anything else. It literally just extends across your entire sink so you can put your fruit or whatever in it and have it sit there while you wash produce, drain pasta, etc. It's so convenient the way it's designed, and it comes in a few different colors.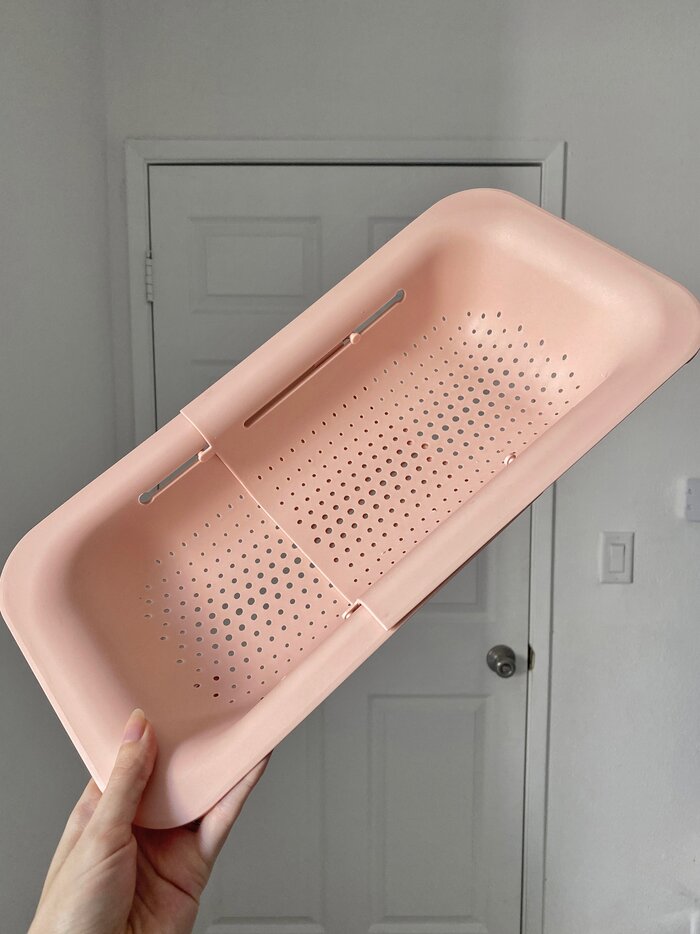 I used to have the messiest cutlery drawer, but thankfully not anymore. This product from my viral Amazon products from TikTok list is slim and compact and has little labels for where each different type of utensil is supposed to go, for the ultimate neat and organized look for your cutlery drawer. It also has several different compartments for other random odds and ends, so you can clear all of the junk out of your cutlery drawer and get everything all into one tidy place.
Sometimes, you just want to sit and relax while slowly enjoying a bowl of cereal for breakfast in the morning, but it's so annoying when your cereal has been sitting in the milk for too long and it gets all soggy, right?
This clever product is a quick fix for that – it's a set of two bowls that come with a divider down the middle so you can put your oat milk on one side and your cereal on the other side, and just grab a spoonful of cereal and combine it with the milk with every bite you take!
Not only that, but you can use these bowls for pretty much any other food that you don't want to get soggy – you could put your fries on one side and ketchup on the other, chips on one side and guacamole on the other, you get the idea.
Collapsible Food Storage Containers
This is one of the best viral Amazon products from TikTok for taking snacks and meals on the go! It's a set of collapsible food containers that are made from silicone, and all you have to do is pop the corners out to expand the containers to full size! When you're not using them and they're fully collapsed, they save so much space compared to regular reusable food containers.
They come in a pack of four different sizes for a relatively inexpensive price that I would say is definitely worth it for all the use you're going to get out of them! The color options are a very cute baby pink or a sky blue.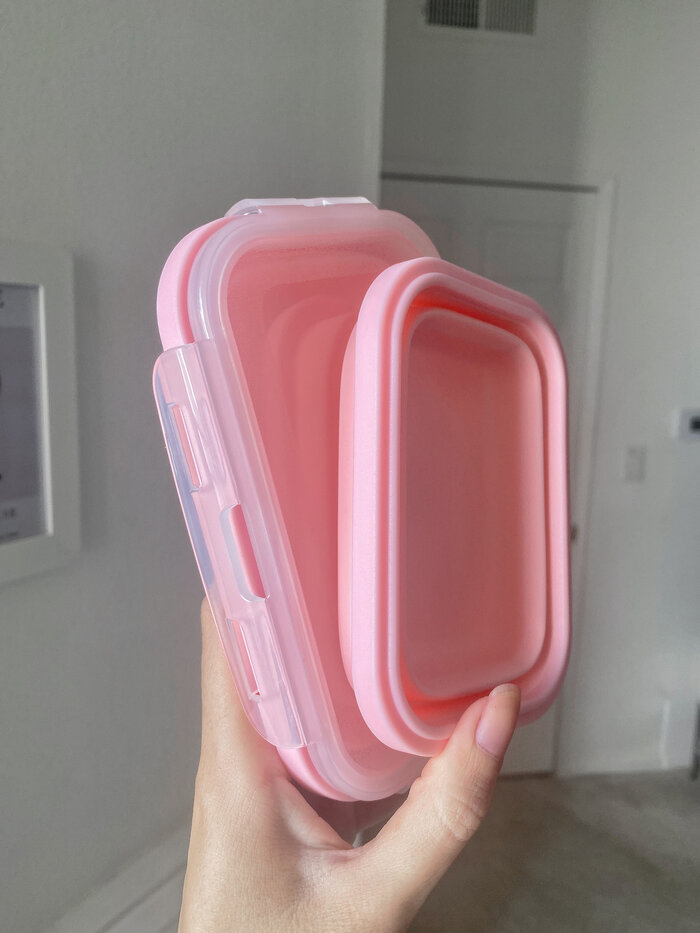 If you happen to have weak wrists like I do, or you want to get something helpful for your grandparents, this product sits on top of a mason jar and takes the lid off no matter how tightly it's on there. It's battery operated and super easy to use! I personally think this is one of the most clever items on my list of viral Amazon products from TikTok because opening jars with lids that are super stuck on is a universal problem, and finally there's a good innovative fix for that!
This is legitimately so cool and so useful! It's a personal blender that is small enough to be portable (so you can travel with it!) and it comes in the most adorable colors, including baby pink, baby blue, and a really sleek all white one.
Let me fully explain how this product works: it's an actual blender that you can make smoothies and shakes in, but the coolest part is that the cup that you blend everything in is actually detachable from the base where the motor and blades are, so you can blend your smoothie and then drink it right out of the cup you made it in (I hope that makes sense!).
This is honestly one of the best viral Amazon products from TikTok to me because I bring it with me when I go out of town and I'm able to make healthy fruit and vegetable smoothies every morning for breakfast no matter where I am. If you're on a team or you go to the gym a lot, you can bring it with you and make your smoothie on the go! It's seriously the best thing.
Related Posts:
Thank you guys for checking out my list of the best viral Amazon products from TikTok! These products have been tried and tested by a ton of people and are highly reviewed and loved across the board, so you really can't go wrong with anything on this list.
I hope that this list was helpful for you in some way, and that you found a new product or two that will help you solve some problems and make your life even just a tiny bit easier. I really wanted to include only the best of the best here because I know your time is valuable and it can take so long to sort through all of these product videos you see on TikTok.
That being said, if you liked this post then you can always share it to your Pinterest so you can look through it anytime you want, and also make sure you go and check out my Instagram for lots of other similar content if you would like to 🙂
Stay healthy and have an amazing rest of your holiday season ladies! xx
Reader Interactions